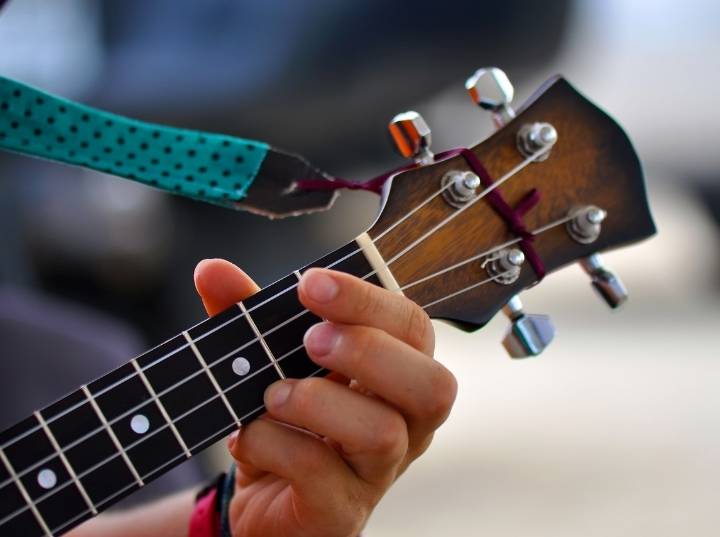 For intermediate and professional players, finding the best acoustic-electric tenor ukulele isn't an easy job.
If you want to level up your performances, don't forget to take a look at our review of the top 9 tenor ukuleles in 2021!
>>> Top 9 Best Acoustic Electric Tenor Ukuleles – Most Recommended ⇓⇓⇓
What is the Best Acoustic Electric Tenor Ukulele?
Over the last few years, tenor ukuleles have started to get more attention from experienced and professional players.
Generally, they tend to be bigger than typical concert ukuleles, so your fingers can easily transition between different chords. Tenor ukuleles also produce louder and fuller sounds not only when you play them acoustically but also electrically.
However, if you find it difficult to look for one, we're here to help you choose the best acoustic electric tenor ukulele!
#1. Cordoba 20TM-CE: Best Price
You'll be surprised knowing how much Cordoba 20TM-CE costs. Just by looking from the outside, it gives off a premium vibe with a straight neck and awesome tuners made of shiny mahogany.
Besides, Cordoba provides listeners with a nice and sweet tone, along with flawless intonation when you end a note. If you're searching for a decent ukulele at a reasonable price, this item is for you!
Pros
Affordable price

Rich and sweet sounds

Great resonance and vibrations thanks to the solid tops

Comfortable-playing action

Lightweight yet sturdy
Cons
Pretty high action

Stays in tune shortly
#2. Kala KA-TE-COMBO-STD: Best Tuner
With a pleasant tone and a simple setup, Kala KA-TE-COMBO-STD has a super-wide fretboard on which your fingers can freely move. This tenor ukulele is super easy to tune, thanks to its inclusive handy electronic tuner.
In terms of design, you can easily find the well-formed wood and a flawless finish when you lay eyes on the Kala ukulele for the first time.
Pros
Comfortable-playing fingerboard

Nice acoustic and electric sound

Fantastic digital tuner
Cons
Tight carrying case

Occasionally buzzing frets
#3. Caramel CT905: Best for Intermediate Players
Speaking of the best tenor ukulele for intermediate players, Caramel CT905 proves itself to be among the top competitors.
Not only does it create mellow and rich sounds, but it also has a flawless appearance that makes you want to hold it in your arms (badly!). Besides, Caramel's strings deliver a delightful and resonant tone that makes listeners grin with pleasure.
Pros
Suitable for many hand sizes

Comes with a Beginner Ukulele Toolkit

Sweet and mellow tone

30-day money-back guarantee
Cons
Thin padding

Unreasonable size of the tuner machine heads
#4. Flight DUT 34 CEQ: Best for Electric Sounds
Flight DUT 34 CEQ is undoubtedly the best tenor ukulele for professionals. In addition to its perfect resonance, the sharp fretboard allows you to leap intermediate to advanced with effortless hand movements.
Moreover, this ukulele sounds perfect when being played electrically. Buyers of the Flight ukulele also gain access to an amazing gig bag you can carry on stage with. Great choice indeed!
Pros
Produces amazing electric sounds

Straight neck with pleasant intonation

Built-in digital tuner

Inclusive gig bag
Con
Periodically buzzing sounds on the first fret
#5. Devise D12-26: Best for Fingerstyle
One of the most impressive characteristics of Devisev D12-26 is the shiny and smooth finish, demonstrating perfect craftsmanship. Furthermore, this item uses premium D'Addario strings that produce a sharp and well-balanced tone.
Devisev is also a good choice if you're looking for a ukulele with great acoustic sounds. For fingerstyle players, it sounds warm and mellow, especially when you plug it in.
Pros
Warm acoustic sound for fingerstyle

Elegant design, made of solid acacia wood

Beautiful guitar straps

30-day money-back guarantee
Cons
Pretty costly for beginners

Unresponsive customer service
#6. Caramel CB500 RT-501: Best Material
The greatest thing about Caramel CB500 RT-501 is that it has an alluring rosewood body. This tenor ukulele creates deep and resonant sounds when you play it normally. Nevertheless, when you plug it in, it gives listeners a bright and delicate tone.
Besides, the wide fretboard enables players to nail those barre chords in the blink of an eye.
Pros
Elegant rosewood body

Full and rich sound

Wide fretboard

Thoughtful starter toolkit

30-day money-back guarantee
Cons
Easily worn out frets

Poor-quality strings
#7. Luna UKE TEC MAH: Best Design
Luna UKE TEC MAH is also a decent option if you're looking for the best tenor ukulele for intermediate players. First of all, the fascinating engraved design will make the audiences go "ooh" once you bring it on stage.
What's more, it produces beautiful sounds with a perfect amount of intonation. What amazes us is its relatively cheap price considering its decent quality. Luna UKE TEC MAH is worth every penny!
Pros
Beautifully crafted finish

Exotic and flawless design

Highly reasonable price

Fast delivery
Cons
Fragile neck

Terrible at remaining in tune
#8. Cordoba 25T-CE: Best for Oldschool Players
Cordoba 25T-CE is absolutely a classic tenor ukulele with solid craftsmanship. Not only was it decently crafted, but its solid acacia body also gives listeners pleasantly bright and clear sounds.
If you've been looking for a tenor ukulele with an authentic vibe, this item is a great option. It also comes with an innovative pickup system with bass, treble, and volume controls.
Pros
Authentic and flawless design

Clear and resonant sounds

Thoughtful add-ons
Cons
Stiff tuners

Inconvenient string height
#9. Luna UKE HTT ZBR: Best for Stage Performances
Equipped with premium-quality Aquila strings, Luna UKE HTT ZBR embraces a sharp outlook with a wide fretboard. This characteristic enables players to access the upper frets without a hassle.
Additionally, this model uses zebrawood for its body, thereby producing a rich and resonant tone with every strum you make on stage. Regarding the best tenor ukulele for professionals, you need to consider Luna UKE HTT ZBR.
Pros
Sharp and bright tones

Carefully crafted finish and body

Sensitive soundhole

Loud volume
Con
Time for a Decision!
We hope our review was helpful for you. It's hard to decide on one best acoustic-electric tenor ukulele, but we strongly believe that you'll make the right decision after reading this!