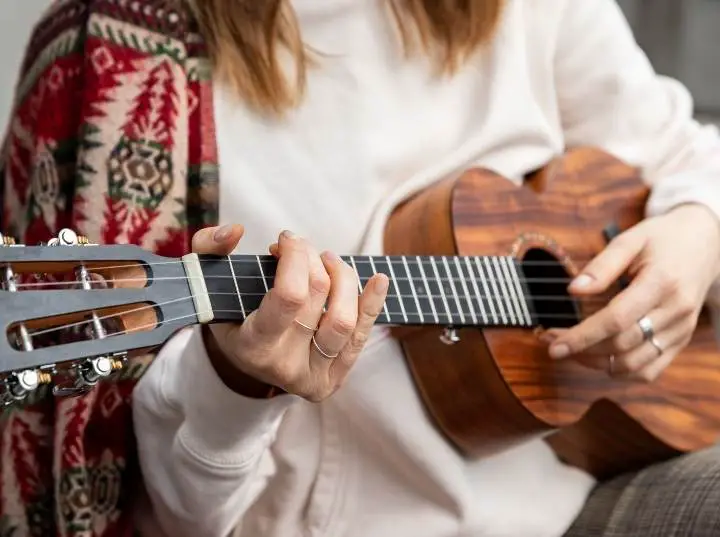 Hello there,
Are you seeking the best cheap tenor ukulele, one that would provide nice sound, look good, and feel good?
In today's article, I will unveil the best tenor ukulele under 100 dollars option for you. Each item is worth the read as it offers a low price and satisfies you with different outstanding features.
>>> Top 9 Best Budget Tenor Ukulele Under 100 Dollars – Most Recommended ⇓⇓⇓
Tenor is the upgraded version of the standard ukulele; it has a compact design and tends to be more comfortable when playing. Therefore, the compact size benefits the children, making them easier to play and carry.
Also, I have to admit that the tenor model has a sweet spot quality sound, and it is not picky for listeners, compared to a bass-heavy baritone ukulele.
The Best Budget Tenor Ukulele In 2021
Listed below are 9 recommendations for the best budget tenor ukulele based on different categories.
Depending on your desires, you can have an overview idea to pick the one that suits your needs the best.
#1. Donner Tenor Ukulele – Best Overall
"Wow" was a word I uttered when seeing the product at first glance, and I do not hesitate to recommend it as the best tenor ukulele under 100 dollars. It has a splendid and old-fashioned appearance. The construction is tight and robust, granting comfort when touching or playing. It is a weightless item, an excellent point in the world of acoustic instruments.
Other products in the same price range are usually made of low-quality material resulting in a thin and lifeless tone. But the Doner Ukulele has a loud, rich sound and low-end tone. Therefore, you can use it for different purposes such as a concert or practicing.
Even when you play with a fingerstyle, the sound becomes more catchy and warm.
The ukulele has elastic Aquila strings so it can effectively resist heavy tension. It has well-made and durable straps installed, so you do not need to spend much time settling.
Pros:
Affordable price
Supportive customer service
Robust and durable body
Lightweight
Impressive classic design
Suitable for different playing purposes
Con:
#2. Ranch Tenor Ukulele UK-26 – Best For Design
This 26-inch product has a built-in Arched Back design to enhance resonance. It also gives you a sustained, deeper woody tone to make every listener easily indulge themselves in the rhythms.
The primary material of this product is rosewood, so it is lightweight and long-lasting. The package comes with different accessories such as a strap, travel bag or electric clip-on tuner, etc.
Therefore, you do not need to spend money on other pieces of equipment because those provided accessories ensure that your experience and the lovely instrument will be utmostly taken care of.
Pros:
Easy to play
Lovely deep woody tone
Well-made body
Essential provided accessories
Maintenance with ease
Con:
#3. Paisen Professional Ukulele – Best For Well-Chosen Quality
This item's design has made a good impression on me; it has a well-made rosewood box and selected rose wooden fingerboard. Also, this product was crafted by high-skilled workers with the expectation of high-end detail.
The Paisen Professional Ukulele has an Arched Back body design, grating  a clear, loud and consistent sound. However, this product has a bigger size than other standard tenor ukuleles, so it may not be a good option for kids.
Pros:
Provided free lessons
Full set of accessories: capo, tuner, strap ,and so on.
Excellent sound quality
Suitable for beginners
Con:
#4. Aklot Tenor Ukulele AKT26 – Best Deal 
The soundboard's primary material is mahogany, which effectively resists any conditional weather; hence, it will last for years to come. Also, this material makes the sound softer, warmer, and purer. The more you play, the better sound is.
On the other hand, the Aklot has equipped its product a 18:1 Tuning Pegs made of stainless steel.  It means you can adjust to any desired pitch level and stay in an accurate tune.
With these mentioned features, there is no doubt to reward it as the best cheap tenor ukulele.
Pros:
High-end material
Exquisite sound outcome
Easy to learn
Suitable for both beginner and advanced players
Rounded edge for better holding
Con:
#5. Kmise MI2187 – Best For Vintage Lovers
Suppose you are a big fan of vintage design; in this case, this item is a good choice for you. It has a light brown color and an anti-scratch substance layer on top. So you will not need to worry about scratches.
This ukulele uses high-quality mahogany as its primary material, grating an outstanding resonation while tapping or travel play. Also, it has an 18:1 gear tuner; you can switch to any pitch level with ease and stay on it consistently.
Pros:
Vintage design
Anti-scratch surface
Affordable price
Life-time string replacement
18:1 gear tune
Con:
Not an ideal option for beginners
#6. Kulana Deluxe GUKT – Best For Competitive Price
Being heavily inspired by the Hawaii vibe, the GUKT commits to deliver the warm and high-end sound, making your enjoyment of playing unforgettable.
This product has a rounded edge that allows better holding without causing hand and arm fatigue. It comes with a set of installed Aquila nylgut, but it does not have an 18:1 gear tuner, resulting in occasional flipping tunes.
However, if you are green to the ukulele field, I recommend this product as the best tenor ukulele for beginners. It is easy to play compared to other models.
Pros:
Hawaiian-inspired
Lightweight
Customer-oriented design
Easy to carry
Cheap price
Con:
Does not have 18:1 Gear Tune
#7. Lohanu Tuner LUT – Best For Beginners  
Here you go! It is one of the best tenor ukuleles for beginners, in my opinion. The Lohanu does offer up to 16 complementary courses with different levels from easy to advanced level.
Also, it provides digital songbooks so you can easily follow and learn. Learning it 30 minutes day by day will bring you to a new level. It is best to keep in mind that "Practice makes perfect."
This item has well-made strings, which are durable and elastic. If you have rather small hands, this product fits perfectly since it is compact and lightweight.
Pros:
Best for beginner
Free online course included
Affordable price
Lightweight and compact design
Con:
Not an ideal choice for advanced players
#8. Caramel CT103 – Best For Advanced Players
This product has a stylish and well-crafted appearance; it uses zebrawood as the primary material. The worker framed the edge by hand with the highest quality standard, and the ukulele's body part has a cover of anti-scratch substance.
Therefore, the appearance would remain shiny and splendid like it recently came out of the box.
Moving to the sound part, the CT103 has 3 bands EQ integrated into the tuner with an LCD screen. These bands allow you to use the acoustic electric for reproducing the natural-sounding sounds into an  amp.
Also, there is an adjustable truss rod inside the neck; you can easily adjust the action according to your needs.
Pros:
Upgraded EQ sound features
Eye-catching Zebrawood material
High precision tuner machine
Anti-scratching surface
Con:
#9. Earstock Ukuleles – Best For Detail
I want to introduce to you another product of excellence and caring for details. It has a sharp and shiny look as it uses top-notch AAA mahogany material for almost all parts.
This Earstock product will meet all your needs; it comes with different types of accessories such as a travel bag, gear tuner, substitute carbon string, etc. Therefore you will not need to spend more money on other support items.
The product has built-in Aquila strings, allowing every sound that comes out of it to resonate clear and sweet.
Pros:
Attractive appearance
High-end material
Various accessories
Resonance enhancement
Con:
#10. Lohanu LU-T Ukulele Tenor
Key features:
Sapele top, back, and sides
Chrome shiny tuning
White bindings all-around body & neck
What I like:
Warm sound and without clicky noise
Deep and long sustain sound
The look is very nice looking
Overall:
The Lohanu LU-T is the best budget tenor ukulele for beginners. It has so many positive reviews from buyers on amazon.
It is generally well made and nicely finished, looks great. The tuner machine heads adjust accurately so it is easy to tune.
All in all, I recommend this Lohanu LU-T tenor ukulele bundle because it is good value, has everything for beginners' needs, and the sound is well above its price range.
#11. Cordoba 15TM – A Good quality tenor ukulele
Key features:
Mahogany top, back and sides
Abalone rosette
Rosewood bridge and fingerboard
Natural satin finish
What I like:
 The look is so beautiful and attractive
Rich sound. Well-balanced tone
Beautifully built ukulele
Overall:
The Cordoba 15TM is the best tenor ukulele for beginners. Some of my friends have played Cordoba 15TM.
They reviewed that this is a great ukulele to anyone, especially beginners, for good sounds, amazing quality, and ease of playing.
In conclusion, the sound and quality are good for the price, a great choice for beginners.
It is worth to spend the extra money on Cordoba 15TM Tenor Ukulele, you will not regret it.
#12. Kala KA-T Mahogany
Key features:
Mahogany body
18 silver nickel frets
Rosewood fingerboard and bridge
Mahogany neck
What I like:
Full deep sounds and clean.
No buzzing sound
Looks pretty and well-made
The beauty of the wood and the finish
Overall:
The Kala KA-T Mahogany Tenor Ukulele is another good choice if you are looking to move up into a better ukulele size and more rich sound.
In general, I don't have anything negative to say about the Kala KA-T. It looks beautiful, well-constructed, sounds good, and is fun to play.
You could be pleased with Kala KA-T.
#13. Enya EUT-X1 Beginner
Key features:
Mahogany body
High-end tuning pegs
Headstock: Classic/Slotted Head
Finish: High Glossy
What I like:
The sound is lovely! Crisp and clear.
Not tinny or buzzy sound
The look is beautiful and feels great in hands.
Overall:
The Enya EUT-X1 Tenor Ukulele is an attractive one.
I highly recommend it for its rich sound, appealing design, and come with the full accessories for starters.
It is the best budget tenor ukulele for beginners on Amazon.
Overall, this is no flaws in this tenor ukulele. I sure this is great for beginners of all ages.
If you haven't bought one yet you should buy it and you will not be disappointed.
#14. Kala LTP-T Satin Mahogany – Best Kala tenor ukulele
Key features:
Mahogany body with a satin finish
Rosewood fingerboard and bridge
Mahogany neck
Fret position marks on the fingerboard
What I like:
It feels very smooth and well made
The sound is nice, with the sweet highs and mellow lows
Overall:
The KALA-LTP-T is another best tenor ukulele for beginners that come from KALA brands.
It is a great deal, budget-friendly package.
The KALA-LTP-T is decently well made and has a nice sound, especially for the look and the price!
Overall, I would recommend this KALA-LTP-T as a great budget starter tenor ukulele for beginners.
#15. Kmise Tenor Mahogany Ukelele
What I can say about the Kmise Tenor Ukulele is, a beautiful tenor ukulele – worth the money.
The look is very appealing. It has so many positive reviews on Amazon.
The sound is bright, warm.
This package includes a tenor ukulele, gig bag, clip-on tuner, strap, and strings. That is all about the beginner's need.
The price is around $70, it is the best budget tenor ukulele package for beginners.
#16. Donner Tenor Ukulele Mahogany
Donner is a newbie ukulele brand, and this is one of the best budget ukulele brands that the beginners can trust.
It is smooth, and a beautiful tenor ukulele to look at. The sound is warm and rich.
You are a beginner and don't want to spend a lot of money, but want a tenor ukulele that had a reasonable quality.
This Donner Mahogany Tenor Ukulele is what you are looking for.
It comes with a bag, strap, carbon nylon string, and clip-on tuner. This ukulele is the right balance between quality and price for you.
#17. Ranch Tenor Ukulele
Ranch Tenor Ukulele is another good cheap beginner tenor ukulele package for your considering.
Pros:
The look is smooth and appealing.
Great lessons for beginners learning the ukulele for the first time.
Including nice carrying case, strap, clip-on tuner, and Aquila strings
Fairly cheap, around under $70
In general, this is the best budget tenor ukulele option to learn with, because not only do you get the lessons, you also get case, strings, tuner.
I think the price is great, the lessons are worth it.
#18. AKLOT Solid Mahogany
Yeah, this is a surprise me.
Almost ukuleles under $100 are made by laminated wood, but this AKLOT Tenor Ukulele made by solid-top Mahogany wood and the price around $60.
So, what about the look and the quality?
After reading many buyer reviews on Amazon, and checking the look and the sound on YouTube, here is the conclusion:
The AKLOT Tenor Ukulele looks nice and smooth. It feels perfect with a smooth neck and nicely finished frets with no sharp edges.
About the sound, it is warm and balanced
This AKLOT Tenor Ukulele bundle is a great beginner starter kit with online courses and ukulele accessories such as a tuner, strap, picks, gig bag, extra set of strings.
#19. Caramel CT905A with Truss Rod
If you are seeking an exotic best cheap beginner tenor ukulele, the Caramel CT905A All Butterfly Bocote Wood Tenor Acoustic Ukulele with Truss Rod is waiting for you.
I must say it is a beautiful wood, good craftsmanship, nice satin finish; and a rich, full sound make the Caramel CT905A is a great exotic tenor ukulele.
However, the price is higher than these tenors ukulele packages recommended above.  You will spend around $70 for Caramel CT905A without accessories.
And the price for Caramel CT905A with full accessories (including Daddario EJ87C Strings, Padded Gig Bag, Strap, Wall hanger, capo, and more… ) is around $90.
I think it is a reasonable price for an exotic tenor ukulele.
Why do ukuleles go out of tune?
Here is a note about the stay-in-tune ukulele:
The new strings on the ukulele will take some time before they hold their tune.
There's a misperception that a "good" ukulele will stay in tune once you've tuned the strings. It is not always true.
When you replace new strings, your ukulele might not be holding its tuning for a long time because of tension and stretch. You need to tune it multiple times. Every time you play, you have to tune it.
After a week of playing and several times of tuning a day, your ukulele will be holding its stay-in-tune.
Is a tenor ukulele good for a beginner?
Yes. the tenor ukulele is a great choice for serious beginning players and professional players.
However, the soprano and concert are popular ukulele sizes for beginners.
Which is better soprano or tenor ukulele?
It depends on what you like and what you are looking for, tenor ukeleles are larger than soprano and concert size.
It means tenor ukes have fuller, warmer, and louder than soprano and concert size. It is best for performers because of more frets and a wider range of notes.
The soprano ukulele is best for kids and beginner's small hands.
Conclusion
So, now what?
Above are all 10 good cheap tenor ukulele reviews. And it is the best budget tenor ukulele under $100 on amazon. They are all great tenor ukuleles for the money.
But… which one is best suited to beginners?
If you are considering quality, sounds, and price, I think they are equivalent. You never go wrong with one of them.
The final thing is your feeling. You feel this ukulele or that ukulele is good, let's buy it.
Again, they are all great budget tenor ukuleles for quality and price.
Final Words
Above are the recommendations for the best tenor ukulele under 100 dollars I wanted to introduce to you today. I hope that you can pick the best budget tenor ukulele that suits your situation the most.
If you need any assistance, please feel free to leave your comment below.