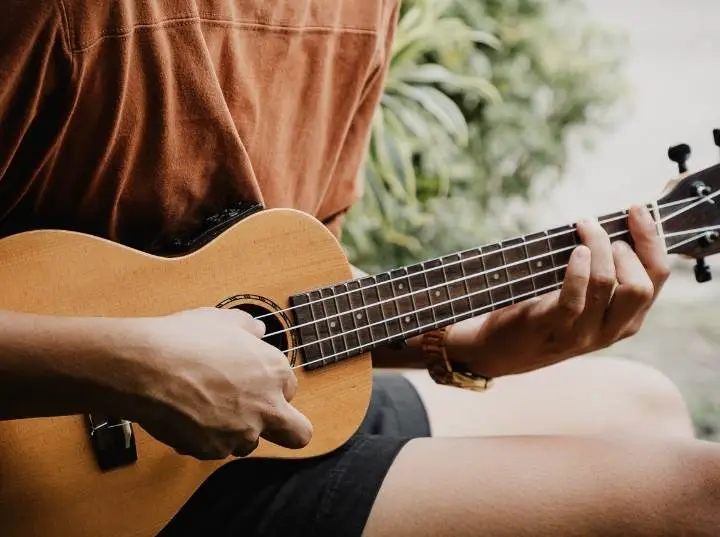 Wanna learn to play ukulele to escape the boring indoor life? We got you! Below is the best concert ukulele under 100 dollars that will save you from boredom.
>>> Top 9 Best Concert Ukulele Under 100 Dollars – Most Recommended ⇓⇓⇓
It's common to feel confused when deciding to buy string instruments. The guitar and ukulele happen to be the most puzzling.
If you have decided that a ukulele is the one to go with, we can provide you with the list of the best concert ukulele under 100 bucks.
Not only are they affordable, but also the best ukuleles for beginners.
What Is The Best Concert Ukulele Under 100 Dollars?
Many types of uke are available on the market. But today, we will be focusing on the best affordable concert ukulele that costs less than 100 bucks.  
Don't worry about the price; we've got that covered. What you have to do is to pay attention to the features and value of the uke.
A hundred bucks for uke are very affordable, so bear in mind that we cannot expect a flawless uke at this price. 
#1. Aklot Concert Ukulele – Best Value
The first one to mention, we have the Aklot concert. This item is considered the best concert ukulele for beginners because it offers everything you need to start playing the instrument. 
Made from solid Mahogany wood with a bright brown color, it makes an excellent gift to your friends and family.
Furthermore, full set accessories, online beginner lessons, and a 60-day money-back policy are available.
Pros 
Classic design

Solid wood

Easy to tune

Good value 

Money-back warranty
Con 
Takes time for the sound to open up 
#2. Donner Concert Ukulele/ DUC-1 – Best For Beginners 
This uke is very similar to the Ranch Concert below, except it is made from Mahogany. They both have a classic design and chrome-plated tuner to increase accuracy.
All the nuts and bridge saddles are cattle bones, and the soft Aquila strings are very playable. So we find this to be the most suitable for beginners. 
Pros 
Classic design

Full set bundle

Easy to tune
Con 
Possible flaws in the design
#3. Ranch Concert Ukulele – Best Sounds 
Ranch concert ukulele has a clear, bright, and sustain sound due to its arched back. The body is Sapele wood, and the neck is Mahogany. 
Besides, it comes with a gig bag, a digital tuner, a strap, extra strings, and a cleaning cloth. The brand also has a free series of step-by-step online lessons to guide you as you learn to play. 
Pros 
Sleek, classic design

Good value  

Easy to carry  

Easy tuning 

Many additional features
Con
#4. Hola! Music Concert Ukulele/ HM-124MG- Best Authentic 
This uke comes with a complete bundle set, customer-only live classes, and high-tier material. 
The body is Mahogany, and the fingerboard and bridge are walnut wood. The nuts are Ox bone, whereas other ukes' nuts are usually plastic.
This factor can affect a good deal on how your tiny instrument sounds since they are in direct contact with the strings. Therefore, it creates a sense of authenticity to the chords. 
Pros 
Good value

Exquisite material

Lightweight

Thoughtful add-ons
Con
 Takes time for the strings to be fine-tuned
#5. Enya Concert Ukulele Nova – Best For Travel
This item is the first and only travel uke on our list. Carbon fiber is the material here, which is extremely durable, waterproof, and easy to clean. 
This uke is super lightweight, only 3 pounds, and has the thinnest body of only 2 inches. It has a fairly outstanding look with a cutaway body, almost like an electric guitar. And there are plenty of colors for you to choose from. 
Pros  
Durable material for travel

Lightweight for portability

Outstanding design

Various colorways 

Good value 
Con 
Not suitable for metallic strings
#6. Lohanu Ukulele Concert Size/ LU-C – Best Additional Features 
Another well-known brand has come – Lohanu. Sapele is the main material for the top and bottom. It also has ABS binding alongside the body and the neck to produce a warm, deep, full sound with a rather thinner soundbox. 
The complete accessory set includes 2 strap buttons, a tuner, a padded case, picks, extra strings, and a uke hanger. Another plus point is that the manufacturer offers a lifetime warranty for the instrument and accessories. 
Pros 
Deep, full sounds

Binding alongside 

Long warranty 

Full set accessories
Con
Flawed design occasionally
#7. Cordoba 15CM Concert Ukulele – Best Compact 
Cordoba made this rich, bright sound Mahogany wood instrument specifically for new players. What distinguishes this from other brand is the ivoroid binding to the body and the fingerboard. This feature reduces a good deal of fret sprouting and increases durability. 
Cordoba doesn't come with plenty of accessories. So it is compatible for those who don't want to beat around the bush and get right to the point, a very compact instrument. 
Pros 
High-quality materials 

Cream binding 

Rich, bright sounds 

Sleek satin finish
Con 
Does not include accessories
#8. Kala Learn To Play Ukulele Concert/ KALA-LTP-C – Best Brand
This Hawaiian guitar comes from a famous brand-Kala-well adored by many celebrities and experts. 
Kala-LTP-C does not have too many accessories since it only includes a tote bag and a booklet. You can find most of the supports on its websites like online lessons and tuner. 
This instrument is a standard, basic uke but high in quality. A Mahogany body, Polynesian Shark Teeth laser-etched rosette, and Aquila strings from Italy ensure you that this will be the best ukulele for beginners. 
Pros 
High quality 

Basic, elegant design

Ready to play right away

Deep, resonant sounds
Cons
A little more expensive than others
#9. Kmise Concert Ukulele – Best Elegant Design 
Last but not least, we have the Kmise Concert. The length of 23 inches is very playable and compact. The manufacture used Mahogany for the body and rosewood for the fingerboard. 
This uke has a classic design but got spiced up with some laser engraved patterns, which are beautiful and exquisite. 
Pros 
Customer-oriented design

Easy to tune

Reasonable price
Con
Only comes with a tuner and a padded bag
Let's Find Out What's The Best Concert Ukulele! 
Now, you've read our assessments about different ukuleles from different brands. Some of them are almost identical, aiming at serving a beginner most conveniently. 
But some of them have distinctive designs for particular uses to vary your choices. We hope you can find the best concert ukulele under 100 dollars for yourself, friends, and family.