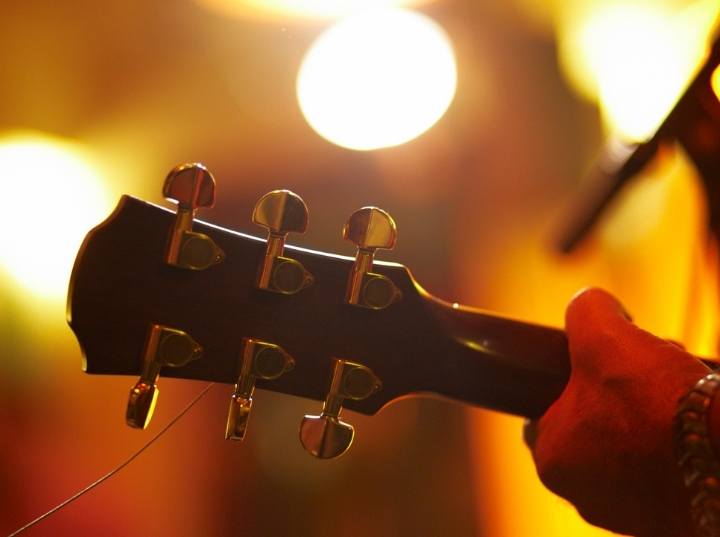 Are you a novice and seeking the best inexpensive acoustic-electric guitar? Our article will help you decide easier with the top 6 budget-friendly guitars.
>>>

Top 6 Best Inexpensive Acoustic Electric Guitar – Most Recommended

⇓⇓⇓
Playing electric guitar is a common hobby of many people regardless of age and gender. However, not all of you can afford a high-end guitar.
Don't worry! We are here to help with the best inexpensive acoustic-electric guitar. Let's dive right in and choose the right one for you.
Top 6 Best Inexpensive Acoustic-Electric Guitar Reviews
In this part, we will list the top 6 budget-friendly acoustic-electric guitars.  Following with their great features that are worth your consideration.
#1. Rogue RA-090 – Best For Beginners
>>> Today's Best Deal: Check Latest Price on Amazon
Rogue RA-090 guitar offers you five different colors, from the basic natural or mysterious black model to the fancy red, blue, or green burst one.
It weighs only 5.65 pounds, ideal for carrying back and forth. The small size makes this model a concert guitar because you can play at a constant level with comfort.
The fingerboard is made of rosewood for more durability, while the laminate whitewood body can resist various climates and temperatures. All the glue joints are strong, and position markers are hard to fade away.
This model comes with low-tension strings, which provide you with a gentle and mellow sound yet don't hurt your fingers. If you are a beginner, Rogue RA-090 is definitely for you.
Pros
Lightweight, easy to carry
Temperature resistance
Low-tension strings for gentle and mellow sound without hurting fingers
Con
#2. Caramel Guitalele – Best For Kids
>>> Today's Best Deal: Check Latest Price on Amazon
Why do we call it a guitalele? The reason lies in the fact that Caramel Electric Guitalele functions as a guitar in a ukulele size. Its package includes 6 instead of 4 strings to turn it into a mini guitar.
What could be greater to own a guitar of such a small size? Even young guitarists with small child-size hands can play it with confidence. If you are about to travel, a guitalele is the go-to choice for easy transport.
Its body is made of mahogany wood, which generates a more resonant sound. The built-in LCD color display allows you to adjust the tone and volume for more natural sound production.
It comes with nylon, not metal strings. Nylon strings often bring a treble-oriented sound. If you frequently play high notes, you can not miss this mini guitar.
Besides, Caramel offers you a money-back guarantee to fully refund within 30 days. It deserves the best acoustic-electric guitar for the money, thanks to its quality and customer service.
Pros
Small size, suitable for both adults and children
Mahogany body creating more resonant sounds
LCD color display of EQ for easy adjustment
Con
Easy to crack because of solid construction
#3. Oscar Schmidt OA10CE – Best For Stage Performers
>>> Today's Best Deal: Check Latest Price on Amazon
The Oscar Schmidt OA10CE guitar is well-designed in its size. The shallow body and narrow width allow the body to get closer to the players, bringing more comfort for stage performance.
The body is made of catalpa, responding well to soft touches and making a clear sound. The 3-band EQ enables you to actively control the volume, bass, and treble for more dynamic playing.
What sets this model apart is its accessories. Apart from the electric guitar, the price includes gearlux cable, tuner, strap, picks, instructional book, DVD, and Austin Bazaar polishing cloth. This product is a great deal for the best inexpensive acoustic-electric guitar.
Pros
Shallow body for more comfort while playing
Catalpa body making clear sounds with soft touches
Include many useful accessories
Con
Sharp frets can hurt your fingers
#4. Ashthorpe Guitar – Best For Long Playing
>>> Today's Best Deal: Check Latest Price on Amazon
This model is a full-size guitar with a cutaway for more access while playing. The thin-line design allows players to perform without hand fatigue for a long time.
Ashthorpe acoustic-electric guitar comes with a basswood body, creating a warm and mellow sound. This model is also upgraded with the 4-band EQ, from low tones like bass or midrange to high tones like treble or presence for flexible playing.
There are some extra components in the package, including a gig bag, three types of picks, a strap, a cable, and spare strings. These accessories save you a lot of money and hassles.
Pros
Thin-line design for more comfort while playing
Basswood body making warm and mellow sounds
Upgraded 4-band EQ for more dynamic playing
Con
Easy-to-snap headstock because of high-tension strings
#5. Donner DAG-1CE – Best To Stay In Tune
>>> Today's Best Deal: Check Latest Price on Amazon
This guitar is a cutaway model, supporting more comfort while playing. The mahogany body and back enable you to make a warm and resonant sound.
Donner DAG-1CE is equipped with the exclusive tuning machine, made of alloy metal and sealed with tuning pegs style. This design allows you to stay in tune longer and easily change strings.
We will give a big thumbs up for the bronze strings of this guitar. They are soft and smooth, preventing fingers from hurt as well as bringing superior resonance and vibration.
Besides, you will get an extra gig bag, a guitar strap, a guitar capo, guitar strings, and guitar picks, ready to use out of the box. Donner also offers reliable customer support with a 30-day unconditional refund guarantee.
Pros
Cutaway design for more comfort while playing
Unique tuning machine to easily stay tune
Soft bronze strings providing more vibration without hurting fingers
Con
Requiring much hand strength to play because of highly equipped strings
#6. Kadence Slowhand SH04 – Best For Sound Consistency
>>> Today's Best Deal: Check Latest Price on Amazon
The signature of Kadence Slowhand SH04 guitar is the demi-cutaway that can adapt to various playing styles. No matter how you hold it, you can easily reach the higher notes.
This model's body is made of solid spruce, supporting sound consistency regardless of your playing style. Also, the rosewood fretboard and bridge not only give it a luxurious and durable look but also ensure great sound quality.
Pros
Adaptable demi-cutaway design
Solid spruce body ensuring sound consistency
Luxurious rosewood fretboard and bridge for greater sound quality
Con
Uneven fretboard, making it difficult to transit and maintain notes
Conclusion
These guitars mentioned above are not the best-in-class products, but they do deliver a decent quality at a reasonable price.
Of course, there are many other cheaper products out there, but we find these 6 guitars worth your consideration.
After reading this article, we hope you can choose the best inexpensive acoustic-electric guitar to chase your passion.