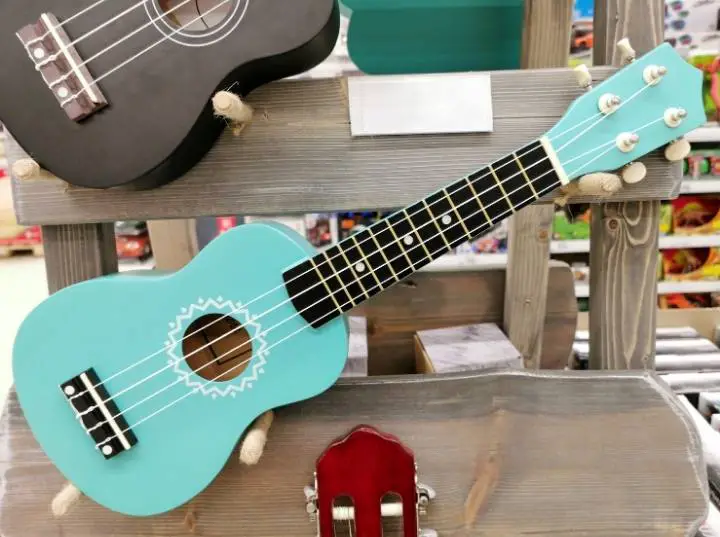 Here is the right place for the best soprano ukulele under $100. This article will help you nurture your passion for music without breaking the bank.
>>> Top 9 Best Soprano Ukulele Under 100 Dollars – Most Recommended ⇓⇓⇓
Soprano ukuleles are known to be beginner-friendly with a comfortable size and tone. Many people who are new to this game want to buy a good instrument at a reasonable price.
This article reviews the 9 best soprano ukuleles under $100 that will fulfill your musical dreams.
Top 9 Best Soprano Ukulele Under $100
We have tried and found the best soprano ukulele for music lovers whether you are after a cost-effective or a simple and easy instrument to add to your setup, this list ticks all those boxes.
#1. Donner Mahogany Ukulele – DUS-1 – Best For Full Sound
>>> Today's Best Deal: Check Latest Price on Amazon
You will be surprised at how good the Donner Mahogany Ukulele – DUS-1 is for its price. The design is minimal but not plain, with a rope pattern design around the wooden rosette. 
Although it's a budget instrument, the materials are more rigid than other budget ukes, which use soft plastic pieces for nuts and saddles. This feature also helps make the tone sound fuller and louder. 
One thing to note is with soprano-sized, the DUS-1 will sound more bright with an emphasis on treble tone compared to tenor-size ukes.
Other accessories are a lightweight strap, an extra set of strings, and a clip-on tuner that can switch between guitar, bass, ukulele, violin, and chromatic. 
Reasons to buy: 
Full and loud tone, with nice low-end sound

Excellent accessories

Sturdy and polished finish with simple design
#2. Ranch Soprano Ukulele UK-21 – Best For Beginners
>>> Today's Best Deal: Check Latest Price on Amazon
This instrument kit is wildly popular for many reasons. You have everything needed to get started: a genuine wooden material, straps, case, tuner, extra strings, and polishing cloth. 
First, we want to talk about the material. Ranch Soprano Ukulele uses Sapele wood, similar to the mahogany wood but more durable and lightweight. 
The sound is terrific for a budget uke. You can always expect vibrant, warm, and rich tones with very stable sound quality either you are playing up or down. It sounds loud without being hollow and tight.
We consider this one is the best soprano ukulele for beginners, as it comes pre-strung with smooth Aquila strings that are very flexible, easy to deal with, and cause little blisters on your fingers. 
Reasons to buy: 
High-quality material for the price

Easy to handle, especially for entry-level players

Rich, resonant, and warm tone with high-quality sound

30-day full refund guarantee
#3. Aklot Mahogany Ukulele – AKS 21 – Best for Traveler 
>>> Today's Best Deal: Check Latest Price on Amazon
This budget instrument comes with a solid mahogany top with bone nut and saddle, Aquila SuperNylgut strings, and many accessories, but what we love here is the solid top. 
A solid top is essential because it creates a warmer and more resonant tone, which is very accurate in Aklot AKS 21's case. The sound is bright and clear. The intonation is superb, however, with a slight sharpness at the 12th. 
It doesn't come pre-tuned, but you just need a couple of minutes with the 18:1 premium tuner machine, very easy for beginners to use to find the right tune. 
We recommend this one for beginners or someone looking for a travel uke.
Reasons to buy:
Solid top made from durable mahogany wood provides a rich sound

Holds it tune longer and easy to tune with the 18:1 premium tune machine

Decent set of accessories 
#4. Kala Soprano Ukulele – KALA-LTP-S – Best for Technology Lover
>>> Today's Best Deal: Check Latest Price on Amazon
Kala has built a reputation for creating above-average ukes across all price ranges, and the KALA-LTP-S lives up to the brand's prestige.  It is effortless to play and does not have fret ends that stick out or poor intonation like some other ukes at lower prices. 
But the thing that makes this beginner uke stand out is its tuning app. Although this Kala instrument requires tuning pretty much every day, we find it fun with the tuning application. You can also learn new songs and playing techniques from it.
Reasons to buy: 
Made from authentic mahogany material

Perfect for beginners with Kala Learn to Play's platform accessible 

The gentle string helps smoother practice
#5. Lohanu Soprano Ukulele – LU-S Bundle – Best for Budget
>>> Today's Best Deal: Check Latest Price on Amazon
We think this item is the best budget soprano ukulele in the market. The LU-S Bundle from Lohanu has a premium design with perfectly placed white bindings. The sound is also very high quality, warm, and harp-like. 
Its tight construction allows smoother movement from one gig to another. Also, the frets are spaced wider, so it is easy to play if you have big hands compared with other soprano-size ukes. 
Thanks to the exclusive arched back, this beautiful instrument can produce a longer and deeper sound. The industry-standard Aquila strings and Mahony body produce impressive tones while playing on higher frets with no annoying buzzing sound. 
Another feature that we love is that Lohanu provides a lifetime warranty for this instrument.
Reasons to buy: 
Premium design

Lifetime warranty for buyers

Tight construction with arched back to provide prolonged and deep sound
#6. Cordoba Guitars Soprano Ukulele – 15SM 
>>> Today's Best Deal: Check Latest Price on Amazon
The Cordoba 15 series is an excellent start for beginners. The instrument comes in complete mahogany construction to produce a full sound. Extra features include natural satin finish with premium Aquila strings. The tuners are made from silver and have pearl buttons.
The design is far superior to other ukes in the same price ranges, as it is entirely handmade with abalone rosette and ivoroid binding.
Reasons to buy:
Full mahogany construction for optimal sound

Sleek and smooth natural satin finish

Abalone rosette

Completely handmade
#7. ENYA Soprano Ukulele – 25D – Best for Hawaiian players
>>> Today's Best Deal: Check Latest Price on Amazon
The ENYA 25D comes in a lovely shade of blue – that reminds us of the Hawaiian ocean. Also, unlike some other regular ukes, the finish is not glossed but matte, which has more friction for players.
This item is made of all mahogany wood except for the ebony frets. Thanks to the mahogany materials, it sounds nice and warm.
While most ukes have Aquila strings, the ENYA 25D came with Enya Fluorocarbon strings, which feel softer to some players.
Reasons to buy:
High-quality mahogany material

Unique color and matte finish

Extra set of Enya strings
#8. Balnna Soprano Ukulele – Best for Fashionable Players
>>> Today's Best Deal: Check Latest Price on Amazon
This one is another item with unique aesthetics. The soprano-size uke from Balnna has a mahogany neck, with the back and sides made from composite wood.
The unique finish is in beautifully hand-dyed rainbow color. It is the perfect choice for those who prefer a more colorful and fashionable look for their instruments. 
Reasons to buy:
Beautiful and fashionable design

High-quality material 

Comes pre-strung with Nylgut strings
#9. Caramel MS41 High Gloss Soprano Ukulele – Best for Simple Player
>>> Today's Best Deal: Check Latest Price on Amazon
The Caramel MS41 is constructed with solid wood, with breathtaking design. The kit comes with a strap, a digital tuner, picks, cloth, booklet, and a pouch. They also have a smartphone app for tuning, but we recommend using the tuner.
The frets and fingerboard feel solid. The item comes pre-strung, and you might need to tune a few times to get it tight. However, you don't need to worry because the action is low and easy to play.
Reasons to buy:
Good design with a nice gloss finish 

A multitude of accessories come attached

High-quality sound compared to the price
Conclusion
Choosing the best soprano ukulele under $100 will fall entirely on the features you need and the tone you like.
We have exhausted all top options and hopefully provide you with some inputs to choose the best budget instrument.