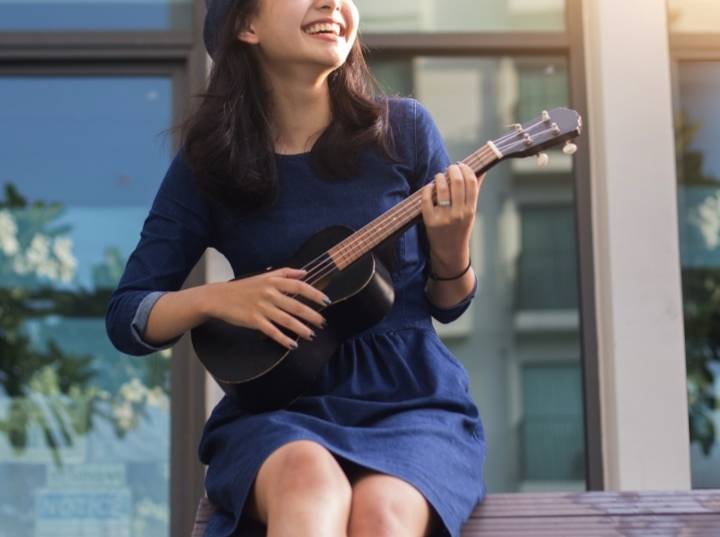 Are you looking for a beginner ukulele and don't know how to decide?
Stay with us on this article as we will explore the top 9 best soprano ukulele under 150 dollars on the current market.
>>> Top 9 Best Soprano Ukulele Under 150 Dollars – Most Recommended ⇓⇓⇓
Ukulele is a great choice either if you want to know how to play a new instrument. It's affordable and easy to learn for having only four strings.
Besides, the soprano ukulele sounds mellow, smooth, and full of life. 
Top 9 Best Soprano Ukulele Under 150 Dollars On The Market 
Are you eager to find out which candidates will pop up in our article? Wait no further; a detailed review of each valuable product awaits you below.
#1. Fender Soprano Mahogany Ukulele – Best For Unique Headstock
This item right here is a classic-looking Fender. The headstock is quite different from all the traditional ukuleles on the market, with a distinctive "Fender" style. Although this headstock might have problems holding the tune, it feels sturdy. 
There's the no-tie bridge on this ukulele, which is another special feature detail about it. The Fender soprano ukulele is made entirely from mahogany, giving it a warm, pleasant sound while playing. 
Pros
Unique and sturdy headstock

Beautiful rich color of the mahogany

Free 3-month subscription to Fender Play included

Coming with a Fender gig bag
Con
#2. Kala KA-PWS Pacific Walnut Soprano Ukulele – Best For Wooden Finish 
Kala has always been famous for its aesthetic guitars and ukuleles, and this one here is one of their masterpieces. 
The body of this soprano is made from walnut, while the bridge is from rosewood, a rare material for the ukulele. The colors of these two kinds of wood combine beautifully, and so does the loud and clear sound they create.  
Pros
Beautiful wood combination

Loud and vivid sound

Good looking edge to edge, clean trims

Staying in tune

Lightweight 1 lb
Con
#3. Luna Guitars (UKE STR S) Ukulele The "Starry Night" – Best Graphic Design
The Luna Guitars "Starry Night" is the perfect resemblance of Vincent van Gogh's worldly known drawing. All around, the ukulele has a matching blue paint coat that's surprisingly smooth to touch. 
The body of this ukulele is from mahogany, and the fretboard is from walnut. Mahogany is used a lot in making ukuleles because it delivers a warm sound. Moreover, the hard and durable wood enhances the product's lifespan.
Pros
Beautiful design

Stable tune

Warm sound

Durable materials

Moon phase print on the fretboard
Con
Tuner problem making E and C strings buzz
#4. Luna Tattoo Mahogany Soprano Pineapple Ukulele – Best Gig Bag
What we have here is a 21-inch pineapple soprano made from mahogany. It has 12 frets along the fretboard, as usual. 
You can find on the uke's surface some tribal engraving that makes this soprano look extraordinary. It sounds warm and robust, thanks to the wooden material and Aquila strings.
Not to mention, the padding in the gig bag is surprisingly thick and legit, not just some thin dust bag. 
Pros
Including a cleaning cloth, a digital tuner, and an instructional DVD from Austin Bazaar

Unique surface design

High-quality, padded gig bag
Con
#5. Kala KA-15S-H2 Satin Mahogany Soprano Ukulele – Best For Beginners 
Now, this is a dark brown mahogany soprano from Kala. The satin coat on the uke gives it a shiny look. 
Not only does the look strike our eyes, but its attention to details as well. The instrument arrives with a highly valued set of accessories by novices, making it the best soprano ukulele for beginners.
Kala uses Aquila strings for every model, so this, too, has the most qualified strings on it. The Hawaii islands map imprinted on the uke surface adds a unique touch to the instrument's appearance.
Pros
Most suitable for beginners

Coming with a gig bag, digital tuner, polishing cloth, and an instructional DVD from Austin Bazaar

Unique decoration

Aquila strings
Cons
Out of tune easily 

Short strings 
#6. Luna Guitars Ukulele GW SOPRANO – Best For Sound  
We have another print-on graphic ukulele from Luna Guitar. The model they use is UKE GW but with special touches. There's a graphic of "Kanagawa oki nami ura," known as Under the Wave off Kanagawa, on the surface of the uke. 
The fretboard has 12 frets and nylon strings. Tie bridges on this one make tuning a bit more in control. 
This uke's body is all-around mahogany, while the fretboard and bridge are from walnut. Combining these two did not produce a much different sound than the 100% mahogany counterpart; we have to agree that the sound it creates is wonderful. 
Pros
Coming with Luna's Guitar branded gig bag

Creative graphic design 

Impressive sound due to the materials

Easy to tune

Free delivery
Cons
No digital tuner included

No return policies
#7. Flight Elise Ecklund Sunset Soprano Ukulele (TUS EE) – Best For Budget
This sunset-printed soprano guitar piece comes from Flight Elise. Flight Elise is a well-known brand in the field of affordable musical instruments, and this item is no exception, being the most affordable option on this list.
Made with ABS, this guitar has no tie bridges. They use Aquila strings, the best strings for ukuleles. 
The sound on this sunset uke is brighter, thanks to their design of a wider arch back. 
Pros
Affordable

Durable material in humid weather 

Colorful sunset print

Coming with a gig bag
Con
Plastic neck and fretboard
#8. Koa Kaleo Acacia Soprano Ukulele – Best Material
Next, we have this beautiful piece of uke that uses both koa and mahogany. There is no doubt that it will sound warm and clean. Not just that, the sound quality gets better the more you play.
Additional touch on this Koa Kaleo is the silver tuners, Aquila strings, and French polish coat. 
The abalone embedded on the surface of the guitar made this item look oceanic as ever.
Pros
Made from koa and mahogany

Quality features

Fast shipping

Coming with a gig bag, digital tuner, pick, polishing cloth, and extra strings
Con
Requiring regular string alteration
#9. Kala KA-SEMB Soprano Ukulele – Best Finish Coat
The Kala KA SEMB is the final contender on this list, and there is a reason for it. This Kala has to be the most different color texture uke we've ever encountered.
The satin coat and back binding line make this uke the only one on this list with a special touch on its back.
The body of this uke uses exotic mahogany, so it has a mellow and warm sound. 
Pros
Exquisite appearance

Coming with a gig bag, digital tuner, and polishing cloth

Mellow and warm sounds

Free delivery
Con
Buzzing strings at the beginning fret
Conclusion
These, in our opinion, are not just the best ukuleles for beginners but also the best soprano ukulele under 150 dollars.
So, what are you waiting for? Pick one that fits you the most, and start jamming on the beat.