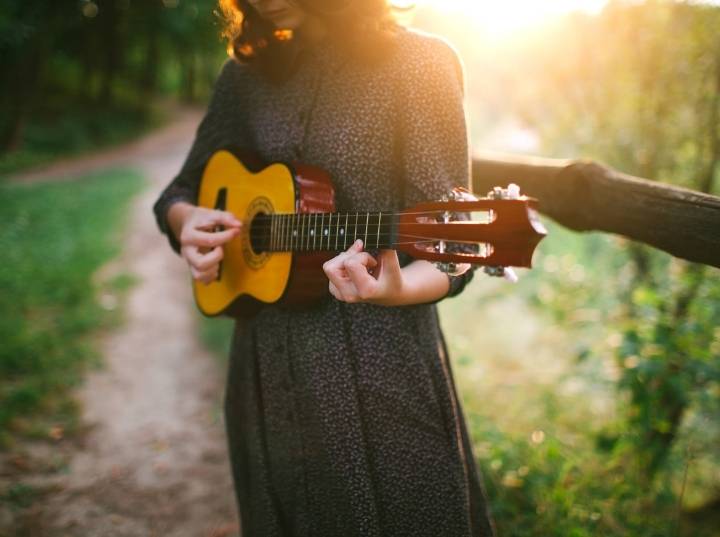 Do you want to find a reasonable ukulele that can live up to your expectations? Our following Best Tenor Ukulele Under $150 review will help you out.
>>

 

Top 9 Best Tenor Ukulele Under 150 Dollars – Most Recommended ⇓⇓⇓
By reading these top 9 Best Tenor Ukulele Under $150 reviews, you will discover which one is the most economical but still a good quality product.
One of the Ukulele family members is the Tenor, an ideal choice for any solo performer. Its overall tone and sound are thicker, warmer, much richer than the sound of the smaller ones.
Best Tenor Ukulele Under $150 Reviews
It is challenging to find a real bargain yet, a high-quality product for new players. But don't worry.
Check the top products below to find the best tenor ukulele for beginners.
#1. Kala Learn To Play Tenor Ukulele/ Best For Beginners
In 2005, Kala, one of the most recognizable instrument brands globally, designed and made the Learn To Play Tenor Ukulele. And ever since then, this instrument has been a good investment for many players.
With a simple design and a Mahogany back, it is lightweight, and it has a classical and memorable look. Also, the tool comes with a starter kit, which is really beneficial to beginners.
Pros
Classical look
Lightweight
Con
#2. Enya Tenor Ukulele/ Best Weight
At a very reasonable price, the Enya Tenor Ukulele has a more balanced tone than some normal plywood products. Not just that, the instrument also impresses you with an elegant and portable design. It has a Mahogany neck and back and fit size for most people.
What's more, this instrument's surface is made water-resistant and scratch-proof. So it is a great choice under any extreme weather when you are on the go.
Pros
Easy to keep clean
Lightweight
Strap button
Con
#3. Kala KL-TG Gloss Mahogany Tenor Ukulele/ Best Sound
If you already have a beginner's instrument and are looking for a more advanced one, its rich and smooth sound will definitely please you. Besides, Kala's Ukulele is a high-quality tool, for it is easy to keep in tune, and it has a beautiful gloss finish.
Pros
Gloss finish
Rich sound
Easy to tune
Con
#4. Enya Tenor Ukulele With Cherry Blossom Pattern/ Best For Girls
In July 2020, Enya released a chill and stunning version of the tenor instrument. With the cherry blossom pattern, this product appeals to many young people, especially girls who are keen on vintage style.
In terms of sound, the body of the product is made of solid Mahogany wood, which delivers a warm and profound sound. Another important feature that makes the sound more stable and durable is the J87 strings.
To sum up, this tool is more suitable for starter and unprofessional players. But even when your level is upgraded, you don't need to purchase another product.
Pros
Sweet and unique design
Nice tone quality
Con
#5. Kala Tenor Ukulele With Mahogany & White Design/ Best For Travellers
It is a high-quality tenor with an outstanding design. With satin Mahogany wood, the instrument is decorated with gorgeous original artwork, which is evocative of the 1800s Swiss folk art. Also, the sound always stays in tune, making beautiful pieces of music. Thus, whether you want a product for your travel or your performances, this one is a one-of-a-kind instrument.
Pros
Always in tune
Lightweight
Classical and unique finish
Con
#6. Deviser Concert Ukulele/ Best Fretboard
The design of this one is what makes it so different from others on the market. While the body and side are solid koa wood, the fretboard is made of rosewood, which will impress you with a classical and elegant look.
Moreover, the carbon nylon string is one of its strengths. This string is much harder and more durable than any others, helping the sound bright and loud. Surely it is, with this feature, many players are keen on this product.
Pros
Carbon nylon string
Elegant design
Lightweight
Con
#7. Luna Vintage Mahogany Tenor Ukulele/ Best For Performers
The Luna Vintage Mahogany Tenor Ukulele is the way to go for players of all levels. The whole instrument is from wood, so it delivers a full-bodied sound. Especially with the rosewood fingerboard and bridge, its sound is warm, sweet, and profound.
With this one, you don't have to worry about whether the instrument stays in tune or not. Luna, when designing it, used an easy-to-use clip-on tuner, which is perfect for amateurs or players who perform in small stages.
Pros
For everybody
Sweet and profound sound
Easy to use tuners
Con
#8. Hola! Tenor Ukulele/ Best String
This product is made of solid mahogany wood, which brings not only an impressive look but also a warm and smooth sound. Having a part in producing the best sound, Premium Italian Aquila Strings help you tune better, making this instrument irreplaceable to many players.
Moreover, one interesting thing about this instrument is that its nut and saddle are not from plastic, but ox bone directly influencing the tone.
Pros
Ox bone saddle and nut
Aquila strings
Creates warm and smooth sound
Cons
No side sound port
Sharp edge frets
#9. Kala KA-TG Gloss Natural Tenor Ukulele/ Best Design
The final product that we believe will satisfy you is the Kala KA-TG Gloss Natural Tenor Ukulele.
Mentioning the design, this one is well-designed with a gloss finish, a Mahogany wood body, as well as a white binding. For those reasons, the instrument has a traditional and stylish appearance.
The sound is rich and full, proving the instrument a great tool for professional and unprofessional performers.
Pros
Rich and full sound
Well-designed
Con
Sum Up
And that is all about our Best Tenor Ukulele Under $150 review, with nine products that we favor. They are some of the best when you want to purchase a tenor at a fair price.
What's more, they are acoustic and easy to tune instruments, so beginners, who used to find ukuleles hard to learn, will meet no obstacle. We hope that the list will help you make your mind.
Thanks a lot for reading!