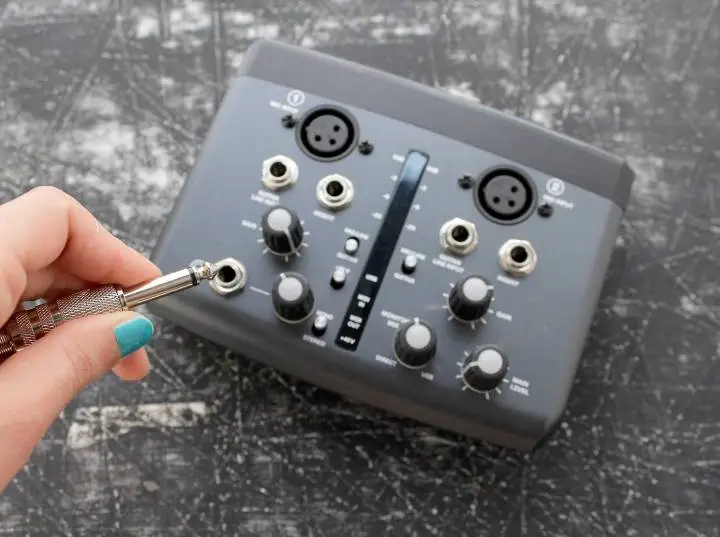 USB-C is a successor for both USB type A and type B connections. It has the benefit of being reversible, allowing you to plug it in in either position.
There are tens of USB-C out there. What does each interface work for? Which one fits you best?
We have included a list of popular interfaces. Let's scroll and find out which is the best USB C audio interface below!
#1. PreSonus Studio 24c
>>> Today's Best Deal: Check Latest Price on Amazon
For recording studios, mobile musicians, and guitarists, this interface is ideal.
The Studio 24c can help you sound your best whether you are recording your debut album or the newest episode of your popular podcast.
Two immaculate XMAX-L mic preamps will assist you in recording voices. They can also provide high-headroom instrument preamps for connecting your guitar or bass directly to your interface.
The Studio 24c audio interface comes with a free license of the winner for Studio One Artist music technology software. Hence, you can start recording right away.
A simple Mix control allows you to combine your analog inputs with computer audio, making producing a perfect monitor mix quick and straightforward.
Any project is easier and faster to do when you have the appropriate equipment. That is why the Studio 24c has professional input and output metering.
So, you can keep a close eye on your input and mix levels while you're recording alone.
Moreover, Studio One allows you to write, record, and produce music without getting disturbed by tools or constrained by track limits.
Are you looking for a fresh loop or sample for your current project? Without ever opening your browser, Studio One allows you to browse, audition, and buy new material and upgrades.
Pros:
Excellent software to produce a smooth recording
High-quality data converters
Studio One license for free access
Cons
Maybe hard to plug and play
#2. SSL SSL2+
>>> Today's Best Deal: Check Latest Price on Amazon
This is an all-in-one professional studio. It serves musical producers and media, production teams.
For the past 40 years, the consoles and production tools have been at the heart of many hit records and award-winning soundtracks.
The device can make the incredible audio sound. You'd better understand how creative collaborators want to collaborate.
The SSL 2/2+ is a USB bus-powered. It eliminates the need for a separate power supply. Normally, there is an exchange between low latency and a cleaner configuration.
However, you may be pleased to find that latency performed well throughout testing. Let's compare with other interfaces with a separate power supply. You will figure out an interesting fact!
The 2+'s feature set follows very well-established norms. It demonstrates exactly why those patterns perform well! It is incredibly simple to get used to because there is no on-screen mixing or control panel utility.
The arrangement is usually great in terms of ergonomics, with the exception that in order to connect an electric guitar or comparable instrument.
You must use both the Line and Hi-Z buttons. Simply the Hi-Z button will not be enough.
Pros:
Excellent value for money
Excellent specifications and sound quality
Simple to use
Bus-powered and is quite portable
Plenty of clean mic preamp gain
Cons
Larger inputs needed
Room for the output to improve
#3. USB audio interface 2×2
>>> Today's Best Deal: Check Latest Price on Amazon
This audio interface works with a variety of recording programs, including Avid Pro Tools, Ableton Live, Steinberg Cubase, and others.
The US-2×2 is the perfect 2-channel interface for households, projects, and mobile studios. It gives you a great experience with outstanding audio specifications. And iOS compatibility is another plus.
The device offers professional audio quality with an audiophile 48 kHz resolution.
It includes professional-quality 24-bit, 96-kHz converters for Mac and Windows.
One big advantage of the item is that it can boost the high-performance Class A mic preamplifiers.
Unfortunately, there is no DAW recording software provided. It means that you must get it yourself.
Pros:
Straightforward interface
Accessible to numerous tools
High-performance micro
High-quality sound
Cons
#4. Steinberg UR22C
>>> Today's Best Deal: Check Latest Price on Amazon
There are two versions of the UR22C. The first choice is to buy simply the audio interface.
However, the UR22C also includes software and VST plugins. All of the new UR-C make the appropriate innovation with the Cubase AI, and mixing programs.
Mainstays of professional audio With the UR22C has built a reliable interface in their line.
This USB-C interface features Yamaha's D-PRE audio preamps. It also includes a stylish and durable metal casing.
The included drivers are error-free. The 24-bit resolution recordings at up to 192 kHz sample rates are excellent for an interface at this price range.
MIDI connections, 48V phantom power for the mics, and full monitoring control are among the features. A small entry-level version of Steinberg's renowned D is also a big plus.
The UR22C recording kit is fantastic. It comes with everything you need to get started recording, including a microphone cable and a mic stand clip.
The interface is simple to set up. And, data transfer is lightning fast when USB-C is accessible.
The ST-H01 headphones provide crystal clear monitoring. Besides, the ear cups are pleasant on the head even when used for long periods of time.
The UR22C isn't as well-known as the Scarlett 2i2,. However, it performs admirably and is worth considering if you're looking for a quality USB interface at a similar price.
Pros:
Excellent sound quality
Easy to use
Solid construction
Cons:
Require an individual power switch
No stereo choices
#5. MOTU M4 4×4
>>> Today's Best Deal: Check Latest Price on Amazon
If you're searching for a high-quality USB interface that won't break the budget, the MOTU M4 is a good option.
The M4 and M2 also include a loopback connection. It allows podcasters to easily record Skype calls.
The M2 and M4 can connect to both PCs and iOS devices. You will find it useful if you intend to do both.
This USB-C interface has ESS Sabre32 technology. it works well in considerably more expensive audio interfaces.
This device also provides outstanding low-latency performance thanks to the improved drivers.
These devices have a lot of headroom. You can plug in dynamic or condenser mics with active pickups.
They all will sound great. And they're always incredibly quiet whether monitoring or recording. The quality is excellent too. This is a wonderful time to bring up the exhibits.
Most interfaces have a peak light or a handful of LEDs. Yet, the M4's full-color LCD displays feature the kind of metering that can truly help you assess levels with some precision. It is not crystal clear.
There aren't any level numbers on the side. However, it is by far one of the finest metering of this type.
There are two separate headphone outputs on this device. It may be quite handy if you are recording with others.
Pros:
Affordable
Able to record the calls
Quick data transfer
Accessible to PCs and IOS items
Cons:
No optical inputs or outputs
Not scratch-resistant body
#6. Audient iD4 MKII
>>> Today's Best Deal: Check Latest Price on Amazon
The iD4's functioning contains a handful of unique features. One of them is the Monitor Mix control.
The system not only blends input and DAW return signals but also switches the LED ladders to indicate input levels while listening to 100% input.
A Monitor Pan option is also available. It enables you to combine the audio signal in stereo.
When you press the iD button, the Volume encoder transforms into a mouse touchpad.
The audio output gets low by 15dB when you press the volume encoder. The Mute switch flashes to let you know you've done it.
The single vintage Audient Class-A microphone preamplifier performs admirably. Audient's famous ASP8024 console from the late 1990s appears in the same preamp architecture. It produces audio with extremely minimal noise and distortion.
They also give your recordings a slight analog warmth. This is uncommon in such a small interface.
The iD4 MkII's connectors and layout are similar to the previous.
On the back, there's a single combo Mic/Line input, with the phantom power button positioned rather inconveniently next to it. A pair of jack outputs feed your speakers in the back. Meanwhile, the headphones stand in the front.
When you push the device, the J-FET instrument DI may give a pleasant amount of weight and heat.
Pros:
Excellent sound performance
Easy to understand and use
Excellent build quality
Support Windows, Mac, and iOS
Cons
Using iOS devices necessitates the use of a camera adapter as well as a powered USB hub
Conclusion
We have just browsed some USB models. Have you figured out which one is the best USB C audio interface?
Each item has its benefits and drawbacks. The best item is the one that suits your demands. Consider the specifications, products' highlights, pros, and cons carefully. You may picture your favorite sample in your mind, right?
If you need any further information, please feel free to ask. We are always willing to assist you.
Thank you for reading.