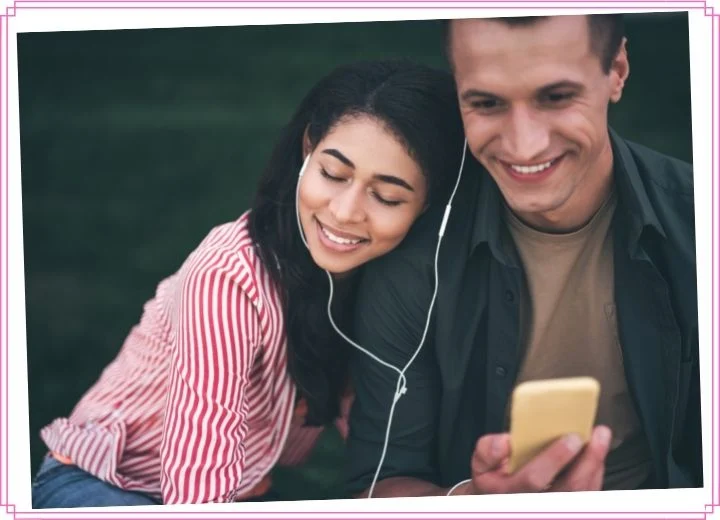 Podcasts are gradually taking an important place in our lives. You can listen to them anywhere, anytime, and on any topic, including about love.
Relationship issues between couples always attract our attention. After all, who can live without love? It creates a demand for advice and advice from the best podcast to listen to with your boyfriend.
We've put together a list of the most meaningful relationship podcasts with that in mind. Let's explore together.
Best Podcast To Listen To With Husband Or Boyfriend
Not all the radio shows on this list are about love. We have included some more interesting themes to meet your needs.
The main content of this unique relationship program is a conversation between leading expert Esther Perel and couples about their real problems.
This Belgian author and therapist guide couples through their conflicts regardless of gender or race. Common problems include infidelity, anger, and frustration. Eventually, they will have to see their relationship and closeness differently.
You can listen to this radio show on iTunes or anywhere connected with your favorite listening app.
IGNTD will help listeners change the way they see themselves and surrounding relationships a lot. It is a rich source of inspiration for the "thoroughly honest" lifestyle between couples to understand each other better.
The two hosts, Sophie and Adi Jaffe, are constantly digging into emotional topics like loved ones, lifestyle, or finances. They start each episode by giving a piece of advice and then invite a guest.
The interviews here are like a pleasant conversation and confiding. Adi and Sophie are the ideal role models for couples.
They went through ups and downs and emotional levels together. One is very sensitive and liberal, while the other is entirely rational. The way they harmonize their lifestyle together is admirable.
When the book Girl, Wash Your Face became famous, so did Rachel Hollis' fame. Not only is she the author of an inspirational book, but her radio show is also impressive.
Rise's earlier show focused primarily on helpful business advice and life maxims. Rise Together. Its descendent revolves around emotional issues. Along with her husband Dave, Rachel has opened up more about the troubles of balancing her marriage and work.
This couple with four children has an easy-to-understand and objective narrative when advising on both male and female perspectives. The show's atmosphere is not too heavy, and it's always funny and light.
The motto of this podcast is: "If you can't be satisfied with yourself, you won't be in a relationship."
Several psychologists have recommended this podcast. It takes a very diverse approach, interviewing experts or coaching real people on marriage issues.
Christine Hassler has a warm, responsible, and intuitive approach. She made it easy for the participants to open up and give honest advice. You will find yourself in those stories.
Love is not only about beautiful moments or sweet memories. It also includes pain and loss. Breaking up is one such thing.
No one likes separation. They always think of it as sadness and haunting for a long time. Yet, a better way is to turn a sad story into an inspiration to shine.
Leaving Chelsea, coach Leigh Trescott interviewed guests about their experiences. It turns out that painful memories can also be turned into a driving force for renewal, growth, and regeneration.
Brooke and Wilhem are new faces in podcasting. But with only the first episodes, they proved their charm.
The show's motto is that everyone can be a power couple, and the purpose of that is to complete each other. Their voices are enjoyable, their chemistry is extremely lively, and their deep thoughts easily catch your attention.
The couple delivers great content revolving around talks with guests. Please give it a listen, and you won't be disappointed.
Small Bites is the most suitable program for foodies and food enthusiasts.
The host couple, Sonja and Alex Overhiser, developed a taste for cooking together after getting married. They have slowly turned their hobby into a business, starting with this cooking website, books, and eventually this podcast.
Each episode has a delightful duration, only about 20 minutes. Its content focuses on exploring the stories, ideas, and people behind what we are eating. The show features famous chefs and entrepreneurs.
The Wedding Ceremony is a light show that will make you smile the whole time. Wedding planners love this talk.
Follow the two wedding facilitators, JP Reynolds and Clint Hufft, to participate in the actual ceremony. The stories intertwine on themes of interpersonal relationships and family dynamics.
A girl's small talk is always filled with unexpected attractions. This podcast uses that unique and creative approach to deliver outstanding content.
Its content isn't entirely marriage-focused, but the way host Stephanie May Wilson leads the guests is respectable. As a woman, she and her invited girlfriend will confide in life's biggest problems.
Although Christian heavily influences the ideology of this show, the discussions are still honest and raw. You can listen to a variety of topics, from trust to relationships.
Understanding human behavior will help you have more subtle ways of handling situations. Why We Do What We Do is a podcast with such content.
The behavioral analyst in each episode delves into a topic of human behavior. Some exciting issues include forming habits, human memory, or thrifty style.
The approach of this talk show is quite gentle, even with the heaviest topics. It is an excellent choice for couples to get to know each other better.
Produced by TED and NPR, TED Talks Radio Hour combines interviews and talks by speakers about many aspects of life. This choice is suitable for all couples as you will always find your favorite theme.
Of course, TED is highly respected for its excellent hosts, so you know that podcast content is going to be the real deal.
Fierce Marriage is one of the most popular faith-based podcasts available today.
The couple Ryan and Selena Frederick are the hosts of the show. Here, they share almost every experience about marriage, from sex to communication problems or conflicts.
Their honesty about their marital successes and troubles is a talk show plus. In addition, the couple also expanded the topic to other aspects.
Whether you have been, are, or will be in a relationship, this program is an excellent source of information.
How I Built This is a great program for couples who love startups and businesses. Its content shares stories of successful entrepreneurs from many diverse companies such as SoulCycle, Kate Spade, and DoorDash.
Each episode has its own good points, and you will easily find your favorite topic. These success stories will motivate us to try harder at work.
Let's hear Jody Moore talk about how to live a better life than happiness. This inspirational talk show comes from a member of Latter-Day Saint.
We all know that life is not inherently smooth or easy. The only way to overcome it is to face the difficulties.
Financial issues are a factor in couples' relationships, so listen to this podcast. Its main content revolves around balancing life and paying expenses more smartly.
Money always causes conflicts between couples. Always talk openly and honestly about the situation, your goals, and everything around it.
Frequently Asked Questions
If you have questions regarding relationship podcasts, find the answers below.
What Is The Perfect Wedding Podcast?
Getting married is an important decision that has a powerful impact on the rest of our lives. It is not surprising that some couples will have a crisis in the early years of marriage.
Prepare yourself mentally and methodically to resolve a couple of conflicts through the following programs:
Where Should We Begin?
Fierce Marriage
Thank You Heartbreak
Girls Night
I Do Podcast
The Naked Marriage Podcast
Marriage and Martinis
Therapist Uncensored Podcast
ONE Extraordinary Marriage
Anatomy of Marriage
What Is The Best Podcast At The Moment?
There is no topic limit for the best podcasts out there. It can be funny comedies, true crime stories, or love advice.
The shows' engaging content and inspiring storytelling will take you into emotional realms. Let's cry, laugh, and fear together with the list below:
Start With This
1619
Philosophy Bites
Why Won't You Date Me?
Crime Show
Decoder Ring
In The Dark
Maintenance Phase
Black Girl Songbook
This American Life
Where Should We Begin Podcast Review?
"Where Should We Begin?" elicit problems and suggest solutions to relationships.
The show's atmosphere is filled with intense emotions, with great insights. Many believe it would be even better if host Esther Perel could find more skillful and sophisticated guests.
What Is The Number 1 Dating Podcast In The World?
The Great Love Debate by Brian Howie is the number one podcast for relationships and dating today.
You can listen to some of the show's views in the video below.
What Is The Best Relationship Advice?
Giving relationship advice isn't easy. If no one asks, it can become uncomfortable and offensive.
However, there are general guidelines that we should pay attention to keep love healthy. We've gathered opinions from psychologists to come up with this list. These include:
Schedule a regular schedule to talk about your relationship.
Be honest with your feelings, whether positive or negative.
Identify recurring problems in your relationship and find ways to solve them.
Before judging, repeat your partner's words.
Don't expect them to become your best friend.
Don't be shy when it comes to money.
Use actions more than words.
Ask for advice from friends.
Fight effectively.
Final Thoughts
Hopefully, our article can help you find the best podcast to listen to with husband or boyfriend.
Each podcast tells different stories, from relationships to the secret to maintaining a happy marriage. And even if you do go through a breakup, use it as motivation for personal growth.
There are still many other interesting podcasts topics that we have compiled at the site. Check them out if you're interested. Thank you for reading!