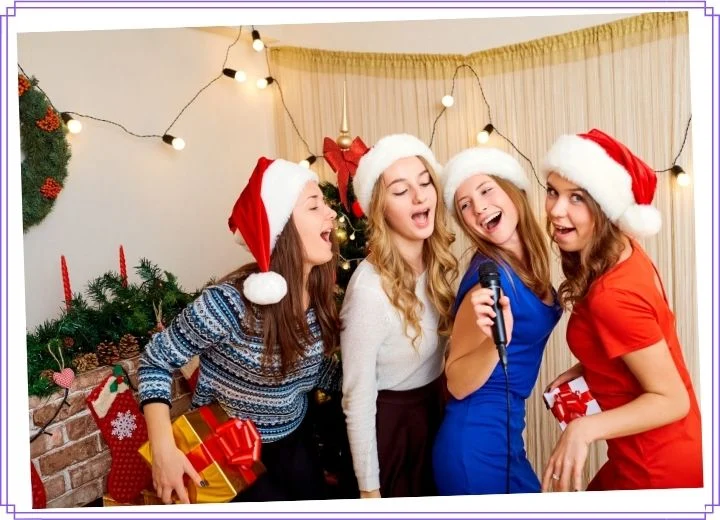 Finally, the moment everyone is looking forward to the most, Christmas has come. It would be remiss if there were no festive music surrounding the space. It contains deep feelings, catchy tunes, and emotional synchronicity to touch everyone's heart.
These songs are often forgotten most of the time but then shine brightly in the early days of October. The magic of Xmas songs is that people will never forget them, no matter how long it was released.
Let's review the top 15 best sing along Xmas songs!
List of Best Sing Along Christmas Songs
In the section below, let's explore the songs people sing along with the most at Christmas. Indeed, there are many other good songs besides the list that we recommend to you. Before entering the official list, let's take a look at other famous names. These include:
"River" by Joni Mitchell
"Little Drummer Boy/"Peace on Earth)" by David Bowie and Bing Crosby
"Jingle Bells?" by Barbra Streisand
"Underneath the Tree" by Kelly Clarkson
"Sleigh Ride" by The Ronettes
"Baby, It's Cold Outside" by Brett Eldredge and Meghan Trainor
"Mistletoe" by Justin Bieber
"I'll Be Home for Christmas" by Dean Martin
"Do They Know It's Christmas?" by Band Aid
"I Saw Mommy Kissing Santa Claus" by The Jackson 5
"Rudolph the Red-Nosed Reindeer" by Gene Autry
"Christmas Rapping" by Kurtis Blow
"Wonderful Christmastime"  by "Wonderful Christmastime" 
"What Christmas Means to Me"  by Stevie Wonder
"Happy Xmas (War Is Over)" by John Lennon & Yoko Ono with The Harlem Community Choir
#1. All I Want For Christmas Is You
Singer: Mariah Carey
Released: November 1, 1994
Genre: Xmas, Dance-pop, R&B
A familiar song that we're sure to hear by heart as the holiday season approaches, Mimi's masterpiece is already one of the most evident signs of Xmas.
The cheerful rhythm, skillful singing style, and distinctive high notes of Mariah Carey highlight the song. Even though Mimi said she didn't want the gifts, that wasn't the spirit of protesting against the festival.
The natural gift we all need is love. And at the end of the year, many people will certainly understand this feeling.
Let's listen to this legendary song again. Indeed, we will still hear "All I Want For Christmas Is You" in the first days of winter for many more years.
#2. Last Christmas
Singer: WHAM!
Released: December 3, 1984
Genre: Synth-pop, Dance-pop, Xmas
"Last Christmas" is a romantic song with a joyful melody and passionate lyrics. Love seems to be an endless source of inspiration, even with Xmas songs.
The song's video includes synths, snowmobiles, and iconic knitwear. And let's not forget George Michael's masterfully impassioned vocals that showcase deep hurt and catchy whispers.
"Merry Christmas" wishes become sexier than ever with this song.
#3. Christmas (Baby Please Come Home)
Singer: Darlene Love
Released: November 22, 1963
Genre: Xmas, R&B
The melody of "Christmas (Baby Please Come Home)" can melt frozen hearts. It features a combination of Darlene Love's beautiful urgent vocals, Jeff Barry and Ellie Greenwich's poignant songwriting, and impressive production art by Phil Spector.
This song is a multi-layered pop symphony, lush and smooth from first note to last. Listen to it while wrapped in a warm blanket; you will feel more loved than ever.
#4. The Christmas Song (Merry Christmas to You)
Singer: Nat King Cole
Released: November 1946 (2nd recording)
Genre: Jazz, Pop
Nat King Cole is famous for a voice as warm and sweet as a cup of hot cocoa on Christmas Day. That magical expression, coupled with exquisite piano and string production, has made "The Christmas Song" a legend.
Cole's latest version of the recording wraps listeners in a warm blanket and gives them a quiet experience.
The title of the song couldn't be more appropriate to the theme. It encapsulates the feelings of love and reunion we all long for during the festive season.
#5. White Christmas
Singer: Bing Crosby
Released: 1942, 1947, 1950, 1955, 1970, 1983, 1988, 1989, 1998
Genre: Xmas, Traditional pop
"White Christmas" is the best-selling single of all time, and it deserves it. Irving Berlin's masterpiece for the 1942 classic, Holiday Inn, has a feeling of nostalgia, smoothness, and luxury.
The power of nostalgia for Xmas is more potent than actual memory. Let Bing Crosby take you back to a smooth and nostalgic memory region.
Even if they are less pleasant memories, they still appear splendidly under the prism of the changing seasons.
#6. It's Beginning To Look A Lot Like Christmas
Singer: Michael Buble
Released: November 19, 2012
Genre: Xmas, Traditional pop, Jazz
You've probably heard "It's Beginning To Look A Lot Like Christmas" by other artists like Johnny Mathis, The Fontane Sisters, or Mitchell Ayres & His Orchestra, but Bublé's version has a unique sound.
This Canadian singer has changed how he sings irregularly. Enjoying Jazz with the slow tempo spread over the whole sentence is also a feature of the song.
Listeners feel like they want to dance right from the first note.
#7. Rockin' Around The Christmas Tree
Singer: Brenda Lee
Released: 1958 (US), December 1962 (UK)
Genre: Xmas, Country, Rockabilly
While other 13-year-olds are busy just going to school or hanging out with their families, Brenda Lee has prepared a Xmas classic that will sell 25 million copies in the future.
No holiday is complete without these familiar tunes echoing through the streets.
Although Jewish musician Johnny Marks never celebrated the festival, he is the author of many masterpieces for this moment. Except for "Rockin' Around The Christmas Tree," we're familiar with "I Heard The Bells of Christmas Day" and "Rudolph, The Red-Nosed Reindeer."
Singer: José Feliciano
Released: November 9, 1970
Genre: Latin pop, Xmas
Xmas is an occasion when we gather with family and loved ones, and José Feliciano is no exception. The nostalgia for Puerto Rico's hometown prompted him to compose a bilingual song in midsummer in Los Angeles.
This cheerful song is the work of raw inspiration for a moment and without much polish. But perhaps that is why it receives millions of listeners worldwide.
The lyrics are heartfelt, and it's appropriate for all ages.
#9. Santa Claus Is Coming to Town
Singer: Bruce Springsteen
Released: 1982
Genre: Xmas
Many great vocalists have reinvented this 1982 classic like Jackson Five, Michael Bublé, or The Supremes. Even so, Springsteen showed the best of excitement, excitement, and joy in welcoming Santa.
The festive saxophone solo with the jingle bells makes us feel the anticipation in every cell. Who is a good kid, and who is a naughty one?
#10. Blue Christmas
Singer: Elvis Presley
Released: November 9, 1964 (447-0720) – November 26, 1965 (447-0647)
Genre: Xmas, Rhythm, Blues
Elvis Presley's Christmas album is one of those masterpieces everyone should listen to. The King has shown his artistry in many different musical styles spanning 12 works.
"Blue Christmas" brings a feeling of gentle sadness but is still full of hope. Listen and feel. You will understand why it appears on this list.
#11. Santa Tell Me
Singer: Ariana Grande
Released: November 24, 2014
Genre: Xmas, R&B
Ariana Grande may not yet usurp Mariah Carey as Christmas Queen, but she certainly has her own mark.
"Santa Tell Me" is a light, sparkling and sweet pop song. The girl's Q&A and requests to Santa Claus pop into your head and won't leave all day long.
Unlike other singles' powerful and towering displays, Ariana shows feminine and soft sides here. It brings a pleasant warm festive atmosphere.
#12. It's The Most Wonderful Time Of the Year
Singer: Andy Williams
Released: October 14, 1963
Genre: Xmas
The 12th track on the list continues to be a song you're sure to hear at least once at the grocery store or on the street. Andy Williams delivers a bold, festive declaration of love.
From the name, we already know this work includes all the elements that are typical of Xmas. Images of snow falling on the ground, mistletoe, or family time brings a real feeling of happiness.
"It's the most wonderful time of the year," I am sure you will say after listening to this song.
#13. Have Yourself A Merry Little Christmas
Singer: Judy Garland
Released: 1944
Genre: Holiday
Judy Garland introduced this classic in a poignant segment of the musical Meet Me in St. Louis (1944). She sang this song with her little sister in the context of their family wanting to leave their hometown.
"Have Yourself A Merry Little Christmas" brought a completely different perspective on the festival. There was no joy, no exhilaration or warm feeling, all that remained were melancholy and loneliness.
Even so, Garland's mellow and serene vocals make us feel like there's still hope for the future.
#14. Jingle Bell Rock
Singer: Bobby Helms
Released: November 28, 1957
Genre: Xmas, Rock and Roll, Rockabilly, Country
This rockabilly ditty track has topped the Xmas charts five times in a row since its debut in 1957. "Jingle Bell Rock" has no complicated lyrics or deep meaning, but it does express the spirit of the festival god.
Enjoy the twinkling guitar and country vibes of Bobby Helms.
Right from the early 60s, the song was a legend that everyone was familiar with. Today, it is a towering presence in the Xmas rule, synonymous with the holiday as tinsel and paper crowns.
#15. Let It Snow! Let It Snow! Let It Snow!
Singer: Ella Fitzgerald
Released: 1960
Genre: Xmas
Well, it would be remiss if our holiday wasn't covered with white snowflakes. They are also a vital sign at the end of the year.
Your worst dare with the winter gods has proven a timeless holiday classic since it was first written by Sammy Cahn and Jule Styne in 1945.
Despite that, the funky version of 1960's Ella Fitzgerald proved to be very interesting. A glance from the outside only confirmed that everything is as it should be on the inside.
Final Thoughts
Hopefully, our recent list has helped you somewhat in choosing a list of best sing-along Christmas songs for the upcoming holiday season.
The songs on the list include a lot of different emotions, from joyful excitement to warmth and even a bit of sadness.
Regardless of the emotions they bring, these are timeless pieces that we will repeatedly hear year after year. The incredible thing is that emotions are always intact after each enjoyment.
Don't forget to share this article with your friends if you love it.
Thank you for reading!