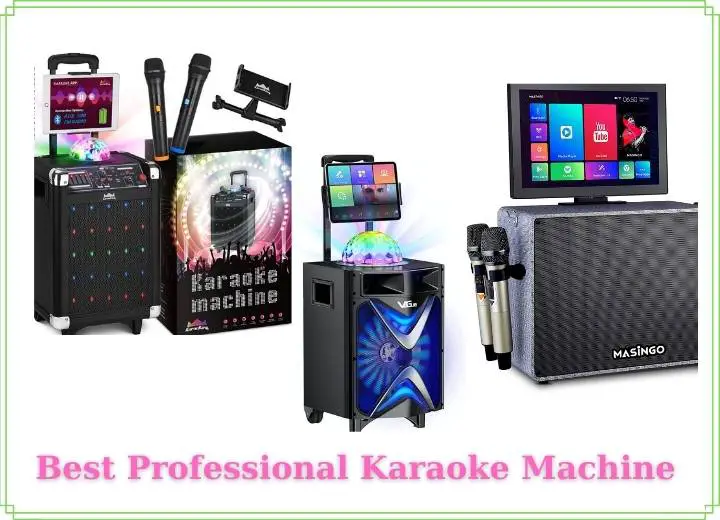 A professional karaoke machine is the pinnacle of karaoke equipment. People often use them for commercial purposes at specialized karaoke bars, pubs, or similar venues.
The best professional karaoke machine is sure to please audiophiles or karaoke lovers. If you are looking for a top home karaoke system, this article is for you.
Let's read on to discover!
In-depth Reviews On The Best Karaoke Machine Professional 
The appearance of professional karaoke machines looks quite similar to large stereo receivers. To achieve optimal use, you will need to perform some operations such as sound settings and connect to speakers and microphones.
These systems often come with a massive song catalog that can cater to all generations. Therefore, they can serve many different purposes.
In this section, we will help you find the top 10 most impressive professional karaoke systems.
#1. Singtrix Bundle – Best For Overall
>>> Today's Best Deal: Check Latest Price on Amazon
Thanks to its unique effects and comprehensive features, the Singtrix Bundle takes the lead on this list. True to its name, Singtrix SGTX1 uses a sophisticated karaoke system to enhance your singing experience.
It allows users to access Youtube and play videos with lyrics easily. This feature broadens the selection for customers of all ages to use and enjoy.
This model doesn't accept Bluetooth, but it doesn't hurt much. You can use 3.5mm connectivity to reach more devices.
The manufacturer has created Singtrix Bundle to be suitable for formal and professional parties.
The microphone system is easy to operate with a push of a button and a 12-foot extension cord. This karaoke machine also comes with a boom arm and microphone stand for your more convenient use.
If you don't like the built-in microphone, you can completely replace it with a wireless microphone and connect it to the system.
The floor-standing speaker is the most valuable part of the SGTX1, with an excellent and catchy sound. The 2.1 stereo speaker also comes with a subwoofer that adds depth to the sound.
With more than 300 options for vocal effects, you can completely transform into a professional diva on stage.
The unit is also elementary to install with its plug-and-play design.
>>> Today's Best Deal: Check Latest Price on Amazon
Reasons to buy
Easy to set up system.
Unique 300 voice effects.
Subwoofer for a deeper sound.
Microphone stands for a convenient experience.
It can access Youtube.
#2. KaraoKing Machine G100 – Best for Family 
>>> Today's Best Deal: Check Latest Price on Amazon
The KaraoKing G100 is the ideal choice for families who love to party. It is compact, portable, and has excellent quality.
The speaker system that comes with wheels and a lightweight handle is an excellent solution for long trips. You can use it at home, have a picnic or bring it to a friend's house for fun.
What makes the G100 the best karaoke machine professional is the pair of wireless microphones with beautiful tones. The advanced control panel allows you to balance the bass and treble like a real DJ easily.
This karaoke system is easy to connect to in any way you can think of. It is compatible with Bluetooth, USB, AUX, and FM radio. The included phone and tablet holder make song selection easier. Even children can use it.
KaraoKing is also very generous when it includes a disco ball with eye-catching effects in the bundle. Let loose and immerse yourself in the melody to enjoy the most relaxing moments.
>>> Today's Best Deal: Check Latest Price on Amazon
Reasons to buy
Durable and mobile design.
Powerful speaker.
A wide variety of connections.
Good sound control panel.
A disco ball with fun effects.
#3. Masingo Alto X6 – Best for All-in-one Bundle
>>> Today's Best Deal: Check Latest Price on Amazon
One of the most suitable devices for karaoke fiesta sessions, the Masingo Alto X6, is the next choice on this list. This karaoke system is suitable for all ages.
It is compact with an elegant minimalist design. The 20W Bluetooth speaker set delivers twice as mighty power, similar to a portable PA speaker system.
This bundle has all the basic features you are looking for in a karaoke machine. You can find two wireless microphones, impressive speakers, and a display with 32 GB of storage. For perfect microphone pitch control, adjust echo, EQ, and mike volume.
The wireless microphone set is the latest version of 2021, which is very impressive.
The manufacturer has provided you with some necessary applications to be able to sing-a-long. For those who love to explore, you can download more suitable applications.
The battery life of this device is four hours, more than enough for any party.
The Masingo Alto X6 comes with seven playback modes: Bluetooth, Tablet, USB, Micro-SD, HDMI, AUX-out, and PA. The best part is the four fun audio adjustments that make the party even more exciting.
For audiophiles or amateur singers, this karaoke machine comes with five EQ settings for different genres of music.
>>> Today's Best Deal: Check Latest Price on Amazon
Reasons to buy
Portable and minimal design.
Five EQ settings.
Remote control for easier management.
Funny vocal transformer modes.
Wireless microphones.
#4. Tonor Machine K20 – Best for Long Battery Life
>>> Today's Best Deal: Check Latest Price on Amazon
The Tonor K20 offers a quality karaoke solution at an affordable price.
The sound of this karaoke system is highly well-organized, with a maximum capacity of up to 250W. You will receive one 8" subwoofer and two 3" tweeters with the purchase of this bundle.
The manufacturer has been very subtle when using wood material for the cabinet. This element increases sound quality by increasing the bass in the air and reducing distortion. The device allows you to sing your heart out and shine at the party.
The disco ball is a nice bonus. The melodic synchronization mechanism makes the atmosphere more vibrant. This product is also highly suitable as a gift for party-lovers.
There are many ways to connect to the Tonor K20. You can use a Bluetooth device or via USB/TF card/3.5mm auxiliary input. Two battery-powered wireless microphones give you the flexibility to move around the stage. Worrying about wires is now a thing of the past.
The battery life of this device is also highly respectable, with 12 hours of operation.
>>> Today's Best Deal: Check Latest Price on Amazon
Reasons to buy
Reasonable price tag.
A vast array of connectivity.
Wooden case for a clearer sound.
A disco ball included.
Long battery life.
#5. Moukey RMS 280W – Best for Smart LED System
>>> Today's Best Deal: Check Latest Price on Amazon
The next best karaoke machine on the list is the Moukey RMS 280W. This device can meet your diverse needs, from home entertainment to presentations.
With a powerful PA amplifier speaker system, the sound emitted will be apparent, anti-interference, and extremely easy to hear. You can sing, talk or stream the song at high volume without fear of affecting the timbre.
A pair of 10″ subwoofers and 3″ tweeters deliver a complete sound spectrum. It helps amplify audio frequencies, ensuring that your voice is fully heard.
Although this bundle does not include a disco ball, the manufacturer has added an intelligent LED system on the speaker instead. In case you don't want to use it, turn it off.
The battery part of this Moukey works within 1-3 hours, just enough for a party.
A small note is that you should charge the battery within 12 hours with the first charge. The subsequent recharge will take about 6-8 hours. If properly maintained, you can use the battery of this system for a long time.
>>> Today's Best Deal: Check Latest Price on Amazon
Reasons to buy
The colorful LED light on the speaker.
Affordable.
Versatile use.
Simple console and control panel.
Multiple connectivities.
#6. Moukey 540W Power – Best for Multiple Control Features
>>> Today's Best Deal: Check Latest Price on Amazon
Moukey continues to feature on this list with the Peak Power model. This system is perfect for karaoke enthusiasts with tight financial conditions.
While Moukey can't bring your voice to life like the Michael Jacksons, it ensures you're noticed and heard. Amplified PA system with subwoofers and tweeters preserves sound at all volume modes.
The multifunction console is an exciting part of this device. It allows easy mode switching and sound effects. With just one click, you can remove the original vocals and keep the beat intact. Too marvelous for an exciting karaoke session.
The Moukey Peak Power also provides remote control for more convenient management.
The connection system is the bright spot that helps bring high flexibility to this karaoke machine. In addition to the wireless connection for audio transmission, it also includes USB Flash and Micro TF card connectivity options. Try connecting your favorite devices today.
>>> Today's Best Deal: Check Latest Price on Amazon
Reasons to buy
A budget professional karaoke machine.
Easy to connect.
Wireless microphones with built-in echo.
Rechargeable battery.
A tablet holder is available.
#7. Vegue VS-1088 – Best for Outdoor Parties
>>> Today's Best Deal: Check Latest Price on Amazon
The Vegue VS-1088 has it all: a quality speaker system, two wireless microphones, and a compact monitor stand.
With four sound modes, it gives you the flexibility to refresh your performance. The 10″ subwoofer comes with a 15″ tweeter that ensures balance and preserves the sound from distortion. As a result, the sound of the song is consistently round and clear.
Anti-interference solid ability is also a commendable point of this karaoke machine.
You can take Vegue VS-1088 anywhere with its compact towbar design and convenient wheels. Up to six hours of battery life is enough for any party. And did I mention the colorful disco ball that stirs up the atmosphere?
This professional karaoke machine comes with quite a few connectivity options. You can freely choose them all from standard connections like Bluetooth to FM radio, TF card, or USB.
The manufacturer also adds aux-in and aux-out for auxiliary devices.
>>> Today's Best Deal: Check Latest Price on Amazon
Reasons to buy
Portable and mobile design.
Multiple connectivity options.
Good anti-interference ability.
Clear sound effect.
Wireless microphones.
#8. Karaoke USA GF846 – Best for CDs and DVDs Input
>>> Today's Best Deal: Check Latest Price on Amazon
You will be surprised to discover what this compact karaoke machine can do. The GF846 offers a convenient and top-quality singing solution.
This device is one of the rare devices that runs CD+G and DVDs. It can even play MP3+G files. A CD can contain hundreds of songs. So, this karaoke machine can cater to all ages and musical styles.
You can also play songs on the Internet with the MP3+G system.
The Karaoke USA GF846 also allows users to record their performances for other purposes. This feature is quite interesting for indie singers or garage bands. Do you want to form a group?
The 35W output power section is another impressive feature when we compare it to the device's size. Although this capacity cannot fill large spaces, it is loud enough for entertainment or home practice purposes.
Adjusting the echo and volume is also extremely easy. With just a few button clicks, you can completely customize the beat to your liking. The device's microphone also has a volume control button.
Better yet, Karaoke USA provides remote control for you to manipulate the above features without having to move freely.
>>> Today's Best Deal: Check Latest Price on Amazon
Reasons to buy
Colorful screen.
Audio and video outputs.
The recording feature is available.
Portable design.
Convenient remote control with multiple features.
#9. Singing iSM1030BT – Best for Flexible Use
>>> Today's Best Deal: Check Latest Price on Amazon
With tower speakers and pedestal structure, the look of the Singing iSM1030BT is awesome iconic.
This system does not include any pre-existing songs. But that's an advantage. It does not limit you in terms of the number or genre of pieces. You can ultimately play your playlist or download videos from Youtube with Bluetooth.
For those who love the classics, this unit accepts CD+G discs as well. You can even connect a USB to play in MP3+G format. More choices mean more flexibility.
Two 10W tower speakers bring just enough volume to your space. The included screen serves as a convenience for reading the lyrics. However, it does not support songs on Youtube.
With two included microphones and a 10-foot cord, the iSM1030BT is an excellent choice for duets.
The system also comes with pitch and echo adjustment. The results will be highly professional and catchy.
>>> Today's Best Deal: Check Latest Price on Amazon
Reasons to buy
A vast variety of connectivities.
Iconic design.
The song's key/pitch is adjustable.
The LCD screen is available.
It can play karaoke CDs and regular music CDs.
#10. Singsation Karaoke System – Best for Compact Design
>>> Today's Best Deal: Check Latest Price on Amazon
Connect your favorite karaoke apps with an 808 Singsation machine. With its compact design, this device is the best solution for tight spaces.
This karaoke machine is suitable for all ages thanks to its easy-to-adjust stand. You can choose a height from 2 to 6 inches at a glance.
This system also eliminates the hassle of wires as it connects to Bluetooth. You can connect to your favorite device or simply Youtube. Another advantage of wireless connectivity is unlimited music storage.
With 60 voice effects and ten sound effects, parties will always be vibrant and exciting. The manufacturer also attached a sparkling disco ball, and 25 light shows on the speaker to spice up the atmosphere. With the two included microphones, you can duet with the person you like.
Enjoy the undisputed sound quality with 40W of power for speakers. The number is quite impressive, considering the size and price of this device.
>>> Today's Best Deal: Check Latest Price on Amazon
Reasons to buy
Powerful speaker.
A bunch of effects of elevating the level of fun.
Impressive sound quality.
Portable and compact design.
Bluetooth connectivity.
Final Thoughts
Choosing the best karaoke machine professional takes more time and effort than you think. Research the features and characteristics of each product carefully before making a decision. A suitable karaoke system will be the highlight for any party.
Hopefully, with the above useful information, you can choose the right product for your requirements.
Happy singing!