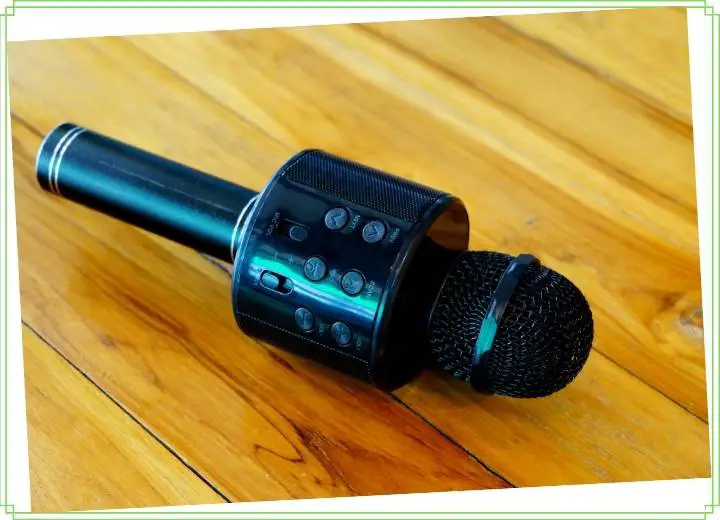 Are you a karaoke enthusiast? The good news is that you do not need to enter bars or karaoke stores anymore, thanks to the best Bluetooth karaoke microphone with speaker at home.
You will have a karaoke microphone as professional as bars to celebrate the funniest party in your house. Setting up the speaker system has never been as simple as when you have the best wireless karaoke microphone with speaker.
You are likely to become overwhelmed and confused with a wide variety of karaoke mics in the market. That is the reason why we are here to help you choose the most suited device for dynamic parties.
Let's keep reading on!
The Best Bluetooth Karaoke Microphone With Speaker Review
Among hundreds of karaoke speakers available in the market, we have researched, filtered, and analyzed the top 6 best portable wireless Bluetooth karaoke microphones to present in this article. Let's dive into each one of them.
#1. BONAOK Q37 Wireless Microphone – Best For Overall
>>> Today's Best Deal: Check Latest Price on Amazon
As the first product best overall in the list, we recommend you the BONAOK Wireless Bluetooth karaoke microphone.
The BONAOK is proud of its Bluetooth connectivity function. You can connect the microphone to other electronic devices via Bluetooth up to 10 meters, your smartphone as an example.
The BONAOK mic can play any kind of song from music apps on your smartphones, such as YouTube and Smule. You can even play the stream songs directly through the mic. Whether your phone is running Apple or Android, the mic will work best.
One bonus for this connection feature is that you can record your vocal performance with an audio cable.
You just need to use an audio cable to connect your smartphone and the microphone. Then, you should switch on one recording app on the smartphone. Now, let's enjoy singing your favorite songs while your voice is recorded in the app at the same time.
As the best overall karaoke mic, the BONAOK certainly will not discourage you with the exceptional sound.
The sound is stronger and louder than ever with the help of an advanced Bass Diaphragm part. It then will boost the efficiency of sound up to 30% which can transmit your voice across the room.
The more powerful sound along with the heavier sense will help you feel like standing in a live show concert.
>>> Today's Best Deal: Check Latest Price on Amazon
Reasons to buy:
Bluetooth connectivity up to 10 meters
Audio cable connectivity for recording
Loud and powerful sound
All-in-one karaoke microphone
Easy usage
Rechargeable battery
#2. BlueFire Wireless Bluetooth – Best For Sound
>>> Today's Best Deal: Check Latest Price on Amazon
Sound is one of the most important factors in choosing a high-quality karaoke machine. If you crave sound quality, then the BlueFire Wireless Bluetooth karaoke microphone is for you.
You will sing your beloved songs with a clear and dynamic sound thanks to the denoise feature. Specifically, the BlueFire model contains multiple layers for reducing the irritating noise.
There are three layers in the filtering head. These layers, plus noise-reduction technology can extremely remove the noise from your vocal performance.
They will filter the airflow and wind sounds efficient. Then, you can always sing with the clearest sound at jolly parties.
Not only clear, but the sound also needs to be loud enough to inspire the mood at parties. Fortunately, the BlueFire contains an advanced Bass Diaphragm part to boost the sound a maximum of 30%.
As a support of the clearest and strongest sound by the device, the light show feature will make your indoor parties colorful and energetic than ever.
There are 28 bright LED lights in total. These lights will be compatible with the rhythm variation.
The higher volume is, the shiner light is. The light show will make you feel like singing on a true stage with a big audience.
>>> Today's Best Deal: Check Latest Price on Amazon
Reasons to buy:
Clear and powerful sound
The colorful LED light show
Bluetooth connectivity
Audio Cable
All-in-one karaoke microphone
Strong and rechargeable battery
#3. JINCOR Portable Wireless – Best For Multiple Functions
>>> Today's Best Deal: Check Latest Price on Amazon
Are you looking for a karaoke microphone with the most functions to serve your needs? The JINCOR is a brand that is very suitable for you.
Initially, the JINCOR karaoke speaker carries the multi-function feature in terms of connection ability. It includes three types of connectivity, namely Bluetooth, USB Flash, and TF.
Bluetooth mode will allow the speaker to be compatible with any electronic devices, such as smartphones, tablets, iPods, and iPads.
Specifically, the speaker can play any music app on an electronic device. YouTube, Tik Tok, Facebook all can display the song on the JINCOR. Even the stream songs are possible.
The second one is the wired mode where you can connect the JINCOR karaoke mic with other gadgets through an audio cable with a USB head. You can even insert the TF card for the speaker to read all stored favorite songs.
Furthermore, the JINCOR product shows its multi-function feature in dual microphones.
As a true wireless stereo, it allows two microphones to operate at the same time. In other words, it is a duet of musical composition for two singers.
Connecting two mics to a single phone and doing a duet function is all you need to do. The sound of all genres and your voice optimization will come out of the mic. This function will help to make karaoke parties more engaging with family and friends.
Although the JINCOR mic is equipped with a lot of functions, the design is unique and attractive, which can earn much attention from the audience.
The black leather coating will help you hold the karaoke mic more firmly despite the sweat. Also, the combination of black and purple colors will make the JINCOR look more luxurious and professional.
>>> Today's Best Deal: Check Latest Price on Amazon
Reasons to buy:
Three modes of connection: Bluetooth 5.0, USB Flash, and TF card
Dual mics performance at the same time
3D surround sound with echo sound effects
Unique appearance with a leather coating of black and purple combination
#4. OVELLIC Wireless Microphone – Best For Kids
>>> Today's Best Deal: Check Latest Price on Amazon
The OVELLIC Karaoke Microphone is the best device for kids so that you can choose one to make a wonderful gift for them.
Children love sparkling, and colorful things and the OVELLIC is no exception. In terms of coverage, you will be overwhelmed with various choices of colors of OVELLIC karaoke microphones.
From strong black to eye-catching purple, there is a wide range of options for you to buy one mic for your boys and girls.
To make the device more appealing, the LED light show will flick with the rhyme. The bright lights will help to boost the dynamic atmosphere at night parties. Your children will feel like singing in a true live concert as a result.
One more big advantage of the OVELLIC Karaoke Microphone for kids is the size. The dimension is ideal for children to hold: 2.95 inches in length, 1.14 inches in width, and 9.06 inches in height. It is small enough for them to hold firmly.
The weight is extremely light. With just the heaviness of 9.9 ounces, your children can sing their favorite songs for a long time without tiredness.
Of course, the sound of this karaoke mic is high-quality with very clear and loud characteristics. However, it has a very funny voice-changing effect that any kid will be infatuated with.
>>> Today's Best Deal: Check Latest Price on Amazon
Reasons to buy:
Several choices of colors
Vivid LED light show
Very compact and lightweight design
Clear and loud sound with voice-changing effects
Bluetooth 5.0 connection for up to 50 feet
#5. BONAOK Wireless Bluetooth – Best For Connection
>>> Today's Best Deal: Check Latest Price on Amazon
It will cause much irritation if the karaoke microphone runs out of power while you are presenting your vocal performance.
So, the BONAOK Black Gold Wireless Bluetooth would be the best portable wireless Bluetooth karaoke microphone for you with a robust battery.
When setting up the normal mode, you can sing songs with the karaoke microphone for a maximum of 10 hours. When setting up the non-stop mode with the highest volume, you can sing for more than six hours of usage.
Hence, if you are at indoor parties or outdoor camps, you are able to hear and sing all genres of music without the restrictive cord and the bulky stereo system!
One bonus is that you can charge the Lithium-ion battery in only two hours to achieve up to 10 hours of singing.
The 2600mAh 18650 rechargeable battery will make sure a more prolonged singing time. This type of Lithium-ion battery certainly helps you to charge faster and play for a longer time at night parties.
In spite of the long-lasting rechargeable battery, the BONAOK Black model can still bring about a very clear and robust sound. All of these good qualities are thanks to a set of three filter layers.
These layers can help to reduce the airflow noise as well as the wind breath while singing. As a consequence, your voice optimization will not put up with any annoying interference to be the clearest and loudest sound.
>>> Today's Best Deal: Check Latest Price on Amazon
Reasons to buy:
Very powerful rechargeable battery
2600mAh 18650 battery with quick charging and high lifetime
Clear and strong sound
Bluetooth connectivity and audio cable connectivity
Compatible with almost all electronic devices
#6. M100 Wireless Bluetooth – Best For Performance
>>> Today's Best Deal: Check Latest Price on Amazon
The M100 Wireless Bluetooth speaker provides users with the best vocal performance as it has two audio channels.
These two channels make the M100 product become the Hi-Fi karaoke microphone without distortion as full-bodied as a true stereo system. The sound, then, gets more powerful with a more dynamic volume.
The device contains a big microphone receiver, which follows the standard of the most superior quality. It then will receive your voice without any surrounding noise or interference.
The large receiver can show a wonderful echo effect as well to your sounds for making you become a star at the night party.
With the great help of DSP (standing for Digital Signal Processor), you are able to deliver real-time vocal performance. The surrounding noise-reduction feature is also to ensure that your voice sounds clear consistently.
You can improve your favorite songs much better with one small disco light ball. This additional excitement accessory will create a bright light show. It then can bring about a dramatic atmosphere for your engaging parties.
This disco part is small to make a perfect match with the M100 Wireless Bluetooth. You can plug it at the end of the microphone.
>>> Today's Best Deal: Check Latest Price on Amazon
Reasons to buy:
Full-bodied sound like an exact stereo system
Digital Signal Processor to reduce noise and interference
A small disco light ball
Bluetooth connectivity for all kinds of devices
AUX input and FM radio connectivity
Conclusion
The best Bluetooth karaoke microphone with speaker review has been presented and evaluated the six most popular models in the market.
With this very compact, highly portable, and all-in-one karaoke mic, you can say goodbye to bars and karaoke stores. Even the bulky stereo machine will not make you tired anymore in those travels out there.
Location is no longer a problem. You can sing in your room, car, club, or even outside while traveling using this karaoke speaker.
We are living in a high-tech world. It means that all these six karaoke microphones have Bluetooth features. In other words, you can connect this small device with any other appliance to produce the best sound.
Each model carries unique advantages from sounds, designs, connections, functions, to ages. It is highly possible to choose the most suitable product for the best wireless karaoke microphone with speaker.
Now, let's pick up and get involved in your parties!