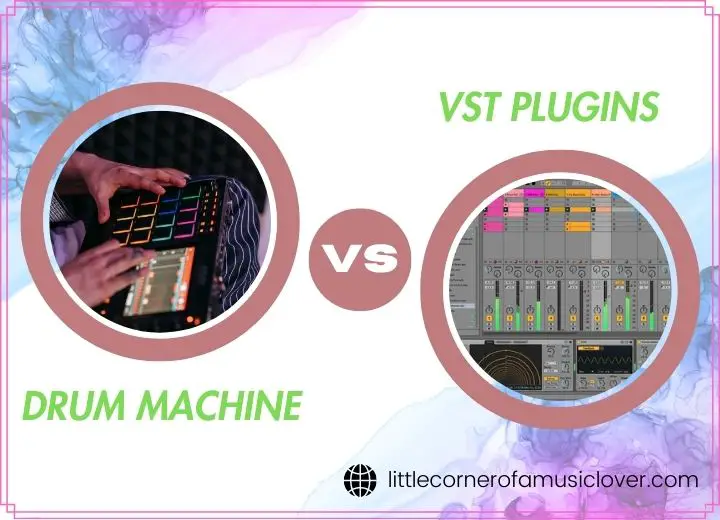 Which percussion instrument should you opt for between drum machine vs. VST plugins? This post compares these two products' quality and features in detail.
Drum Machine Vs. VST Plugins: Comparison Table 
Drum Machine

VST Plugins

Definition

They are the digital percussion instruments used for playing and programming percussion beats or patterns.

The interface of audio plugins in digital audio stations simulates the common musical instruments.

Uses

– Generating beats, patterns, and percussion sounds.
– Allow users to program and modify the drum patterns or beats.
– Used for live drumming with pre-programmed or live patterns and beats.
– Program and generate a complex soundtrack.

– Play as an instrument or effect generator.
– Substitute traditional musical instruments and provide functionality.
– Provide a graphic interface for users to use the digital switches and controls, replacing the hardware.
– Emulate an expensive instrument using VST plugin devices.

Designed for

– Drum players want to add effects, beats, and soundtracks.
– Regular and professional music producers.
– People are looking for a blend between traditional drumming and modern audio technologies.

– Digital music composers.
– Professional recording studios.
– People cannot access the common music instruments due to their large size or high prices.
– Create an entire soundtrack from scratch without using any physical instrument.

Pros

– Give users more effects, beats, and patterns.
– Excellent portability due to their compact design and light weight.
– Both traditional drumming style and electrical state of the art.
– Suitable for various music genres

– Excellent versatility with diversified access to numerous instruments and percussion effects.
– Save space by replacing the traditional musical instruments with large sizes.
– You no longer have to invest in expensive gadgets and instruments.
– Save you more time and effort.

Cons

– Take time to understand the operation of the machine
– The features are still limited.

– Learning to use VST plugins requires software and computer literacy.
– Have to possess some skills.
What Are The Differences Between Drum Machine Vs. VST Plugins?
Both categories feature modern functions and use, allowing users to incorporate technology in traditional drumming. However, the drum machine and VST plugins are very different aspects.
Here are the core differences you should consider when choosing between these two devices.
Utility
The differences are obvious. Though the drum machines allow users to alternate, program and create digital percussion audios, it is still hardware gadget like the other instruments.
Meanwhile, the VST plugins are the software or user interface of the plugin devices or digital audio workstation. You cannot touch it or use it physically. VST plugins require a computer or DAW to operate.
Therefore using a drum machine requires more physical activity as it combines both traditional drumming and modern state of the art.
You can compose a full soundtrack without touching any physical instrument using the VST plugins.
Purposes
The drum machine acts as a drum kit, but you can add more effects, beats, and patterns to your playing. It is like a regular drum kit but with more advanced features and functions.
The VST plugins give you more options. It can simulate any advanced or traditional musical instruments to help users save more space and money.
You don't have to invest a lot of money in buying multiple instruments and gadgets to record and compose a complete soundtrack.
Which Should You Choose Between Drum Machine Vs. VST Plugins?
Both categories are suitable for specific needs and purposes.
If you want to experiment with various instruments and gadgets in composing, the VST plugins are an ideal option.
Meanwhile, the drum machine is more suitable for live performers and professional drummers who want to incorporate technology into their playing.
You can mix up your soundtrack and audio with cooler digital effects and beats.
FAQs
If you still have some lingering questions about the VST plugins and VST drums, the answers in this section will come in handy.
They will give you more insights into the basics and functions of VST plugins.
What Is A Drum VST?
VST stands for virtual studio technology. It is prevalent in digital audio workstations and audio editing software. In other words, drum VST is software on computer or DAW devices, not a real musical instrument.
What Does A Drum VST Do?
The drum VST can generate and alternate the audio in some styles. It brings users various options to fulfill their needs. When you cannot access an actual instrument, a drum VST plays as a substitution to create the soundtracks.
If you want to experiment with various musical instruments, especially percussion tools, then a drum VST is an ideal gadget.
Which Drum VST Is The Best?
The best drum VST currently is the Addictive Drums 2. It is a drum machine that involves numerous drum kits and instruments with grooves and presets.
There are some other products you can consider, such as:
 EZDrummer 2
Steven Slate Drums 5 (SSD5)
Native Instruments Studio Drummer
Superior Drummer 3
How Do You Use VST Drums?
There are a lot of VST drum software and variations. Each software features a complicated and distinctive usage process.
So, you have to possess some skills and knowledge in software and digital music composing to use the VST drums.
Just like learning a real musical instrument, the whole process of learning to use VST plugins requires tremendous time and patience.
Will Drum Machines Replace Drummers?
The answer is no, at least for the near future. Though the modern drum machines deliver greater performance and utility, there are many aspects of a live drummer that machines cannot fulfill.
The tiny imperfections live drummers make when playing along the soundtrack is actually pleasant to hear. This random and spontaneous imperfection is what the machine cannot replicate.