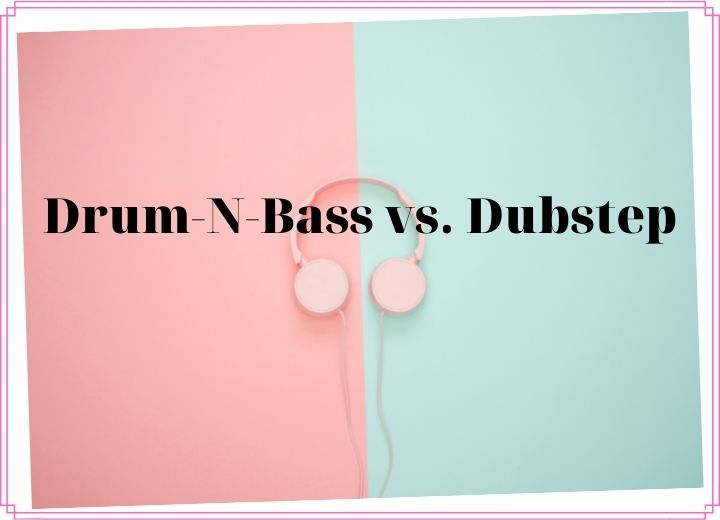 Drum-N-Bass vs. Dubstep: What Is the Difference? If you're wondering about this question, you've come to the right place! So let's read on to see more!
Drum-N-Bass vs. Dubstep: Comparison Table
Many people who adore creating music are confused about the key differences between drum&bass and dubstep.
The fact is that these genres have lived for a long period. Yet, several key differences make them special.
Following is a comparison table that will help you better understand the difference between the two.
| | | |
| --- | --- | --- |
| | Drum-N-Bass | Dubstep |
| Dominant Elements | | Have breakbeats, which are programmed, sampled, or synthesized from scratch. |
| Tempo | 140 beats each minute, with the wobbly basslines | |
| Bass | | |
Drum-N-Bass vs. Dubstep: Similarities and Differences
There are many differences between these two genres, but the basic idea remains the same:
Similarities
DnB and Dubstep feature similarities in their structure. You'll likely encounter an intro, the key section with the bass drop, a midsection, another section with the bass drops, and it will end with the outro.
Both D&B AND dubstep utilize bass drops. It is typically a pause of percussion that leads to the near silence of the track.
It would return to the original intensity, especially with the prominent sub-bass.
The fact is that dubstep features a syncopated rhythm, including tuplets, and would be frequently shuffled. D&B is typically identified with the syncopated breakbeats, one of the most distinctive elements.
Without those things, Drum&Bass can turn to high-tempo dance tracks that resemble techno or gabber. Drum producers might spend much time focusing on complicated syncopation of the drum tracks' breakbeat.
Differences 
Dubstep tends to sound slower, at 140 beats each min with wobbly basslines. Meanwhile, Drum&Bass is significantly faster, at one hundred and seventy beats each minute.
It means the dubstep tracks typically feature bass drops at fifty-five seconds to fit the 140bpm tempo better. Though, it isn't a rigid rule, as several dubstep tracks do not feature bass drops.
The dominant element of Dubstep is half-time drums. Meanwhile, Drum&Bass features breakbeats that are programmed, synthesized, or sampled from scratch.
Dubstep utilizes wobble bass, a wider bass note that has rhythmical manipulations. The dubstep musician typically utilizes low-frequency oscillators to modify synthesizer parameters, such as distortion,  filter cut-off, or volume.
The fact is that wobble bass is one of the driving factors for dubstep, and this is especially true of those created as the club-friendly track.
Drum&Bass utilizes a different bassline kind with deep sub-bass. If you own a strong sound system, it is possible to feel it physically.
Kind of The Beat Structure
The fact is that most of the drum beats feature a two-bar pattern; each bar covers four beats from two bars each.
Those bars could be slow or fast. So to reach a more significant variation in the tempo between these bars, many extra effects are utilized.
The Kind of Bassline and the Generally Style of the Beat 
As the critical difference between drum&bass and dubstep is tempo, the genre has become a great hit in the United States and many parts of our world.
These genres are very popular in home studios and dance clubs, but the Drum&Bass clubs are more prevalent than dubstep.
In the past, various vocal effects were utilized for Drum&Bass tracks.
For instance, some artists will use the same vocal at different times during the song. Yet, the sound has gone down a bit recently.
Drum-N-Bass vs. Dubstep: Which Is Better?
Although there's a wide range of different aspects between Drum&Bass and dubstep, the growth of the internet has fueled dubstep's significant popularity.
While the first true club scene for both genres began in England, the popularity has exploded in the US as sites became more popular.
With the number of users online and on the internet, it has become more straightforward for users to spread the word about new styles.
The fact is that we have seen significant changes in music over the past years. Drum&Bass has also evolved. Now, even small studios can produce high-quality DnB beats.
Many large music producers also invest in their websites that provide music samples. And you can download their music from there.
In addition, it is also easy to find sites dedicated solely to Drum&Bass. They have tracks and beats available as streaming audio from various manufacturers.
FAQs
1. Is Drum 'n' Bass Still Popular?
D&B is still popular, mainly in the United States, where it originated.
With various mainstream artists and pop musicians utilizing some influence and elements of D&B, it is now popular worldwide.
However, its popularity is still very segmented.
2. Is EDM Drum and Bass?
Drum and bass, also known as D&B or drum 'n' bass, is a subgenre of electronic dance music, or EDM, known for its heavy basslines and fast breakbeats.
3. Are D&B the Same as Dubstep?
Unlike D&B, dubstep is far more intense. A big part of the sound is bass, and dubstep often refers to a high-pitched bass line.
4. Is Dubstep An EDM?
Dubstep is a spin-off of EDM that has evolved since its start. It is characterized by heavy bass music with low frequencies, typically a quarter note or less.
5. What beat are drums and bass?
Drum and bass (or Drum&Bass, Drum'n'Bass and commonly abbreviated as DnB, D'n'B, and  D&B) is an electronic music genre characterized by fast breakbeats (usually 165 to 185 beats per min) with sub-bass lines and heavy bass, synthesizers, and samples.
6. Is dubstep real music?
Dubstep is absolute music. Dubstep has a beat,  harmony, melody, and instruments. So, any "dubstep" song that lacks a beat is the antithesis of music.
7. Who Is the Father of Dubstep?
Digital Mystikz is Mala and Coki, the founding fathers of dubstep who run the DMZ record label.
8. Where Is Drum and Bass Most Popular?
D&B is popular in continental Europe.
9. What BPM Is Drum and Bass?
D&B is typically between 160 and 180 BPM.
10. Is Dubstep Difficult to Make?
When talking about producing dubstep, it is not simple.
A lot goes into creating a dubstep track, and it can take the producer many years before they can make the bass-heavy bangers you like.
So when you are just beginning to learn to produce dubstep, it can all seem challenging to grasp.
11. Is Dubstep Fast or Slow?
It is a fast beat that you may feel as a slow groove. There is no denying that the most ever-present and distinctive characteristic of dubstep is its heavy reliance on bass.
12. Is Drum & Bass Black Music?
D&B is a musical form that expresses the antagonisms of British identity in the 1990s. It also situates itself outside of the dominant terms of American – African expressions of black identity.
13. What Is the Difference Between Dubstep and Drumstep?
Drumstep is a genre of electronic dance music, and many people refer to it as a combination of Drum & Bass and Dubstep, with a halftime beat structure. Songs of this kind are around 160 to 180 BPM, generally 170.
14. What is the Difference Between Jungle and Drum&Bass?
Others utilize jungle as a shorthand for ragga jungle, a specific subgenre of the general realm of Drum&Bass.
Probably the broadest held viewpoint within the scene in London is that the terms are synonymous and interchangeable: Jungle is drum and bass, and drum and bass is the jungle.
15. Why Is Drum and Bass Not Popular?
It is not as popular in the United States as it is not as accessible. In the United Kingdom, Drum&Bass is everywhere, in clubs, on the radio, and in the mainstream.
However, in America, it is mainly relegated to the underground. There're a few stations that play it and a handful of clubs, but generally, it is not as big here.