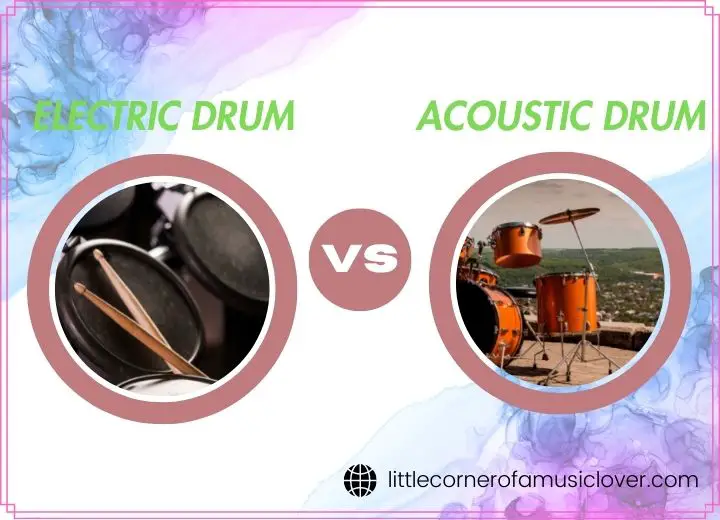 What is the main difference between an electric drum vs. acoustic drum? We compare the two types in detail for you to distinguish and choose the right one.
#1. Electric drum vs Acoustic drum: Comparison Table
Electric drum

Acoustic drum

Features

Many built-in sounds can be adjusted.

Not many advanced features.

Sound quality

The volume can be adjustable.
Sound quality depends on the drum module.

Sound quality depends on how you set it up.

Durability
Playing experience

Entry-level or intermediate level.

Professional, full control over tension and bounce.

Recording

Have the option of recording without using a microphone and amplification.

Need a microphone, professional studio.

Live sound

For live listening, an amplifier is required.

It can be available live streaming.

Volume
Size
Price

Prices range from $300 to over $1000.

Low prices, but a lot of investment is for cymbals and drum heads.
#2. What Is The Difference Between Electric Drum Vs Acoustic Drum?
The difference between electronic and acoustic versions is design, recording ability, volume level, and price.
Design 
In terms of design, the electric drum includes sample pads. With this device, the sound module will be responsible for sound generation.
Meanwhile, acoustic drums will include bass, snare drums, tom sets, and cymbals.
Volume Level
The Electronic one has a low volume level. Therefore, you will need to connect the device to an amplifier, speakers, or headphones to hear the drums.
Unlike electronic drums, acoustic ones can work independently as musical instruments.
Specifically, you make sounds using drumsticks or mallets. And you can directly listen to the sound without using an amplifier.
Recording capabilities
Built-in electronics with recording option, supporting output of stereo mixes to computer monitoring software. Without a doubt, this method is one of the simplest to record audio.
But more importantly, this device also supports recording over the MIDI protocol. With this recording method, you can easily access virtual instruments and sound libraries, a pretty helpful feature that you can easily edit.
Meanwhile, traditional acoustic versions require you to equip a microphone. To ensure quality recording, you will need to have a professional studio.
Cost
With an electronic one, you can spend as little as $300 to own a product capable of performing well.
Of course, if you are looking for a product that meets your professional level well, you will have to pay more than that.
For some selections from well-known brands, prices can go up to $1000 or more.
Similarly, classical products also have a pretty wide range of prices.
But what sets this device apart from the electronic one is that you will need to replace the cymbals and drum heads in addition to the initial cost. And of course, you will spend a lot of money on these accessories.
#3. Electric Drum Vs. Acoustic Drum: Which One Is Best For You? 
Have you identified the right product for your needs based on the above differences? If you're still not sure, here are suggestions worth considering.
Electronic Drum
If you live in an apartment complex or a quiet neighborhood but don't have a professional soundproof studio, prioritize products with minimal noise, such as electronic drums.
In addition, this device is also an ideal choice if you are looking for something easy to record but not as expensive as an acoustic drum, and you will probably be satisfied with an electronic drum.
The unlimited audio possibilities are also one of the crucial reasons why you can't ignore this type of device.
Acoustic Drum
In some cases, you should still give preference to traditional instruments such as acoustic drums, specifically:
If you love simplicity, not limited by cables and tools like amplifiers and headphones, you'll appreciate this classic set.
Besides, undeniably, classical sets can always produce innovative sounds.
Finally, one advantage that makes an acoustic version famous is its pretty good dynamic control. You can adjust the dynamic range to any degree, creating melodies with a distinct style.
FAQs
Which are better, electric or acoustic drums?
The answer depends on your needs. For example, if you want to play in an apartment complex or a quiet neighborhood, you will need an electronic kit.
Meanwhile, the new acoustic drum is the ideal choice if you need a real instrument, not depending on the amplifier.
Is it worth buying electronic drums?
You won't feel wasted by owning an electronic drum. This type is easy to record, has unlimited sound potential, and promises to keep, and you are motivated to overcome all challenges in pursuing this art.
Do electronic drums feel like real drums?
Unfortunately, electronic ones will not give you the same feeling as real drums. The reason lies in the fact that this type uses pads made of rubber, plastic, or mesh, not wood like the traditional version.
Is it OK to learn drums on an electronic kit?
Unfortunately, if you want to be a professional drummer, you shouldn't just learn to play on an electronic kit.
Although there is no denying the advantages that electronic kits bring, in reality, you should only use this instrument to practice specific exercises.
Long-term use of electronic kits can cause you to inadvertently form bad habits, such as not feeling the right amount of motion.
To improve your level, you will need to invest in traditional musical instruments.
How durable are electronic drums?
An electronics kit will have pretty durable hardware. The useful life of electronic equipment can last from 2 to 4 years. However, the rubber gaskets or cymbals may fail and require replacement during this time.
How much space do you need for electronic drums?
You will need 6-7 square feet of floor space for comfortable use. It can be that, compared to traditional devices, electric ones take up less space.
How much do electronic drums cost?
For as little as $300, you can get an excellent electric set for your budget.
Meanwhile, if you are looking for a product for intermediate and professional players, you will have to pay as little as $1000.
In addition to the initial cost, you need to purchase additional accessories during use, with prices ranging from $100-$200.
Electric or acoustic drums for beginners?
Beginners often have difficulty setting up an acoustic drum.
Meanwhile, electronic devices are easy to record, easy to set up, and possess other commendable features.
Electric sets are always one of the most considered suggestions for beginners.