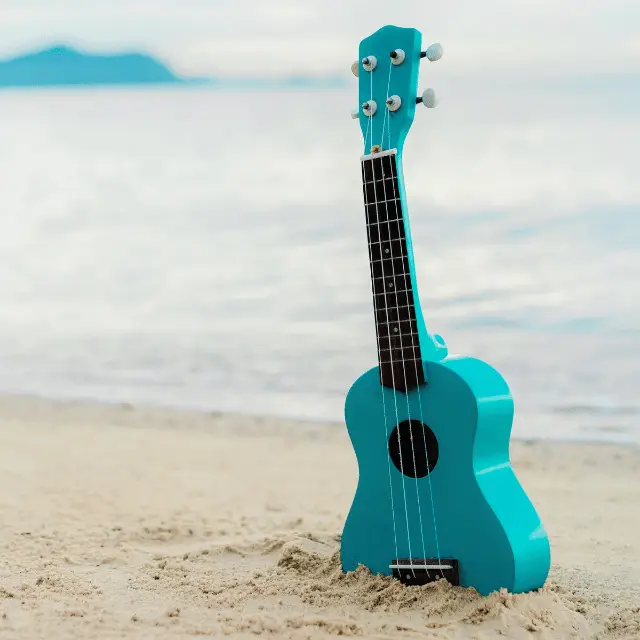 Hi there,
After a few hours searching "best budget plastic ukulele review", reading buyer reviews on Amazon, and watching the reviews on Youtube.
I finally picked out the top 7 great waterproof ukuleles for the money. It is a real instrument, NOT a toy.
So, what is the best plastic ukulele?
In this list, the top 7 best waterproof ukuleles at above, all of them are a good choice.
If your budget is tight, I recommend KALA Waterman Soprano. This is a reliable brand and the quality is great for the price.
Note:
All the new ukulele strings definitely need to stretch out before it stays in tune. It will take a week or more to keep stay-in-tune.
So you need to tune the strings many times before they hold the tune.


1#. Enya Nova U Concert Ukulele
Enya Nova U Concert Ukulele
What I like:
The design is nice and smooth, very good looking
Carbon fiber body for durable and high-grade construction.
Water-resistant and easy to clean
It sounds crisp and bright
Overall:
I must say this is one of the good quality plastic ukuleles for the beautiful design and the good sound.
The thin body and cutaway design make this Enya Nova U Carbon Travel Concert fashionable and attractive.
It has a bright clean sound and is quite loud for a thin body ukulele.
The action is great and low on the fretboards.
The fretboards are smooth.
I think it is not only as a travel ukulele for adults but as a regular ukulele and also for kids.
I highly recommend this beautiful, waterproof, concert ukulele!

#2. Bugs Gear PR11PNSPL Soprano Ukulele
Overall:
Here are some words for this plastic ukulele review:
Intonation is good.
The action is great.
The sound is nice.
The design is beautiful.
This is a cheap waterproof ukulele. It is suitable for outdoor activities, such as camping, traveling, and relaxing at the beach.

3#: The Waterman KA-SWB-GN Soprano Ukulele
Sale
Overall:
This is another good waterproof ukulele for your kids or the absolute beginners that don't want to spend a lot of money to explore the ukulele.
It is perfect for picnics, camping, and outdoor occasions. The tone is not as mellow as a wooden ukulele but is still good enough for fun.
For the price, I would say it is very good quality and is worth the buy.

4#: Kala MK-SWT Waterman Soprano Ukulele in Clear Color
Overall:
The Kala MK-SWT is very unique, looks so cool and interesting. The sound is loud for picking.
It is a great durable little ukulele, is a good choice for kids, and an outdoor lifestyle.
I definitely recommend the Kala MK-SWT if you are looking for an outdoor cool ukulele.

5#: Kala Makala Waterman Glow in the Dark Aqua Blue Soprano Ukulele
Overall:
This is one of the good waterproof ukuleles for the outdoor lifestyles.
It is constructed of ABS plastic, so you may not expect much in sound quality however the sound actually has a pretty good.
Overall, this is a fun little instrument that is inexpensive, waterproof, durable, and glows in the dark.
It would be great for travel and outdoor.

6#: Kala Concert Waterman – Black Concert Ukulele with ABS Body
Overall:
If you want the perfect waterproof plastic ukulele to take on your vacation, this Kala Concert Waterman is a good idea.
It is very durable you can throw it in the car without a worry.
For the price, this ukulele is a great little starter uke for beginners and kids alike.
Highly recommend for any other ukulele players looking for a quality waterproof ukulele.

7#: Kala Color Chord Soprano Ukulele
KALA Color Chord Ukulele Starter Kit for Beginners
The Kala Color Chord Ukulele Starter Kit comes with everything you need to start playing songs today. It includes a high-quality composite plastic soprano ukulele with fret markers to show you where to put your fingers - all designed with the beginner in mind.
Simple and easy to use, Kala's FREE Tuner App will help you get in tune. Whether you are at home, in the studio, or on the go, quickly tune your Kala Ukulele with the Kala Tuner App on your computer, phone, or tablet.
Learn songs today!  Our website is a great resource for tuning, chord formations, techniques and online lessons.  We will get you playing in no time!
Patterned after our Waterman Ukulele, the Kala Color Chord Soprano Ukulele is durable and easy to clean - great for students, parents, and teachers!
Water Resistant, Durable, Easy to Clean, ABS Composite Plastic Soprano Ukulele, Inlay with Fret Position Markers for Beginners, Nickel-plated Open Gear Tuners, Aquila Super Nylgut Strings, Color Chord Tote Bag, Learn to Play Ukulele and Tuner App

Why buy a plastic ukulele?
There are some advantages to choosing plastic ukuleles at below.
Plastic ukuleles are very durable. You don't need to worry about extreme humidity and temperature.
Another great thing about plastic ukes is waterproof. You can take it to on the go for the beach camping, on the boat, on a campfire.
The budget price is a great reason that most peoples choose plastic ukuleles.
Drawbacks of plastic ukuleles
The sound quality of plastic ukuleles is not great as well as wooden ukes, however, it is good enough for fun.
What I like about the waterproof ukuleles is durable, cool-looking, and waterproof for camping, campfires.
Conclusion
That is all about the top 7 best plastic ukulele reviews. These are the best waterproof ukulele under $50 on Amazon.
Hopefully, you save time with my review and recommend at above.