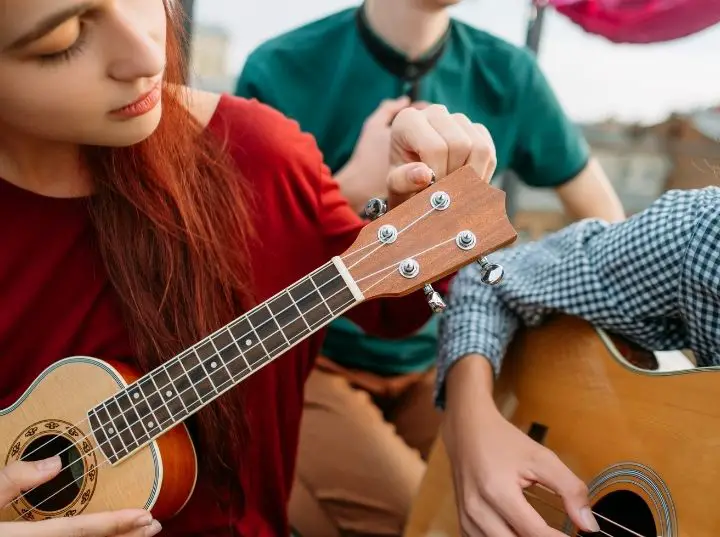 Are you searching for what is the Best Ukulele for beginners? Not sure which model to pick up? Let's follow this article.
When you decide to buy a ukulele, you might be wondering:
Which ukulele is the best cheap to buy for beginners?
How can I buy a good-sounding ukulele on the budget?
I used to be in your position, so I researched, reviewed, and picked out a list of good-quality ukuleles for your reference.
Good ukuleles for beginners are the ones that you will enjoy playing year after year, even as your skills grow.
What is the best cheap ukulele to buy for beginners?
If your budget is tight, I recommend Kala KA-15S Soprano Ukulele and Oscar Schmidt OU2 Concert Ukulele. Both are good budget ukuleles, with good sound quality, and the look is great for the price.
To save your time, and get to the point, I pick out a list of good cheap ukuleles under $100 for you, below:

>>> Top 3 Best Ukes For Beginners – Most Recommended ⇓⇓⇓
Nice sounding, well-made craftsmanship, and a unique design with a rounded edge for comfortable playing.

>>> Top 3 Best Beginner Ukulele on Amazon – Best Sellers ⇓⇓⇓
Warm rich sound. Feels smooth in the hands. The great ukuleles to get started on.

>>> Top 3 Best Budget Ukes – Best Value Ukulele for Beginners ⇓⇓⇓
Nice quality, great sound. The ukulele bundle pack includes everything you need to get started.

>>> Top 3 Best Solid Top Ukuleles for under $100 ⇓⇓⇓
Solid top Mahogany for better sustainability and pure sound. The edges of the ukuleles are rounded so that you will feel comfortable with your arms.

Soprano vs. Concert vs. Tenor vs. Bariton – Which ukulele size is best for beginners?
If you buy a good cheap ukulele for kids, the soprano is a good choice because of its small neck and frets.
If you buy the ukulele for adults, the concert and tenor size are the best choices because once you get some experience, you will want more frets to play some songs.
The baritone size is best suited to well-players.
Do you really want to PAY for the GOOD sounding ukulele?
If you say "yup!" then great! The good sound and good-looking ukulele will inspire you to learn to play it day by day. Please believe me, a poor sound and ugly uke would soon destroy your passion.
And now, below is the list of top-rated best ukuleles for beginners of all ages. All of the ukes in this review are under $100 and are sold on Amazon.
#1. Top rated 3 BEST Soprano Ukulele under $100  for Beginners
The soprano ukulele is the smallest one which looks very interesting and cute. They normally have 12 to 14 frets and have very delightful sounds. Because of the small and narrow neck so it is best suited for kids and small-hand-players.
1. Kala KA-15S Mahogany
>>> Today's Best Deal: Check Latest Price on Amazon
What is great about it?
Mahogany body and neck
Rosewood fingerboard and bridge
12 Brass Frets
Why do I like it?
The Kala KA-15S was one of my first uke which I bought from Amazon, it is the best ukulele under 100.
Frets were dressed nicely and the neck is very comfortable for small hands like me. As for the sound/tone, it has more treble and gives very delightful sounds.
2. Lanikai MA-S Mahogany Soprano Ukulele
>>> Today's Best Deal: Check Latest Price on Amazon
What is great about it?
Top and Back and Side construction: Nato
Fretboards construction: Rosewood
12 Brass Frets
Why do I like it?
The Lanikai MA-S Soprano Ukulele is another great choice for those ones who are looking for a good soprano uke.
Most beginners are often confused between Kala KA-15S vs. Lanikai MA-S.
In general, they both produce similar sounds but Kala KA-15S has a mahogany wood body and Lanikai MA-S has a nato wood body.
The mahogany wood and nato wood produce a different tones.
However, Kala KA-15S vs. Lanikai MA-S is made from laminated wood so the sound and tone are not different so much.
3. Cordoba 15SM
>>> Today's Best Deal: Check Latest Price on Amazon
What is great about it?
Mahogany top, back, and sides
Rosewood bridge and fingerboard
Abalone rosette
12 Brass Frets
Why do I like it?
The Cordoba 15SM has a cool design with an abalone rosette. I played Cordoba 15SM several times (borrowed it from my friend) and it was great by the feel of the neck from the start, it was so smooth and perfectly sized for small hands.
Plus, it has a full, rich sound. If you are a strict man, the Cordoba 15SM is best for you.
#2. Top rated 3 BEST Concert Ukulele under $100 for Beginners
The concert ukulele is slightly bigger than the soprano. That means it produces deeper, fuller, and louder sounds.
They're popular beginner ukes for those with larger hands. Plus, they have 14 to 17 frets which lets you play more complicated songs easily.
1. Oscar Schmidt OU2
>>> Today's Best Deal: Check Latest Price on Amazon
What is great about it?