Hi guys,
When you decide to buy a ukulele, you might be wondering:
Which ukulele is the best cheap ukulele to buy for beginners?
How can I buy a good cheap ukulele for the money (good sounding ukulele on the budget)?
I used to be in your position, so I researched, reviewed, and picked out a list of good quality ukulele for your reference.


But first, here is things need to be clear about buying the good cheap ukulele for beginners:
1# Soprano vs. Concert vs. Tenor vs. Bariton – Which Ukulele is best for beginners?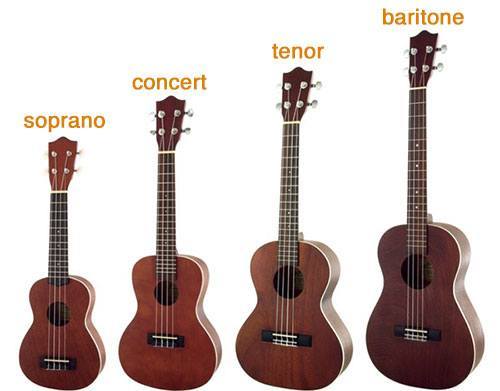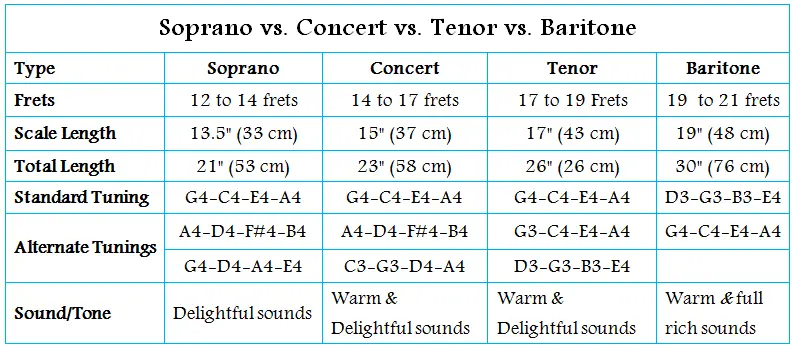 2# Do you really want to PAY for the GOOD ukulele (good sound and good looking)?
If you say "yup!" then great! The good sound and good looking ukulele will inspire you to learn to play it day by day.
Please believe me, a poor sound and ugly uke would soon destroy your passion.
A good ukulele for beginners has the price range from $50 to $100. If you buy a cheap ukulele under $50, it is just a toy rather than a musical instrument.
Here is the list: Top-rated Best Ukuleles Under $100 for beginners of all ages. All of the ukes in this review are under $100 and are sold on Amazon.
---
Review top rated 3 BEST Soprano Ukulele under $100  for Beginners
---
The soprano ukulele is the smallest one which looks very interesting and cute. They normally have 12 to 14 frets and has very delightful sounds.
Because of the small and narrow neck so it is best suited for kids and small-hand-players.
Here is top-rated 3 best soprano ukulele:
---
Review top rated 3 BEST Concert Ukulele under $100 for Beginners
---
The concert ukulele is slightly bigger than the soprano. That means it produces deeper, fuller and louder sounds.
They're popular beginner ukes for those with larger hands. Plus, they have 14 to 17 frets which let you play more complicated songs easily.
Here is top-rated 3 best concert ukulele for beginners:
---
Review top rated 3 BEST Tenor Ukulele under $100 for Beginners 
---
The tenor ukulele is a great choice for beginners as well as experienced players who maybe want to perform on stages or clubs.
They have fuller and deeper bass range than both the soprano and concert ukuleles have. The tenor ukulele has 17 to 19 frets give you more notes to work with.
Here is top-rated 3 best tenor ukulele for beginners:
---
Review top rated 3 BEST Baritone Ukulele under $200
---
The baritone ukulele is the biggest one in the uke family and has 19 to 21 frets. They produce the deepest sound (more resonant, more bass and more sustain) which is great for performances.
Here is top-rated 3 best baritone ukulele for your considering.
So, "What is the BEST Cheap Ukulele for a Beginner?"
This is a question that I searched and looked for an answer when I want to buy the best beginner ukulele.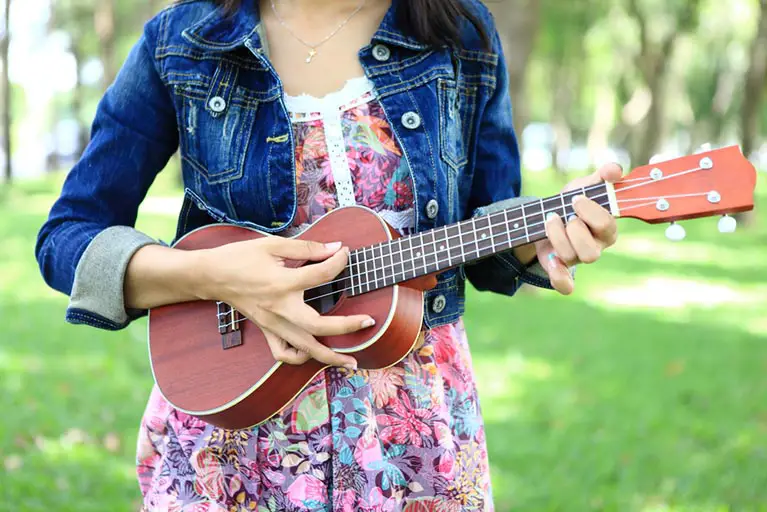 After spending a lot of time on in-depth researching by visiting forums, blogs, and other official uke sites,
I reached a conclusion that there are 3 factors make a quality ukulele. They include brand, materials, and strings.
1# Best ukulele brands for beginners:
As for brands, you can't go wrong with Kala, Luna, Cordoba, Oscar Schmidt, Lanikai.
Personally, I prefer Kala because my first ukulele is Kala KA-T (bought it 2 years ago) and it has still worked well.
2# Acoustic ukulele vs. Acoustic-Electric ukulele?
Personally, I think both acoustic ukulele and acoustic-electric ukulele are good for beginners as well as experienced players, just a matter of price and quality.
The acoustic-electric ukulele is equipped with EQ and/or pick up that help you play through an amplifier as well as recording easily.
I mean acoustic-electric ukulele is suitable for performing on stage or in clubs.
3# Best wood for ukulele: Solid wood vs. Laminated wood vs. Plastic?
Most of the best ukulele is made from solid-wood and its price is over $100. The benefit of solid wood is the sound will be better over time if you play regularly.
The ukulele is made from laminated wood is less affected by temperature and moisture than the solid ones.
That means it is more durable and becomes a popular choice for beginners as a result. Plus, the price of these ukuleles is very reasonable.
With around $50 to $100, you have many options for a good quality uke to start your passion.
Remember: There are so many cheap ukuleles which are made from plastic. Most of them are just toys for kids rather than real
3# The best strings for ukulele: nylgut vs. titanium vs. traditional nylon or PVDF?
The ukulele strings have an enormous effect on the uke's sound/tone. There are three main kinds of uke strings: nylgut, titanium, and nylon.
So which one is the best for ukulele? It depends on your taste, in the table below I'll list down all the characteristics of each on.
What about the best brand of ukulele strings? Aquila  and D'Addario are popular choices of most ukers in the world.
I have played with both brand and I feel that:
Aquilar's strings are a bit lower in tension and a little bit warmer.
D'addario's strings are a bit higher in tension, thicker feeling and a little more bright
Note: Each set of ukulele-string-size will best suit to individual ukulele type. For example, you do not use soprano-ukulele-strings for tenor-ukulele-strings and some things like that.
The last words
In my opinion, there are many good options for the best cheap ukulele under 100.
If you are beginners, the good cheap ukulele is the soprano, concert and tenor uke rather than the baritone ukulele.
Because they are easier to learn, easier to get started on, and you can go a long way with them.
"Everyone should have and play the ukulele. It is one instrument you can't play without a laugh!" – George Harrison.