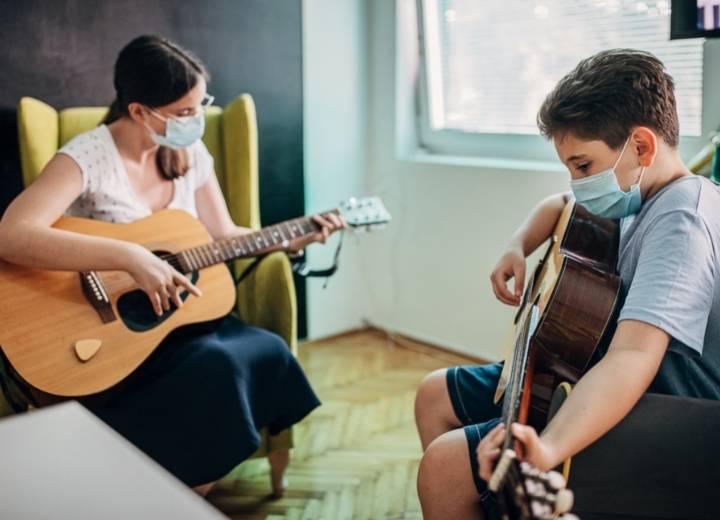 How hard is it to learn acoustic guitar?
Learning acoustic guitar is easy if you have a goal and passion for it. A proper route and way of learning also help you learn to play this instrument faster.
However, learning acoustic guitar will be difficult if you learn the wrong way and follow the instructions poorly.
To clarify the matter of whether learning acoustic guitar is easy or difficult. Follow our sharing right below!
What are the difficulties when learning guitar?
You can learn anything but most of them are not easy. Acoustic guitars too! It even has a lot of challenges during your studies. Controlling the fingers on the strings is not easy.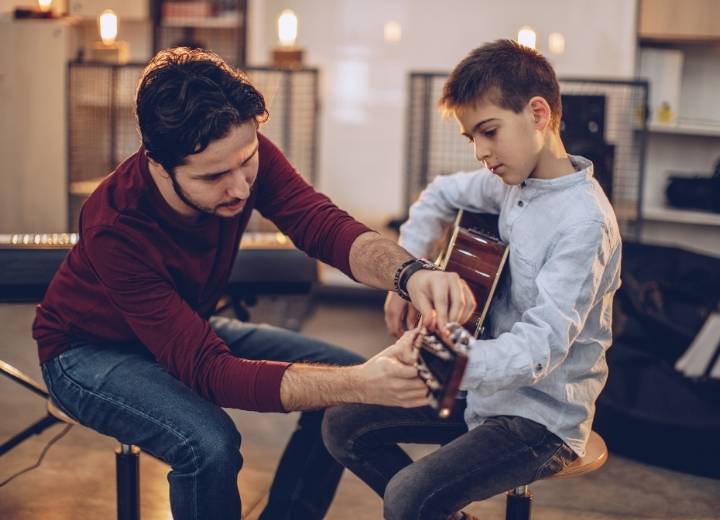 Acoustic guitars have a lot of challenges during your studies
However, if you have a passion and have the right way to learn. You can learn to play acoustic guitar after a while of practice.
The first step is to learn about the difficulties that learning acoustic guitar brings. It will help you prepare better mentally to face difficulties.
#1. The pain comes from the fingers
If you just listen to a piece of music or sit and watch the guitarist play. You wouldn't think that learning to play would hurt your fingers.
Acoustic guitar strings are very tight and stiff. When playing, we have to use our hands to pluck the strings to create sound. It's the tension of the strings that hurts your fingers.
During exercise, the pain will spread to the joints of the fingers. After a while, calluses will appear.
After a period of practice, the fingers will get used to plucking. You will no longer feel pain in your fingertips. Then you will also have enough power to create loud sounds.
#2. Muscle control
The sound comes from the fingers plucking the strings. They have a rhythm to create the song's melody. The hardest thing about learning an acoustic guitar is the shifting between the strings.
To play a song requires the player to flex his fingers on the strings. The steps of the strings should be fast and slow according to the rhythm of the song. This requires a lot from the player's muscle control ability.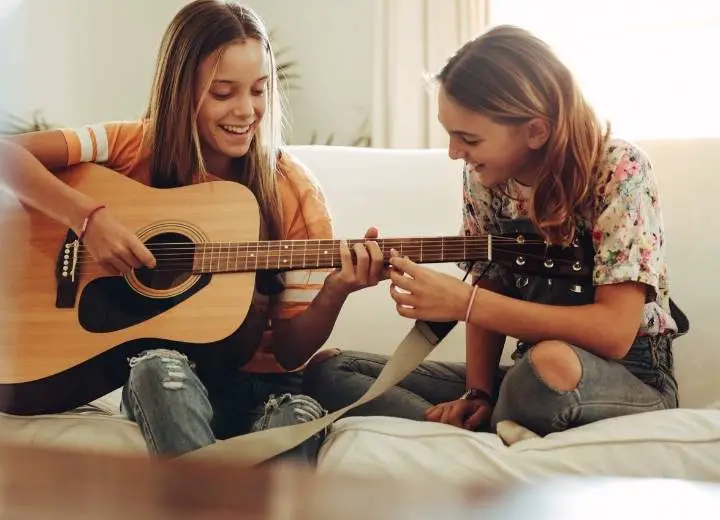 It takes a long time of practice to have muscle memorization
When the muscles have mastered the movement. You can play that song anytime you want.
#3. Barre chords
Barre chords are one of the hardest parts of learning to play the acoustic guitar. They require highly technical players. In this chord, you have to hold all the strings. This causes the strings to stretch and the keys to becoming further apart.
It will be very difficult for beginners to play this chord. You should learn some tips to play this chord well. At the same time, practice regularly to increase the strength of the hand. Practice also makes the movements of the fingers more fluid.
#4. Impatient
Playing the acoustic guitar is really not easy. You will have to practice regularly with many songs to make your fingers more flexible. However, there will be periods when you feel depressed.
It's also common to get to a difficult point in the song while you're learning and you quit. This makes it impossible to learn a song in its entirety. Of course, your playing ability will not increase either.
You should be patient and spend more time practicing.
How long does it take to learn acoustic guitar?
It is very difficult to give an exact answer to this question. There are many factors that affect how long it takes you to learn to play the acoustic guitar. For example, the time you practice, the goal you want to achieve, …
To determine how long it will take you to complete your acoustic guitar course, you need to have a clear goal in mind. For example, you just want to learn to play the guitar at a basic level. The time will certainly be shorter than if you wanted to become an expert at playing acoustic guitar.
In addition, the time you spend practicing also affects the time you learn to play the guitar. Regular and hard practice makes you progress faster. You can spend time practicing acoustic guitar every day. Or a few times a week.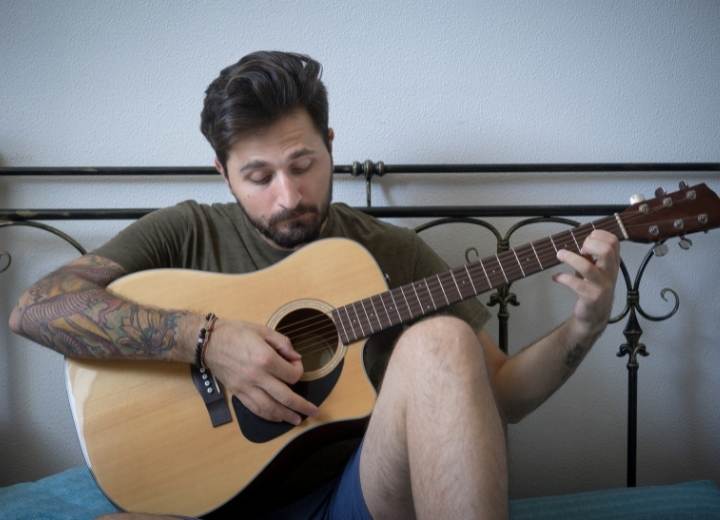 There are many factors that affect how long it takes you to learn to play the acoustic guitar
The more time you spend practicing, the less time it will take you to learn how to play the guitar. A clear learning path and the right guidance from a teacher will help you quickly learn to play the guitar.
How to learn acoustic guitar easier?
Learning the acoustic guitar is quite difficult. But you can turn it into an easier job. Here are some tips to help you learn acoustic guitar easily and effectively.
#1. Make a clear route
Before you do something. The first thing you should do is define your goals and create a roadmap. Roadmaps keep you on track with the right practices.
In addition, you will clearly define what you should study and do during this period. This makes it easier for you to control your own study time. From there it will be more effective.
#2. Find the right teacher and advice
A good teacher will guide you on what to learn and what not to learn. Guitar teachers are like musicians showing the way. They will help you practice better skills. Or correct mistakes in your playing technique.
A good teacher will guide you on what to learn and what not to learn. They will also have blueprints that should teach you what to do better.
You should follow the right advice and stay away from useless advice. Sometimes following all the suggestions and advice will just take you time. It also leads to mistakes that are hard to fix or makes things more difficult.
#3. Check out useful resources
You can't just learn acoustic guitar from a teacher. You can learn how to play or useful tips from many sources. For example, YouTube, Facebook, forums or groups, …
Here you will find a lot of sharing on how to learn acoustic guitar successfully. Sometimes they are precious and special information.
#4. Keep practicing
You won't be able to do anything well if you don't practice hard. Take time to practice every day for good results in the future.
Do not be discouraged by many difficulties and give up unfinished. Sometimes success is just minutes away. But at the last minute of trying you give up. It causes you to fail and all previous attempts to fail.
Conclusion
Learning to play acoustic guitar is not easy. However, if you have the passion and the right way to learn. You will learn to play acoustic guitar more easily.
In this article, we answered the question: How hard is it to learn acoustic guitar?
Hopefully, after receiving the sharing from us. They will help you in learning to play the acoustic guitar.