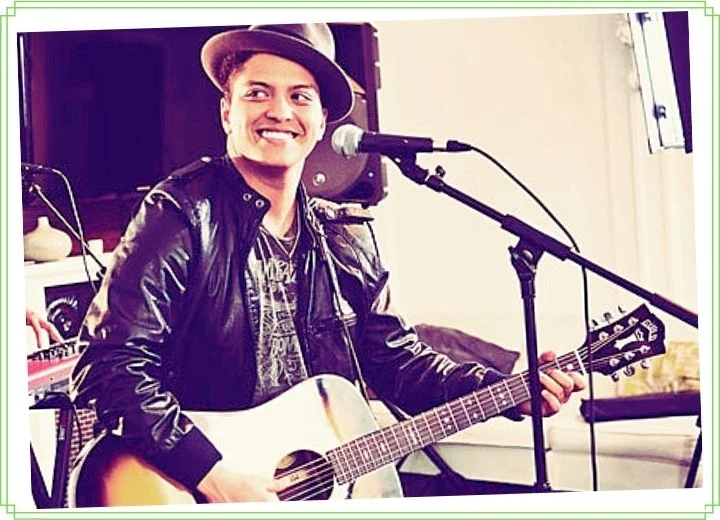 There is no denying that Bruno Mars is one of the greatest vocalists of our time. He has a unique voice that you cannot imitate without a lot of practice.
So, if you are a fan of this singer, you may wonder, "How to sing like Bruno Mars?" Generally, singing like him isn't easy, but it is certainly not impossible. Let's explore the answer through the following article.
Practical Tips To Sing High Like Bruno Mars
You are not a famous singer, and you cannot play many instruments. So, is it possible for you to sing like this perfect singer?
Of course, the act of replicating Bruno Mars' tune or performance is almost impossible. However, you should know that what makes him great is that he's not trying to replicate anyone.
For example, although the singer is considered to be inspired by 50's doo-wop, he's not trying to sound like them. All he did was take that sound and make it his own.
Also, he is a talented performer, and he always makes those performances better with his fantastic voice. So, his performances are very significant. But they can get better thanks to his top-notch vocals.
Why are we mentioning this?
The performance is important, but it is only on the surface. You have to gain great singing techniques to sink your teeth into something.
#1. Invest in the Voice With the Proper Preparation
Fitness is one of the essential factors to sing like Bruno. Frankly, he would not put on energetic performances for long if he is not in good physical condition.
So, it is essential to keep your body parts relaxed to sing as loud as him.
The body parts that need to be relaxed are the jaw, neck, and shoulders. Before singing, it is best to do a few neck exercises like neck rotation.
In addition, there are many ways to relax the jaw muscles. One of them is chewing something like gum.
Your voice will improve once you relax all these muscles and body parts.
That is why we recommend practicing the three-day rule before performing for optimal vocal health.
#2. Understanding His Voice
Mars never sings in his head voice or chest voice. Besides, he does not switch between them too. Instead, he sings in a mixed voice all the time, which makes him so unique and special.
#3. Know Your Voice Type and Find a Way to Show It
To take this step, you do not have to go through an arduous process as a singer. Instead, you need to understand your vocal abilities better to reach your highest potential!
#4. Think About Getting Some Professional Help
Bruno has been singing since he was four years old. He is a professional, and professionals will often invest effort and money into their craft.
Doctors, writers, actors, teachers are all constantly expanding their knowledge. Even when they are successful, they continue to take classes and learn more about their work to get better. Of course, singers are no exception.
So, to get what you want in singing soon, the best thing is to get help from a trusted vocal teacher. It is vital for inexperienced people or beginners who do not have a specific route in singing.
With the help of people with industry experience, you can spend most of your time investing in your voice instead of "running around like a headless chicken."
#5. Sing Along Bruno
There is nothing better than singing with him in his live performances. Alternatively, it is always wise to practice by singing along to the songs of this singer. It is possible to find many karaoke versions of this singer's songs on YouTube.
Of course, singing along with him during live performances is better as it allows you to compare your vocals with his raw vocals easily. Thanks to that, you can learn more than you can from him.
#6. Learn More Than Just Singing
You are wrong if you think that Bruno Mars is just a handsome singer with a wonderful voice. He is also a music maker and is involved in the whole process.
Of course, you can't expect to be like him, at least not for now. You also do not have to write lyrics for a song or practice playing an unfamiliar musical instrument.
We would recommend learning as much as possible about the other elements of music. They will benefit your skills. For example, you should collaborate with an amateur band to expand your knowledge.
By understanding all you can about music, you will be more confident as a singer. But, of course, we all want more confidence, right?
#7. Let's Show With Your Own Style
Your style does not have to be the same as Mars. For example, instead of bursting with a great band behind you, you might want to sit down with a guitar in hand.
No problem! Nothing can stop you from continuing to take inspiration from Bruno. Maybe he will be happy to hear that he's inspiring someone out there.
Don't forget that no matter what style of performance you choose, it is essential to improve your performance to be as perfect as the vocals.
Last but not least, do not forget why you want to be a singer. It is finding your joy and then sharing it with your audience in your way.
#8. Practice Frequently
Was Bruno Mars perfect from birth? The short answer is no. The fact is that he practiced a lot to get better over time.
So, practice is the key. You need to practice a lot even if you think you are good enough.
Start practicing one of his songs and memorize all of its lyrics. Then, regularly sing that song by incorporating all the techniques above. Don't give up until you think you've mastered the song.
After that, switch to another song and repeat the above process. As a rule, as you learn more and more songs, you will get better and better over time.
Who is Bruno? – Things You Don't Know About This Singer
He was born on October 8, 1985. He is an American singer, guitarist, songwriter, record producer, and dancer.
He is famous for his retro style and a tenor voice that appeals to fans. Also, he has a massive voice.
Musical Styles
Most of his songs are melodic, striking, and easy to sing. His musical style is a combination of many different styles.
Specifically, when asked about the album in September 2012, Mars said that this album would be a musical range. He meant to imply that he did not want to fixate on a particular music genre. The proof is that his later albums include rock, soul, hip-hop, and R&B.
You can see these influences in his compositions and song styles, including punk, reggae, disco, soul, and even balladry.
His songs are very catchy, thanks to the pleasant and positive emotions they bring. However, he also has ideas of darker themes in his compositions.
Most of his albums offer a lot to talk about, making each album worth looking forward to before its release. The album 24K Magic includes R&B, Soul, pop, and punk elements, while Doo-Wops & Hooligans combines R&B and pop.
Singing Techniques & Distinctive Vocal Capabilities
He is said to have the ability to sing live like the studio version. He possesses both charming looks and musical ability. He uses this combination to have a significant effect on his performances.
Of course, like everyone else, his voice isn't perfect, but he has stability and a unique style that you can't find in anyone else.
Bruno Mars collaborated with a band he called the Hooligans. This band consists of a drummer, guitarist, bassist, keyboard player, and trumpet department. During his live shows, you will see lasers, fireworks, and strobe lights used to make his performance more impressive.
Do you want to learn more about his production techniques? Please check out this video.
Conclusion
How to sing high like Bruno Mars? You can achieve his singing technique with countless practice. You can also make a song that sounds like him through a lot of practice.
Bruno's sound is interesting because he's spent his life learning from other greats. So, by the end of the day, all you need to do is find your cool things and learn all you can from that fantastic singer.