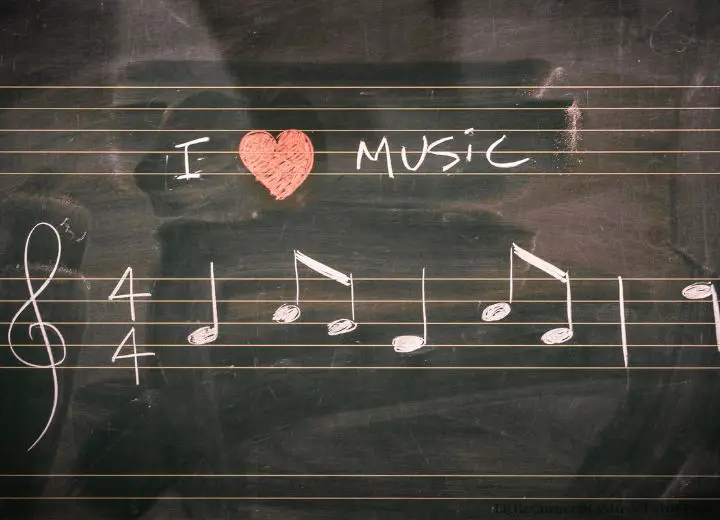 Are you looking for some of the greatest songs with impressive high notes?
Look no further! In this post, you will find a list of top famous songs known for having incredible high notes.
Spanning across all genres of music, from rock and roll to classical, there is sure to be something on this list that will impress and inspire you.
So get ready to be mesmerized by these powerful highs!
1. ZAYN (Feat. Sia) – Dusk Till Dawn
"Dusk Till Dawn" is a collaboration between ZAYN and Sia, released in September 2017.
The song is dreamy as ZAYN sings about staying committed and devoted to one another against all odds.
His voice blends beautifully with Sia's high notes, creating an emotionally charged soundscape.
2. Adele – Rolling In The Deep
Adele's Grammy award-winning song "Rolling In The Deep" is an emotional and powerful ballad that has become one of the biggest hits of the decade.
The song speaks to a sense of anguish, with Adele's haunting vocals delivering lyrics that encapsulate a deep hurt as she reflects on how her strength will help her overcome.
3. Beyoncé – Halo
Beyoncé's "Halo" is a powerful, emotional, and heartfelt song about the love of a lifetime.
The lyrics describe an undying, perfect love to which there will never be an end.
The gentle verses are complemented by a mighty chorus of high notes that make you feel like you are soaring through the clouds.
4. Maroon 5 – Animals
Maroon 5's single "Animals" is a beautiful love song with soaring high notes, making it an absolute joy to listen to.
The theme of the song is all about love and choosing to follow your heart, no matter what anyone else says.
The lyrics express that although love can be complicated and even painful sometimes, it's worth taking risks and going for it regardless.
5. James Blunt – You're Beautiful
"You're Beautiful" by James Blunt is an uplifting and inspiring track about seeing someone despite their flaws and recognizing the beauty that lies within.
The song showcases his powerful vocals as he reaches for high notes.
It's a joyous reminder of how love can overcome any obstacle, no matter how hard life may seem.
6. Lady Gaga – I'll Never Love Again
"Lady Gaga's "I'll Never Love Again" is an emotional ballad about knowing you will never find true love again.
It talks about the sadness and heartache of losing someone important and all the empty promises of future love not coming true.
7. Rihanna (Feat. Jay Z) – Umbrella
The hip-hop/R&B collaboration of Rihanna and Jay-Z, "Umbrella," is the perfect mix of upbeat rhythms, powerful lyrics, and vibrant singing.
"Umbrella" is an uplifting track about never giving up despite challenges.
8. Adele – Hello
Adele's song "Hello" is about reconnecting with an old flame. It's a heartfelt plea for her ex to pick up the phone and hear her out.
Her powerful voice perfectly conveys the emotion of the lyrics, especially when she hits those incredibly high notes.
9. Alicia Keys – If I Ain't Got You
"If I Ain't Got You" is a classic love song by Alicia Keys. It is about finding true love and the appreciation a person has for their significant other.
The song shows how even if they didn't have all the worldly possessions in the world, they would still be content as long as they had each other's love.
10. Don't Feel Like Dancing by Scissor Sisters
"Don't Feel Like Dancing" by the Scissor Sisters is an energetic pop-disco song about feeling down and not wanting to go out and dance.
The lyrics hint at a break-up or a feeling of emptiness inside, and the singer hopes that if they can find something to make them dance, they'll be able to forget their troubles.
11. How Deep Is Your Love by the Bee Gees
"How Deep Is Your Love" by the Bee Gees is a classic love ballad released in 1977.
It features high notes that send shivers as the Bee Gees croon about unconditional love.
12. I Feel It Coming by The Weeknd
"I Feel It Coming" by The Weeknd is an upbeat and romantic song about the anticipation of falling in love.
The track leans heavily towards synth-pop vibes while featuring The Weeknd's signature high notes.
This makes for a catchy and uplifting tune ideal for dancing or enjoying with close friends.
13. "Wuthering Heights" by Kate Bush
"Wuthering Heights" by Kate Bush is a timeless classic. The song tells the story of Cathy, a woman torn between two worlds—the wildness of her home on the moors (as described in Emily Bronte's novel) and her desire for civilized society and love.
The song perfectly captures this longing feeling with its soaring vocals and haunting melody.
Her use of high notes helps convey the song's emotion and adds an ethereal quality to it.
14. Somebody That I Used to Know by Gotye
"Somebody That I Used to Know" by Gotye is a compelling song.
The song's underlying message is loss and resignation as it looks back at a relationship that has ended.
The high notes throughout the piece emphasize this feeling, truly conveying how difficult it is to move on from someone who was once such an essential part of your life.
15. It's a Man's Man's Man's World by James Brown
"It's a Man's Man's World" by James Brown is a classic anthem for the empowered, independent man.
The song speaks to the power of male influence over female advancement, encouraging men to take pride in their contributions and confidently play leadership roles.
16. Proud Mary by Ike & Tina Turner
https://www.youtube.com/watch?v=CIdzdIHprBM
"Proud Mary" by Ike & Tina Turner is an empowering and iconic song full of energy and soul.
It tells the story of a woman who's escaped poverty to achieve her dreams but doesn't forget where she came from.
17. Hallelujah by Jeff Buckley
"Hallelujah" by Jeff Buckley is a well-known and beloved song many artists have covered.
It features robust and emotive lyrics that provide comfort and solace.
Additionally, Jeff Buckley's soaring vocal performance reaches new heights as he sings his heart out with pure passion on all the high notes throughout the song.
18. Survival by Muse
Muse's "Survival" is an empowering and uplifting song about never giving up despite how tough life gets.
The song's high notes help emphasize its powerful message, encouraging listeners to stay positive and fight through difficulties.
19. Without You by Harry Nilson
Without You by Harry Nilsson is an emotional song that speaks to the power of true love and its ability to bring hope in difficult times.
The song begins with a soft piano melody accompanied by Nilsson's slow and soulful vocals, perfectly capturing the feeling of missing someone special.
20. Chandelier by Sia
"Chandelier" by Sia is an emotional ballad that speaks to the depths of one's feelings.
The majestic and powerful high notes symbolize overcoming struggles and rising above adversity.
With deep lyrics like "I'm gonna fly like a bird through the night, feel my tears as they dry," it captures a sense of hope, strength, and resilience.
21. (Take Another) Piece of My Heart by the Holding Company and Janis Joplin
"Take Another Piece of My Heart" is a classic rock song by the Janis Joplin-fronted band Big Brother and the Holding Company, released in 1968.
This soulful ballad is about the pain of loving someone who doesn't love you back.
22. Inner City Blues (Make Me Wanna Holler) by Marvin Gaye
"Inner City Blues (Make Me Wanna Holler) by Marvin Gaye is a thought-provoking and powerful song about the economic struggle in inner cities.
The song's opening notes show listeners the raw emotion resonating through Gaye's strong vocal performance.
23. Someone Like You by Adele
"Someone Like You" by Adele is a compelling and emotional song.
It conveys a strong feeling of heartbreak and loss as Adele sings about looking back on a past love with fond memories despite realizing it will never work out.
24. Don't Look Back in Anger by Oasis
"Don't Look Back In Anger" is a 1995 song by English rock band Oasis that speaks to the power of moving on from past hurt.
The powerful message of the song, coupled with its infectious melody, makes it one of Oasis' most beloved tracks that continues to resonate with fans today.
25. I Get The Sweetest Feeling by Jackie Wilson
"I Get The Sweetest Feeling" by Jackie Wilson is a classic love song filled with infectious joy.
It's all about that thrilling feeling of being in love and the exuberant way it can make you feel.
The upbeat melody, toe-tapping beat, and powerful high notes provided by Jackie's signature vocals will have you dancing and singing along in no time.
26. Since U Been Gone by Kelly Clarkson
"Since U Been Gone" by Kelly Clarkson is an empowering anthem about leaving an unhappy relationship and discovering independence.
The lyrics speak of feeling liberated after a break-up and the newfound courage to stand up for yourself.
27. Angels by Robbie Williams
"Since U Been Gone" by Kelly Clarkson is a song about moving on after a breakup.
The song has an uplifting, playful tune features powerful high notes from Kelly Clarkson.
The positive message in the lyrics encourages listeners to take this chance to improve their lives and channel negative experiences into something positive and productive.
28. Don't Stop Believin' by Journey
"Don't Stop Believin' by Journey is an iconic song of hope and determination.
Its powerful lyrics evoke a sense of tenacity and resilience in adversity.
29. With a Little Help From My Friends by Joe Cocker
"With a Little Help from My Friends" by Joe Cocker is a timeless classic expressing the idea of relying on others to overcome difficult times.
The lyrics detail how we could all use a little help, no matter how strong we may seem.
30. Getaway Car by Taylor Swift
"Getaway Car" by Taylor Swift is a song about an exhilarating and passionate love affair.
The high notes in the chorus soar as she sings about her lover taking her away in his getaway car.
This song has a thunderous beat and fearless lyrics that make it impossible not to feel energized when listening to it.
31. Somebody to Love by Queen
"Somebody to Love" by Queen is an uplifting and optimistic anthem of hope, and longing for someone to love.
The song opens with a powerful chorus emphasizing the need for emotional connection.
With lyrics like "I work hard every day of my life, I get up despite the pain," it resounds true with many people's struggles as they face adversity to find happiness.
32. Don't Stop 'Til You Get Enough by Michael Jackson
"Don't Stop 'Til You Get Enough" by Michael Jackson is a beloved classic that people of all ages have loved for decades.
The song speaks to the joy and happiness we can take from living life to its fullest, with its upbeat tempo and captivating lyrics encouraging us not to stop until we get enough.
33. When I Was Your Man by Bruno Mars
"When I Was Your Man" by Bruno Mars is a song full of heart-wrenching emotion and regret.
The story behind it follows the narrator as he expresses his remorse for not treating his lover better when they are together.
34. Stairway To Heaven by Led Zeppelin
"Stairway to Heaven," by Led Zeppelin, is a timeless classic that continues to enthrall listeners with its deep lyrics and captivating melody.
It starts slowly with an acoustic guitar playing a melodic arpeggio, gradually building up the instrumentation until it reaches its powerful climax.
35. Signed, Sealed, Delivered I'm Your's by Stevie Wonder
Stevie Wonder's classic hit, "Signed, Sealed, Delivered I'm Yours," is a timeless and empowering anthem about committing to someone else.
The lyrics tell the story of two people indeed in love with each other, ready to take the plunge into a long-term relationship.
FAQs
What is the best song to show off your voice?
The best song to show off your singing voice depends on your vocal style and range.
Choose a memorable and recognizable song to impress while still allowing you to interpret it with your flair.
Popular choices could include chart-toppers from the last few decades, such as "I Will Always Love You" by Whitney Houston, "Over The Rainbow" by Judy Garland, or "Yesterday" by The Beatles.
If you want something more recent, consider belting Bruno Mars's hit "Just the Way You Are" or Adele's beautiful ballad "Someone Like You."
Can Taylor Swift sing high notes?
Yes, Taylor Swift can sing high notes! She's got an impressive vocal range that allows her to reach some incredibly high and mighty notes.
Her ability to hit these fantastic heights has been a staple of her live performances for years.
People around the world are amazed by her skills, as she often hits the highest notes with ease during her shows.
Her voice is incredibly versatile and able to convey all kinds of emotions, so whether she's singing a low-pitched ballad or hitting those soaring highs, it's always an incredible experience.
What is the highest note a 12-year-old can sing?
The highest note a 12-year-old can sing will depend on the individual since everyone has a different range.
Generally, 12-year-olds should have vocal ranges somewhere between two and one-half octaves.
Most 12-year-olds can hit notes from C4 up to G5 (or higher) with proper training.
What is Mariah Carey's highest note?
Mariah Carey is one of the most renowned vocalists of all time, and she's known for her impressive vocal range.
Her highest note is the G7, an impressive five octaves above middle C.
This note was famously showcased in her hit song "Emotions" in 1991 and has mesmerized fans ever since.
What is Ariana Grande's highest note?
Ariana Grande is known for her impressive vocal range and has a unique 4-octave whistle register.
Her highest recorded note at the end of her hit single "God Is a Woman" was F5 in A♭ major.
This note, while incredibly high, showcases her incredible talent and demonstrates the power and beauty of her voice.
Why are pop songs so high?
Pop songs are usually composed to be upbeat and catchy, so it makes sense that they often have a high tempo.
High tempos create an exciting energy in the music that can make listeners feel energized and motivated.
Furthermore, many pop songs use a lot of synthesizers and electronic instruments, typically higher pitched than acoustic instruments.
Combining these two factors creates the classic sound we expect from pop songs – high notes, lots of energy, and a lot of fun!
Can Billie Eilish sing high notes?
Yes, Billie Eilish can sing high notes! Her powerful and awe-inspiring vocal range has made her one of the world's most popular singers.
She has a great vibrato and control over her voice, allowing her to reach extraordinary heights easily.
Billie Eilish is one of those rare singers who can switch between high-pitched, breathy vocals and full, powerful belts singing in the same song.
How do I know what song suits my voice?
Finding a song that suits your voice is a great way to improve your singing.
Start by choosing songs that fit within your vocal range, and then make sure that you are comfortable with the speed of the music.
You can also use karaoke versions of songs to test different styles and see which ones you like best.
Additionally, warm up your voice and practice scales to understand what songs match nicely with your lower and higher notes.
Consider working with a vocal coach or taking singing lessons if you want further advice on finding the right songs for your unique voice!
Does singing songs improve your voice?
Singing has long been thought to be an effective way to improve the quality of your voice.
It can help you increase your vocal range and strength and improve tonal accuracy.
Singing songs regularly can also help expand your head and chest voice, giving you more control over your sound.
Conclusion
Singing high notes is a complex but rewarding challenge for any singer.
A list of the top famous songs with high notes is a great way to find inspiration and push boundaries.
Whether you're looking for something old or new, there's sure to be something in this list that will help you reach soaring heights.
So start practicing today – you never know what amazing things are waiting around the corner!