What is the best audio interface for my home-studio-recording on a budget? What are some of the cheapest but most reliable audio interfaces?
These questions – I asked myself when planning to set up a small home recording studio last year.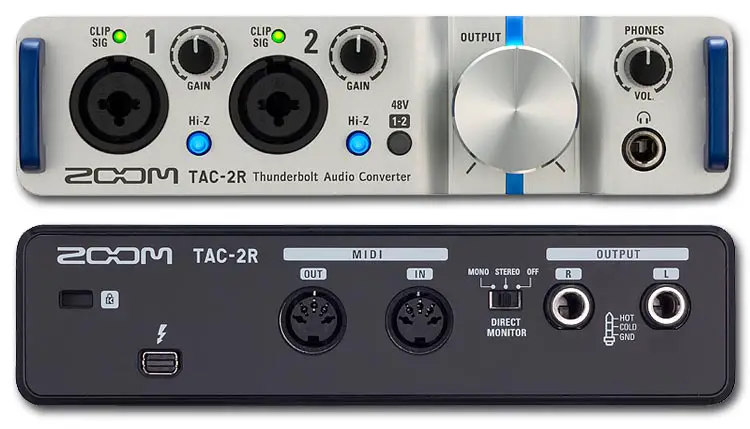 I did some research on specific forums such as Quora, Reddit and visiting official websites of some audio interface brands before buying one.
In order to help you save time, this article will cover the 5 essentials helps you pick the best audio interface for home recording studio on a budget.
Before buying an audio interface, you should be clear about:
1. How many/which equipment will connect to interface for now and in the future?
I mean you need to think about your home recording studio, it is just for fun or you want to become a professional music producer?
Do you need connect guitar, midi controller, drum machine, etc. to interface?
You need to write down a list equipment will be connected to audio interface, and then choose the interface support these equipment.
2. Do you need how many microphones connect to interface for recording at the same time?
This question related to the number of mic input. Some interfaces just have one mic input such as Focusrite Scarlett Solo – it is portable and suited to personal recording, you can take it on the go.
…and other have many mic inputs suited to complicated recording task.
1# Latency Monitoring
Latency monitoring is the first thing you need considering. You don't need to know what latency monitoring is,
you just keep in mind that the GOOD quality audio interface has LOW latency (measured by milliseconds).
Most of audio interface brands don't show a specific number of low latency. They say something like "super-low latency", "free latency," etc.
So what now? If I were you, I will choose the popular brands such as Focusrite, Steinberg and Mackie because they got trusted from people.
Why latency monitoring is important? 
During recording a song, for example, the audio signals from microphone is transferred to audio interface, then to computer and studio monitors (special speakers) or headphones.
If after a second or even 0.5 second, you will hear these audio signals. It's very bad because you feel the time delay of audio signals.
I'm quite sure you feel uncomfortable and your emotions will be damaged soon because of the time delay of audio signals.
2# Bit Depth & Sample Rate
When you read specification of any audio interface, you will see one of these specification like 24 bit/192 kHz, 24 bit/44.1 kHz and 24bit/96 kHz. Are you confusing with them?
The first number is bit depth and second is sample rate. They are audio-resolution when convert audio signals from analog to digital.
The higher, the better but it is not always right because quality of an audio interface depends on many factors such as quality of mic preamp.
The bit depth and sample rate are just smart marketing because of the bigger, the better!
In short, when choosing the audio interface, you shouldn't care about bit depth and sample rate.
3# Quality & Quantity of Mic Preamps
The mic preamps inside audio interface will decide quality of audio recording.
That is why some cheap audio interface has bit depth & sample rate at 24 bit/192kHz but the quality of audio signals is lower than the audio interfaces has only 24bit/44.1kHz.
So, how to know if mic preamps of an audio interface is good or not?
It's hard to answer if you don't test it, but I believe "you get what you paid for." I think the safe and best way are buying from reliable brands if you are beginners.
The numbers of mic preamp on an interface shows you know the numbers of microphone will be connected to that interface.
You just need a mic preamp if you want recording for yourself, and more than one if you recording for a band.
Note: the +48V phantom power is necessary for condenser microphones. You should choose audio interface has built-in the +48V phantom power.
4# Hi-Z input and MIDI input/output
Most all of audio interface has at least one Hi-Z input for connecting guitars to interface. The thing you focus is how many Hi-Z inputs do you need?
The audio interface has MIDI input/output is very useful if you want to connect keyboard instruments or midi controllers to interface.
5# USB vs. Firewire vs. Thunderbolt Audio Interface – Which type is BEST suited to you?
You need to set up a small home recording studio, the USB audio interfaces is a right choice for the money and most of computers supported USB port.
The firewire and thunderbolt audio interfaces has faster speed than USB audio interface, the price is higher too.
So they are best suited to large studio which so many equipment connecting to audio interface.
The last words
This article focus on beginners and small recording studio at home. I don't focus on technical, so I hope you understand easily what I wrote.
If you like this article, please share and comment. Thanks for stopping by.