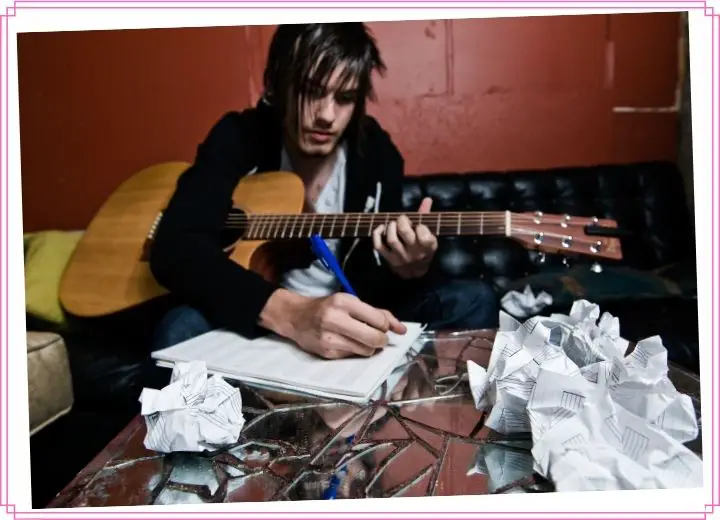 (by Clifford Cullens)
The songwriting process is both exciting and challenging. Sometimes ideas for lyrics come when least expected.
You could be walking in the streets, fast asleep on your bed, or when engaged in other chores. It is critical to record song tunes when you get ideas before you forget them.
There are diverse songwriting tools that songwriters can use. They can help jot down lyrics, create rhymes, or set tunes for different genres.
The following songwriter apps will help you learn the art of songwriting.
#1. Song-Writer Lite
Song-Writer Lite is best for iOS phone users. Users can record their lyrics, ideas, and chords on the go. It has some of the most impressive features. An artist can record lyrics for each section, including the chorus and verses.
You can separately record each section's audio. The app has a chord picker to record chords. You can add guitar or view a wide range of chords. It can search rhymes and do backup or restore. Once you have completed the recording, you can email the song or convert it to other types of files.
A student has a lot to study and learn. The quantity of work can become overwhelming. Fortunately, a student can use an app or the best study tool to help them handle the bulky work.
In the bulk process, it is most important to use essay rephraser online on Edubirdie to search for new expressions and phrases. This is a free tool that a student can easily use to make their learning process easier all the time. It changes the wordings of an original phrase into a new phrase. 
#2. FourTrack
FourTrack helps songwriters record audio and practice instruments. Artists can train to play the guitar or piano or look for music ideas.
You need to plug in a microphone to begin recording. If you are using it on an iPhone, it will work perfectly with the iPhone's built-in mic.
You may also opt for headset mics or connect with external audio devices. The app provides high-quality sounds and instruments. After recording, use the same app to import or export your songs and burn them into a disk.
#3. Lyrix
Lyrix is one of the best apps for editing lyrics. A user needs to fill out a short questionnaire about the lyrics they want to compose. They have to choose if they want lyrics for rock, dance hall, pop, theater songs, etc.
The questionnaire is detailed and interactive. After filling all the questions, the app scans for lyrics. It highlights any challenges it notices with the questions. It will highlight the best lyric you can choose for your song.
The main advantage of this app is that you can join a community and get help with developing lyrics.
#4. Suggester
Suggester is the best choice if you are struggling with what chords to use or the lyrics to fix. The app has a wide variety of chords that you can keep experimenting with until you get the right one for your lyrics.
If you want to change one chord and replace it with another, you can easily drag and drop it to the exact place you want it to be.
With this tool, your chord progression will run smoothly. It helps you build phrases and the right music emotions by applying tension and releasing.
#5. TuneUp Media
TuneUp Media comes with an integrated lyric and music editor. Sometimes you might have a lyric that sounds rough or out of place. Tuneup will give you suggestions for better lyrics.
The app is also excellent for organizing all your music. It will remove duplicated tracks in seconds. Within minutes all your music will look neatly arranged in your music library. The apps add your new composition to your library. You can edit the lyrics easily using this tool.
#6. ChordChord
ChordChord helps artists generate chords and make music. Songwriting has no rules, but when it comes to the chord progression, some rules apply.
All that you need is to record your lyrics using this app. It automatically generates the chords. The generated chords are not permanent. You can tweak them the way to want to fine-tune them.
Conclusion
You must record your lyrics as soon as you get them to avoid forgetting. Many phone-compatible apps can help you record your lyrics in an instant.
Some of the apps give you suggestions for better lyrics. Others help you create well-flowing chords for your lyrics.
With the apps, you can record, edit your music, and save it. You can also share or attach an email and send it. The apps are great tools to help new artists learn instruments and how to record music.
>>> Author's Bio: Clifford Cullens writes for an agency that provides the content to several high-level businesses in the UK and US. He's been in the writing field for a long time and also vlogs in the career and education and study abroad niches. His free time is for working out in the gym and catching up with his old pals.