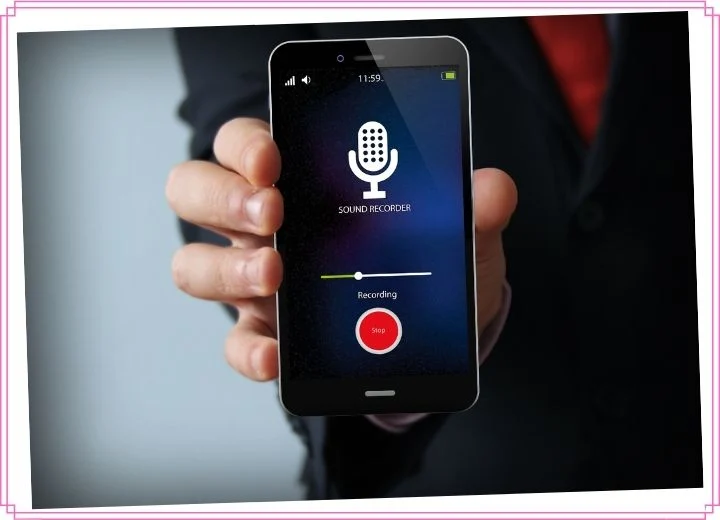 There are many tips for practicing singing. And recording your voice is among the most effective methods.
To make the best of your training, you need to look for a high-quality recorder. Fortunately, many apps are available to assist you with your goal.
In this article, we will discuss some best sing record app options. Each software comes with specific features that you may like.
Now, keep reading and find out what is the most suitable option!
Best Sing Record App
You have tons of options when it comes to the best app to sing and record songs. Here are some of the most common choices among beginner to professional vocalists.
Your Android phone already has a recording app. It adds to the pleasure of recording by providing various useful functions.
Open the app, tap the red button to record, sing, or speak, and there you go.
You might save your notes and recordings right away for later retrieval.
The most excellent part of this app is that it can store high-quality audio and other audio content. You can share it via social media after recording.
This Android default application is free. The interface may differ between manufacturers, but the basic functionality remains the same.
The nicest part about this recorder is its ease of use. Moreover, no advertisement interrupts your recording.
It's really quite similar to iOS's built-in audio recorder. There are a lot of other fantastic voice recording applications for Android, but most of them have advertisements unless you pay a monthly fee.
It also has a waveform display, which will come in handy for capturing vocal clips. You may even modify the quality settings. Not all the recorders assist you in this term.
"Voice Memos" is commonly pre-installed on iOS devices. You can uninstall this app, but you'll be missing a lot of interesting features.
This Apple software is useful recording software for vocalists. You won't need to get another app or lose out on any ideas because you can just save your ideas whenever and wherever you want.
Wave Editor is a fantastic tool that lets you edit multi-track audio.
The objective of Wave Editor is recording, editing, and mixing. You may start recording your songs and edit them right away.
It'll include USB compatibility for an external mic. It means that the app can operate with any ordinary USB mic.
This software offers multi-track recording and editing. It also comes with built-in sounds and loops, allowing you to compose a track from zero.
FL Studio is compatible with USB external microphones. Hence, you can connect any renowned USB mic from Blue, Shure, Audio Technica, or Samson.
One of the most useful apps for producing music on the go is Garage Band. This app includes multi-track recording, mixing, editing, and instruments and loops.
If you understand how Garage Band works, you'll have an easier time knowing how to use Logic Pro.
External mics will also function with this software, albeit for Apple devices, you'll need to work with a dongle to switch from USB to lightning.
#7. RecForge II
RecForge II allows you to access professional audio editing tools with ease. You may use it to record your rehearsals and singing performances effortlessly.
The software has a toggle switch for AGC (Automatic Gain Control) and support for various audio files.
This software will provide more features than many default recorders and the ability to output files of your recordings in different audio formats.
The lossless can be beneficial. It also has widget support to publish content via email and social media right away.
ASR is an entirely free service. If you need any extra features, you can easily get them by upgrading to a paid membership version.
When you push the record button, Cogi automatically backs up your recordings. Furthermore, you can sync everything to its cloud server, and you will be able to record even during the call.
One of the huge benefits is that you may record for an indefinite amount of time while saving it all to the cloud, freeing up precious storage space.
This fantastic recording software allows you to record everything. It's a fully-featured audio recorder that's free to install.
The app will compress your recording into an MP3 format that is generally compatible.
The best part is that it has microphone selection capabilities as well as Wi-Fi transmission and cloud provider synchronization.
Although Hi-Q is free to download, it does include advertisements.
This software will be ideal for recording acapella, jams, or severe things like meetings, as it works for one-tap recording and quick accessibility.
This recording device allows you to make high-quality audio, which you can subsequently share via email or applications.
Surprisingly, the app is a beautiful program available in both free and paid versions.
One of the most significant audio recording applications for Android is Dolby On. It serves the same functions as standard audio but offers more features to improve the experience.
The software has six audio filters, an audio trimmer, and microphone compatibility, as well as an EQ to bring out certain qualities of your voice.
Dolby On provides you with all the tools you'll need as a singer at a low price.
The sound recording functionalities of FL Studio are outstanding. It's a complete studio application that allows users to upload records, mix beats, and compose an entire song.
The learning curve is quite tricky, but it's actually enjoyable once you get familiar with it. This software comes with a full set of modules, presets, beats, synthesizers, samplers, and MIDI controller support.
The app is a little pricey, but comparable software for desktop computers may reach hundreds of dollars, so it's a bargain. In-app deals are for additional add-ons that have no impact on the player's functionality.
KaraFun is one of the most famous karaoke applications. It's also an excellent choice for singers. You may select a song, sing it, and continue the cycle.
The software has an offline mode and over 42,000 tracks. You may practice singing anywhere by syncing the playlist to your phone.
The app is even Chromecast compatible to watch it on your TV.
The only disadvantage of KaraFun is that it has an outrageous weekly payment. The monthly fee is a little less costly.
One of the greatest Android applications for singing is Nail the Pitch. It helps keep track of the notes you sing and evaluate their pitch.
Other features are the option to check your whole vocal range and the ability to record your singing for deeper analysis. There's not much more to comment about it.
This software claims to help you improve your pitch. Hence, it's a perfect tool for beginners who have to practice from the basics.
Riyaz is a vocal-improvement software. It helps you practice vocal tuning, voice evaluation and even singing.
You may try thousands of practices on the app. After that, you can detect any part with many mistakes until you get it correctly.
You may also use YouTube to download music and practice actual songs.
Why Should You Record Yourself?
By recording, you will be able to act as an observer, listen to yourself, and assess your vocals. If you do this often, you'll be amazed at what you can notice and correct. This tip will significantly assist you in achieving rapid progress.
Save the recording for later use once you've recorded yourself performing for a song, a project, or a presentation.
Your recording will serve as a valuable tool for catching up on your progress and improving yourself from time to time.
You'll be surprised at how far you've progressed when you keep listening to your earlier recordings. You may even make it a habit to practice regularly.
Furthermore, you might save your ideas since creative ideas can pop up anytime. You certainly don't want to lose these precious random moments.
Tips For Recording Your Singing
It makes no difference how you record your singing. Keep it easy and make use of the available applications.
For example, your smartphone's voice recording software will come in handy for brilliant recording thoughts and random bursts of inspiration.
Many vocalists avoid listening to their own voices or recordings, but it is essential to consider and realize that you may sound different on tape.
Recording will also assist you in keeping track of your progress from time to time. You may begin making the essential adjustments after you better understand your skill.
Here are some tips for making the best of your recording:
Store your ideas and recordings with the song/name sections and time.
If you want to listen to it clearly, check back with a headset.
It would be best to work in a noise-blocking environment so that the app can perform nicely.
You can try some background music. Then, you will be able to imagine how your performance really sounds.
Sing with the best of your skill by trying to hit every single note precisely.
Recording your posture while singing is necessary. Singers don't often stay motionless while performing on stage.
You can also ask for others' opinions. Sometimes you may be too familiar with your voice.
Receiving feedback from your friends, family, or vocal trainer is worth trying. They can recognize the hidden problem in your voice that you can't detect.
Final Words
Recording is not all about vocal training. It can be your way to detect your mistakes and correct them.
Yet, it would be necessary to focus on singing skills instead of trying multiple record apps. The recording shows you what to improve, not how to improve.
This video will explain the basic skills for singing. It includes the ultimate guide to breathing skills, proper posture, and finding your vocal range.
Hopefully, you will find this article helpful. If you need any further information, please feel free to ask. Thank you for reading!