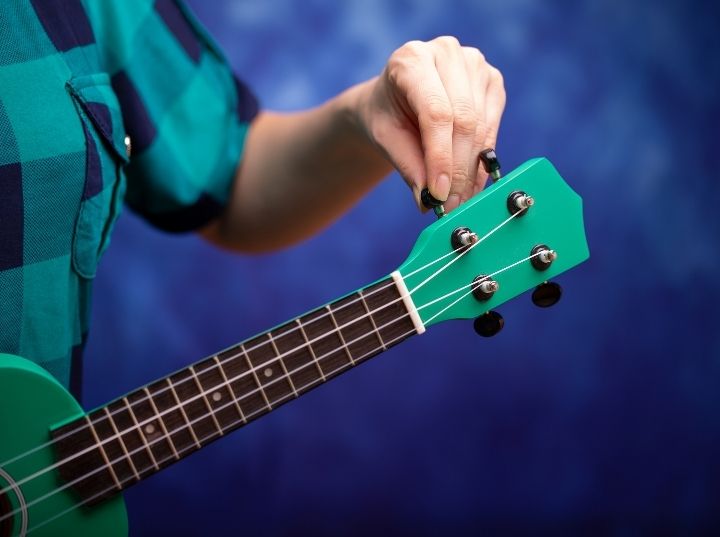 What kind of instrument to choose? Is its size suitable for you? Is it perfect for taking the outdoors with you?
The carbon fiber ukulele reviews below will help you discover the best carbon fiber ukulele under different circumstances.
Furthermore, in this article, we will also give you an outdoor ukulele carbon fiber review in detail.
Ukuleles are famous for their dainty outlook, the particular sound, and also lightweight. However, it is challenging to purchase a perfect carbon fiber one from a massive selection on the market.
>>> Top 9 Best Carbon Fiber Ukuleles – Most Recommended ⇓⇓⇓
People are interested in the carbon fiber ukuleles as this material makes the instrument's body much lighter and creates a much brighter and louder sound.
In the following article, we will introduce the nine most highly recommended ukuleles on the market.
#1. Enya Concert Ukulele Nova U/ Best Sound
This Enya Nova U instrument is a concert scale instrument with a Les-Paul style and simple bridge and saddle designs. That means the instrument has a unique and attractive structure appealing to young people.
Enya used their new acoustic carbon fiber material, a polycarbonate material when designing it. As a result, it is not a big deal when it comes to water-resistant (except for the metal tuners).
With a simple structure and an accurate inner design, the Nova U has a much sharper and brighter sound than other traditional instruments.
Pros
Low-maintenance
Water-resistant components
Lightweight
Bright and sharp sounds
Con
Non-waterproof metal tuners
#2. Enya Soprano Ukulele Nova U Mini/ Best For Beginners
Not too different from the Concert version, the Enya Soprano version has a simple and smooth Les-Paul design, and it is from Enya's polycarbonate fiber.
Its scale length is nearly 14 inches – not a dramatic change; yet, this product is much easier to hold. The Soprano's sound is light and cute, perfect for novices who want to play basic songs.
However, the Soprano version has no side sound port and no strap buttons, a shortfall if you particularly seek either of the features.
Pros
Simple and smooth Les-Paul design
Lightweight
Bright and cute sound
Cons
Non-waterproof metal tuners
No side sound port
No strap buttons
#3. Enya Concert Ukulele AcousticPlus Nova U/ Best Transacoustic Instrument
The design of the Enya Concert Transacoustic version is slightly different from the Enya Concert Nova U instrument. It is a much more upgraded version.
One spot-on feature of this one is its AcousticPlus system (optional). It allows you to add more sound effects during playing without any extended device needed.
Like most other concert ones, this product has a side sound hole on its upper shoulder, giving better resonance. With Enya's new acoustic carbon fiber material, this instrument has a much brighter sound than the traditional ones.
Pros
Easy to keep clean
Better resonance and brighter sound
Transacoustic effects
Cons
Non-waterproof metal tuners
Not so perfect for humid and rainy days
#4. Enya Concert Ukulele Nova U Flower/ Best Design
Deciding to breathe new life into its collection, Enya made a new version of the Concert with little flowers standing out against the white background.
The whole body is from Enya's new carbon fiber material (except for the metal tuners), helping users clean with ease.
Not only that, but this material also gives it a simple structure and an accurate inner design (55 mm thickness). So, the sound is more penetrating and brighter than that of other wooden ones.
With no battery needed like electricity instruments, plus its fun and bright sounds, this instrument can be your travel partner under any extreme weather.
Pros
Outstanding appearance
Lightweight
Perfect for any weather
Con
Non-waterproof metal tuners
#5. Woodi Soprano Plastic Ukulele/ Best For Lightweight
Another carbon fiber product we want to introduce is the Woodi Soprano instrument. It is a tool with an incredibly lightweight (only 15 ounces!). With this feature, the instrument can easily be carried around with you during your travel.
The body and neck are made of high-quality mixed plastic, so the tone of wood reduces maximally, making it a much better product than the original wooden ones.
Not just that, the Woodi's instrument is the way to go for beginners and occasional hobbyists, as it is easy to use given the plastic strings.
Pros
Lightweight
Perfect for beginners and hobbyists
Improved sound quality thanks to the high-quality material
Con
Broken G string during the shipping process
#6. YRXX Concert Ukulele/ Best For Children
YRXX Concert version is a perfect instrument for beginners, especially young children.
The instrument has four machine heads, which allows you to adjust in perfect tune with ease. Also, the strung fingerboard of this one is easy to play, suitable for any person.
Pros
Perfect for beginners and children
Lovely design
Adjust tuner with ease
Con
#7. Ammoon Smart Concert Ukulele/ Best LED Add-on
Ammoon Smart Concert instrument is a great product with a stunning and modern design. One special thing about it is its LED light system on the fretboard, showing instructions when playing. This feature makes it an ideal instrument for beginners.
Also, this one has two sound holes, giving it a unique outlook, very suitable for performing on stage.
Pros
Unique design
LED light system
Ideal for new players and stage performing
Cons
No side sound hole
Practice songs that come with the ukulele are not in different speed level
#8. YXFYXF Ukulele Hawaii Guitar/ Best Fret Wires
This instrument greatly resembles a guitar, with its back and neck look as if they are from wood. Yet, this is a carbon fiber product, making the sound much better than other wooden ones.
The back of it is crooked, so the instrument has better resonance when playing. Not just that, the smooth fret wires do not harm your fingers.
It can be seen that this product is one of the best choices for first-time players or those who want a smaller duplicate of a guitar.
Pros
Guitar lookalike
Better resonance
Smooth fret wires
Con
#9. Muslady Populele U2 Smart Ukulele/ Best Fretboard
Last but not least is the Muslady Populele U2 Smart Ukulele, an impressive instrument.
This one has an ABS fretboard with an LED light system showing you the instructions while playing. This one is the way to go for people who are not familiar with the fretboard, thanks to this feature.
Moreover, this tool's design is elegant and modern, appealing to young people who want uniqueness and prominence.
When it comes to the sound, it is excellent for the ukulele's carbon fiber body and carbon strings.
Pros
LED light system
Well-designed
Excellent sound
Con
Which Carbon Fiber Ukulele To Go?
We have come to the end of the best carbon fiber ukulele review, including nine products with their pros and cons.
If you prefer an easy-to-use instrument for your kids, you can go for a simple one like the YRXX Instrument or a smart one like the Muslady Populele Ukulele.
Or if you seek a handy and useful one to take with you when hanging out with friends, you can choose one of the Enya Ukuleles, for example.
We hope that this list will help you pick the right instrument for yourself. Thank you for your time!