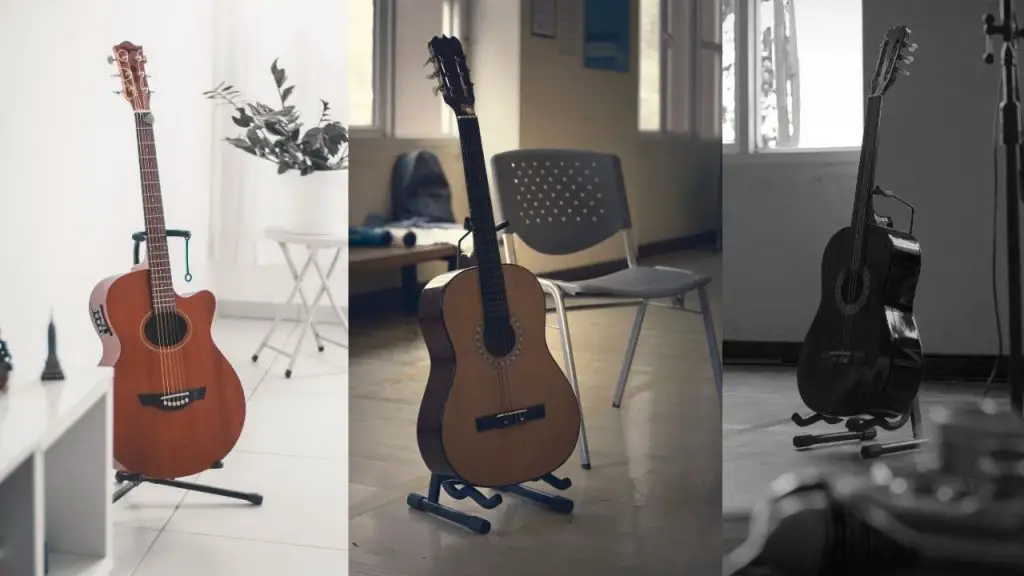 If you are looking for the best guitar stand, of course, you will need a long-lasting one that doesn't leave any scratch on your beloved instrument.
Choosing based on the brand reputation may be a wise decision, but each brand has loads of products that might make you overwhelmed.
This article is gonna recommend the best cheap guitar stands on Amazon with the most reasonable price so you can easily decide what really suits your instrument.
>>>

Top 3 Best Adjustable Guitar Stand / Best Tripod Guitar Stand On A Budget Under $20

⇓⇓⇓
>>>

Top 3 Best Wood Guitar Stand / Best A-Frame Guitar Stand On A Budget Under $30 – Most Recommended

⇓⇓⇓
>>>

Top 3 Best A-Frame Guitar Stands For Acoustic Guitars and Electric Guitars – Most Recommended

⇓⇓⇓
>>>

Top 3 Best Double Guitar Stand For Electric Guitars and Acoustic Guitars – Most Recommended

⇓⇓⇓
>>>

Top 3 Best Multi Guitar Stand/ Best Triple Guitar Stand For Electric Guitars and Acoustic Guitars

⇓⇓⇓
>>>

Top 3 Best Guitar Wall Mout Hangers – Most Recommended

⇓⇓⇓
If you need space-saving, these are the perfect cool guitar wall mount holders for your acoustic, classical, electric, or bass guitars.
#1. Ruach Original Wooden GS-1 Acoustic and Electric Guitar Stand
>>> Today's Best Deal: Check Latest Price on Amazon
Features:
Simple assembly
Precise center of balance
Handmade from Mahogany
100cm (39") clearance from base to cradle
Ruach GS-1 is one of the most popular good guitar stand on the market. It can be used for both acoustic and electric guitars with any weight thanks to the precise center of balance that makes it so strong.
I'm sure you will love it at the first sight because the finishing look is so nice. It is handmade from real Mahogany, which helps to produce a dark and rich natural color. This appearance will definitely be perfect for your space decor, no matter where you put it in.
Besides, the stand is super easy to assemble. You can get it fully completed within less than 5 minutes. The only thing you need to remember is to avoid putting it on a carpet as it seems to be unstable.
#2. Donner DS-3 Original Wooden Guitar Stand
>>> Today's Best Deal: Check Latest Price on Amazon
Handmade from Acacia Wood for Acoustic and Electric Guitar, Bass Banjo Guitar Stand, Portable Guitar Stand
Features:
Made of solid acacia wood with unique wood grain
Better stability, not easy to shake
Good protection with cotton-padded covering to prevent scratches
Foldable and easy to install
This may be slightly heavier than many other guitar stands since it is made from real wood, but it has better stability, which will make you more secure.
It is suitable for all types of guitars, even bass, banjo, etc. so don't worry too much about whether it would be the best acoustic guitar stand or the best electric guitar stand.
People like Donner DS-3 not only for its stability but also for its convenient size. The stand is quite small, so it would be perfect for small spaces (e.g. private room, small studio, etc.).
Besides, it can be folded for transport or other purposes. And, most importantly, it's also easy to assemble. Everyone can do it within just 2 minutes.
#3. CAHAYA Wooden Guitar Stand with Soft Leather Edges for Acoustic, Classical, Bass Guitars
>>> Today's Best Deal: Check Latest Price on Amazon
Features:
Elegant look: works as a decoration besides holding your guitar
Durable: Plywood makes the stand more sturdy
Scratch-free contact: All edges are super soft, which helps to protect your guitar from any smallest damage
Portable: easy to assemble and disassemble
Cahaya wooden guitar stand is basically used for various types of guitar like an electric guitar, banjo, and bass, but it is the most ideal for acoustic classical dreadnought guitars. You won't need to think about your instrument's size because this will fit almost every size.
The stand is loved most likely because of its super nice appearance. Its X-frame construction together with thicker plywood material makes it become even more stable compared to many other types of guitar stand.
Moreover, it's also easy for maintenance with simple wiping regularly. This will be a perfect choice to show your favorite instrument in a music store, exhibition, living room, or just any other space.
#4. Ultimate Support GS-100 Genesis Series Guitar Stand with Locking Legs and Security Strap Yoke
>>> Today's Best Deal: Check Latest Price on Amazon
Features:
Hanging-style Security Yoke
Adjustable height
Leg Locking System
This product from Ultimate Support is always one of the best guitars stands for music lovers. It is specially designed with fabric-covered legs to protect your guitars, whether yours is electric, acoustic, or bass guitar.
The stand is simply black, you might not realize its unique design the first time seeing, but once you purchase it, you will be satisfied.
The most outstanding feature of this product is adjustable height. You will never worry about the size or the length of your instrument.
It also has a safety strap that can be folded to protect your guitar. The locking mechanism will also help to secure your guitar, preventing the stand from falling down. It would be perfect in any space!
#5. On-Stage XCG4 Black Tripod Guitar Stand
>>> Today's Best Deal: Check Latest Price on Amazon
Features:
EVA rubber coating helps to protect your guitar's finish
The friction locking knob prevents rotation
Rubber ends caps prevent slippage
On-Stage XCG4 is still mentioned as a high-quality guitar stand at a cheap price, just about $13 on Amazon. This classical guitar stand is suitable for all-electric, acoustic, and bass guitars.
Even though the price is cheap, its quality is not "cheap" at all. It is constructed with velveteen rubber padding, heavy-duty sheet metal leg housing, and 17mm/22mm tubing.
People really like the friction locking knob, which helps to prevent rotation. It's also easy to assemble since it's a minimalist stand.
This might not be the choice if you are looking for a stylish guitar stand, but it would be perfect on stage or even in your living room if your standard is simple.
#6. Guitar Stand Wooden Portable Holder for Acoustic Classical Guitar Ukulele
>>> Today's Best Deal: Check Latest Price on Amazon
Features:
Made of high quality compressed beechwood
Multiple application
Detachable, compact, and portable
Looking at the above image, perhaps you will also recognize the beautiful design of this guitar stand. It's not only applied to guitar, but also for other instruments such as guitar, ukulele, violin, banjo, mandolin, etc.
As made of strong solid wood, this would be more sturdy and stable to protect your instrument. The main construction includes only 3 pieces, making it easier to assemble and disassemble in one minute.
This is gonna suit all kinds of spaces and jazz up your room!
#7. Gator Frameworks Adjustable Double Guitar Stand Holds Two Electric or Acoustic Guitars
>>> Today's Best Deal: Check Latest Price on Amazon
Features:
Holds 2 guitars at the same time
Durable Neck Restraint
Heavy Duty Steel Construction
If you have more than one guitar and you need to find the best economical stand for those beloved instruments, this GFW-GTR-2000 from Gator Frameworks line of stands will be a good option.
It is the best double guitar stand that can hold 2 acoustic or electric guitars at the same time while still securing safety and durability.
The interesting points about this stand include its adjustable height, folding legs for compact storage, as well as finish-friendly rubber supports to prevent any damage to the finishing look.
But most importantly, the price is quite reasonable for a "double guitar stand" like this. It only costs around $25, which might be the same as many other single stands.
I'm sure you will love it, especially on display!
#8. Hercules GS415B A/G Guitar Stand Fold Neck
>>> Today's Best Deal: Check Latest Price on Amazon
Features:
Auto Grip system with a fold-down yoke
Easy height adjustment
Load Capacity: 15 kg (33 Ibs. )
Base Radius: 320 mm (12. 6")
Legs and contact points coated in the specially formulated foam to protect the guitar
Maybe you'll find this guitar stand a bit expensive compared to other mentioned types above (about $46), but it's really worth buying.
The stand can fit both acoustic and electric guitars, and a banjo as well. However, it will not work with a regular classical guitar. The GS415B only works with necks that are 2 inches or less at the first fret. So, you need to consider carefully your instrument's size before buying.
With this stand, your guitar would be totally secured with a folding yoke, which is designed for easy packing and storage.
It also has a handgrip height adjuster with a locking pin to secure the stand in place, so that the height adjustment would be easier.
You will definitely love seeing it in your room or any guitar exhibition!
#9. On-Stage GS7465 Pro Flip-It Best A-Frame Guitar Stand
>>> Today's Best Deal: Check Latest Price on Amazon
Features:
A-Frame construction
Easy one-handed operation
Heavy-duty square tubing and a " uni-construction" design
The rubber on the contact points
The On-Stage GS7465 is possibly the safest guitar stand on the market nowadays. Its A-frame combines with the patented top yoke, making it become the safest ever.
The heavy-duty square tubing and the rubbers on all contact points will secure your guitar and ensure no leaving any scratch on the instrument.
This would be perfect for both acoustic and electric guitars with a modern and luxury look. It's very convenient for you to show it off in your living room or any place you would want your friends to see.
That's all
OK, at this point, you have already looked through all recommendations for the best acoustic guitar stands and the best electric guitar stands. I know most of you want to get one, that's why you are here.
But some people may be still not sure if they really need a guitar stand or not. For this question mark, I will tell you "YES".
You will see the value of a guitar stand in your home. It's safer than a guitar case, more convenient to grasp whenever you wanna play music, and makes your guitars look super cool in your room!
There are many types of guitar stands you can choose from on the market. Whether it is a single stand, double stand, or multiple stands, just think about your demand, what you really want, then decide.
But remember, you had better get a high-quality one to prevent the most damage to your instrument!
Let's go and have fun with your shopping!!!