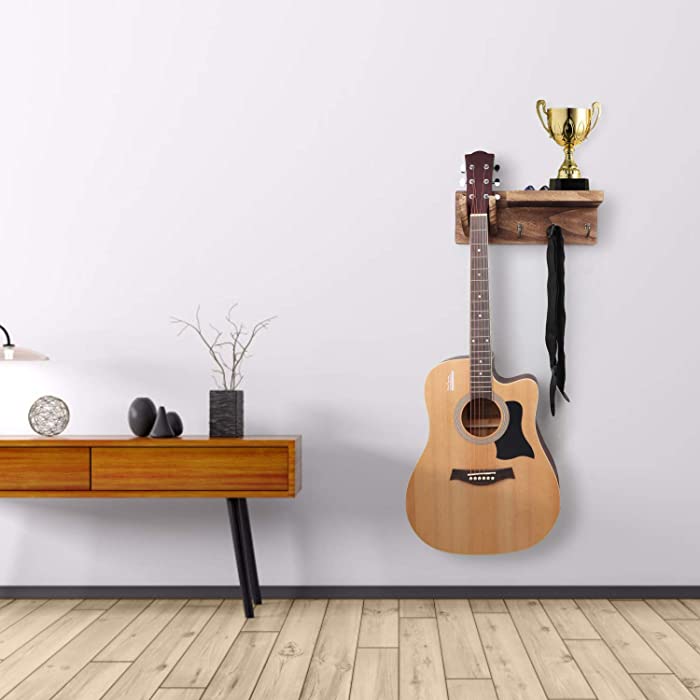 Do you love guitars? Are you looking for a perfect cool cheap guitar wall mount but you can't be sure about the quality of what you are gonna buy?
If that's the matter, then this article is EXACTLY for you!!!
Reading more:
Here you will be able to find out the best guitar wall hangers which are available on Amazon right now! Let's get to the below list:
#1: RawRock Horizontal Guitar Hanger
Sale
As mentioned above, RawRock Horizontal Guitar Hanger is suitable for a variety of stringed instruments, even bass or banjo.
However, since it's designed with a 5-inch base width, perhaps it won't work for thinner or smaller instruments. If you want to try with thinner guitar, you had better find a way to lean it or secure it, otherwise it won't be able to keep balance.
The attractive design of this product can also be taken into account as a strength. The padding and the anchors are quite sturdy, and perfect to protect your instrument. No matter how big is your room, you can easily display your beloved guitar on this fancy hanger.
#2: String Swing Guitar Holder
This guitar hanger would be a perfect fit for narrow body instruments. The maximum acceptable body depth is up to 2.5 inches. It can also be used for bass guitar or a lap steel, as long as you consider carefully about your instrument's size in case some adjustment is needed.
One of the reasons to invest in this hanger is that it is totally safe for nitro-finished guitars. It won't eat into the nitro like most foams and rubbers do. This hanger is a familiar product for Fender, Gibson, and Martin in their showrooms and trade shows. The only situation you should be careful is in the event of earthquake, because nobody can ensures that it's safe enough in that case.
#3: Orgrimmar Guitar Wall Mount Hanger
Orgrimmar Guitar Hanger is designed to use for most acoustic & electric guitars, violins, ukuleles, bass's, banjos and mandolins. The opening depth from front to back is roughly 4.5″. However, if you want to apply it for a six-inch-bowl mandolin, you might need to use a simple twist tie to secure it. But that's not a big deal.
I'm sure you will love this wall mount since it's very easy to install. The package has included all mounting screws. You just need to assemble everything in a musical note. Besides, the design is split, means that you can freely adjust the angle of the guitar oblique hook.
This really helps to save space. It's suitable for both home and studio.
#4: String Swing CC01K-BW Guitar Hanger and Guitar Wall Mount Bracket Holder
Sale
This hanger is not only used for guitars but also for ukulele, as long as the ukulele has a guitar's head. The body of the instrument may lean against the wall or have a small distance from the wall, but it doesn't have any bad effect.
The wood block is made of real hardwood, which might be one of the reasons why people love it. The screws and anchors also has high quality. You will never be afraid of leaving some marks or scratch on your guitar. You can even slightly adjust the hanging part to fit the neck of your instrument. In general, this wall mount is a perfect choice for specialized music room or even living room.
#5: 3 Packs Guitar Hanger
This product really "kills many birds with one stone". It seems to fit everything: acoustic/electric/classical guitars, Bass Folk Ukulele, Violin Mandolin Banjo and even more.
With only around $19.99, you can already get a premium quality cheap guitar wall mount. It is made of real hardwood black walnut base, strong metal steel and soft silicone rubber, so there's no need to worry about scratches. The rotative design helps to fit different shaped headstocks and its rubber ring will support to adjust the width of guitar neck.
This hanger is suitable for display in instrument shops, studio, school, home and even live performance. It's really worth investing.
#6: Bikoney Guitar Holder Wall Mount
The list of the best guitar wall hanger cannot be completed without this lovely design. It will definitely bring about a retro style to your room. This would be an extremely perfect home & office decoration for every art lover.
Unlike other normal guitar wall mounts, this hanger even provides spaces to show other guitar accessories, such as guitar pick, straps, tuner, guitar capos, and so on. It also includes 3 hooks for guitar's straps and medals, which makes your room become more tidy and beautiful. You will never regret purchasing this one for your instruments.
7#: Guitar hanger Guitar hook Guitar holder Guitar wall mount
Sale
This product fits a variety of instruments from a 5 string bass to a Violin. However, if you wanna use it for your ukulele, you should consider again because the ukulele's neck may be too small.
The greatest point about this is its price. A lot of people purchased it because it's a very cheap guitar wall mount compared to other similar types, and it can accomplish exactly what it's designed to do. The hanger is also easy to install and won't take you much time. So you just need 10 mins to finish installation and let it make your guitar outstanding.
#8: TopStage 4865 8-Pack Wall Mount
The TopStage 4865 is very sturdy wall mount to hold all types of guitars including acoustic, bass, and electric guitars. The soft neoprene rubber tubing is perfect for protecting your instruments. This product is truly ideal for guitarists to put together a rack for the music room.
If you are looking for a hanger with plain look, you will surely be interested in this item. You can also move the rack or take it down whenever you want. The price may also be a bright point. You can get it with around $20, much cheaper than other hangers on the market.
#9: Ohuhu Guitar Hanger
Sale
If you want to treat your guitar as a beautiful piece of craftsmanship, you must look through this hanger. It has the ability to fit both wide and narrow body instruments. You can use it for almost every instrument like guitars, bass, violins, mandolins, ukeleles, and more.
The hanger is designed to be installed quickly and easily. Mounting screws and drywall anchors are already included in the pack, you just need a screwdriver to finish assembling. It's quite sturdy and you can grab your guitar at anytime to play whenever your inspiration comes. The color is also very nice, which may be a good decoration for your room!
#10: Hercules GSP38WB Mountable Acoustic Guitar Wall Hanger
This cool guitar wall mount has an attractive wood base, which is suitable for home or studio mounting. The hanger can rotate automatically for different shaped guitars and basses, so you don't need to worry too much.
A lot of people are extremely satisfied with the quality of construction. You would love how the two locking tabs rock into place automatically when inserting the neck into the holder. Toggle anchors are also THE BEST solution for drywall and are rated to hold very heavy loads.
#11: Neboic Guitar Wall Mount
Many people think this is the best guitar wall hanger ever because it's lock is totally automatic. It can lock your guitar automatically when putting guitar neck on the arm, and automatically released when lifting your guitar.
The installation is also easy. The hook can be installed in a few steps on concrete or wooden wall. The guitar holder is made from high quality rubber, so there wouldn't be any scratch.
The guitar stand load capacity is from 1 to 15 kg, so you can use it for acoustic, electrical, classical, or bass.
#12: Guitar Wall Mount, Hard Wood Guitar Wall Hanger, Guitar Hook Stand Accessories
This hanger is a perfect fit for many 6 string instruments such as guitars, bass, violins, mandolins, ukuleles, and more. You will totally feel secure to put your precious instrument on this high quality product.
The wall mount is adjustable to fit every instrument, so you don't need to worry about your guitar size. People usually like this hanger so much because it has a classic appearance and stylish lettering, bringing about an elegant atmosphere for your room.
#13: Guitar Wall Mount by LC Prime
This hanger fits guitars at all sizes. It's auto-lock design is one of its upgraded points. Everyone should like it because of the convenience it brings about. Besides, the hanger is easy to install, you just need to directly screwed into walls to hang anywhere. It really helps to save a lot of space!

Is It OK To Hang Guitar On Wall?
In my opinion, YES.
A lot of people might think that putting guitar in a case can protect it for a long time. But that's not true. Even when you use a guitar case, slight warping can still happen.
On the other hand, wall mount helps to keep the neck straight, even protects your guitar from humidity and temperature change. Humidity & climate can lead to negative effects on your beloved acoustic tones. If you possess a really expensive instrument, you may not want that to happen.
Some people will feel too lazy to do drilling or they think it's gonna damage their wall. But everything is easier than what you expect. Just use good quality screws, and make sure its a nice tight fit, then the guitar hanger should be ready. If you buy a well-designed wall mount, it can even become a home decoration.
Last but not least, hanging guitars on the wall can make you play more often. You can grab your beloved guitar and play a song at any time, whenever you have inspiration. It's totally different from pulling the case out, unsnapping the latches, tuning up, and then returning everything to its proper place. All those steps would make you lazier to pull out the guitar!
How Do You Hang Guitars On The Wall?
If you own a small room, guitar hanger will help to save space. The wall stud is not 100% required. There's options such as drywall anchors and toggle bolts that will hold the weight of most guitars just fine.
However, you should bear in mind that most of the time, you are highly recommended to find a stud since drywall is not strong enough to secure your guitar.
Normally, a guitar wall mount will fit almost all instruments. Just in some special case, like Teles, which has a narrow headstock, might not fit every hanger.
Note: if any of your guitars have nitro finishes, you'll want to put something between the neck and the foam on the hanger.
Now that you have known so much about the guitar hangers and recommended types on Amazon, let's go finding something for your own!