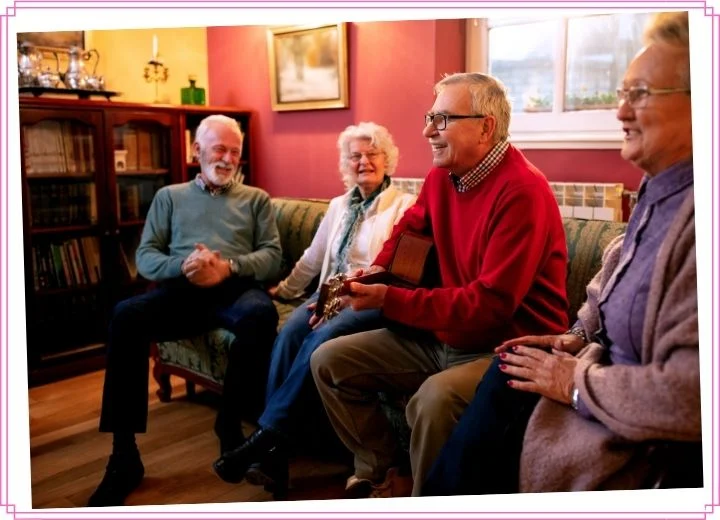 If you think singing songs from the '50s and '60s makes you look out of date, you're probably wrong. Many great songs were released at that time and are still popular today because they are loved by many people.
So, if you are looking for a classic song to perform at a birthday party or a campfire night, our list will be helpful for you. In this section, we will provide you with the list of best sing along songs 60s and 50s.
[Top 21 Songs] List Of Best Sing Along Songs 60s And 50s
This list is purely based on the evaluation and comments of many people on social networks, famous websites as well as prestigious magazines. So, please let us know through the comments section if you have other ideas.
#1. Maybellene
Single by Chuck Berry
Genre: Rock and roll, rockabilly
Released: July 1955
This song was the first hit by singer Chuck Berry. There's no denying that it's one of the best rock and roll songs of all time. The proof is that Rolling Stone magazine said that rock & roll guitar starts here.
#2. Heartbreak Hotel
Single by Elvis Presley
Genre: Blues, rockabilly, rock and roll
Released: 1956
Elvis Presley is one of the most influential singers in the 50's music scene. This singer loves to get inspired by what he hears on the radio or reads in the newspaper.
For example, this track was inspired by an article about a man's suicide. He killed himself by jumping from a hotel window. Presley turned this sad event into one of his hits.
#3. Tutti Frutti
Most of the things in this song might be odd for the 1950s. However, when it comes to Tutti Frutti, a day we would usually immediately associate with the unique wild chorus, which is transliterated as "A-wop" -bop-a-loo-mop-a-lop-bam-boom!"
#4.  Rock Around The Clock
Single by Bill Haley & His Comets
Genre: Rock and roll, rockabilly
Released: May 20, 1954
Bill Haley was one of the big names of the 50s music scene. This song was first released in 1954 as a B-side. The fact is that it was a flop in release and was considered a commercial disappointment.
Fortunately, people used it for the opening sequence of the movie Blackboard Jungle in 1955. Thanks to that, it became one of the most beloved songs of the 50s.
#5. Whole Lotta Shakin' Goin' On
Single by Jerry Lee Lewis
Genre: R&B
Released: 1955
When it comes to the best songs 50s by Jerry Lee Lewis, you'll wonder between this song and "Great Balls of Fire." However, we have decided to include "Whole Lotta Shakin' Goin' On" for many good reasons on this list.
During his second recording session for Sun Records in early 195̃, Jerry Lee Lewis decided to completely alter the original song by adding an electrifying boogie piano. This effort turned this piece into a hit.
Let's listen to this beautiful hit again:
#6. Lady Sings The Blues
Single by Billie Holiday
Genre: Blues, jazz
Released: June 6, 1956
This piece played an essential role in defining the blues-jazz crossover style of the 50s. Many people consider it to have become a metonym for her impact. Furthermore, this song also became the title of a biopic about her life, starring Diana Ross.
#7. Let's Have A Party
Single by Wanda Jackson
Genre: Rock and roll
Released: June 1960
Wanda Jackson recorded the piece for her first album in 1958. It was released two years later and entered the UK chart in September of the same year. In 1989, it appeared again in the movie Dead Poets Society.
#8. I Put A Spell On You
Single by Screamin' Jay Hawkins
Genre: Rhythm and blues
Released: November 1956
At first, Hawkins intended to record the song as a gentle love ballad. However, producer Arnold Maxin had a better idea. This  American singer eventually recorded "I Put A Spell On You" and created a hit that we love today.
#9.  You Send Me
Single by Sam Cooke
Genre: Rock and roll
Released: June 1960
It is proof that a beginner can make a hit. "You Send Me," Sam Cooke's debut single, reached No.1 on both the Billboard Hot 100 and Billboard's Rhythm & Blues Records. This song is also one of the best songs of the '50s, even though it was just the beginning of Sam Cooke's series of successes.
#10. Summertime Blues
Single by Sam Cooke
Genre: Rock and roll, rockabilly
Released: July 21, 1958 (US), September 1958 (UK)
There is no denying that the world of rock music has no shortage of stories of in-fighting between artists and managers. However, Eddie Cochran and Jerry Capehart, his manager, are exceptions.
They teamed up to write "Summertime Blues," one of the epic hits of the '50s. It even performed well across genres and became a country hit ofAlan Jackson.
#11. Good Vibrations
Single by The Beach Boys
Genre: Psychedelic rock, art pop, acid rock, psychedelic pop, R&B.
Released: October 10, 1966
Initially, people mentioned The Beach Boys as a Jan & Dean-style band obsessed with cars, surfing, and girls. However, these dudes proved they could do more by releasing songs like "God Only Knows" or "Good Vibrations" – a 60s pop masterpiece.
Hence, it is no surprise that it was one of the most expensive songs ever recorded at the time.
#12. Come Together
Single by The Beatles
Genre: Blues-rock, swamp rock
Released: 6 October 1969
This list would be incomplete without mentioning "Come Together." In our opinion, there are about 25 other songs by them that deserve to be on this list. However, we decided to include "Come Together" here for many good reasons.
#13. King of the Road
Single by Roger Miller
Genre: Country
Released: November 1964
"King of the Road" is one of the most fantastic country-pop crossovers of the 60s. It brings you the story of a nomad boy who is not bound by obligations or material goods. The lyrics allow you to understand the intoxication with freedom and the refusal to conform to social norms.
It comes with a smooth melody that makes it a perfect choice for country stars to cover. The proof is that famous artists such as Reverend Horton Heat and Glen Campbell have performed this song excellently.
#14. Be My Baby
Single by The Ronettes
Genre: Pop, R&B
Released: August 1963
The drum pattern, which Hal Blaine played, has become ubiquitous in American popular culture. Although many imitators later imitated it, few people could match Blaine's drum rhythm.
This song is the work of Jeff Barry, Phil Spector, and Ellie Greenwich. The Ronettes, led by Ronnie Spector, performed this song brilliantly.
#15. Dancing in the Street
Single by Martha and the Vandellas
Genre: R&B, Northern soul
Released: July 31, 1964
William "Mickey" Stevenson, Ivy Jo Hunter, and Marvin Gaye wrote the song after Stevenson witnessed children cooling themselves with a broken fire hydrant in Detroit.
At the time, Blacks used the song as a protest, calling on protesters to take to the streets to protest the laws. So, it became prevalent in its initial release. Furthermore, it also played a part in the most crucial era in American history.
#16. White Rabbit
Single by Jefferson Airplane
Released: November 3, 1966
Genre: Psychedelic rock, acid rock
In a way, this classic is structured like a mountain climb. That means you need to go uphill and stop at the peak.
Slick created it in 1967 based on Alice In Wonderland. Up to now, you will still easily find this song in many places.
#17. You Can't Hurry Love
Single by The Supremes
Released: July 25, 1966
Genre: Pop, Soul, R&B, Motown sound
Love doesn't come easy! So, patience is the key. The Supremes vocalist Diana Ross sweetly delivered this message via "You Can't Hurry Love."
This 1966 classic is the perfect result of Dozier–Holland – Holland – the famous Motown production team. This work immediately produced terrific results – It topped the Billboard pop singles chart.
It is true to say that this love song is one of Motown's hits of the '60s. So, it's no surprise that it stands out among a host of other classics.
#18. I'm Still In Love With You
Single by Alton Ellis
Released: 1967
"I'm Still In Love With You" is one of the few classics that captures the ethos of Jamaican music. It is even repeated many times in modern mainstream music culture.
Since the original release, many stars have used the song's beat, such as "Uptown Top Ranking" by Althea and Donna or Sean Paul's cover version in 2002.
There is no denying that it is a timeless classic that has inspired generations of musicians. However, few can replicate the success of Ellis' original.
#19. My Way
Single by Frank Sinatra
Released: Traditional pop
Genre: 1969
If there's anything sexier than Frank Sinatra's blue eyes, it's his voice. He made a significant impact with big bands. However, Sinatra always knew how to accentuate her voice through more straightforward tunes, such as "My Way."
Moreover, this singer also thanked Paul Anka for this immortal song of the 60s. He immediately flew to Paris to negotiate the copyright after hearing the original version while on vacation in the south of France.
#20. Light My Fire
Single by the Doors
Released: 1967
Genre: Psychedelic rock, baroque pop, acid rock
We like many classics by the Doors, but "Light My Fire" has something different.
Guitarist Robby Krieger initially wrote it, inspired by "Play with Fire" and the tune of "Hey Joe" by The Rolling Stones. Later, John Densmore, the drummer, suggested that the piece should have a Latin rhythm. After that, Ray Manzarek, the organist, added the introductory organ motif.
In the end, "Light My Fire" was born based on those compelling ideas.
#21.  I Like It Like That
Single by Pete Rodriguez
Released: 1967
Genre: Boogaloo
Before Cardi B's "I Like It" hit the headlines, songwriters Manny Rodriguez and Tony Pabon also composed a piece about how they liked things. Pete Rodriguez plays the instruments while Tony Pabon is the lead vocalist.
Perhaps this song is so appealing in its combination of English lyrics, Cuban tunes, and samba rhythms.
Some people find its tone quite unimpeachable. However, this element laid the foundation for later covers and remixes.
Wrap Up
And there you have it! Here is the list of best sing along songs 50s and 60s.
Let's choose something that works best for you for the upcoming parties. Are you ready to stand out from the crowd with a classic piece?
Thank you for reading! Please share this article with classical music lovers.