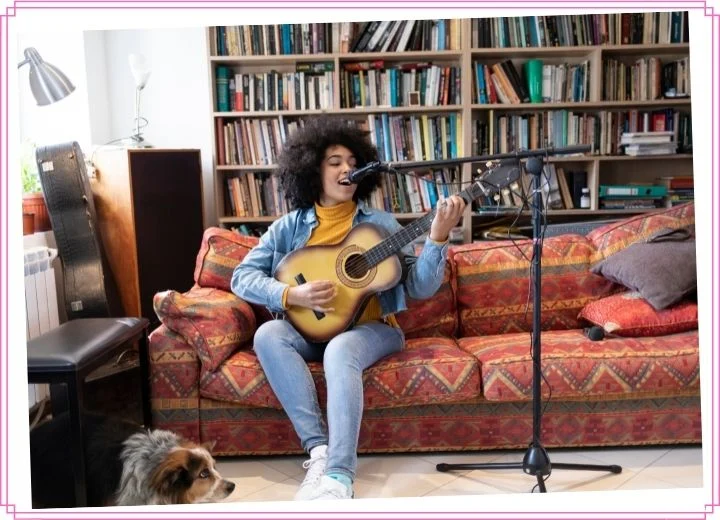 If you want to get your friends and family up and dancing at your next party, you probably need our list of best sing along songs 80s and 70s. These classics never seem to get old, and everyone loves belting out the lyrics at the top of their lungs.
So, whether you're planning a themed party or just looking for a few good tunes to add to your playlist, you're sure to have a blast!
#1. Bohemian Rhapsody By Queen
One of the most bizarre yet easily attractive songs in history, "Bohemian Rhapsody", has very strange lyrics, but people still sing along to it.
And you may be surprised to learn this – Bohemian Rhapsody is the first song from the 1970s to ever hit one billion views on YouTube.
For most people who grew up in this era, these popular tunes will bring back memories of their childhood or teen years. They'll also remind you about how music was different then – before auto-tune became an industry standard for vocalists. Yet, one thing is sure that Bohemian Rhapsody will last forever!
If you are yet to discover this iconic song, add it to your playlist now!
#2. Billie Jean By Michael Jackson
So if you find it too hard to sing the songs of Michael Jackson, let's try Billie Jean. This iconic song belongs to his sixth studio album, contributing to his success as an international pop icon.
Billie Jean will bring back your childhood memories and fondest times with friends. With its catchy tune, lighthearted lyrics, it'll be sure to have everyone singing along!
#3. Let It Be – The Beatles
The last single released by The Beatles, "Let it be", can be seen as a "break up song" to their fans. The song is a message of hope, meaning "just let things flow on their own". It tells us not to give up and that no matter what kind of problem you're experiencing, there's always an answer for it!
The chorus repeats the words of the title, making it easy to sing along even if you don't have the lyric in front of you. Just sing this song when times are tough, and you're feeling anxious. It's sure to make things seem a little more bearable.
#4. Yesterday Once More By The Carpenters
The Carpenters wrote "Yesterday once more" based on the concept of reminiscence therapy. No one can't deny the beauty of the female singer's voice – no vocal theatrics, just a smooth, warm sound. The melody is something that will be hard not to dance or sing along with, right from its first notes!
Let's be honest. The lyrics describe exactly what you're feeling now, bringing back many pleasant memories.
So if it's been a long time since you haven't enjoyed this song, it's time to relive your childhood with its sentimental tunes!
#5. Landslide By Fleetwood Mac
Such a heart-warming song for family relationships that you can sing along with whenever your family is reunited! What is surprising is that Stevie wrote this song on the guitar in just five minutes, yet its impact is undebatable.
Over the past 40 years, "Landslide" has proven itself to be a timeless classic that brings us home every time we enjoy it. It's had success with covers from The Dixie Chicks and The Smashing Pumpkins, who have made their own contributions in giving this song new life for today's generation of music lovers everywhere.
#6. I Will Always Love You By Dolly Parton
You probably don't know that Whitney Houston was 11 years old when Dolly made this song famous in 1974.
The original written by Dolly conveys the heartfelt sadness of letting someone go. It's like a final love letter to somebody she will never stop loving, coming after the storm! Whitney's version is just another showcase for that voice.  It's a mind-blowing performance, like a storm full of power and electricity.
#7. Working For The Weekend By Loverboy
The song "Working for the Weekend" by Loverboy is a great choice to play at your next party. The track reached  #29 on Billboard's Hot 100 and even made it into 2nd place on the Mainstream Rock Chart. The nostalgic sound of this song will make you feel like ten years old again, and it's so much fun!
"Working for the Weekend" was conceptualized when the guitarist Paul Dean was walking on the beach at sunset, looking for inspiration.
He noticed that most people were working, and he guessed they were all waiting for the weekend. From then, this feeling inspired him to write something meaningful.
#8. Right Here Waiting By Richard Marx
The 80s were a great time for music, and this timeless love song is just one of many that you should not miss out on. Released in the summer of 1989, "Right here waiting" soon reached top 1 in Billboard's hot 100!
This song is exactly for those who are in a long-distance relationship. Marx said that he wrote it for his wife in South Africa, shooting for a film (they were not married then).
He wanted to visit her after a few months of not seeing each other, but his visa application got rejected. When he came back, he wrote this love song as a letter for her.
So whether you're missing your lover or just looking for some soothing music, this soft rock should be on your waiting list!
#9. Imagine By John Lennon
It would be a mistake if we did not mention "Imagine" by John Lennon, an influential song of the 20th century. Though written while he still belonged to the Beatles, it was not until one year after the band broke up that he recorded this global hit and released it in his single session.
"Imagine" is practically the hymn of peace in the world. People even said that whenever you feel depressed, or the thought of death occurs, this song will always comfort you in dark times.
#10. Uptown Girl By Billy Joel
"Uptown Girl" by Billy Joel proves that the 80s seemed like such a happy time to be alive. The lyrics of this song show his surprise at being able to attract such beautiful women like Christie (his old girlfriend).
At that time, he always thought of himself as a working-class guy, and this ability should bring hope to all ugly guys in the world.
Time proves everything! When Westlife covered "Uptown Girl" in 2001, the version climbed the UK charts for a week. With a catchy tune and great energy, this song will never fail to put a smile on your face.
#11. Material Girl by Madonna
"Women" is always a good topic for any songwriter, and the girl in this song has a deep craving for the material items in life, and she'll do anything to get them from men.
The song can be seen as a tribute to the earlier area. And if you know "Diamonds are a girl's best friend", you probably realize that it's the inspiration for "Material Girl". They both come in the same setting, outfits, and colors.
So if you are looking for a melody that can summarize the entire 80s in less than 5 minutes, just play this video and sing along to it.
#12. Love Shack By The B-52
Like any good party, the Love Shacks were a place where people came to have fun and be comfortable with who they were. Be free, be sexy, dance, sing, and sweat! So if you don't like that, "stay away, fool"!
So, what better way to enjoy your wedding reception than with a little retro fun of "Love Shack"? Full of energy, we bet that your dance party will have everyone on their feet!
#13. Livin' on a Prayer By Bon Jovi
The hit tells the story of two kids named Tommy and Gina, who are struggling to make a living despite constant hardships. The characters in this song relate back directly with what Bon Jovi's fans (mostly from Jersey) had been going through at that time: working-class people that work on the docks or diners.
The appeal of this song isn't just its catchy beat and honest messages; it's also about a new vibe he brought for rock music! Surely this song will have you hooked from the first seconds. The beat, vocals, and lyrics are all perfect for keeping your attention for a long time and belt out to it!
#14. When Doves Cry By Prince
Prince was not only a talented musician, but he also knew how to reach your heart and put all the strings. And "When doves cry" played for this movie "Purple Rain" proved that state. He wrote and composed the song, played all the instruments, danced, and performed it.
You will be surprised when seeing that the diverse instrument sounds he combined were distinct but fit so perfectly.
His voice was powerful while not too loud. In short, the song could be one of the best hits ever of Prince – the biggest rival of Michael Jackson.
#15. I Wanna Dance With Somebody By Whitney Houston
The last song on our list should be a good way to get your feet movin'! This song has all sorts of energy that can't help but put people in an amiable mood!
Houston's "I Wanna Dance With Somebody" was originally released in 1987 and became one of the most popular songs ever. The way she performed was upbeat and light, as opposed to its emotional lyrics. That's why they add "Who Loves Me" after the title.
Dance plays a part in this music video, but it turned out to be a challenge for Whitney Houston as she couldn't dance. So, the producers decided to surround the talented singer with real dancers and keep her dance moves simple.
The Bottom Line
After reading this list, you should have a clearer idea of the best sing along songs 70s and 80s. Whether it's a song about partying, love, or just being happy, these nostalgic melodies will have you singing out loud in no time!
Surely these tunes will take back to a time when music was simpler but still fun. So grab your friends or family members and get ready to belt out these classic hits with us!