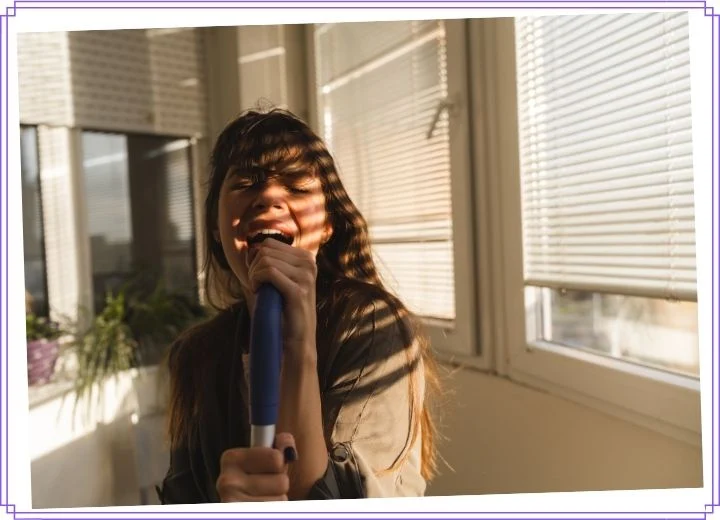 Singing karaoke is an integral part of every party. If you want everyone to come together as one to brighten up the party, choose songs that all of you know.
Some people may still be shy to join. This moment is to break their barrier and have fun. This list of best sing-along songs for karaoke can energize everyone in the room. It's time to share the spotlight and enjoy your party!
List Of Best Sing-Along Songs Karaoke
You have tons of choices for this section regarding vibe and genre. Let's check to find out which one suits your voice best.
#1. "I Will Survive" by Gloria Gaynor
Gloria Gaynor's smash hit is a song that everyone can sing. You'll be able to scream this song out in style if you have even a novice performer.
"I Will Survive" is also a terrific tune for showing off your dance talents, so don't miss it. Everybody in the booth is ready to sing along with you.
#2. "Emotions" by Mariah Carey
Mariah Carey's songs are hard to cover. However, it's still possible.
Don't be embarrassed if you can't replicate her vocal range. Just try this karaoke classic and see what happens.
It would be best to practice, but you can still shine on your own way to nail this song.
#3. "Don't Stop Believing" by Journey
For decades, everyone has been singing this rock hit in karaoke booths. Don't worry if you miss a line. There will undoubtedly be others singing along with you.
This song is so famous that it's almost an anthem for the USA. It's always the right time to sing "Don't Stop Believin" in the USA.
#4. "Single Ladies" by Beyonce
Beyonce always amazes the audience with her powerful voice. This fantastic song is one of her easiest songs to perform.
While no one can match Queen B, it's never a bad idea to give it a try. For a reason, this option is an anthem for every single woman everywhere.
#5. "Like A Virgin" by Madonna
With this song, you have a lot of large shoes to fulfill. Yet, if you can showcase your softer side for a while, you'll blow it off.
Although this melodious classic may not be the most excellent option to try while the children are around, it can surely make you stand out.
#6. "Wrecking Ball" by Miley Cyrus
It's time to ignore everything around you and get immersed in these sorrowful yet powerful melodies.
If possible, practice singing the high notes to impress everyone with an emotional chorus, like Miley Cyrus does.
#7. "Hey Jude" by The Beatles
"Hey Jude" is possibly the most appropriate karaoke treatment out of the Beatles' iconic songs.
Just take a few moments to scan the room before starting, as this slow jam might set a gloomy mood for the night.
#8. "Sympathy For The Devil" by The Rolling Stones
High-octane, catchy lyrics, and a ton of fun for everybody in the room! You can't go wrong with choosing any Rolling Stones album. This song is ideal for getting the party started.
Try other simpler Stones tunes like "Angie" or "Start Me Up" if "Sympathy For The Devil" sounds a little out of your singing range.
#9. "Rehab" by Amy Winehouse
Amy Winehouse was a once-in-a-generation artist, and her vocal prowess will undoubtedly remain.
Please don't be anxious about matching her skill level. "Rehab" was a worldwide huge hit, and it'll win you over in any crowd!
#10. "Billie Jean" by Michael Jackson
This iconic karaoke tune from the 1980s is the most popular of all time. It first appeared at the opportune time for karaoke to expand to the United States from Asia.
You may find it hard to sing "Billie Jean" properly. Fortunately, there's much room for dance moves, which is usually a success with the crowd.
#11. "Summer Nights" by the Grease Cast
"Summer Nights" is without a doubt one of the most famous film soundtracks of all time.
It's not easy to perform this song perfectly. On the other hand, theatrics can compensate for weak vocal performance. Even the weakest vocalists aren't afraid to try their hand at this one.
This option is perfect for group singing. Since many people prefer to sing with others, this song remains a long-lasting hit of all time.
#12. "Sweet Caroline" by Neil Diamond
"Sweet Caroline" is a song many people have heard at sporting events. It has become a hit that comes to mind while people are standing in the DJ booth, flipping through the track albums.
Even beginners rarely make a mistake with this option because of its familiarity. They will find this song to be relatively easy to perform.
#13. "Dancing Queen" by ABBA
ABBA is one of the most well-known bands in history. On karaoke, "Dancing Queen" is still their most popular theme.
This pick is cheerful, amusing and allows you to get into the rhythm and start dancing. It's also a crowd-pleaser that makes your audience sing along during your performance.
#14. "I Wanna Dance With Somebody" by Whitney Houston
This classic is one of the most famous songs of all time because it can get the crowd up and dance.
Unfortunately, untrained vocalists often mess up this joyful classic. However, it's still a terrific song to dance to, and it'll always be an excellent way to liven up the atmosphere.
#15. "Don't Stop Me Now" by Queen
"Don't Stop Me Now" is one of Queen's simplest songs. Many people have requested it at the karaoke booth to gather everyone in the room.
You may find it challenging to perfect the Queen's hit. You'll need a strong rock voice and a wide vocal range to avoid crucifying the start.
If you really want to try this option, watch this video.
It shows you how to have a raspy voice to deal with rock hits. Three tips mentioned in the video can bring you the best rock singing time.
#16. "Wannabe" by Spice Girls
This list isn't complete without mentioning a Spice Girls song, and Wannabe is one of the most popular.
This option is not the most difficult vocally; therefore, inexperienced singers have a chance to shine with it.
It would be best to perform "Wannabe" with your friends because most people prefer not to sing alone.
#17. "Torn" by Natalie Imbruglia
This karaoke tune from the 1990s is a great hit. This song goes best with a female vocal. However, it would help if you weren't too ambitious to sing like Whitney's song.
You will have a perfect performance to sing with your natural voice. Of course, it should be high enough to match the range of the song.
#18. "Hit Me Baby One More Time" by Britney Spears
No matter how many hits come up, "Baby one more time" is still an all-time hit. It fits both soloists and groups.
Surprisingly, singing is rather tricky. Hence, most beginners prefer to give a mediocre performance.
Britney's voice is one of a kind and difficult to duplicate. But it doesn't matter. Even if you fail to deliver the tune, this song will have the entire crowd up and dancing, rocking and singing along.
#19. "Love Shack" by the B-52s
"Love Shack" is an excellent choice if you're seeking an easy karaoke tune that's almost hard to mess up.
Since its debut in 1989, this hit has long been a popular karaoke choice. It has a cheerful and upbeat tune.
Even though it isn't usually anyone's favorite song, it has become one of the most famous karaoke songs ever written.
#20. "Angels" by Robbie Williams
"Angels" is one of the most well-known songs in the United Kingdom. This song works best as an ending for your party.
If you're searching for a cheesy ballad that will get everybody singing along with you, "Angels" is the best.
#21. "Wonderwall" by Oasis
If you are a guitarist, this song should be your first option. It's no wonder that somebody with an inexpensive acoustic guitar would leap at the chance to perform this tune on stage. However, you don't need a guitar to try this out.
"Wonderwall" has a fun and catchy tune, making it a timeless hit. No wonder why your audience will be singing with you.
#22. "I Want It That Way" by Backstreet Boys
"I Want It That Way" is an old song. However, its popularity continues thanks to the enticing melody.
The audience will be totally captivated when you begin singing the first verse since they all know the lyrics.
#23. "Teenage Dream" by Katy Perry
Katy Perry is another celebrity you can count on. There are many fantastic songs to select from, but "Teenage Dream" is her most iconic and simplest to perform.
Keep in mind that Katy has a strong voice. Try singing all your heart out if you wish to imitate her song.
#24. "Rolling In The Deep" by Adele
Powerful songs are quite hard to perform due to the high notes. However, this option is an exception.
Adele's "Rolling in the Deep" comes with all the power sounds, but its pitch is still possible to hit.
Adele has a vast hit collection, and this song always remains one of the top choices. Even if you can't strike the high notes successfully, you have back vocals, who are your enthusiastic audience, to support.
#25. "Love Me Like You Do" by Ellie Goulding
It makes no difference whether you liked or disliked "Fifty Shades of Gray." This music can gradually creep into your thoughts and stay there.
Its memorable melodies, not to mention the viral chorus, make it simpler to memorize. Even if you can't pull off the opening lines, everyone will sing along with the highlight section.
Final Words
Singing is not for showing off your skills. You have a chance to connect everybody as one, having fun together.
Hopefully, you can come up with brilliant ideas for your upcoming party with the list above. If you need any further information, please feel free to ask.
Thank you for being interested in the post!