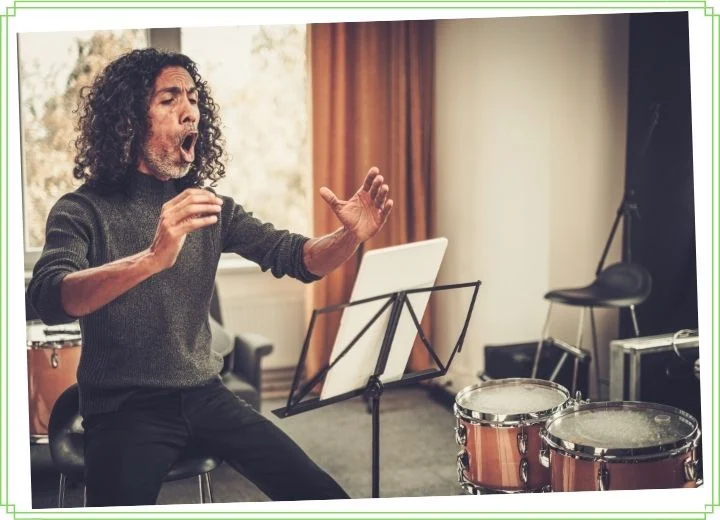 Singers can learn and train new skills through various ways that can be either on-campus (in real-time) or online (distance learning).
Nowadays, digitally learning is the go-to medium for many people because of its superb flexibility, convenience, accessibility, and affordability.
It's no longer necessary to enroll and reach out to a brick-and-mortar class to learn to sing. You can register for the best sing lessons online free.
This article will discuss how these online platforms help you improve your singing ability. Time to do some research!
Why Study Free Singing Lessons Online?
Distance learning or learning digitally suits a variety of folks and situations.
This medium is a great option for disabled people having difficulty accessing brick-and-mortar classes because of locations or costs.
Parents who want to attend vocal classes while still watching their children also lean toward such a flexible learning method.
A significant advantage of digital classes is learning anywhere, anytime. Thus, the schedule is flexible, adjusted according to your time and needs.
Of course, all of us are excited about free learning materials, but that doesn't mean paid courses are not worth your money.
Vocal coaches have the right to set a price for their courses or the knowledge, experience, effort, and time they've devoted to their students.
If you wish to register for a paid class, it's advisable to go for a free trial first to determine if the structure and style of the course apply to you.
Top 5 Best Youtube Channel For Singing Lessons
Apart from those free online websites, Youtube is also a flexible and effective tool to help with practicing at home, totally up to your pace and time resource.
When talking about the best Youtube channel for learning to sing, various vocal teachers offer free singing lessons on their channels.
We've picked out our five vocal teachers of choice on Youtube. Check the list out, and be ready to improve your skills!
#1. Cheryl Porter
Cheryl Porter has taught many singers, including those performing on The Voice, All Together Now, X-Factor, America's Got Talent, and many more. Notably, she is the vocal instructor of IL VOLO – an Italian trio.
Besides typical voice lessons, she also posts some practical vocal workouts videos to aid your daily practice.
#2. Madeleine Harvey
Another channel where you can find the best singing lessons on youtube is Madeleine Harvey.
The lovely teacher uses her channel to share multiple insights into vocal training, like how to expand your natural range, release the vocal break, hit really low or high notes, or amplify your vocal range.
#3. Dr. Dan
Voice lessons from Dr. Dan's channel apply to everyone, every level of skill and experience.
He offers various vocal exercises to any hobbyist vocalist, from a brand-new novice looking to build a solid foundation and identify their strengths to an experienced professional seeking a thorough and fun advanced training strategy.
#4. Justin Stoney
New York Vocal Coaching's founder, Mr. Justin Stoney, is a globally revered vocal teacher and voice coach.
Admirably, he takes advantage of Youtube's platform to pursue the mission of helping, training, and inspiring voice teachers and singers of the next generations worldwide.
#5. Ken Tamplin
Another devoted vocal coach we'd like to introduce to you is Ken Tamplin channel– a fascinating American rock artist deemed a four-octave voice wonder.
He sticks to his passion with the belief that "You have a unique voice, and if you apply the correct technique, it will reach unbelievable heights – the heights you never consider possible."
You can learn interesting vocal lessons, exercises, and tips from his channel like this video of how to sing high notes, for example:
Top 6 Best Singing Lessons Online for Beginners
These fantastic recommendations give you the chance to study valuable music knowledge with music professional instructors and experts who have particular achievements in their careers.
One of the best singing lessons for beginners is "Singing Made Easy" by SkillShare.
SkillShare is a fantastic place to study singing skills of all levels. This website provides plenty of courses designed to accommodate the different demands of different learners.
The most common courses available are Singing Made Easy (Level 1 & 2), Singing For Beginners (allow more straightforward practice with prepared piano tracks), Singing Like A Pro, and so many more.
The mentioned lesson will guide you to align your body, breathe properly using diaphragmatic breathing and abdominal, and engage with the primary muscles when singing.
Once you complete this course, you're sure to be on the correct path to becoming a skilled singer with sound fundamentals.
Besides singing, SkillShare also offers classes for those who expect to enhance their musical instrument ability, like piano, drum sets, guitar, or other instruments.
Generally, a SkillShare class will last about 30 minutes to four hours, based on the pre-programmed curricula.
#2. Christina Aguilera Teaches Singing – MasterClass
Masterclass tutorial platform comprises a reliable list of coaches who have put their names on the map with years of experience and respective specialization fields.
One of those instructors is the revered artist, songwriter, and singer Christina Aguilera. She is well-known for an admirable career full of successful self-titled albums and hits, such as "Your Body," "Hurt," or "Say Something."
In this digital vocal class, you can enjoy the opportunity to listen to and learn from her unique vocal skills. It lasts for 3.5 plus hours, comprising valuable activities, training, and lectures.
This Master course includes 23 lessons in total, and each lesson lasts for about 12 minutes.
Christina Aguilera's distinct vocal techniques will open your eyes to the art of singing and how to become a passionate singer with a powerful, skilled voice.
Particularly, her lessons apply to learners of all levels. Whether you're a beginner, intermediate, or professional, this class is where you can raise your musical ability to a higher level.
There are workbooks to aid you during the course. Simply download those lesson manuals, including lesson tips, summaries, and tasks, and use them as additional learning material after each class.
#3. Learn to Sing (Even if you Suck) – Udemy
The first impression is probably interesting due to the funny title. But this clever title turns out to hit the spot. Learners who suck at singing will be curious about this course.
We strongly recommend it for beginners who look forward to building solid skills and promoting career growth in the future.
The piano teacher, Micah Blake, always keeps the atmosphere high and fun during the process.
With a rich background in singing education, he will guide you to learn the crucial fundamentals, like proper posture for singing, or to identify your rhythm, flavor, tone, and range.
Also, he'll teach you breathing and warm-up exercises that are necessary to do before any lesson. Besides, you'll learn technical tips and tricks that enable you to expand your natural range and enhance your voice.
After finishing this class, you're sure to be good at performing octaves, triads, solfeggio intervals, solfeggios, and controlling your volume.
Another reason for choosing this online lesson is that you'll receive three songs to practice. These tracks apply to low, middle, and high vocal ranges.
Your instructor will demonstrate the songs. For example, you'll practice these three great hits: Hotel California, Ain't No Sunshine and Cry Me A River.
#4. Freelance Services on Singing – Fiverr
We'd like to introduce to you a freelance online platform where you can look for independent, qualified freelancers who trade their Talent, expertise, and skills to clients – Fiverr.
One of the freelance services on Fiverr is tutorials and lessons on voice development, vocal coaching, and other musical techniques.
These online classes can happen through video presentations or presentations or skype. They also vary in musical equipment, like pianos, violins, or guitars.
The Fiverr platform is user-friendly and straightforward to navigate. The simplified icons and options are tremendously helpful, guiding the learner through the entire learning process.
#5. Become a Better Singer in Only 30 Days – 30 Day Singer
This 30-Day singer program always sits at the top place on any best free online vocal lessons list.
It offers novice and intermediate vocalists the opportunity to develop various skillsets crucial for being a professional singer in only 30 days.
With the help of these digital singing lessons, you can promote vocal power, expand your natural range, and stimulate confidence.
In a word, all the essentials and basics behind a top-notch voice are accessible once you register for this course.
The first study track focuses on laying a robust foundation for a singer, including crucial fundamental techniques. It's a great starting block, irrespective of your vocal level.
The second track emphasizes the research of style, analyzing and studying some of the legendary names in music history, such as Ella Fitzgerald, Adele, or David Bowie. Learning from the GOAT is never an ineffective method.
Track three concentrates on advanced lessons, walking the learner through more arduous, challenging elements, such as pitch and harmonizing.
This training program is designed to raise you to a higher level, irrespective of your beginning point.
#6. Singing Lessons From Voice Teachers
The Voice Teachers website brings you the best coaches with tremendously critical teaching techniques.
It allows you to connect to these teachers easily and experience astounding vocal training, so you can take your performance to the highest level.
The Skype lessons are top-notch, rich enough to open your eyes to everything about the art of music.
Besides, Julie Brown Voice Studio provides the students with a unique, intense voice training program.
Teacher Julie Brown will guide you through her distinct Acapella Diva Technique that concentrates more on singing without stress.
She employs breathing and other expert methods to ascertain her students have a clear understanding of everything a singer needs to know.
Another fantastic studio is Octave Higher, which provides vocal lessons to beginners and professionals. As long as you aim to perfect your vocal technique, this place is where you should be.
Other amazing studios to consider on this site include Austin Voice, Vocal Empowerment Voice, and Vocal Edge Voice.
What are you waiting for? Register now to gain valuable knowledge from these teachers.
Conclusion
A meaningful singing class should cover practical lessons that help students identify and promote their strong areas and inspire them to become fascinating singers with love, passion, and deep knowledge.
To take your singing talent to a higher level, you need a combination of time, practice, dedication, and instruction.
We believe the above range of best singing lessons online free will be a significant part of your journey to becoming a true artist.