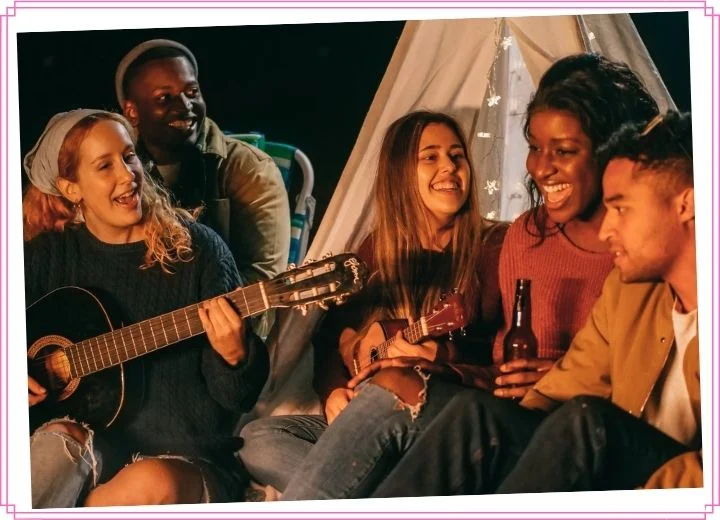 If you are looking for the best songs for duets, you are at the right place. You only need two voices to create a unique blend, and you'll receive an unforgettable, authentic performance.
We picked the best duets to sing with a partner. Feel free to go through this selection and pick some songs that you and your partner enjoy.
The 20 Best Songs For Duets
When performing a duet, you face more obstacles because your voice isn't the only thing you should worry about.
You must ensure that you both start simultaneously and in the same key. Moreover, the two of you have to harmonize correctly.
You must understand both your key and style. You don't want to find out if one of you can't reach the high registers while the other can. So, adjust the key if needed to fit both of you.
It would be best to practice before performing in front of the audience. You can also record to identify your mistake and fix it next time.
After finding your vocal range and style, let's check these good duets to sing with your partner.
#1. "See You Again" by Wiz Khalifa & Charlie Puth
When a serenader and a rapper want to collaborate, "See you again" is the perfect duet.
The rap portion isn't too fast, so you can easily keep up with the tempo.
It has become one of the most successful pop songs due to its heartfelt lyrics. The key is the singer has to hit high notes effortlessly without ruining the mood.
The melody part of this duet is quite complicated to sing perfectly. This video will show you how to pull it off.
The instructor mentions a smooth transition between head voice to a belt and vice versa. She also guides on how to nail it so that your song will sound fantastic.
#2. "Me" by Taylor Swift & Brandon Urie
This duet is a new and hence contemporary duet, featuring two performers with vocals that aren't too different.
Brandon Urie is famous for his four-octave tenor voice, which is ideal for male vocalists who can reach this register.
#3. "Somethin' Stupid" by Frank Sinatra & Nancy
This option is a great, fun, and lovely catchy song. It fits all various vocalists with different styles.
"Somethin' Stupid" is also a classic. As a result, it's great if you're seeking something different from traditional pop and rock music.
#4. "Empire State Of Mind" by Alicia Keys & Jay-Z
"Empire State Of Mind" is among the best boy-girl singing duets, inspiring song to duet from Jay-11th Z's studio album. It offers an excellent opportunity for novice rappers to perform and rap with a female singer.
The duet has a great memorable tempo and is one of those songs that sticks with you after the performance.
#5. "Moves Like Jagger" by Maroon 5 &. Christina Aguilera
Choosing this idea gives you an excellent opportunity to highlight your vocal range, especially if you play the Christina Aguilera portion.
If you use this appealing song, you may get the entire audience to rise up and sing along with your "Ohhh" line.
#6. "Just Give Me A Reason" by Pink & Nate Ruess
Pink continues to be one of the most powerful female vocalists globally. This song, composed in collaboration with Fun's lead vocalist, is a wonderfully harmonized duet that works really well on stage.
Both of you should have powerful vocals. Thus, it will really bring out the energy of yours.
#7. "I Knew You Were Waiting" by Aretha Franklin & George Michael
"I Knew You Were Waiting" is a wonderfully enjoyable, upbeat tune that remains a beloved duet to sing by one of this country's best vocalists and one of the USA's top singers.
Both voices are very different, but they complement each other well. You may experiment with this duet and customize it.
#8. "Endless Love" by Lionel Ritchie & Diana Ross
This wonderful ballad love duet will give a strong accent emotion to the atmosphere. There is also a version with a slow pace that's great for practicing and playing with one another.
It's also great for girls who want to learn how to reach these tones, as Mariah does.
#9. "Secret Love Song" by Jason Derulo & Little Mix
This idea is great for the duet since there is a fantastic combination of female and male vocals.
It also needs a lot of power, allowing you to scream it out to your heart's delight.
#10. "Señorita" by Camila Cabello & Shawn Mendes
This song is another extremely fantastic and entertaining duet that was recently a hit. Both performers have a broader spectrum of vocal ranges, and this song can perfectly match a duet.
The interaction between the performers is crucial. Try to kill this song with your companion by having great chemistry.
#11. "Could I Have This Kiss Forever" by Whitney Houston & Enrique Iglesias
Two artists perform this lovely ballad with quite distinct vocals. This song is among the best singing duos of all time to practice with and try out your vocals together.
"Could I Have This Kiss Forever" is also a fun duet to sing, and the fast tempo allows you to focus on your performance as a pair.
#12. "Telephone" by Lady Gaga & Beyonce
This timeless pop duet automatically gets the audience dancing. The original singers of this song are two of the world's most dynamic and well-known vocals, adding to the appeal.
This idea is an excellent duet to sing together, particularly if two powerful vocalists wish to showcase their skills.
#13. "When You Believe" by Whitney Houston & Mariah Carey
This duet, performed by two divas, is ideal for vocalists with massive, strong voices.
Because the song has such an emotional melody, you need a lot of practice to deliver its entire message.
#14. "I Don't Care" by Ed Sheeran & Justin Bieber
When this song first appeared, supporters of both artists were happy.
"I Don't Care" is a great chance to team up and duet with another male vocalist, enabling you to put your voice to the test.
#15. "Love The Way You Lie" by Rihanna and Eminem
With this melodramatic Eminem and Rihanna collaboration, you may showcase your rhyming ability.
This song is perfect for singing with your partner when one has a lovely place for rapping, and the other sings with a soft spot for the melodic parts!
#16. "Somebody That I Used To Know" by Gotye & Kimbra
This song should be the best-written break-up song ever. The rough lines and straightforward storytelling reflect the difficulties of moving on from a bitter relationship.
The low or high notes of the appealing art-pop track are in sync with the general intensity of the song.
#17. "This Is Me" by Demi Lovato & Joe Jonas
The song is not about love but can work well if you want to have a duet performance with your partner.
"This is me" doesn't require advanced skills. All you have to do is bring a pop and rock vibe in the chorus so that everyone in the room will stand up.
#18. "Start Of Something New" by Zac Efron & Vanessa Hudgens
This song is best when you and your partner start your relationship. It would be best if both of you had sweet voices.
The first verse is emotional so that you can sing softly. When moving to the second verse, try to put more energy into it.
#19. "We Don't Talk Any More" by Charlie Puth & Selena Gomez
"We don't talk any more" is another mega-hit that blows off the stage without making anyone dance.
This break-up song can steal the heart of the audience with the repetitive line: "We don't talk any more." However, you also need to practice the beginning line. Otherwise, you can't perfect the chorus.
#20. "I Finally Found Someone" by Bryan Adams & Barbra Streisand
Among the countless love legends from the 1990s, this song never fails to put anyone in a romantic vibe.
The song depicts a blossoming special relationship between two people. It's the ideal duet to play over when two people walk hand-in-hand into the next phase of their life.
#21. "Tonight I Celebrate My Love' by Roberta Flack & Peobo Bryson
The deep sentiments shared between two lovers come with this sweet yet deep romantic ballad, showing the compassion of love.
This timeless classic will undoubtedly create a cozy atmosphere for your special event.
#22. "Lucky" by Colbie Caillat & Jason Mraz
"Lucky" is an upbeat pop duet you won't want to miss for your duet performance.
This vibrant acoustic duet conveys the genuity of young lovers who build their love from friendship. The music works to make a relaxing yet romantic ambiance!
#23.  "Way Back Into Love" by Haley Bennett & Hugh Grant
This song will take you back to the time love blossomed, reflecting an undeniable connection between two people.
A wide vocal range isn't necessary for this song. As a result, you may feel free to focus on your feelings rather than singing skills when trying one of the best songs duets male female.
#24. "Could I Love You Anymore" by Jason Mraz & Renee Dominique
This romantic duet is a magnificent picture of love, with its beautiful lyrics. The song honors all types of love and all types of relationships.
This duet is a fantastic choice for couples who want to express their feelings to their dear ones.
#25. "Butterfly Fly Away" by Billy Ray Cyrus & Miley Cyrus
Billy Ray and Miley Cyrus have brought a country and pop icon for the father-daughter duo. If you celebrate with your family, this song should be the first to play.
This adorable father-daughter duet makes sense for the couple to perform together.
#26. "The Monster" by Eminem & Rihanna
Eminem and Rihanna have collaborated on a few smash hits. "The Monster" is the perfect duet song for the fastest rappers and sweetest vocalists in the world.
This song is for those of you intermediate singers who are looking for a new challenge.
#27. "Lovely" by Billie Eilish & Khalid
"Lovely" is a truly "freaking depressing" song. It's a fantastic option for more downtempo situations, with its gorgeous harmony and melody.
It's not simple to sing and deliver this song. To strike the high notes beautifully, you must practice a lot.
#28. "A Whole New World" by Aladdin
This iconic duet from the Disney animated feature film "Aladdin" is still famous, although time has passed fast.
This song particularly fits female vocals with a pleasant tone. Furthermore, if you can harmonize with your vocal partner, your performance must be as charming as a fairy tale.
#29. "Shallow" by Lady Gaga & Bradley Cooper
This rock-pop song was the theme song from the musical "A Star Is Born." It's a powerful ballad with amazing harmonies and acoustics. Gaga's strong vocals are ideal for showing your skills.
Final Words
Singing duets may not be as easy as you may think. The key is to choose a song that fits the singers' voices.
Hopefully, this article can help you find an ideal choice for your next performance with your partner.
Once you have picked a perfect match, practice it a few times. Then, be ready to shine on stage!