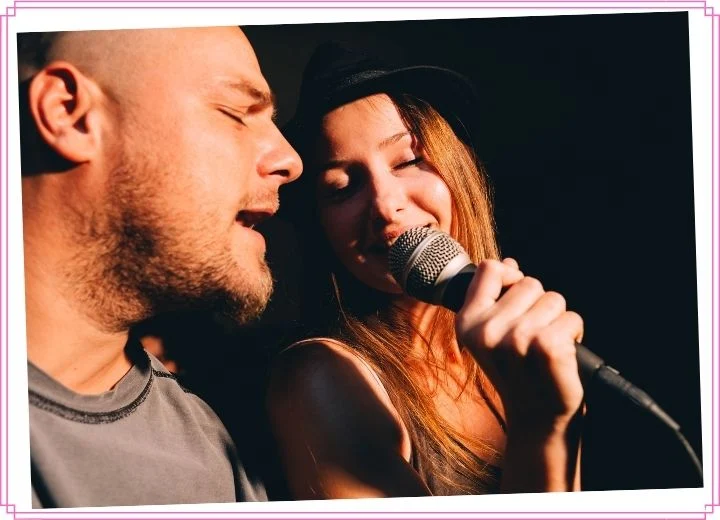 It's too cold outside, sometimes too slushy and unpleasant, the cafes are tired, the clubs don't work. What to do with yourself on New Year's?
Let's go-to karaoke! You can break out in karaoke without hearing and voice.
We have collected for you several life hacks and the 20 best karaoke duet songs that will make your evening with friends as incendiary as possible.
The 20 Best Karaoke Duets of All Time
A karaoke duet is twice as effective and twice as fun. Share this unforgettable experience with your travel companion, friend, or colleague.
Do you have the same musical tastes? You can easily find the best karaoke duets male and female that both would like to sing, and more than one.
To start a duet, choose songs your friends know. It makes it more likely that your friends will support you and start singing along.
Do not forget to split the games and discuss the performance details. It will be bright!
#1. "Shallow" by Lady Gaga And Bradley Cooper
It is fantastic music from the film "A Star Is Born." Because this film is mostly about Lady Gaga showcasing her abilities, the female protagonist must be self-assured.
This song packs a powerful emotional impact. It is ideal for a loving pair. It is a terrific song for all New York City lovers to cover.
It's more complicated than it appears on the surface. It's a terrific spectacle if you can cover it.
#2. "Like I'm Gonna Lose You" by Meghan Trainor And John Legend
It is a simple karaoke tune with a decent balance for two powerful voices. It's all about making the most of every time you have with the people you care about.
This song is simple to sing, making it a popular choice for people just starting before an audience.
#3. "I Know What You Did Last Summer" by Shawn Mendes And Camila Cabello
It is a sizzling, beautiful duet that will make the crowd take a break from their seltzers and glance up. There's a great deal of harmony between the leaders.
"I Know What You Did Last Summer" is a deep, conversational pop duet that features the pals channeling the sounds of Ed Sheeran and John Mayer. Her sadness inspired Cabello's emotional lyrical conversation.
#4. "Despacito" by Luis Fonsi And Daddy Yankee
A Spanish-language song performed by two Puerto Rican artists, Despacito rose dramatically and became a worldwide hit in the summer of 2017.
The hit song by Daddy Yankee and Luis Fonsi has been at number one on the Billboard Hot 100 for 13 weeks. It's one of the best duet karaoke songs for guys that automatically connects people, makes people dance to it, and enjoy it.
This 7 billion view video has never been outdated. Turn it on, put on your headphones and get ready to sing:
#5. "Perfect Duet" by Ed Sheeran And Beyonce
"Perfect" is a romantic song composed for Sheeran's girlfriend, Cherry Seaborn. It's the song that's made him famous, as well as the soundtrack to hundreds of dances.
The Beyoncé remix sent "Perfect" to the Billboard Hot 100 in December 2017. The raw voices of Ed Sheeran and Queen Bey, along with an acoustic guitar, are the three simple components of this sweeping romantic ballad.
Their loving harmony during the last chorus round is just what a couple wants to hear during their first dance.
#6. "For Good" by Kristin Chenoweth And Idina Menzel
Playbill described it as less dazzling than previous Wicked songs, unique, powerful, significant, and an insight into how people evolve through relationships.
The song's lyrics talk about how Elphaba and Glinda's relationship has transformed them both. Glinda continues by stating, "I know I'm who I am today because I knew you." "Whatever way our stories end, I know you have rewritten mine by being my friend," Elphaba tells Glinda.
This song is an ideal choice for you to perform a collaboration with your best friend. It's also excellent for folks who love Broadway musicals.
#7. "Single Ladies" by Beyoncé
It's an R&B, and the dance-pop genre incorporated dancehall, disco, and bounce elements. Beyoncé, along with several musicians, wrote this song.
According to the lyrics, after breaking up with a nasty partner, a lady goes to a bar to celebrate, and he is also present. That man is the subject of the song with the repeated line, "If you like it, you should have placed a ring on it."
The song has a moderate speed of 96 beats per minute and presents an E major chord. Beyoncé's voice spans from F#3 to D5, with a low note of F#3 and a high note of D5. The chord progression for "Single Ladies" starts with an E major chord in the first verse and ends with Bdim–C–Bdim–Am in the chorus.
Enjoy Queen Bey's powerful lyrics and sexy dance moves in the video below:
#8. "Endless Love" by Lionel Ritchie & Diana Ross
What list of karaoke duets would be complete without a few timeless classics? And it doesn't get much more classic than Lionel Richie and Diana Ross's "Endless Love" from 1981.
Billboard has even dubbed the original version the greatest duet. This reputation rankings put it in the category of hopelessly romantic karaoke duets.
This lovely ballad love duet will provide a strong emotional undertone to the ambiance. There's also a slow-paced version perfect for practice and playing with friends. It's also fantastic for girls who, like Mariah, wish to learn how to hit these tones.
#9. "Beauty & The Beast" by Ariana Grande & John Legend
Some of the most well-known karaoke duets in history have come from Disney. And there's the latest flood of live-action remakes.
Some of the world's most famous artists have stepped up to re-record those timeless classics. Ariana Grande and John Legend recorded the eponymous theme song "Beauty & The Beast" for the 2017 remake of the film.
Bringing this duet to life will take some serious rehearsal, but the payoff will be well worth it. Who better recreate the fairytale charm than the Princess of Pop and the Prince of R&B Crooning?
#10. "Rich Girl" by Gwen Stefani And Eve
The reggae song "Rich Girl" presents the key of C minor. It's written in standard time and has a modest 100 beats per minute tempo.
An alternating perfect fifth dyad and an accentuated piano trichord accompany the rhythm. The song has a verse-chorus format, using an electronic keyboard, guitar, and keyboard bass as instruments. Stefani's voice has a G3 to E5 range.
The word "na" appears several times throughout the introduction. During this piece, Stefani hits her highest note, E5, and her lowest note, G3, as part of a trichord. Stefani talks about her fantasies of money and luxury after the first chorus.
#11. "When I Grow Up" by The Pussycat Dolls
"When I Grow Up" is dance-pop music incorporating electro-pop and R&B elements. The story revolves around a young woman who aspires to be famous when she grows up and gets noticed.
You should carry out the objectives with a sense of humor since they are little girls. The bridge and chorus provide opportunities for a genuine soprano to demonstrate her range.
#12. "I Don't Care" by Ed Sheeran & Justin Bieber
It doesn't get much larger than this for superstar karaoke duet combinations. Ed Sheeran and Justin Bieber's "I Don't Care," which they collaborated on for the No.6 Collaborations Project, was a certified 2019 summer anthem.
"I Don't Care" is an excellent opportunity to collaborate and duet with another male performer, putting your voice to the test. Even though the title is "I don't care," it's primarily a heartfelt love ballad of the guys dedicated to their other half.
#13. "Under Pressure" by Queen And David Bowie
This blockbuster hit, which featured Freddie Mercury and superstar David Bowie, was Queen's most popular song. Some critics have hailed the song as a fantastic rock track and a strong and moving pop ballad.
Annie Lennox covered his part at the 1992 "Freddie Mercury Tribute Concert for AIDS Awareness," demonstrating the song's adaptability as a karaoke duet.
#14. "Señorita" by Shawn Mendes And Camila Cabello
In Austria, the Czech Republic, Bulgaria, Denmark, Germany, Finland, and many other European nations, "Señorita" topped the charts. "Señorita" is a Latin song written in the key of A minor with a pace of 117 beats per minute.
"Señorita" boasts appealing rhythms, engrossing words, and Camilla and Shawn's raspy vocals, all of which come with a summery vibe. It's light, sensual, and a dance number, all of which point to it being a smash hit.
We are sure that you will fall in love with the first tunes of this song when you play the billion-viewed video below:
#15. "Butterfly Fly Away" by Billy Ray Cyrus And Miley Cyrus
It's the ninth song from Hannah Montana's film: The Movie's soundtrack. Billy Ray and Miley Cyrus, a father-daughter karaoke duo, combine pop and country icons in this karaoke duet.
The duet "Butterfly Fly Away" is acoustic pop. The song is a beautiful country ballad with lyrics about a child's passage from childhood to maturity.
The duet is a light and flowing song about family, with the vocals of the father and daughter blending harmoniously. It was only natural for the two to sing together on this adorable father-daughter karaoke duet on adorable father-daughter karaoke duet.
#16. "Girl From The North Country" by Bob Dylan And Johnny Cash
Six years after first releasing this simple folk tune, Bob Dylan re-released it as a duet with Johnny Cash. It is an excellent tune to listen to when warming up.
Listening to Bob Dylan's section in the recording reveals that this song has a lot of room for forgiveness.
#17. "See You Again" by Wiz Khalifa & Charlie Puth
When a rapper and a serenader want to collaborate, "See You Again" is the perfect karaoke duet. Originally composed for the seventh film of the Fast & Furious franchise, "Furious 7."
It was an appropriate homage to star Paul Walker, who died tragically in a vehicle accident before completing their movie. It has become one of the most famous pop songs played at funerals due to its heartfelt lyrics.
It also became the most-watched video on YouTube in July 2017, dethroning South Korean pop star Psy's Gangnam Style.
#18. "Barbie Girl" by Aqua
In 1997, this song was a successful comedy tune. It's a pleasant tune to sing and a great vehicle for anyone nervous about performing for the first time.
It quickly becomes incredibly sexual. Especially when the song mentions "playing" and "touching." Kiss me here, touch me there, hanky panky. You can touch, you can play, if you say, "I'm always yours."
#19. "Can't Remember To Forget You" by Shakira And Rihanna
The song tackles the notion of having that one partner that, no matter how hard you try, you can't get rid of. You know better, but the best-laid plans are thrown out the window the moment you see them.
It's ideal for presenting two stars with evenly distributed abilities. There's a terrific ska feel going on here, which harkens back to the artists' beginnings. Consider this for your Caribbean Night.
#20. "Islands In The Stream" by Kenny Rogers And Dolly Parton
"Islands in the Stream" is a country music tune with soft rock influences. The story is about a couple's love in the face of life's storms, in which they reassert their great attachment even though they are like islands on a stream, with separate personalities.
The chorus takes some getting used to, but mastering it can help you gain stage confidence. It is one of the finest karaoke songs we've ever heard, so if you have a partner, you should certainly try it!
Enjoy their amazing theatrical performance in this video:
Final Words
Singing duets isn't as simple as you would believe. The goal is to select the best karaoke duet songs for the performers' vocals.
What are your thoughts on our diversified list? It includes everything from heartfelt love ballads to hilarious ones.
Practice your ideal match a few times once you've found it. We wish you a wonderful and joyful time singing with your friends, family, and lovers!
Thank you for reading!