Can I use karaoke music on youtube, can you sing karaoke on youtube? If you are interested in karaoke, read the article below to find out the answer!
Can I Use Karaoke Music On Youtube – Should You Know?
The answer is definitely yes. But to use and sing karaoke on the youtube platform, you need the support of specialized equipment. These devices include microphones, karaoke mixers or networked TVs, and audio output speakers.
However, how to use karaoke easily and quickly at home by setting up such supporting devices is not easy.
Don't worry, we will show you what you need and how to set up a karaoke machine. So, you can be ready to sing anytime. Let's get started!
What Do You Need To Sing Karaoke Successfully On Youtube?
In this section, we will learn how important these support devices are, as well as the best way to find a quality device!
#1. Microphone 
Microphone plays a key role in your karaoke singing. If you don't have a microphone, how will your sound reach the gramophone, right?
The information for you is that choosing a good microphone will help you sing softly and sound better. Also, the fact that you move around a lot while singing also determines whether you choose a wired or wireless microphone.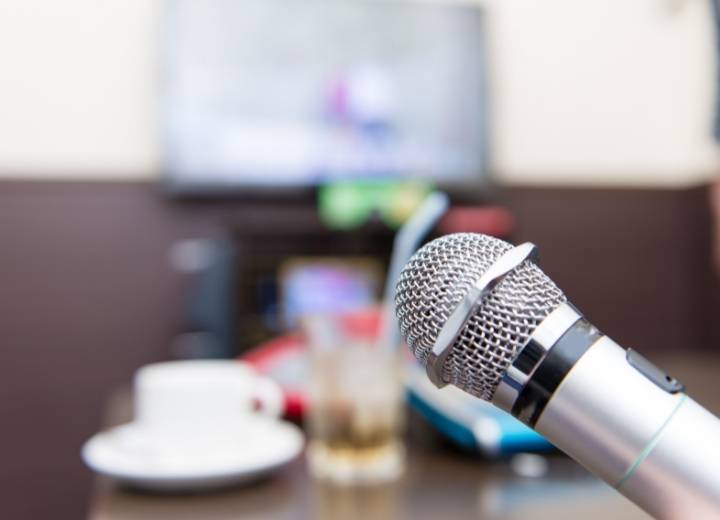 Accordingly, two types of wireless mics are introduced. Determining high or very high frequencies will produce UHF and VHF. These two types of mics are similar in terms of supporting your voice but different in quality.
If the UHF type has a stable connection and can connect with a Bluetooth speaker, it is more expensive. In contrast, VHF has a low cost but according to some people's karaoke experience, the sound quality is not good.
And if you want to do a duet with someone, you should choose a wireless Fifine dual UHF. This choice helps you combine two audio sources so that when outputting through speakers, your voice is still the best it can be.
Finally, you need a soft foam windscreen. Covering the top of your mic when you speak can help limit the amount of saliva that comes out when you speak. At the same time, the sound filter of your mic is also better when it is not mixed with much noise.
#2. Mix Audio
An audio mixer has the function of combining multiple audio sources (usually two sources) for transmission to external speakers. Thus, the mixer will be connected to the mic and karaoke player.
However, owning a quality mixer with good audio support is not always easy for many people.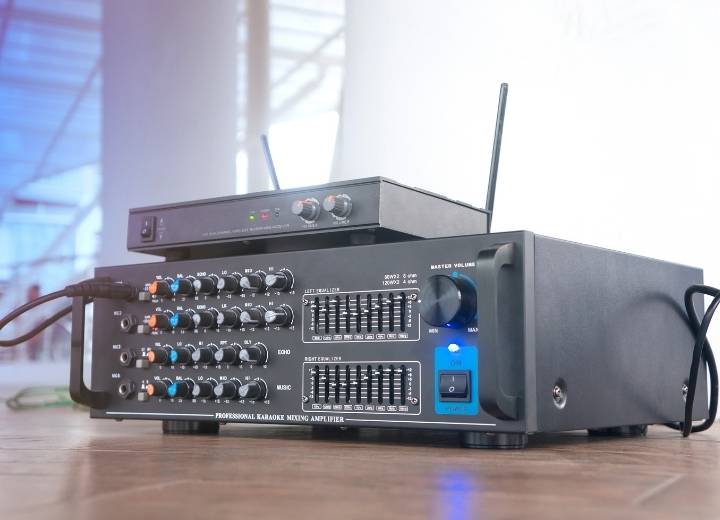 Interestingly, we are going to show you one of the most useful and simple ways to utilize what you have at your disposal to make a quality karaoke mixer.
All you need is a networked TV. Here are the simple steps:
Using an audio cable:

First, you need to find the output port of the TV. Once you've located this, plug in an audio cable that's compatible with your karaoke player.

Use the network with a digital connector:

Simply enter the connection mode of the TV and transmitter to activate the connection. As soon as the signal activates the gong, you are ready to sing!
#3. Audio Speakers
Surely owning a sound speaker is of course something you do before you intend to sing karaoke. However, you should learn through some of their features before proceeding to sing to make sure they work at their full capacity.
To be a good speaker, it is best to learn through information about their capacity and features. These features include rechargeable batteries, lighting flashlights. But it will be more interesting if your speaker is supported with the free movement of wheels for outdoor parties, right?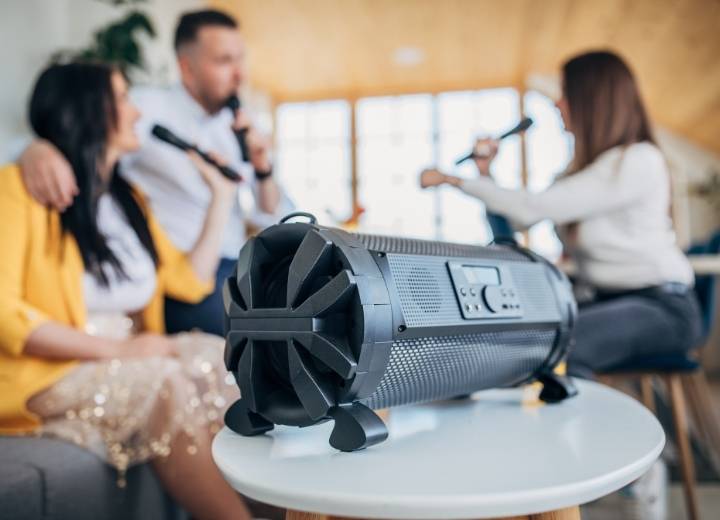 Next, a few good tips for you when opening the speaker is to lower the speaker before opening the mic. Now start slowly to adjust the volume appropriately. Thus, the adjustment helps you find the right volume but also limits the sudden sound that affects the listener.
Device To Connect Youtube To TV For Your Reference
Reality gives us another choice than using a mixer. Indeed, instead of using a mixer, many other devices can support your YouTube platform connection.
These devices in turn are known as your tablet, Smart TV, PC, or most simply your smartphone.
And the connection method is also extremely simple. You just need to open the network connection first, then find where to connect to the TV and Speaker. Among them, Bluetooth connection is the most popular.
You need to let these two devices be connected. At that time, you open the Youtube platform on your device to be able to access and proceed to choose your favorite song!
Popular Karaoke Channels On The Youtube Platform
Agree that on the Youtube platform now, there are many karaoke videos for us to choose from freely. However, not every video suits your taste or has the best quality.
Instead, browsing through the following popular karaoke channels can bring you your favorite videos.
Sing King:

the channel has many different genres with good quality. As for the number of videos, the channel is not much for us to choose from.

Karafun:

a popular channel with a large number of songs and constantly updating current hits.

KaraokeOnVEVO:

although the channel has just been launched, it completely gives users the best experience in terms of picture quality and good sound.
Conclusion
Can I use karaoke music on youtube? Or can you sing karaoke on youtube? Via this article, you know that it's not difficult to use karaoke on the Youtube platform at home.
Hopefully, you will not only know more useful information about this interesting karaoke activity but also can easily sing when you want.
Thank you for your interest in the article. We hope you have a relaxing karaoke activity!