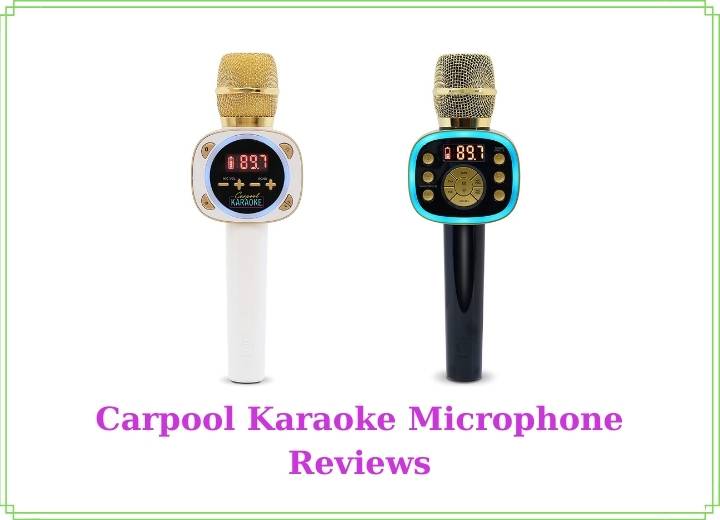 Carpool Karaoke Wireless Dynamic Microphone aims to provide a competent karaoke experience in a tiny package and at a decent cost.
This review of the Carpool Karaoke Mic 2.0 vs 1.0 walks you through the main features, advantages, and disadvantages of these portable karaoke machines to give you a precise determination of whether it is right for you.
Let's read on to discover!
In-Depth Carpool Karaoke Microphone Reviews 2021
Let's look at the details of these best Carpool karaoke mics to figure out which one is the best for you!
1. Carpool Karaoke Mic 1.0 
>>> Today's Best Deal: Check Latest Price on Amazon
The Carpool Mic appears with lengthy drives and parties in mind. It is just as much fun and fantastic to sing at home or in the studio. The karaoke microphone is small and lightweight, making it easy to hold.
This portable microphone is entirely made of plastic and weighs slightly over 1.25 pounds. When not in use, it simply fits into the bottle shelf on the car doors, guaranteeing that it doesn't take up any additional room.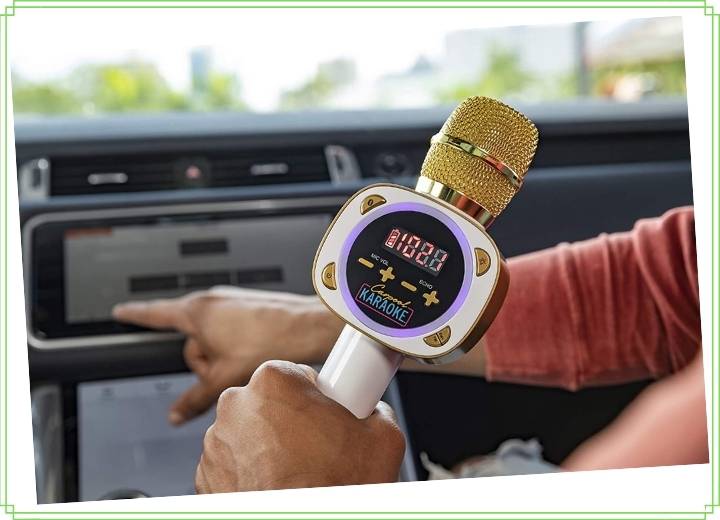 Volume control, Start/shutdown, echo, and pitch effects are controlled by five buttons on its front. The buttons are excellent and offer a satisfying tactile reaction.
The tiny TFT LED panel that displays volume and frequency is scratch-resistant as well. This Carpool 1.0 is available in a golden hue featuring a circular Blue Light strip in its center, making it a fantastic wireless mic.
All of the connection features you'll ever need to appear in the Carpool Karaoke Mic 1.0. With the AUX wire, you can quickly connect your singing mic to any loudspeakers.
A wireless connection is also responsible for connecting to the car's FM tuner. Using the integrated Bluetooth, you may also stream music from any webpage or karaoke app.
Furthermore, if you're having a party, you can link the mic to your TV screen and read the lyrics while singing along. You will, however, require extra RCA wires, which do not come in the package.
Overall, when utilizing the Carpool Karaoke Microphone 1.0, you will never have to deal with cables or broken connections.
The sound quality of this karaoke microphone is excellent. This portable microphone has a level of transparency that is difficult to match, making it an ideal choice for individuals who want to perform at public events.
Because the mic is wireless, you won't get tangled up in cords. The microphone runs by a rechargeable battery that may last up to 6 hours when used continuously.
The battery life is exceptional, and you don't have to think about plugging now and again. The distance is also sufficient to keep you linked when you're on the road.
You may also use rechargeable battery cells instead of charging them every time. The microphone is simple to install and use, and it includes step-by-step setup instructions.
Bluetooth is suitable with iOS, Android and may be used to link your tablet and smartphone to record or share tunes with friends and family. You may also manage the ambiance of the party with various speech effects and echoing.
The Carpool Karaoke Microphone 1.0 allows you to mimic the pleasure of James Corden's immensely famous Late Night Show episode. This Carpool Microphone features AUX, Bluetooth, and FM connectivity.
It is a lightweight, portable, and adaptable karaoke microphone appropriate for both beginners and experts. Because of these characteristics, the Carpool Karaoke Mic 1.0 will be one of the most popular karaoke microphones in 2021.
You can rely on this video to better understand how this karaoke microphone functions.
>>> Today's Best Deal: Check Latest Price on Amazon
Reasons to buy:
Sturdy structure
Long battery life (6hrs)
Long-distance performance
Lightweight and portable
Echo and pitch control are available
2. New Carpool Karaoke Mic 2.0 
>>> Today's Best Deal: Check Latest Price on Amazon
New Carpool Karaoke Mic 2.0 is the name of this gadget. This product is the same as Carpool 1.0, except for some improved features, including six voice-changing effects and three more sound endless.
Numerous voice improvements and volume settings allow you to host parties whenever you want. The most annoying problem users disliked in the previous version is that Carpool 1.0 only enables users to sing along.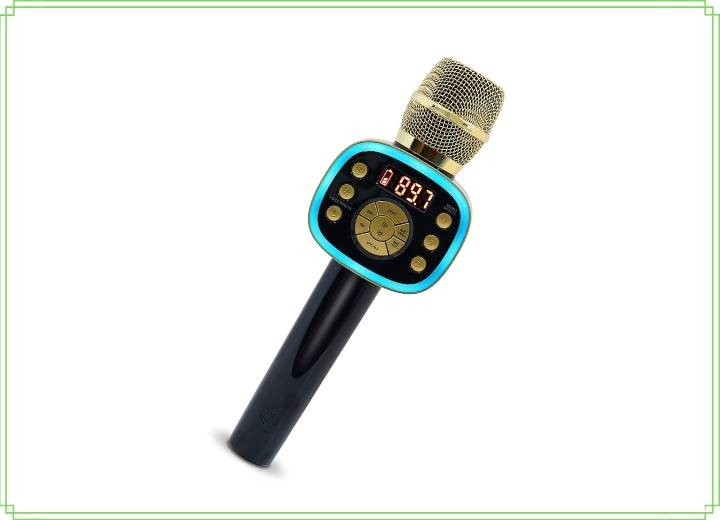 However, when it comes to the New Carpool Karaoke Mic 2.0, you can dually sing with your friend or family with the second mic, which you must buy separately.
Although the second mic doesn't come in the package, this new upgrade is a big bang for a Carpool fan, especially those who enjoy dueting and singing with others.
The Mic brings all of the various components you'll need for a car karaoke session. The Mic is not a separate system with an integrated library; it is simply a microphone that transmits your speech and music to the loudspeakers in the car.
The Mic is responsible for use in automobiles, despite being used almost everywhere owing to a standard 1/8″ auxiliary connection.
Looking up an available frequency on your phone or the radio and setting the microphone to that channel is the most straightforward approach to get your tunes played on the car's speakers. However, you have not finished the setup yet.
Next, link the mic to the phone through Bluetooth to play music. Then you can play music from almost any app and have it stream to the car's speakers.
Because the mic will not remove voices from music, you will have to sing with the artist if you cannot locate an acoustic beat of that song.
A control center on the microphone allows you to change the volume, echo, lighting, Wireless connectivity, and the channel you are playing on.
The light effects are meant to flicker in time with the streaming music. You may also change the volume on the phone or the dashboard of your automobile.
The Mic was pretty lightweight, especially when compared to the sticks of regular karaoke clubs, but having a battery that the manufacturer claims would last six hours.
After you've downloaded your music and played it on your smartphone, you will need to look for song lyrics.
This problem of the New Carpool Mic 2.0 is the company's most significant challenge. It's just not as entertaining to read lyrics from your smartphone while holding a microphone.
It could be a little simpler if your car had a tablet constructed or propped up someplace, but you would still need to go through the painstaking process of looking for songs and then zoom for the text to be large enough for others to see.
This lightweight, portable karaoke mic is made of plastic and weighs a little over 1.09 pounds, lighter than the previous version.
The small TFT LED screen that shows volume and frequency are scratch-resistant. This Carpool 2.0 comes in black with a circular Blue Light strip in the center, making it a great wireless microphone.
On the other hand, Singing Machine said it is exploring creating mics that allow many people to sing along to the same song simultaneously in the future. And this New Carpool 2.0 is a great idea.
>>> Today's Best Deal: Check Latest Price on Amazon
Reasons to buy:
Six voice-changing effects
Possible to sing with others simultaneously
Sturdy structure
Long battery life (6hrs)
Long-distance performance
Lightweight and portable
FAQs
Here are some frequently asked questions we have collected while researching this field.
#1. How To Use Carpool Karaoke Microphone At Home?
Can you use carpool karaoke mic at home? With the carpool karaoke mic, you can use any music device featuring an AUX cable or an FM tuner. Only accessible radio frequencies operate with the approved singing device carpool Bluetooth mic.
As a result, if you're thinking about using the carpool pool singing mic without a car, you've come to the right place. Or do you have a carpool karaoke microphone that you can use at home?
If that's the case, then the response is a resounding affirmative. However, you'll only be able to discover an open channel if you have these two mentioned connectivity options.
#2. Is It Possible To Link Two Bluetooth Microphones Simultaneously?
At any time, you can only link one gadget to the smartphone interface. Both devices must be utilizing phone audio to operate together in such a phone conversation, which is not feasible.
#3. How To Connect Two Carpool Mics?
First, you have to turn on one Carpool microphone (please remember this one), then do the same with another.
Next, hold down the "M" button on your first microphone for a long time, and the two microphones will link each other through Bluetooth.
Final Thoughts
Although Carpool karaoke mic 1.0 is less expensive and has superior sound effects and sound quality, go for the new Carpool karaoke mic 2.0. It features more exciting upgrades such as more voice effects and dual sing ability.
Moreover, the Carpool 2.0 is lighter than its previous one, which you may find convenient for holding on hands during several singing hours. We hope these Carpool karaoke microphone reviews are beneficial to you.
Thank you for reading!