The TOSING microphone is a well-priced, attractive design, and trendy microphone line on the market. TOSING always takes care of all products.
Manufacturers invest in design to quality, ensuring the perfect user experience. Are you wondering which of the Tosing wireless karaoke microphone is the best one? Does this product feature match your needs?
The article will help you answer all questions related to Tosing wireless karaoke microphones. Let's read on to know more details!
The Best Tosing Karaoke Microphone Reviews 2021
Our expert editors have researched, compared, and reviewed the best products. Below are the best Tosing wireless karaoke microphones for your reference.
#1. Tosing Q7 Review – Best For Overall 
>>> Today's Best Deal: Check Latest Price on Amazon
The Tosing Q7 is the first microphone we would like to introduce to you. If you are looking for a perfect combo for karaoke that includes both speaker and microphone, it is for you.
This microphone inherits many features of its predecessor. However, it also has significant enhancements.
The first is about design. This microphone comes with a handy Bluetooth speaker. We can quickly get used to and adapt to this design. It has three main parts: microphone, speaker, control panel, and handle.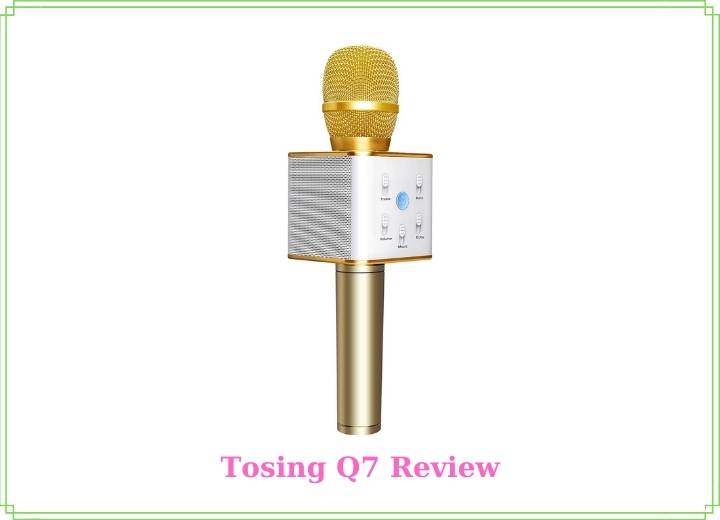 The finishing material of the product is still a combination of plastic and metal. The handle body and the mesh surrounding the microphone are "made" of aluminum-magnesium alloy.
There is also a shiny coating with electrostatic coating technology for high durability.
The handle is the part that is often directly exposed to hand sweat. Q7 understands that and has equipped a layer of aluminum on the handle. This equipment enhances the grip experience and is also more durable.
Karaoke microphone with BlueTooth speaker Tosing Q7 has 2 Stereo speaker systems like on other products. The 2*3W dual speakers on both sides make the sound louder and more emotional. Besides, it also creates 3D surround sound effects.
The 2-speaker design also makes the overall design of this microphone more balanced and harmonious.
The control panel on the Tosing Q7 microphone is "made" from plastic. However, the quality of the finished product is quite good. You can easily verify this through the finely cut and sharp speaker holes.
On the microphone, only the power key is in the center position as a key. Other function keys include adjusting Treble, Bass, Volume, Echo, and volume control keys. They have a slider design.
It's pretty user-friendly. Users are easy to get used to and for more flexible and optimal control.
The Bluetooth 4.0 connection technology makes this microphone quick to connect with phones and other sources. Once there, it acts as a Bluetooth speaker.
Moreover, this microphone also has an additional 3.5mm audio port on the bottom edge. That is, users can connect to the phone through the 3.5 port. On the other hand, customers can connect to output larger sound systems for a more immersive experience.
The Q7 karaoke microphone from the Tosing brand has a pretty good battery level. According to this battery level, you can sing for up to 5 to 6 hours continuously.
This versatile microphone can meet the needs of listening to music, and singing in places with limited power.
>>> Today's Best Deal: Check Latest Price on Amazon
Reasons to buy
KTV echo effect is ready
Modern technology
Aluminum-magnesium alloy is very durable and impact resistant
1-year warranty
Vivid sound quality
Convenient wireless
Built-in Bluetooth
#2. Tosing Q9 Review – The Runner-Up
>>> Today's Best Deal: Check Latest Price on Amazon
The Tosing Q9 wireless Bluetooth karaoke microphone is a new product line of TOSING. It is a product in the cheap segment but has a beautiful design.
This product comes with LED lights on the speaker to create an emotional effect, especially at night, in a dark space.
The sound quality is outstanding for its price. This microphone meets the needs of customers who like cheap but still ensure quality and safe use.
Q9 karaoke microphone is the perfect combination between karaoke microphone and Bluetooth speaker.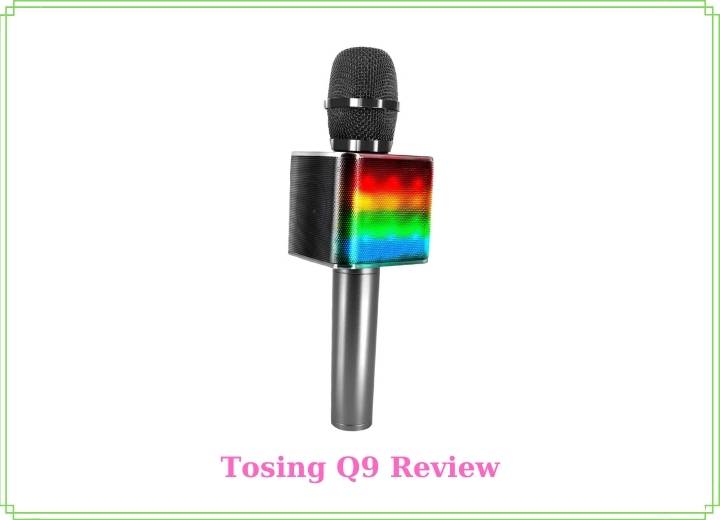 The microphone has a total capacity of 10W (2 speakers on both sides, 5W each). It is suitable for you to sing in your home or apartment without disturbing or disturbing your neighbors.
Wireless Bluetooth connection ready compatible with phones, tablets, laptops.
The Q9 works as a Bluetooth speaker to listen to music. Sometimes you don't want to sing.
You can use Tosing Q9 to play music. The sound is as good as a karaoke room. Besides, it acts as a voice recorder. You can also use the Q9 as a microphone to record and then play back your voice.
A unique upgrade feature on the Q9 is adjusting the Treble, Bass, and Echo. It helps to suit each person's voice for the best output sound. It gives you more tuning options to master the stage.
The speaker body of this product is high-grade leather. It gives a noble, classic, and soft look to your hand.
>>> Today's Best Deal: Check Latest Price on Amazon
Reasons to buy
High-quality speakers, high-end fashion design
Luxurious design, comfortable to hold
Smart Bluetooth connection, convenient to use
Compatible with any karaoke software, any device for iOS / Android operating system.
Noise reduction, high fidelity sound quality
#3. Tosing 008 Review – Best for Performance
>>> Today's Best Deal: Check Latest Price on Amazon
The Tosing 008 is a high-quality mid-priced product. This wireless Mir Bluetooth uses a Chipset that enhances the sound quality to perfection.
The 008 has an angular design with a dominant black tone. The shell has a coated durable electrostatic aluminum alloy layer, anti-rust, anti-explosion.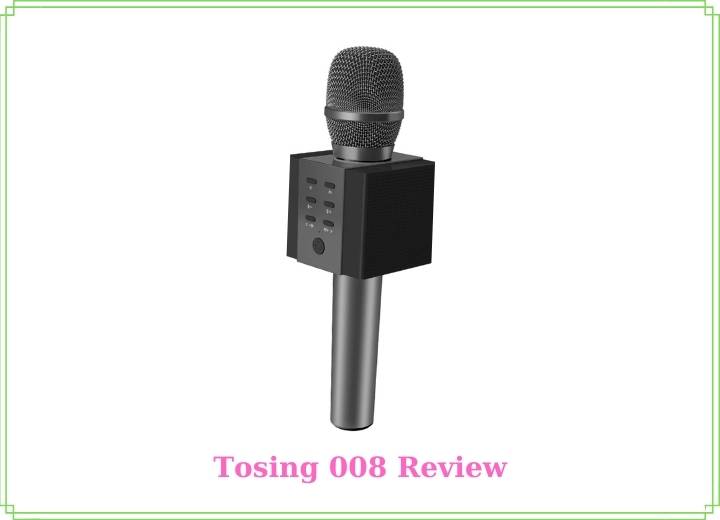 This microphone owns modern wireless Bluetooth connection technology. Bluetooth 4.2 technology provides stable, uninterrupted connectivity in any environment. It brings an operating and sharing range up to 33 feet.
The 2 * 5W dual speakers for stable sound quality, clear voice. In addition, it offers you to customize the alto, treble, and bass to suit the user's tune. Even if you accidentally drop it, it won't crack.
The production is "equipped" with technology to handle external noise, so the sound is very realistic and free of noise.
The microphone Bluetooth 008 will bring you sublimated emotions in the sea of ​​poetry and singing.
The microphone is fully equipped with functional adjustment pens, making it easy for users to control at will.
The microphone Bluetooth supports two operating systems Android and IOS, up to 4 hours of use with 90 minutes of charging.
A most prominent feature of the 008 is the ability to remove the original voice. The Tosing 008 is equivalent to a mobile KTV.
>>> Today's Best Deal: Check Latest Price on Amazon
Reasons to buy
Excellent sound quality
The high degree of perfection
Aux-In-Stereo
Bluetooth 4.0 technology
Many modern technologies
Stable transmission
Versatile microphone serves many purposes
1-year warranty
#4. Tosing 016 Review – Best for Power Output
>>> Today's Best Deal: Check Latest Price on Amazon
In early 2019, Tosing company continued to launch a new model called Tosing 016 with a massive capacity of 20W.
The 016 becomes the karaoke microphone line equipped with the most prominent speaker capacity today.
Tosing 016 Bluetooth microphone possesses impressive sound quality. High-quality audio performance with louder and clearer audio. It helps to express your voice the most realistically and vividly.
Tosing 016 karaoke microphone with built-in Bluetooth speaker can become an FM radio in the blink of an eye.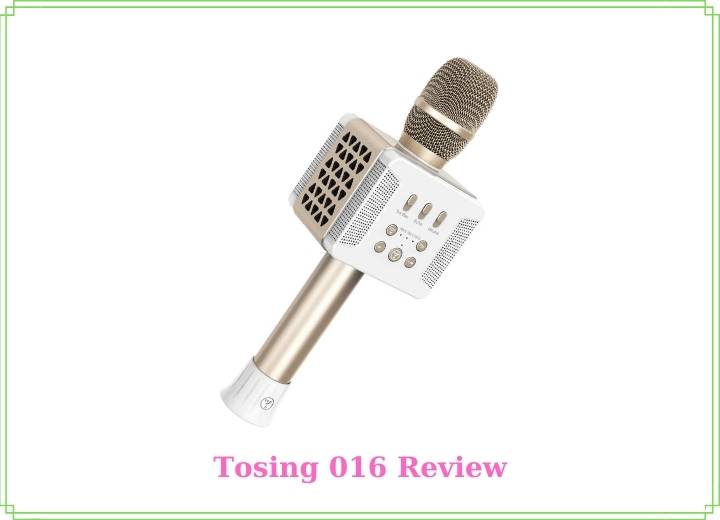 The 016 is one of the flagship products of the Tosing brand. It has a robust design and many outstanding features compared to previous versions.
The entire microphone is mainly from ABS plastic and high-grade aluminum alloy. Therefore, the return of this microphone is formidable.
The aluminum alloy handle makes it easier to hold even when used for a long time. The high-quality metal microphone mesh cover, with significant gold color, brings luxury to the product.
Similar to other karaoke microphones, Tosing 016 still has a system of mechanical keys and speakers built into the body.
However, microphone 016 is "equipped" with 2*10W Hi-fi dual speakers. It has two diffuser vibrating membranes and an internal acoustic filter foam padding. They help the sound to reverberate further while also reducing glare and background noise.
In addition, the intelligent processing chip Audio SDA contributes to making the sound more vivid. In particular, the microphone also supports connection with FM frequencies.
The background noise cancellation provides clear sound quality without distortion or interference. Now you can comfortably sing in your car.
The microphone's tonal sensitivity is exceptionally high for easier recording. The integrated Audio SDX processing chip is for smoother and clearer sound.
The Bluetooth V4.2 technology allows users to connect to Android or iOS devices.
The Tosing 016 comes with a microphone USB port, 3.5mm jack, and TF card slot right on the speaker body. Connecting just got easier.
The battery capacity of up to 2*2000mAh allows you and your friends to sing continuously for about 4 hours.
In addition, wireless Bluetooth microphone 016 is also a multimedia entertainment device. It has a built-in Bluetooth speaker and FM radio that supports 105.5MHz, 106.5MHz, and 107.5MHz channels.
The microphone 016 gives you a simpler and more convenient singing experience. Now you don't need to equip a complicated karaoke system anymore.
>>> Today's Best Deal: Check Latest Price on Amazon
Reasons to buy
Bluetooth 4.2 technology ready
2*10W Hi-Fi dual speaker for enormous power output
Stable and durable building materials
4000mAh battery capacity
The microphone of the party
Firm handle
#5. Tosing 04 Review – Best for User-Friendly
>>> Today's Best Deal: Check Latest Price on Amazon
Tosing 04 is a new microphone, inheriting the advantages and design style from previous generations.
Besides, Tosing has added new changes to refresh the product and help better serve the entertainment needs of users.
With a compact design, it is easy to use anywhere, anytime. The microphone with speaker 04 has created a new entertainment trend, attracting users.
Thanks to the success of previous microphone models, the Tosing 04 is perfecting both quality and design.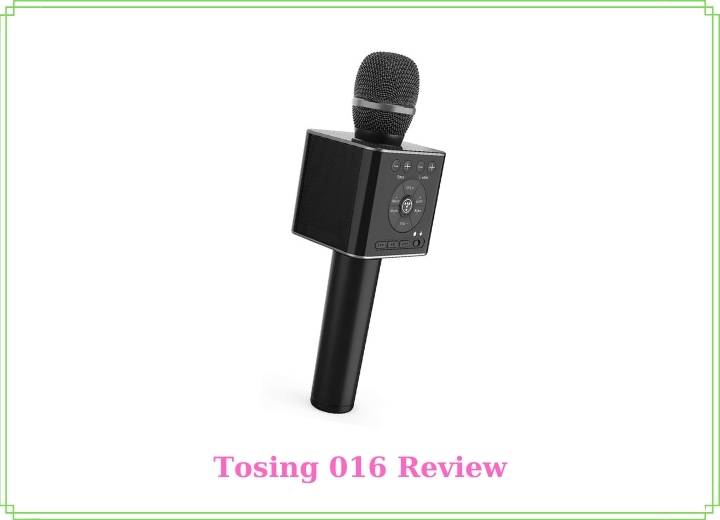 This microphone has a familiar design with three parts, microphone head, speaker box, and handle. Like previous generations, the microphone head is "protected" outside by a layer of steel mesh. It has a pretty solid protection function and makes the product more luxurious and classy.
It comes with 2*5W dual speakers. The total power output is 10W. While not as powerful as the Tosing 016, the 10W speakers are excellent for their price range.
The key system of the central adjustment button is entirely different from the old generation. The volume control buttons echo in the middle form a circle that looks quite prominent.
Meanwhile, the range of custom keys is above or below symmetrically.
Such a clear layout is very beginner-friendly. This scientific layout will make it easy for users to get used to the microphone from the first time.
The Tosing 04 karaoke microphone still uses a combination of plastic and metal materials. However, you will feel excellent when singing because of the upgraded quality.
The product comes with an AUX port that allows users to connect directly to an external speaker system. It is beneficial if you need to organize an indoor performance or party. That means the AUX port enhances the sound quality when singing.
In addition, the manufacturer also integrates a microphone USB 2.0 port that allows users to use it to charge the phone when needed. You can use this microphone as a backup charger.
Thanks to advanced Bluetooth 4.0 technology, the microphone can connect to the phone quickly. Besides, the Tosing 04 Bluetooth microphone also has a built-in 2600mAh high-capacity battery. It is responsive enough for users to use throughout the party comfortably.
>>> Today's Best Deal: Check Latest Price on Amazon
Reasons to buy
2*5W dual speaker
User-friendly design
Good warranty
The price is not too high
Clear sound quality, suitable for karaoke
2600mAh high-capacity battery
See how good the Tosing microphone is under Harry Ax's eyes in this video.
Final Thoughts
Above are the best Tosing wireless karaoke microphones today. Possessing a solid design and a quality sound system, the microphones from Tosing are the perfect entertainment tool.
If you are a fan of singing, don't hesitate to pick them up right now. Happy singing!