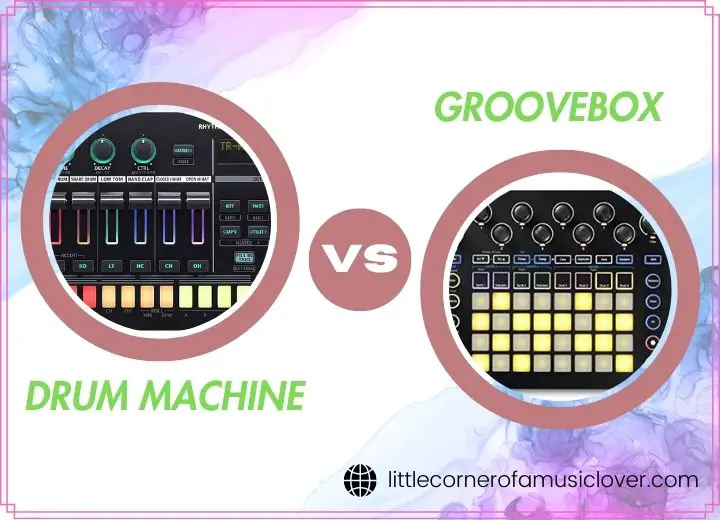 What are the differences between drum machine vs. Groovebox? Which is the better sound device for your needs? Read this in-depth comparison to find out!
Drum Machine Vs. Groovebox: Comparison Table
Drum Machine

Groovebox

Features

Include a synthesized guitar track.
May have the pads designed for percussion sounds

An integrated music workstation
You can save songs into the current performance.

Designed for

Soloists and songwriters
An essential tool for guitarists

Pros

Work great with repercussion or drum sounds

Great versatility
High portability

Cons

Not suitable for music practice

Doesn't have as many features.
What Are The Differences Between Drum Machine And Groovebox?
Although both categories are electrical musical instruments, they feature pretty different characteristics and operations. Here are some of their core differences regarding sound quality, functions, and features.
Design And Features 
You may get confused between these two terms as they look quite identical.
Therefore the newbies won't be able to recognize if a digital electronic device is a drum machine or Groovebox.
The Grooveboxes also come with knobs, patterns, and a LED or LCD display like on a regular drum machine. In short, a Groovebox is a drum machine, but it is equipped with more components and features, such as the synth voice.
The common traits of these two categories are portability and compact sizes.
Drum Machine
The drum machine is a digital or electronic drummer featuring multiple drum styles and patterns.
Like the other electrical sound devices, the drum machines typically come with a LED screen for displaying the music tracks.
Depending on the types and genres of music, a drum machine may have more than ten-track variations.
In addition, the drum machines may come with accessories called drum kits.
These kits have their unique effects or voices, which can be set up with the drum machine to reprogram the songs.
Groovebox
Meanwhile, the Grooveboxes are also a type of digital musical device used for reproducing electronic music. They consist of three parts:
More than one sound source (A drum machine, a sampler, etc.)
A music sequencer
The control surface with the knobs, buttons, sliders, and a LED/LCD.
In general, a Groovebox features a similar design to a music workstation, but it is a more simplified version.
It comes with or without a small keyboard, with a lot of functions and buttons for users to control.
If you want to know more about the Groovebox, watch this video to find out.
Functions
Drum machine
The drum machines allow the musicians to emulate the sounds produced by any percussion instrument.
With this electronic device, you can alter and tweak the beats, hits, and breaks of the sound.
In other words, you can create a brand new song with your preferred sound effects and soundtracks.
However, its uses are only limited to the drum sounds and beats, while a Groovebox can do more than that.
Groovebox
They are the integration of various musical electronic instruments, allowing the users to construct and reproduce the sequence with various effects and repercussion sounds simultaneous.
Everything you can do on a drum machine can be done with a groove box.
However, the targets of Groovebox are not limited to repercussion sounds only. It can help you modify and reproduce electronic or live music.
Connectivity
Drum machine
Although the drum machines don't have a speaker, they feature multiple inputs and outputs, such as the headphone jack, line-out, or MIDI jack.
You can pair it with various sound devices like amplifiers, electronic instruments, or a recording system.
Groovebox
The Groovebox combines many sound reproducing devices in an integrated system. Therefore it can function as a standalone sound-producing instrument.
With this all-in-one device, you don't need to pair it with extra sound sources or amplifiers to operate. This makes the Grooveboxes much more versatile and convenient to use.
Drum Machine Vs. Groovebox: Which One Should You Go For?
If you want to involve technologies and electronic sound effects in your live performance, a Groovebox is an ideal choice. With this device, you don't have to carry laptops or large computers around the stage.
Yet, it doesn't mean you cannot use a Groovebox as a home setup workstation to reproduce and modify the sounds. It can be used in conjunction with a home audio system.
Meanwhile, a drum machine is a perfect option for guitarists and soloists whose main plays involve drum or percussion sounds. Like the Groovebox, it allows you to reproduce at any place or time.
If you need more features and higher versatility, go for the Groovebox. A drum machine is sufficient for the guitarists and soloists who focus on drum sounds.
FAQs
Is A Groovebox A Synth?
Groovebox can be considered a synth, as it uses various sound generation methods, including drums, samples, or bass synths.
What Does A Groovebox Do?
A Groovebox allows users to produce loop-based or live music. In other words, you can control or construct the pattern-based sound sequences with various sounds played together.
Is A Drum Machine An Instrument?
The drum machine is one of the electronic musical instruments allowing users to reproduce, create, or modify the patterns, drum beats, or percussion sounds.
Did Disco Use Drum Machines?
The drum machine is one of the electronic musical instruments allowing users to reproduce, create, or modify the patterns, drum beats, or percussion sounds.
Who Created Drum Machines?
In the 30s, Leon Theremin invented a device called Rhythmicon, which was able to play strange noises.
The earliest mass-produced version of the drum machine, the Wurlitzer Side Man, was born following this invention.
Who Created The First Programmable Drum Machine?
The first programmable drum machine is the PaiA drum set, which was released in 1975 by PAiA Electronics.