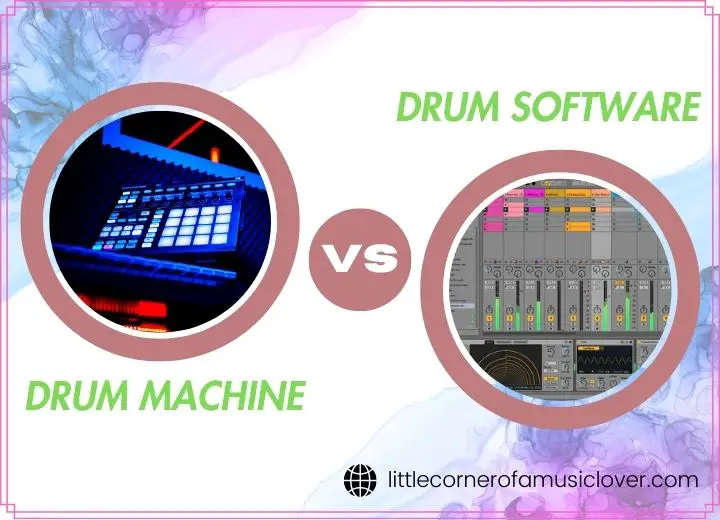 How to distinguish drum machine vs software? Read the specific article below to understand the strengths of each and find the correct version.
#1. Drum Machine Vs Software: Comparison Table
| | | |
| --- | --- | --- |
| | Drum machine | Software |
| Features | An electronic device that produces percussion sounds | Virtual toolkit including percussion sound samples |
| Designed for | | |
| Pros | Do not require a connection to computers | Quick and easy sound creation |
| Cons | Limited to a certain set of sounds | Delay when recording audio |
#2. What Is The Difference Between Drum Machine Vs Software?
Nowadays, drumming software is more and more popular. The convenience makes many people question whether hardware tools like drum machines are worth the investment.
Each sound creation tool is of interest because each has its difference.
Design
A drum machine is an electronic device that simulates how a percussion instrument works. The apparatus also has built-in beats and patterns, allowing players to reimagine various musical styles.
Some models also have a design quite similar to an electronic drum. In addition to beats and samples, this device also has buttons and pads. Thanks to that, players can perform live.
Software is a virtual tool and this toolkit will include patterns and grooves.
You can use these pre-recorded recordings to create high-quality, realistic audio tracks.
Using
You can use the apparatus like a traditional percussion instrument.
The buttons and pads in this unit can help you complete the performance independently. You can also pre-program the operation of the device to save maximum effort.
In addition, this product also supports sound generation through pre-recorded beats and samples. You can also record with this unit to create your tunes.
You can download your favorite plug-ins and build interesting tunes even without an instrument.
Price
A drum machine will cost a minimum of $50. Products that support more features and filters will cost hundreds, even thousands of dollars.
Meanwhile, you can easily find free drumming software. This software still has all the essential tracks and samples for you to create your sound.
The only problem you need to keep in mind is that you must equip a computer with suitable support tools.
Even so, the software is still more cost-effective than an apparatus. With the plug-in, you don't need to own a hardware instrument, but you can still compose and record.
#3. Drum Machine Vs Software: Which One Is Best For You?
Each device has its advantages and disadvantages. Therefore, you will have to consider the equipment you use every time you practice or perform.
Drum machine
The music production industry is witnessing tremendous growth in sound creation software. However, these still cannot replace the hardware version, which has better live performance.
This one does not require you to connect to a computer and can work as part of an electronic drum kit. Thanks to that, you can perform kicks or traps like you would when playing a real instrument.
It also produces a pretty impressive sound. Although limited by a particular set of sounds, this device still meets your music creation needs well.
You can even use this device to practice and improve your skills. While it's hard to get the experience of a real musical instrument, the machine also allows you to learn many exciting techniques.
The only situation you need to consider when using a machine is when recording. Your recording with this device may be affected by the audio interface to the mixer. Even so, the device's recordings are pretty sound compared to the virtual software.
Software
The software will quite well overcome the limitation of the machine's sound set. With the support of the MIDI interface, you can be creative without being limited by the number of templates available.
Easy operation is also the reason you should use this tool. Unlike drum machines, you can work with samples efficiently via the DAW. Not only can you add filters, but you can also adjust pitch, time stretch, and more.
This device is the ideal tool for you to use in the studio. In addition, the software will be a great alternative to hardware instruments if you are looking for an economical and flexible music composition solution.
#4. FAQs
Is it worth getting a drum machine?
You won't regret buying a machine. This device offers an interaction that is far from the sound creation software.
With this device, you can still make beats, tune and create like a true artist. You will hardly get the feeling when using the software.
Meanwhile, compared to the traditional ones, this device saves more time and effort. In particular, this product will not make noise, allowing you to play musical instruments right in your apartment.
Do drum machines sound better than samples?
Both have almost no difference in sound because they use digital audio. Yet, considering the real-time playback, the drums sound better than the samples.
With basic timbres, it is clear that the machines have the advantage of a more uniform tone. But overall, the technological limitations still do not allow it to surpass the samples.
What is the point of a drum machine?
Drum machines focus on reproducing the sound of percussion instruments.
This device also supports the process of composing with templates and recordings. Using pre-recorded recordings or recording yourself with this device, you can create unique sounds like an electronic one.
Can I use a drum machine live?
You can use the machine in live performances. Even compared to other sound-producing devices such as software, and electronic drums, using a drum machine offers more benefits.
It provides the necessary support, does not require a complicated setup, and is always accurate. Of course, you can't expect it to produce the same dynamic and nuanced sound as real drummers. Everything is just stable and straightforward.
Do you need a speaker for a drum machine?
It is recommended to use speakers when playing electronic drums. You will need speakers or headphones to monitor the sound coming from this instrument.
Meanwhile, if you use the device for live performances, speakers/amplifiers are indispensable items.