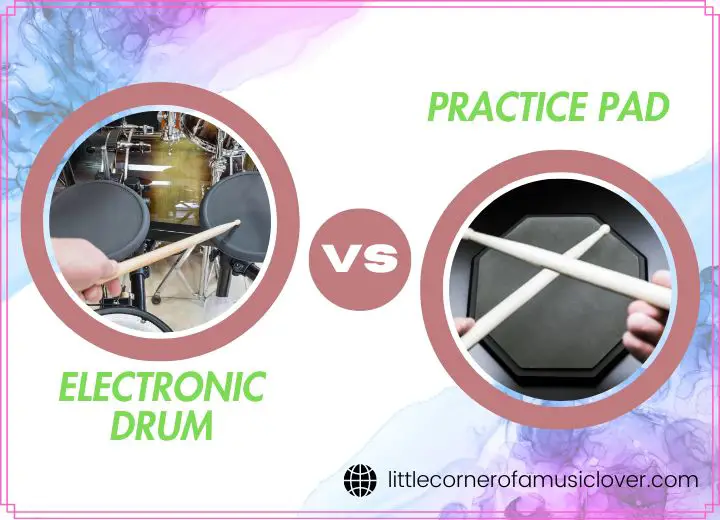 Electronic drum vs. practice pad: What's the difference? We'll help you answer this question to find the one that works best for you. Let's get into the details!
Electronic Drum vs. Practice Pad: Comparison Table
If you are a music fan or a drum enthusiast, chances are you have heard of electronic drums and practice pads.
They're all essential items for a drummer, and you might wonder, "electronic drum vs. practice pad: What's the difference?"
So let's start by taking a look looking at our comparison table:
Electronic Drum

Practice Pad

Define

It is a modern electronic musical instrument that replaces an acoustic drum kit.

Practice pads, or drum pads, are typically utilized by drummers to warm up before a gig quietly.

Pros

Low volume.
Small size.
Variety of sounds.
Portability.

Easy to Carry.
Cuts Down Disturbances.
Master The Basics.

Cons

Don't feel like acoustic drums.
It can be expensive.

Can't replace the real drum.
Not suitable for skilled drummers.
Electronic Drum And. Practice Pad: What's the Difference?
In the following, we will compare electronic drums and practice pads in their pros and cons. That way, you can decide which one is right for you.
Pros
The Electronic Drum
Electronic drums can let you play quietly at any time of day, and the only sounds are the kick and sticks beater striking the pad.
It is true to say that the electronic drum is a set of pads.
So it is significantly smaller than the acoustic drum set, allowing you to place your electronic drum kit anywhere in your room.
It is okay to store your electronic drum kit under your bed or in your closet when you do not use them.
An electronic drum kit will let you change the sound with a touch.
Most modules feature lots of built-in sounds, including electronic sounds and great-quality acoustic drum samples.
Also, the many electronic drum models can load in your custom samples, making the sonic choices almost endless.
The e-drum kit is light, allowing you to carry it easily. So it delivers a movability that many acoustic sets cannot match.
The Practice Pad
Carry to Play It Anywhere
The most significant advantage of utilizing drum practice pads is the convenience. You can bring your practice pads anywhere and do not have to disassemble and reassemble them constantly.
So, there is no space constraint since you can carry your practice pads wherever you want to.
Besides, the practice pad is typically lightweight, allowing you to carry it around easily to practice anywhere.
If you're an early riser and love to be in harmony with nature's symphonies, these pads are ideal for you, as they are moveable.
Cuts Down Disturbances And Distractions
There is no denying that these practice pads can eliminate distractions. This attribute can be beneficial to most beginners.
Suppose you live in an apartment with younger sisters or brothers sleeping during the day. You need to limit the amount of noise a drum set creates. That's when practice pads come in handy.
Even if you are a night owl, playing with your practice pads is okay since they're silent and will not disturb anyone.
There is no denying that practice pads will let you strengthen your fundamentals. They help you master basic movements that make most of the rudiments.
After you have mastered the basic things, you can move on to more advanced tricks, which you will need to become a skilled drummer.
Cons
The Electronic Drum
Don't Feel Like The Acoustic Drum.
No matter how good your electronic drum kit is, it does not feel the same as a real cymbal or drum.
The price range for electronic drums can be considered affordable, but high-end drums are still very expensive.
The Practice Pad
Can't Replace the Real Drum
Drum pads are not instruments. It can help you master the basics. But when you sit down with a real drum kit, you will have a dramatically different experience.
Practice pads will never allow you to imitate a complete drum kit, no matter how many practice pads you use.
Not Suitable for Skilled Drummers
The Practice pad goes a long way in providing the experience of an actual drum set. So professional drummers often never even bother to look at it.
Electronic Drum And. Practice Pad: Which Is for You?
Generally, practice pads tend to be for beginners, while electronic drums are a reasonable choice for advanced drummers.
Practice pads are lightweight and highly portable, allowing you to take them with you to practice anywhere you want.
In addition, they're much quieter, allowing beginners to practice whenever they want, even in the middle of the night, without fear of disturbing others.
But it is a disadvantage for intermediate or advanced players as they can't practice a beat and a complex fill on these pads.
The practice pad won't give you the experience that a real drum kit will provide you, no matter how many practice pads you use.
The electronic drums tend to suit advanced drummers. They are light and compact enough for you to carry around easily, though not as flexible as practice pads.
What makes electronic drums superior to practice pads is that they provide a wide range of sounds.
For an e-drum kit, the sound choices are almost endless, making it ideal for advanced drummers.
FAQs
Do I Need a Practice Pad if I Have Electronic Drums?
If you are a beginner, you will need practice pads for rudiments, to improve speed, and to build technique. Otherwise, investing in them is not necessary.
Are Electronic Drums Good for Practice?
Yes. Electronic drums are completely viable practice kits.
Can You Learn to Play Drums on a Practice Pad?
Practice pads will help you master all the basics of playing drums.
What Does a Practice Pad Do?
A practice pad helps practice quietly or warm up before a performance.
What Does a Beginner Drummer Need?
A beginner needs to get started with sticks, a practice pad, and ideally, a metronome.