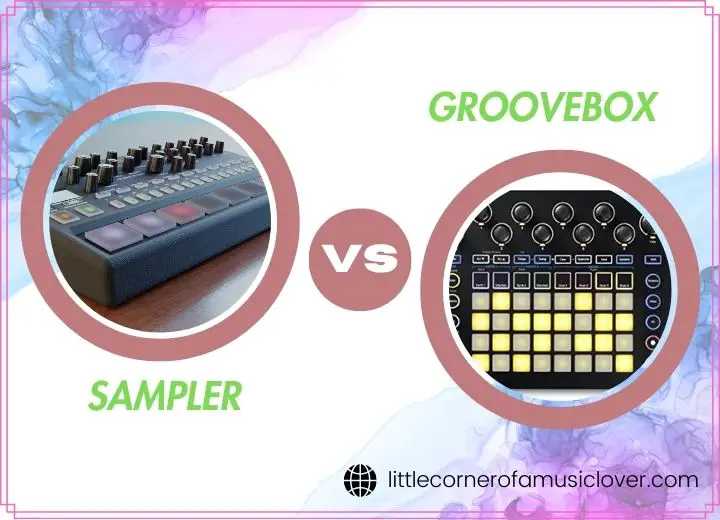 How to distinguish the groovebox vs sampler? I will help you understand the basic difference between these popular devices most clearly. Click it for more info!
#1. Groovebox Vs Sampler: Comparison Table
| | | |
| --- | --- | --- |
| | Groovebox | Sampler |
| Features | Integrated audio synthesis with sequence generation | Store and play pre-recorded audio tracks |
| Designed for | Can create simple beats as a standalone instrument | Playback of previous recordings as an instrument |
| Pros | Can create independent beats | Capable of recording directly to the device |
| Cons | Creates only simple beats | Does not create creativity in music |
#2. What Is The Difference Between Groovebox Vs Sampler?
To better understand the Groovebox and sampler, you can refer to the fundamental differences below:
Design
Groovebox is designed as a music workstation. However, the most significant difference is that the device has no or only a simple keyboard. It is also quite portable and includes quite a few custom controls.
The sampler includes a keyboard, controller, or MIDI source. The difference between the keyboard and the Groovebox keyboard is versatility. It will consist of several templates, each associated with a group of notes.
In addition, the samplers also include filters and apparent effects units.
Featured
The sampler will record and save the available audio clips. You can edit through filters and modulate low-frequency oscillations from these recordings.
Besides, this device also integrates with the ability to record live. Thanks to that, you can also create your sample sounds.
Groovebox is similar to a composite sampler because this device has a built-in sequencer. But the difference between the Groovebox is the appearance of the sequencer and the ability to synthesize.
So, the device can function as a standalone instrument, producing simple beats. Besides, the device can also generate multiple sampling loops.
Finally, Groovebox can help you change the sequence and parameters of the sound in real-time. From there, you can improvise while performing live.
Operation Mode
Sampler plays back existing recordings for performance and composition work.
The available recordings can come from actual instrument sounds, sounds you recorded yourself, or sounds from pre-existing tracks. You will download or record the above sounds during use to enrich your one.
Once downloaded or recorded, you'll play back the audio using the sampler components: MIDI keyboard and recorder.
Unlike the sampler, which relies heavily on the available recording, the Groovebox can function as a standalone electronic instrument.
This device allows you to synthesize, sequence, and change the series of sounds in real-time. So, you can improvise simple rhythms even while performing.
#3. Groovebox vs Sampler: Which One Is Best For You?
The fundamental difference above is not simply a criterion for you to distinguish but also indirectly creates the applicability of each device.
Groovebox
The track box is an essential piece of equipment in the electronic music production industry.
This user-friendly device with high control is also ideal for improvising while performing. Therefore, unlike typical workstations, a groove box is a device that meets the needs of live performers.
It is also suitable for amateur players who have not been exposed to electronic music because you can use MIDI, even the internal voice, to control the device.
Finally, the groove box also plays a vital role in incorporating electronic sounds into traditional music.
Sampler
It can be the ideal choice if you are in one or more of the following situations.
First, you can look at the sampler if you don't have a drum kit. As long as you have a microphone and a basic understanding of how to trigger drum samples, you can record your performance.
Second, if you don't have a soundproof studio and are afraid of disturbing those around you, using a sampler is a wise solution. It doesn't sound as loud as a genuine drum kit, but it can still create the music you want.
Third, it is also the ideal solution if you want to save maximum time and effort for composing. And you won't need to use dynamics.
All you need to do is use the recordings, select the filters and make adjustments.
For all the above reasons, the sampler has become an indispensable tool in composing commercial pop and rock music. Some producers have even begun experimenting with using samplers to compose country and ballad music.
#4. FAQs
The above analysis has partly helped you distinguish between groove box vs sampler and each product's intended use. If you are interested in learning more about this field, you can refer to some information below.
1. What is a drum sample?
Drum samples are recordings of sounds coming from individual parts of the drum, such as cymbals, drumheads, percussion, etc.
These built-in recordings allow you to copy, adjust through filters and assist tools. You can also directly use the drum samples to serve the process of mixing and composing your music.
2. What is a drum groove box?
The drum track box is loop-based, allowing users to control and create music. The drum track box comes with a synthesizer and a sequencer. The device can act as a standalone electronic instrument, creating simple melodies.
3. How do you use a drum sampler?
First, you need to have templates available. You can download or record your own. Then, use a music player or other supported device to replay the existing recording. You can also adjust the sound using filters or tools.
Finally, use the built-in recording feature to re-record your music.
4. Are drum samples good?
Drum samples help you save time and effort in creating fantastic music. Besides, you have a rich sample store, very suitable for composting.