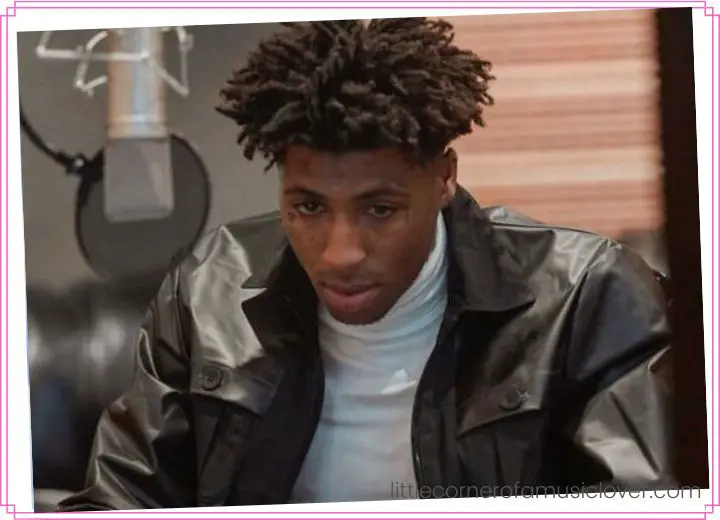 Are you a fan of the talented rapper NBA YoungBoy? Then you know he's known for his hard-hitting lyrics and intense flow.
But what are the hardest NBA YoungBoy songs out there? Today, we look at some of the toughest tracks!
1. Gravity
Gravity by NBA Youngboy is one of the Hardest NBA Youngboy Songs. The song's powerful and motivating words and the intense energy in the beat make it a truly special listen.
Every word of this song hits you right in the feels as Youngboy puts forth his perspective on life and his struggles while pushing through adversity.
With inspiring lyrics about determination and resilience, Gravity is an anthem for millions of people going through tough times.
From start to finish, Gravity will keep you hooked with its powerful message and unique sound – if you haven't already listened to it, I highly recommend you do!
2. No smoke
"No Smoke" by NBA Youngboy is one of the great songs. With its grimy beat and powerful lyrics, this song will captivate you from start to finish.
It's a perfect anthem for anyone trying to keep their chin up during tough times.
Even if you're not usually into rap music, I highly recommend giving this one a spin because it is incredible and will put your mind in a better place.
3. Diamond Teeth Samurai
"Diamond Teeth Samurai" by NBA YoungBoy is one of my favorite songs, and an absolute must listen.
It's a hard-hitting track that showcases the rapper's signature grimy style with aggressive production, trap beats, and powerful lyrics.
With its lyrical themes focused on the hustle of life, it captures the realness of Youngboy's story perfectly.
The hip-hop beat and his raw vocals make for a captivating listening experience that will keep you hooked from start to finish.
4. Dead Trollz
If you're looking for some of the hardest and grittiest tracks from NBA YoungBoy, then "Dead Trollz" is a must-listen.
This high-energy banger gives off a hard-hitting vibe that lyrically paints the realness of inner-city life. The track has an infectious beat will make you want to nod your head along to the rhythm.
The lyrics touch on topics such as gang violence, racism, and police brutality – all within a larger context of the struggles of being a young inner-city hustler trying to survive in today's world.
YoungBoy's aggressive flow and gritty delivery bring this song to life, making it one of his best songs yet.
5. Overdose
"Overdose" by NBA YoungBoy is a track full of energy and emotion that will surely please any hip-hop fan.
The production provides a deep, gritty feel with its hard-hitting drums and heavy bass lines.
Lyrically, YoungBoy expertly blends his signature street tales with powerful, introspective verses that will leave listeners reflecting on their own lives as they jam out.
This inspiring track is a must-listen for fans of this genre, as it has an intensity and raw beauty that transcends genres.
If you're looking for something to liven up your day while delivering an important message, then "Overdose" by NBA YoungBoy is the perfect song to check out.
6. Kick yo Door
NBA YoungBoy's song "Kick Yo Door" is an upbeat and hard-hitting banger. The melody is catchy and powerful, while the lyrics offer a sense of street knowledge and raw energy.
The beat laced with heavy 808s helps create the perfect backdrop and drives the song forward.
NBA YoungBoy spits about his life struggles, survival mentality, determination never to give up, and how he still hustles to make a way up in the world no matter what.
The chorus carries a strong message of ambition: "I gotta kick that door down till I make it inside".
His words convey an infectious drive to break through barriers and never back down from challenges, something everyone can relate to.
7. BAD BAD
NBA Youngboy's "Bad Bad" is one of my favorite hip-hop songs. It has a grimy and raw energy makes it stand out among other tracks.
The lyrics describe many people's everyday struggles, while the beat and flow captivate you from start to finish. It's an incredibly catchy tune, and I can't help but want to turn it up whenever I hear it.
8. TOP SAY
TOP SAY is one of my favorite songs from NBA Youngboy. It has an infectious beat and great lyrics make it an enjoyable listen.
The track has a modern hip-hop sound and Youngboy's unique vocal style, which takes center stage to deliver his confident and assertive delivery.
This song is about the hustle and success but also touches on the struggles of growing up in tough neighborhoods.
I love how the message of this track comes through so powerfully, combined with a catchy melody and great production that makes you want to nod your head along to the rhythm.
9. Untouchable
"Untouchable" by NBA YoungBoy is one of my favorite hip-hop songs. The track has an intense and passionate vibe instantly captivates you with its hard-hitting beats.
It's a powerful song that speaks to the challenges of growing up in tough environments while celebrating resilience and strength in adversity.
NBA YoungBoy delivers an emotional and thought-provoking performance that will stay on your mind for days after listening.
10. F.N
F.N. by NBA YoungBoy is an absolute must-listen for any hip-hop fans!
Not only does the track feature tight verses, but its melodic flow will indeed have listeners nod along in recognition.
This hit jam effortlessly captures the raw energy of today's hip-hop music, making it an excellent choice for just about any occasion. Whether you're ready to turn up or introspect, F.N. has something for everyone.
11. Through The Storm
"Through The Storm" by NBA Youngboy is a powerful track that speaks to the struggles of everyday life and the strength it takes to get through them.
Combining an emotionally charged beat, vivid lyrics, and heartfelt vocals, Youngboy conveys that no matter how dark life may seem, one can make it through anything with hope and perseverance.
His ability to transform personal experiences into expressions of universal emotion makes this song relatable to listeners of all backgrounds.
12. FREEDDAWG
"Freeddawg" by NBA Youngboy is a celebratory song about achieving success and breaking away from the trappings of the streets.
The artist paints a vibrant picture of his journey and speaks on his newfound freedom in the chorus, "I'm just livin' life/ I'm no longer tryna get it/ Nothin' but mo' money/ Free me, free my dawgs."
With its infectious beat and captivating hooks, the track is an inspirational reminder to stay focused on attaining your goals despite your circumstances.
13. Preach
I highly recommend that you listen to the NBA YoungBoy's song "Preach," is a fantastic track. The song has a catchy instrumental, bass-heavy production, and an energizing beat.
YoungBoy brings his signature melodic delivery to the table, captivating listeners with his smooth flow and honest lyricism as he raps about struggling in life and staying true to himself despite all odds.
14. Dropout
NBA YoungBoy's "Dropout" is an infectious, soulful hip-hop track with a catchy chorus and great flow.
Throughout the track, NBA YoungBoy details his struggles as an artist and how he hustled hard to stay afloat financially while still creating great music.
Arguably some of his best work, "Dropout," has an effortless rhythm and laidback vibe that lets you get lost in the lyrics and groove.
If you haven't heard this banger yet, I highly recommend listening to it – you won't regret it!
15. Make No Sense
"Make No Sense" by NBA YoungBoy is an absolute banger! The song features a catchy hook, an infectious beat, and great lyrics that speak to the struggles of life on the street.
NBA YoungBoy flows effortlessly throughout the track, switching up his delivery as he talks about persevering and never giving up.
If you're looking for a great pick-me-up or want to groove along to a hot new track, I highly recommend giving "Make No Sense" by NBA YoungBoy a listen – you won't be disappointed!
16. Scars
"Scars" by NBA YoungBoy Ft. Young Thug is an incredibly moving and thought-provoking track.
With meaningful and captivating lyrics, YoungBoy speaks about the struggles of growing up in a challenging environment, reflecting on everything that has shaped him into the person he is today.
The song touches on hard-hitting topics like police brutality, gun violence, mental health, and poverty – issues which, unfortunately, many people struggle with daily.
This track will leave you feeling way more connected to your story, whatever that might be.
17. Gang Shit
"Gang Shit by NBA YoungBoy is an absolute banger. If you're looking for something to get the party going, this a fantastic choice.
With its booming 808s and heavy 808-beaten production, it's sure to nod your head all night long.
The lyrics are powerful and full of swag as YoungBoy dives deep into his hood experiences and lifestyles.
From the catchy hooks to the unique flow, NBA Youngboy proves himself as a top-tier artist on this track. It's worth checking out, so go give it a listen now!
18. Step On Shit
"Step On Shit" by NBA YoungBoy is an incredible song that should be on everyone's playlist.
The beat is hard-hitting and raw, perfectly complementing the similarly gritty lyrics.
The song's flow is intense and carries a lot of energy as NBA YoungBoy vividly paints a picture in your head with his words.
This track takes listeners on an emotional journey as he talks about everything from personal struggles to having something to prove.
It's an all-time classic that you have to hear for yourself – so I highly recommend you give it a listen!
Conclusion
In conclusion, Youngboy Never Broke Again's discography is filled with hard-hitting songs sure to please any listener.
Whether it's the heart-wrenching street anthems or the heart-pumping trap bangers, these songs will be blasting from speakers worldwide for years.
No matter your musical taste, you can bet there is something in Youngboy's catalog you will love.