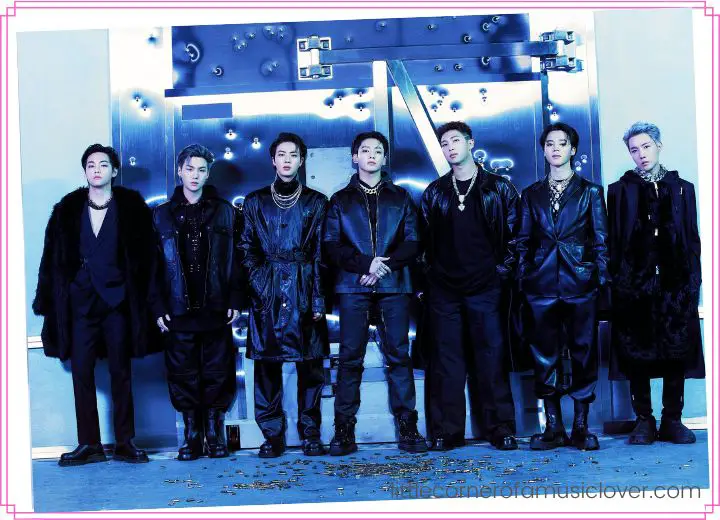 Welcome, BTS fans! This post is dedicated to the K-Pop giants' saddest songs.
We all know BTS has some seriously inspiring and powerful songs, but today, let's look at their heartbreaking tunes.
From heartfelt ballads to mournful rap songs, get ready to experience some of the most emotional music from these talented artists.
Get ready to have your heart broken with this list of the saddest BTS songs. These emotional tracks will leave you in tears.
1. Young Forever
"Young Forever" by BTS is one of their saddest songs, with beautiful and honest lyrics.
It features an uplifting beat against a backdrop of longing for lost youth and innocence, which makes it a must-listen song for anyone.
Featuring sentimental vocals and a captivating melody, this song evokes strong emotions that will stay with you long after the last note fades away.
2. Spring Day
"Spring Day" by BTS is a lovely and heartfelt song. With honest lyrics, the members of BTS pour their emotion into this telltale track about missing a loved one with whom time has drifted away.
The mellow melody and soothing strings make this a must-listen for anyone, as it will surely stir love, loss, and longing in all who listen.
Though it has a bittersweet feel, 'Spring Day' serves as a reminder of the transience of life and the importance of cherishing those we hold dear.
3. Love is Not Over
"Love Is Not Over" by BTS is a beautiful and honest song that must be listened to by everyone.
It showcases the group's ability to create meaningful lyrics about love that capture the complexity of human emotions.
The song has a relaxing feel, perfectly capturing the pain of heartache as it talks about how love isn't something that can just be forgotten about quickly.
It's an anthem for those trying to escape a difficult situation with their heart still intact, making it a must-listen for anyone who has ever loved and lost.
4. Run
"Run" by BTS is a beautiful and honest song about the struggles of life. With a slow-paced, soulful instrumental as the backdrop, the members skillfully convey their thoughts and feelings on themes such as criticism, fear, and doubt.
The track's chorus, in particular, shines with inspirational messages like "If you don't run away/You won't ever be free from these chains."
Touching on themes of resilience and overcoming adversity despite the odds stacked against us, this solemn and heartfelt song is sure to move anyone who listens to it.
A must-listen for anyone going through trying times or seeking emotional solace.
5. First Love
"First Love" by BTS is a sad and reflective song that touches on the issue of unrequited love.
The song's mood captures the feeling of wanting something you know you can't have. The lyrics are heartfelt and direct, making for an emotionally potent ballad.
This poignant track speaks to anyone who has ever struggled with a one-sided relationship or unreciprocated feelings, which makes it a must-listen for anyone looking for a beautiful and honest reflection on love.
6. Butterfly (Prologue Mix)
"Butterfly (Prologue Mix) by BTS is a beautiful and honest song with the perfect blend of music and lyrics.
If you are looking for sad BTS songs to put on your playlist, then "Butterfly (Prologue Mix)" should be on that list.
The soothing melody paired with the meaningful lyrics makes it a must-listen for anyone looking for something to soothe their mind and soul.
7. Move
"Move" by BTS is an emotionally captivating song with beautiful and honest lyrics. With its powerful instrumentals and soothing vocals, this song will take your breath away.
The melancholic vibes of the track, along with the thought-provoking lyrics, create a moving experience that any music lover must hear.
It's a must-listen for anyone wanting to explore BTS's emotional side.
8. Always
"Always" by BTS is a must-listen for anyone looking for a significant and emotionally powerful song.
The track's lyrics speak candidly and realistically about the struggles of life, loss, and heartbreak, yet the consoling message ultimately leaves listeners feeling uplifted.
With an intricate beat that serves as an elegant soundtrack to each gut-wrenching line, this song reveals the beauty and pain of the human experience on an intensely personal level.
Perfect for times of self-reflection or just when you need something to listen to, "Always" will leave you with a newfound appreciation for life's bittersweet moments.
9. Sea
"Sea" by BTS is an emotionally charged song with beautiful and honest lyrics.
It speaks about the sadness of missing someone you didn't know very well but still had a powerful connection with, the pain of feeling helpless in destiny, and the longing for something you can never have again.
This must-listen track is perfect for anyone who's going through similar emotions. With its profound meaning and reflective instrumentation, it's sure to move even the hardest of hearts.
10. So Far Away
"So Far Away" by BTS is a must-listen for anyone who loves beautiful, honest lyrics. This heartbreaking track encapsulates all feelings of longing after a lost love and the emptiness that comes with it.
The gentle melody combined with Jimin's and Jungkook's powerful vocals makes for an unforgettable listening experience.
With its profound meaning and captivating soundscape, "So Far Away" will leave you in a sad state of emotion.
11. House of Cards
"House of Cards" by BTS is one of the most beautiful and honest songs ever written.
It's a must-listen for everyone, as its heartfelt lyrics will leave you feeling both moved and inspired.
With an R&B-influenced melody and incredible vocal performances by BTS members, "House of Cards" is an emotional track that explores the depths of heartache and loss.
Although it's a sad song, its impressive production and excellent musicianship will surely uplift your spirits.
12. 2! 3!
"2! 3!" by BTS is a beautiful and honest song with amazing lyrics that everyone should enjoy listening to.
The emotional ballad talks about how life goes on even when hard times are present, and the group's heartfelt performance of this track drive the emotions home.
With its dreamy ambiance and message of hope, it's truly a must-listen for anyone looking for an exciting music experience.
13. I Need U
"I Need U" by BTS is an incredibly emotional song that showcases the K-pop group's immense talent.
The track was initially released as part of their 2015 mini-album, The Most Beautiful Moment in Life, Part 1, and features delicate, heartfelt lyrics that explore a deep sense of longing and loss.
Sonically, the beat is mellow yet catchy, and the instrumentation is light but robust.
It's a must-listen for anyone looking for beautiful and honest music that speaks to those deep emotions that are so hard to put into words.
14. Make It Right
"Make It Right" by BTS is a must-listen for anyone. The song is emotionally charged, featuring beautiful, honest lyrics that tug at your heartstrings.
With a mellow melody and layered harmonies in the chorus, it perfectly captures the bittersweet emotions of unrequited love.
An uplifting message weaves its way throughout the song, reminding us to pick ourselves up and move forward despite any pain or sadness life may bring.
If you're looking for a powerful yet calming tune to help you reflect on life's many ups and downs, "Make It Right" by BTS is an excellent choice.
15. Reflection
BTS has always had a knack for putting out emotionally charged songs that tug at the heartstrings.
"Reflection" is one such song, with beautiful and honest lyrics about life's struggles and worries.
From its serene piano melody to the vulnerable sentiment of the vocals, every element of this track works together to create an emotional journey throughout the entire thing.
Whether you're feeling down or need a reminder that everything will be alright, "Reflection" is a must-listen for anyone needing comfort or just looking for music with substance.
16. Let Go
"Let Go" by BTS is a beautiful and honest song with meaningful lyrics. It speaks of reflection and letting go of sadness, pain, doubt, fear, and any negative emotion to move forward.
The vulnerable track features nostalgic instrumentation, including piano riffs that create an almost dreamy atmosphere, while the vocals reinforce the emotional intensity of the message.
With a touching chorus of "Let go/ Let me out from here/ I just want to be free again," this must-listen song is perfect for anyone who needs to let go of their worries and take the next step.
17. Heartbeat
"Heartbeat" by BTS is a must-listen for anyone. This beautiful song conveys honest lyrics that will tug on your heartstrings.
Heartache and deep emotions shine through in this heartfelt masterpiece, bringing an overwhelming feeling of vulnerability.
The perfect blend of words, melody, and emotion makes this track a true masterpiece from the K-pop phenom BTS. Don't miss out on being moved by "Heartbeat." It's genuinely an incredible song.
18. Awake
"Awake" by BTS is a must-listen for anyone looking for an honest, emotional song.
The track is undeniably beautiful, with its soft soundscape and intricate lyrics narrating the struggles of staying awake when you only want to rest deeply.
It's one of those songs that can genuinely hit home if you're feeling overwhelmed or struggling with life's hardships.
While it may be sad, it's also far too relatable and hopefully will provide some comfort to those who need it.
19. The Truth Untold
"The Truth Untold" by BTS is one of the most beautiful and honest, heartbreaking songs.
Raw, emotional lyrics reflect how people can become emotionally lost due to a changing world, with visuals that match the song's intensity. It's a must-listen for anyone looking for an emotionally charged track.
The perfect combination of solid piano chords and the group's smooth singing voices will certainly make you reflect on your life story.
20. Jamais Vu
"Jamais Vu" by BTS is a beautiful, moving song with honest lyrics that capture the depth of emotion involved in losing someone.
Its melancholic melody, combined with its vulnerable lyrics, paints a powerful picture of grief and longing.
It's an emotional track that deserves to be on your must-listen list, especially if you are feeling down or dealing with loss.
21. Fake Love
"Fake Love" by BTS is one of the group's saddest songs, with beautiful and honest lyrics.
It talks about a love that was all an illusion, based on lies rather than genuine feelings or appreciation.
With its powerful beats and heartbreaking melody, this song is a must-listen for anyone.
The pain expressed in the lyrics reminds us that we should always look out for true love and nurture it when we find it.
22. Promise
"Promise" by BTS is one of their most heartbreaking songs, with its raw and honest lyrics about a love that can't seem to be made up for.
The song speaks of the pain, sorrow, and regret associated with a complicated relationship. Through their vocal delivery, BTS conveys their longing and loneliness despite still believing in the power of hope.
Emotional yet uplifting, "Promise" is a must-listen for anyone looking to experience beautiful music with authentic emotion.
23. Your eyes tell
"Your Eyes Tell" by BTS is a beautiful and honest song that must be listened to by anyone.
It's an emotionally charged track that perfectly captures the pain of heartbreak with heartbreakingly raw and tender lyrics.
The song has an atmosphere of regretful longing as the singer reflects on a past relationship that sadly did not stand the test of time.
Despite its melancholy sound, "Your Eyes Tell" uplifts listeners with its powerful message about hope and understanding after tragedy.
24. Hold Me Tight
"Hold Me Tight" by BTS is a beautiful and moving song that showcases the band's honest lyrics. The music speaks to its listeners directly, sincerely conveying emotions of loneliness and heartache.
Delivered with soaring vocals and heartbreaking riffs, this song is one of their saddest songs.
Anyone who enjoys BTS music should give this song a listen: it's guaranteed to touch your heartstrings and take you on an emotional journey.
25. Save ME
"Save ME" by BTS is a sad, beautiful, and honest ode to the struggles of depression and anxiety.
It takes its listeners on an emotional journey, displaying the intense loneliness of being in a dark place and the determination to fight through it.
Despite its solemn subject matter, "Save ME" is ultimately a hopeful message of comfort that reminds us all that there is always light at the end of the tunnel.
It's a must-listen for anyone who has ever been in such a place or wants to understand better what it's like, making it one of BTS' saddest yet most essential songs.
26. Epiphany
BTS' song "Epiphany" is a beautiful composition that captures life's sad yet uplifting aspects.
Written from the perspective of one looking back on a past love, it speaks to the inner turmoil of letting go and openly reflects on how our experiences shape who we become.
With honest and captivating lyrics and a charming melody supported by Jungkook's powerful vocals, this song will leave listeners comfortable as they reflect on their lives.
For anyone struggling to walk away from a problematic relationship or simply wanting to reflect on what has gone before them, "Epiphany" is a must-listen.
27. Boy Meets Evil
"Boy Meets Evil" by BTS is a stunning song that conveys emotions of heartache and pain beautifully.
With hauntingly honest lyrics that explore the feeling of losing something precious, this song is a must-listen for anyone looking to connect with the sadness of life.
The intro and verses pluck at the heartstrings while the chorus soars with a powerful lament from Jungkook.
28. Sweet Night
"Sweet Night" by BTS is one of the saddest songs in their discography. It's a heartbreaking ballad about longing for someone special.
The lyrics are simple yet beautiful and honest, expressing powerful messages about loneliness and depression that anyone can relate to.
The melody is a gentle and calming combination of piano, strings, and vocals, creating an atmosphere that pulls you in until you feel like you're living in the song with them.
At the same time, it makes listeners realize what it feels like to be truly loved and alone at the same time.
Sweet Night by BTS is highly recommended if you're looking for something moving that will make your heart with emotion.
FAQs
What BTS songs are about losing someone?
BTS has released many songs that touch on heartbreak, loss, and grief.
Some of these songs include:
"Loss," which reflects on a problematic breakup and how hard it can be to move on from someone who once meant so much.
"Fake Love" is also about heartache after losing someone dear to you.
"Her," tells the story of unrequited love and longing for someone who can no longer be in your life.
"Life Goes On" talks about staying resilient despite loss or tragedy while remaining hopeful.
These tracks capture the complex emotions associated with losing someone special and show why BTS remains a source of comfort and resilience to millions worldwide.
Which BTS song should I listen to when I am depressed?
If you're feeling down and looking for something uplifting to listen to, BTS has many songs that can help lift your spirits.
"Spring Day" is an excellent choice for feeling overwhelmed or lonely, with its hopeful lyrics about treasuring the moment.
"Euphoria" is another upbeat track that can make you feel invigorated and energized with its dynamic instrumentals and empowering message.
"Crystal Snow". The song's inspiring and comforting melody will help restore hope in darker times.
If you need an emotional hit, opt for "The Truth Untold." Its sad yet beautiful soundscape and heartfelt lyrics will surely transport you into a world of self-reflection.
What is BTS's least popular song?
BTS, or Bangtan Boys, is one of the most popular K-pop groups in the world. They have tons of hit songs that have earned them millions of fans from around the globe.
However, even with all these fantastic songs they've released over the years, there's still one song that may not be as popular as all the others:
"2! 3!" This upbeat track was released in 2013 as a part of their mini album Skool Luv Affair and didn't get nearly as much love or recognition as some of their other more iconic hits.
Even though this tune might not be a fan favorite right now, it's still a great song that deserves more attention and appreciation.
Does BTS have any breakup songs?
The popular South Korean boy band BTS is well-known for its uplifting and powerful music.
Though some of their songs touch upon the themes of heartache and longing, none can be considered "breakup."
Most of BTS's work centers on inspiring fans to pursue their dreams and giving them hope no matter what life throws at them.
This includes songs about resilience such as "Fire," an encouragement like "Save Me," and introspection with tracks like "Epiphany."
Despite no dedicated breakup songs, a few of BTS's tracks could help listeners healthily get through difficult times.
How does BTS help with depression?
BTS, or the Bangtan Boys, is a Korean boy band whose music has been said to help alleviate depression.
Their lyrics are often about rising above adversity and staying strong during hard times, which can be encouraging for those who suffer from depression.
They also often discuss the importance of love and self-care, promoting happiness and resilience in their music.
Additionally, many of their fans have formed an active online community where they can connect and support one another through difficult times.
Through BTS's music and fan base, people suffering from depression may find comfort and inspiration to care for themselves mentally.
Who is less famous in BTS?
BTS, also known as the Bangtan Boys, is a prevalent South Korean boy group formed by Big Hit Entertainment.
Although all members are immensely successful and have earned international fame, some tend to be less famous than others.
Jungkook, V (Taehyung),
Suga (Yoongi), Jimin,
J-Hope (Hoseok),
RM (Namjoon),
Jin are the official members, and their popularity ranges from one to seven.
While RM, Jungkook, and Jimin take the top three spots respectively; Suga, J-Hope, and V usually come in fourth, fifth, and sixth place; while Jin is generally the least famous within BTS.
Which song is banned in BTS?
The internationally famous South Korean K-pop band BTS comprises seven talented members: RM, Jin, Suga, J-Hope, Jimin, V, and Jungkook.
All seven members are famous worldwide for their singing and dancing talent and personal style.
However, some fans may consider some BTS members slightly less famous than others.
RM is generally known for his impressive rap skills, while Jin is often praised for his visuals and singing ability.
Suga is a powerhouse rapper, while J-Hope has gained a loyal fanbase due to his exceptional dancing skills.
Jimin's vocal talent and upbeat personality have made him beloved by fans around the globe, and V is known for his unique fashion sense and signature dance moves.
Finally, Jungkook often stands out for his talent in vocals and dancing.
Though each member of BTS is incredibly famous in their own right, it could be argued that their respective fame levels differ based on specific criteria such as social media presence or stage performance.
Conclusion
Overall, BTS has created a wealth of music over the years, and its catalog of songs includes some of the Saddest BTS Songs.
While these songs may not be everyone's cup of tea, they remain some of the most beautiful pieces ever written that tug at our heartstrings and remind us to care for our mental well-being.
With messages of understanding and hope, it's no wonder that these songs stand out as some of BTS' best contributions to music and culture.