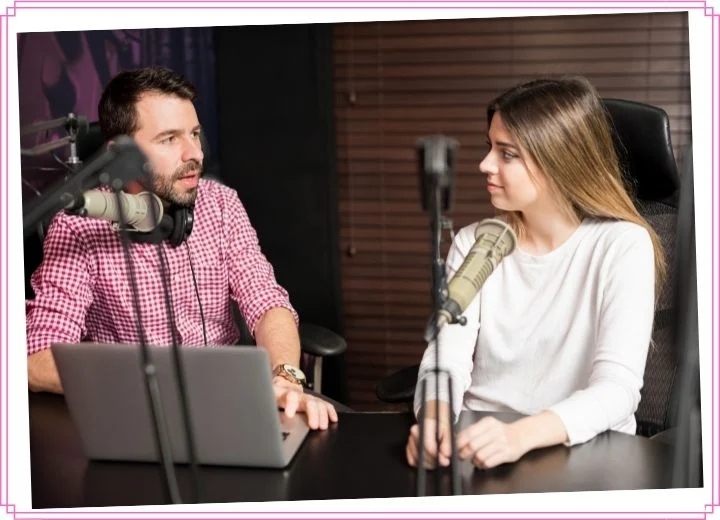 If you are interested in making money from home, podcasting is a potential industry. The number of listeners in recent years has made it fertile ground.
There are many ways you can make money from podcasts. To learn more about the detailed steps, let's check it out right now!
How To Make Money From Podcast?
There are many ways for you to make money podcasting. Diversify your revenue to be safe. If you mainly make money on Youtube, it will be bad if your channel is disabled one day.
To choose the best way to make money with a podcast, let's dive into the tracks.
#1. Sponsorships
The most common way to make money in podcasting is when the host receives sponsor promotions during the show. The podcaster can cleverly incorporate the advertiser a few times in each episode.
Each episode's download determines how much you earn. Donors usually pay expenses by the mille (meaning "thousand" in Latin).
CPM rates range from $18-50, but popular programs can earn more.
Where you place your ad also determines its price. Ads at the beginning or end of the video with a length of 15 to 30 seconds cost the same.
Ads in the middle are most valuable because the audience is being engaged.
Advertising content is also highly diverse. Some sponsors will allow the host to be creative, while others require you to follow the script.
When you're just starting out pitching an ad, get around $15 for a pre/post-roll ad and $20 for a mid-roll one.
#2. Premium Content & Donations
Often creators will ask for direct audience support to see their excellent content. If you can create interesting topics, many people are willing to spend a few extra dollars to watch them.
This podcasting business is super easy to set up, so we've ranked them here.
Patreon is the best site to get money. Don't forget to create a page explaining the good reasons why you deserve support.
Suppose you don't want to use Patreon, open Paypal or Stripe, and add the donation link in the description. Watch the video below to learn how to set up a Paypal account.
There are many ideas for creating unique content. Ask your followers for a fee for early access to episodes, resources, bonus episodes, and access to private groups.
#3. Affiliate Marketing
Affiliate marketing means you get paid to refer listeners to another company's product.
The list of partners is pervasive. You can find them at Amazon, Popcorn, or Buzzsprout. How affiliate marketing works on podcasting would be as follows:
You host a lifestyle and beauty show and mention the brand of skincare products you use. Then, provide a link to show your audience where to buy.
If someone clicks on the link and buys the product, you will receive a small commission. Many people even include links on podcast website profiles and show notes.
The most crucial factor is that you need to keep the trust of your customers with honesty. As such, we encourage podcasters to disclose how they monetize recommendations.
#4. Merchandises
The fourth way is to operate a store that sells goods on a third-party platform. It's basically a cross between affiliate selling and selling a product you own outright.
Several services and manufacturers allow you to set up your store. All you have to do is create your own iconic designs or artwork. They will take care of the printing, packing, and shipping.
Entertainment or hobby podcasters often choose this route. They sell anything printable like t-shirts, phone cases, or cups.
This way of making money is attractive because you will not spend much time on it. Customers will also promote the free channel when they use items with your brand above.
#5. Creating An Email List
It is one of the most sustainable ways to make money for seasoned podcasters. Always make sure you have an email list. It is suitable for most of the following strategies.
This listing enhances connection and engagement with your audience more than just a potential way to make money.
You can use many tools that allow you to set up automated sequences that are easy to attract and train new subscribers. This method is perfect for developing a proactive and trustworthy list.
Email is the most durable way to stay in touch with your customers compared to other platforms. Yet, it takes you a bit more time to keep active with podcasts.
#6. Courses
If you have erudite knowledge in a particular field, do not hesitate to teach it to everyone. These courses will be the best way to reach your large audience.
You can synthesize knowledge into separate volumes by using analysis and feedback from listeners. It will give you more insight into the topic you want to discuss.
Anyone who wants to learn or discover more about a specific field will want to take an online course.
By 2025, many predict the online education industry will be worth $350 billion. The main reason is that the pandemic forces businesses and students to be more active at home.
If you want to open a course, this is the best time.
You can sell your product many times so the profit will be very high. Don't forget to adjust your knowledge over time to get outdated.
Several platforms will assist in creating and organizing your courses. Those tools include Udemy, Kajabi, or Thinkific.
You can market courses at the beginning or end of each podcast episode to introduce your audience to them. It also stimulates the audience's curiosity.
The advantage of this form of business is that there are no barriers to time and space. You can work on the podcast and run the course for the students you are watching.
#7. Services
You can offer services that go with the content of your podcast.
For example, if you are a podcaster specializing in online advertising or SEO on Google, you can get Facebook Ads and Google AdWords management services.
Providing knowledge shows that you are at the level of an industry expert and makes your audience trust you more. It makes it easier for you to find customers.
For other industries, you can apply the same strategy.
#8. eBook
Writing books is another popular podcasting monetization option. Let's start with a compact, intuitive and straightforward ebook.
You can sell ebooks on a lot of platforms. The key is to identify the problems and find ways to solve them.
Find a focal point in your program topic and write about it. The goal is to give the reader the most apparent benefit.
Or you can adapt and write a book that includes only the best of your program.
Composing content based on podcasts will not be a complex problem for many people.
The downside of this strategy is that the revenue you get for each book is meager. Online courses with comprehensive knowledge of only about 20% are three to four times more expensive than the author's dedicated books.
#9. Coaching & Consulting
Many people are willing to pay large sums of money to be asked more personal questions. One-on-one consulting or coaching is the best option in this case.
If your time is limited, say on the podcast that you have a few hours free and can help a number of people.
Another way is to consult what other experts in your market are doing and highlight your strengths.
Everyone's experience, personality traits, and ability to express themselves are different. Don't hesitate if there are coaches in the same industry as you, be confident that you are unique.
Once clients have come to you for coaching, listen carefully to them. You will find common ground from these people to develop your counseling course.
You should also maintain a close relationship with your customers. Help them develop an active life, and your podcasts will be shared more widely.
#10. Events
Not only is it a great way to make money, organizing events brings together your most loyal fans and offers outstanding value.
A few TV shows, like The Walking Dead, have hosted events worldwide. Its scale is so large that it attracts actors to participate.
Another famous example is the combination of Sam Harris and Patreon. To get tickets to his live streams, you'll have to become a Patron.
#11. Public Speaking
Many trusted podcasters can be approached to speak on shows related to their field. This approach is hugely suitable if they have a loyal audience.
It also attracts people to listen to the event's program or the online conference.
Speech fees also vary widely. It could be just free hotel and attendance, or up to six figures. It will also help increase your credibility and attract new potential audiences in the future.
FAQs
If you have any questions regarding podcasting and how to make a business from them, find the answers here.
How Much Money Can You Make From A Podcast?
If podcasters can get 10,000 downloads per episode, their revenue will range from $500 – to $900 per episode. This source of money mainly comes from affiliate sales.
How Much Money Does A Podcast Make?
Before you start hosting a show, you'll need to understand how much revenue it generates. Podcasters can earn anywhere from $10,000 per episode up to $500,000 per episode.
How Hard Is It To Make Money Podcasting?
Podcasts creators can make money through donations, affiliate marketing, and selling their products. This process will take a long time, so this is not a get-rich-quick scheme.
You will need to build loyal followings. They will be the source of potential customers for every product you're selling, literally and figuratively.
Is Starting A Podcast Worth It?
Becoming a podcaster can be a great way to satisfy your passion and possibly start a business from there.
For those who want to launch podcasts with friends, consider a few things, like who will be the primary host. Many podcasts include multiple hosts, but some indicate a "main" person.
How Many Listeners Do You Need To Make Money On A Podcast?
To start a business, you will need an audience of 5,000 to 10,000 people per month.
Popular ad networks are Midroll and Authentic. Many podcast hosting companies also have their own networks.
Who Is The Richest Podcaster?
Joe Rogan with The Joe Rogan Experience program is the wealthiest podcaster.
This program is more than a decade old. Monthly, there are a total of 190 million downloads with a revenue of $30 million.
The show's content revolves around Rogan's featured interviews with politicians, MMA fighters, comedians, and conspiracy theorists. Yet, it is also controversial.
Can Anyone Start A Podcast?
Fortunately, the barrier to entry into creating podcasts is shallow. Anyone can become a podcaster with little to no technical requirements.
Even so, it will be challenging to create a successful program.
Conclusion
There are many ways to make money from podcasting. However, they all take a lot of effort and time.
You will need to be patient and focused on seeing results. Also, always invest in the show's content. Only the new, engaging, and exciting knowledge can keep the audience engaged for longer.