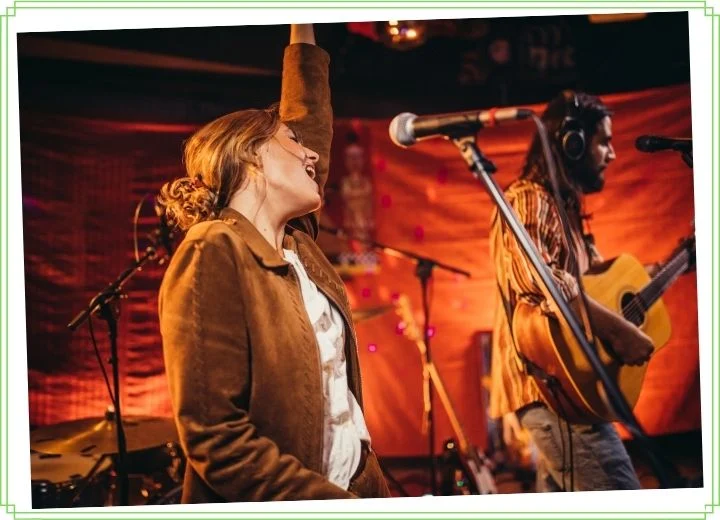 Singing harmony with the proper technique will make the overall sound of a performance full and rich. For many vocalists, this type of singing is more complex than solo performing.
So, how to sing with harmony? The fundamental principle of harmony singing is concentrating on how the chord of the song progresses.
Besides, you need to define whether the melody is subordinate to the major or minor scale to choose the suitable harmonization. 
This post will provide detailed explanations about singing with harmony.
What Is Singing Harmony?
Before learning to sing harmony, let's get to know something about this type of singing.
Singing harmony or vocal harmony is to sing in a group of singers to add different notes to the main vocal melody.
Previously, this music style was only popular in opera or acapella. But more and more genres are using vocal harmonies such as rock or power ballads.
Knowing how to sing harmony can make your vocal skills better. Besides, it's also beneficial for your ear as you need to hear various notes.
There are four types of harmonization in this singing type as follows.
Thirds
This harmonization is the most common, with a third higher or a third lower than the notes of the melody.
For example, a third-scale melody will have a major chord with notes ranging from A to F. To sing harmony for this melody, croon the note C (higher) or the note F (lower).
Those who like Western music will feel this harmonization pleasing.
Fourths and fifths
You can make unique sounds if singing harmony with perfect fourths and fifths. If your song is of East Asia music, you should use this harmonization type. It will be a good companion with the pentatonic scale of this music style.
Octaves
Octave harmonies are the easiest one in harmonization. The group singers will belt out an octave higher or lower than the main vocalist.
You will easily find this harmonization in a male and female duet, as their vocal ranges are different.
Though octave harmonies help make the frequency spectrum thicker. However, the sound produced will be thinner than that from third or sixth harmonies.
You can combine them with some string instruments for more dense sounds.
Close harmonies
This one is the most challenging harmonization. You may have to spend many years to get control of the technique.
However, close harmonies will bring the vibe of a barbershop quartet or vocal group. With this harmonization, the sound made when you use the entire tones of the chord will be rich and full.
This euphony forms when you put the notes close to each other.
Sing Harmony For Beginners
Now, let's move on with the detailed guide on how to learn harmony singing.
Step 1. Find your singer type
To start, you should identify which singer you will be in the group. Depending on your vocal range, you can choose to be a Soprano or Alto if you are female. For men, you can sing as a Tenor or a Bass.
Step 2. Listen to the music
Get familiar with the melody of a song by listening to it with more musical senses. While listening, analyze the music like you are a musician. In this way, when singing harmony, you will find it easier to master your part.
Step 3. Find the appropriate chords and notes
When it comes to vocal harmony, each song will go well with a particular chord and note. You have the duty of finding the note and chords that are suitable for your song.
Three notes in a chord are root, major and perfect fifth equalling the 1st, 3rd, and 5th notes on the music scale. When they go together, harmonies will take shape.
You need to pay attention to the development of the song's chord and the basic scale of the melody. In this way, you can find the right harmonization.
Step 4. Identify the highest and lowest notes of the harmony
These notes will determine whether a song has a good harmonization or not. The highest note also called the "do" note, is the tonic or keynote. The lowest note is the dominant or fifth note. People also name this note the "so" note.
Once you identify these two notes, you will have the base the build your song's harmonies. You can find them by crooning the notes upward then down the scale.
Step 5. Distribute notes to group members
In this step, you will select an appropriate instrument that goes well with the melody.
Each member will have their notes and be responsible for them. When the notes of Soprano, Alto, Tenor, and Bass blend perfectly, harmonies appear.
Step 6. Find the suitable octave
When singing harmony, you need to get a suitable octave to avoid missing notes.
The voices of all singers in the group will come in a unified blend and balance. In case a singer can't ensure the timing, there will be no harmonic effect.
Step 7. Check if the melody and octave are appropriate
After you get the octave, you should do a test with the melody and octave. Sing the notes of the melody a third above and a third below to identify harmonies.
Step 8. Practice the full song
The last step is to make a trial performance with the full song. It's better to do this rehearsal with a friend.
Tips To Sing Harmony More Easily
The difficulty of harmonizing will vary depending on the learner.  Someone can pick up a pitch quickly and won't need to spend too much time practicing. Meanwhile, some others have to take ear training for a long time.
Here are some tips that many singers find helpful to learn harmony singing more easily.
Get to know the basic music theory
Knowing music theory will help you a lot in your way to becoming a singer. Music theory will provide you with many fundamentals in singing.
You can find methods for interval identifying, ear training, and singer developing instructions. Musical intervals are a crucial part of harmony singing, and you need to know well about them.
Getting some basic knowledge about music will help you read and recognize lines of harmonies and notes faster.
Understand music intervals
The notes on a musical scale are apart from each other by music intervals. Intervals are present on both minor and major scales as follows.
Major scale intervals
Minor scale intervals
You should have enough knowledge about intervals and remember them. In this way, the interval recognition in a song will be easier.
Learn about chords
You can refer the chord to a set of notes that work well with each other to make a sound.
Learning how to build chords is the best way to understand them. Four chord types include Major chords, minor chords, Augmented chords.
Besides, there is a 7th chord, including dominant 7th, minor 7th, and half-diminished. If you learn about the chords, you can find suitable notes for harmonizing.
Pay attention to timing
In harmony singing, timing is the determining factor of harmonization. The right timing will help singers blend their sound smoothly. If you can ensure this factor, your song won't attain any harmonization.
To get the right timing when performing, you have to spot the clues for it. This job may take you some time, but once you master it, timing is simple to follow.
Practice with others
Harmony singing means that you will sing with others. So, regularly practicing with other singers in your group is a step to success.
As the difference in the music styles and preferences, practicing in groups will help avoid wrong timing.
Besides, group practice will make the members closer and understand more about each other. Also, it can improve your motivation and help you perform better.
Moreover, other singers can evaluate your performance and give you helpful feedback and advice. In this way, you can make proper adjustments so that your performance will be better.
Always listen
Another tip to make you sound more harmonized is listening as much as possible. Listening to sample songs will help you know more about the composing of the music.
You can take some songs with harmonies and listen to them carefully to find the chords, notes, and intervals.
If you have no idea about the song, you can try this one from The Beatles:
This song has relatively slow tempos and simple chords. Therefore, it's easier for you to practice and find the best way to learn harmony singing.
Practice all the time
Another traditional tip for you is to practice whenever you can. A lot of practice will help you handle the songs better and create a perfect.
Also, learning to sing harmony needs your dedication. You should have a passion for it as well as a constant willingness to learn. Then, you can believe that you can conquer the most challenging harmonization.
Join a choir
If you are a beginner at harmony singing, you should join a choir. The choir will teach you many skills to make any song harmonic.
Additionally, you can try the role of soprano, alto, or bass in the performance. These roles are the best choral roles, and they will help enhance your listening. Once you listen better, blending with other singers is no longer a big challenge.
Take a professional course
If you find self-study ineffective, you can take professional courses. Besides teaching you about singing with harmony, these courses will help you become a professional singer.
Registering for an online singing program will be the most straightforward way to learn vocal harmony.
Final Thoughts
Above is our ultimate guide about learning harmony singing and some tips to succeed in this style.
You can learn to perform it by yourself as a beginner. But to develop and master the advanced vocal harmony, you need professional training and exercises. Hopefully, you can become a professional group singer. Thank you for reading!