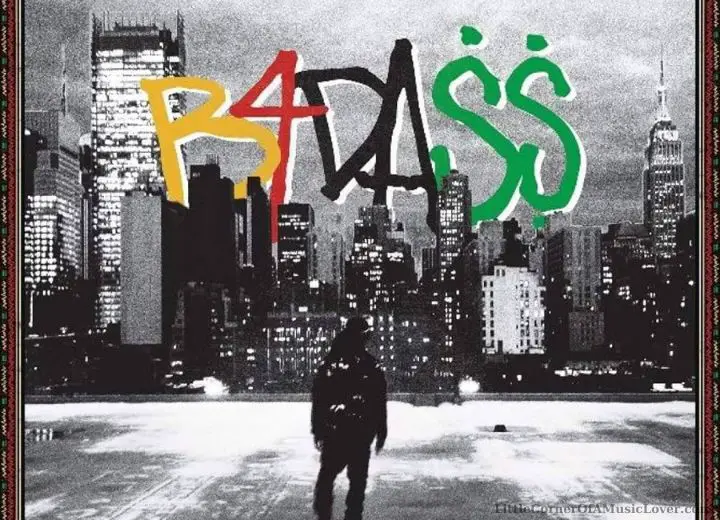 Get ready to vibe with us as we dive into the top great, best Joey Bada$$ songs of all time.
This post is for you if you're a fan of old-school hip-hop mixed with a modern twist.
We'll take a trip down memory lane and showcase some of the Brooklyn-born rapper's most iconic tracks.
And don't worry. We've also included links to the official audio and lyrics on YouTube so you can sing along.
So please sit back, relax, and let's explore the incredible talent of Joey Bada$$.
1. Paper Trail$
Joey Badass is a typical rapper whose song "Paper Trail$" highlights that.
In this track from his 2015 album B4.DA.$, he reflects on his relationship with money and how it has changed since he achieved success.
He acknowledges the struggles of his upbringing without money, where love was abundant but financial stability was not.
And even now, with wealth, he recognizes that money does not solve all problems.
With brilliant lyrics, Joey Badass takes us on a journey through the two sides of his life and the complexities that come with each situation.
Overall, "Paper Trail$" is a thought-provoking and insightful song showcasing Joey Badass's unique rapper perspective.
2. Christ Conscious
"Christ Conscious" is undoubtedly one of Joey Bada$$'s best songs, and for good reason. His flow in this track is undeniably impressive and filled with intense energy.
It is one of his favorite tracks from the album B4.DA.$, it's clear that he has poured his heart and soul into this song.
The lyrics speak to Joey's constant drive and determination to reach new heights, constantly pushing himself to improve and elevate his craft.
3. Devastated
"Devastated" is a standout track in Joey Bada$$'s discography, captivating listeners with its infectious hook and impressive melodies.
Even though it may not be at the top of his hardcore fan list, it has brought attention to his music from a whole new audience.
The music video perfectly captures his music's joy, and the song played an essential role in the success of his 2017 album ALL-AMERIKKKAN BADA$$.
4. TEMPTATION
"TEMPTATION" by Joey Bada$$ is a powerful and thought-provoking track that delves into poverty, police brutality, and racial injustice.
While it may seem upbeat and cheerful on the surface, the lyrics carry a strong message that shines a light on those underprivileged and marginalized in society.
Through his passionate delivery and poignant lyrics, Joey Bada$$ challenges societal norms and urges listeners to take action against these pressing issues.
This song is an impactful commentary on the state of our world and showcases Joey Bada$$'s ability to speak his mind through his music.
5. Rockabye Baby (Feat. ScHoolboy Q)
"Rockabye Baby" by Joey Bada$$ is a powerful and thought-provoking track showcasing the artist's social commentary talent.
In collaboration with ScHoolboy Q, the song delves into the issue of racial injustice, a recurring theme on Bada$$'s album ALL-AMERIKKKAN BADA$$.
The track is expertly constructed with changes in tempo and breakdowns that keep the listener engaged while allowing the poignant lyrics to shine.
Through this song, Bada$$ fearlessly uses his platform to call out those in power and demand change, highlighting African Americans' ongoing struggles.
"Rockabye Baby" is one of Joey Badass's best songs and a stellar representation of his message and artistic abilities.
6. Love Is Only a Feeling
"Love Is Only a Feeling" by Joey Bada$$ is truly a masterpiece.
With over a million hits on Spotify, it's no surprise that this song stands out as one of his best works.
At first, you may feel like you're listening to a quiet jazz number, but as Joey starts speaking, the beauty and depth of the song begin to unfold.
Released as a standalone single after his successful ALL-AMERIKKKAN BADA$$ album, this track showcases a more laid-back side of Joey as he talks about his love for a special girl he wants to marry.
7. Land of the Free
"Land of the Free" by Joey Bada$$ is a powerful and thought-provoking song from his album ALL-AMERIKKKAN BADA$$.
It sheds light on the ongoing issues of oppression and inequality in the United States despite its self-proclaimed title as the "land of the free."
With bold lyrics, Joey calls out political figures and challenges listeners to open their eyes to the reality of injustice.
His passion and message are evident: it's time for change.
For anyone who may be unaware or indifferent to these issues, this song serves as a wake-up call and an eye-opening perspective.
8. Survival Tactics (Feat. Capital STEEZ)
"Survival Tactics" by Joey Bada$$ is a testament to the young rapper's talent and ability to deliver thought-provoking and socially conscious lyrics.
At just 17 years old, he wrote this track with incredible flow and powerful words that would make even Biggie proud.
Despite criticism for not following the stereotypical hip-hop themes, Joey remains unbothered and continues to release tracks that showcase his skills and challenge societal issues.
It's impressive to see such depth from a young artist, and "Survival Tactics" is just one example of his remarkable talent.
9. 95 Til Infinity
"95 Til Infinity" is a song by Joey Bada$$ that pays homage to the iconic track "93 'Til Infinity" by Souls of Mischief.
The slight change in the date, from 93 to 95, represents Joey's birth year and adds a personal touch to the title.
This early work of Joey speaks about his roots and ambitions, giving listeners a glimpse into the mind of a young rapper trying to make it in the industry.
10. FOR MY PEOPLE
"FOR MY PEOPLE" by Joey Bada$$ is a powerful song that pays tribute to those who want a peaceful life and the influential figures who came before him.
While many tracks on his album ALL-AMERIKKKAN BADA$$ showcase venom and spite, this one takes on a mellower tone.
Joey's flow and voice shine as he delivers an inspirational message for his listeners. This track is significant for him as he speaks directly to "his people."
11. Show Me
"Show Me" by Joey Bada$$ is a dynamic and reflective track that showcases the rapper's lyrical prowess and versatile flow.
With thought-provoking lyrics, Joey skillfully paints a picture of his journey as an artist and delves into love, success, and self-discovery themes.
The song effortlessly blends a smooth beat with soulful jazz elements, creating a unique sound that perfectly complements Joey's words.
12. Righteous Minds
"Righteous Minds" is a powerful and thought-provoking song by American rapper Joey Bada$$.
Through his sharp lyrics and smooth flow, he tackles relevant social issues such as police brutality, political corruption, and the struggle for racial justice.
The song also touches on personal struggles and the importance of staying true to oneself in a world that constantly tries to change us.
13. Head High
"Head High" by Joey Bada$$ is a powerful and uplifting song that showcases the artist's raw talent and introspective lyrics.
The beat infuses elements of jazz and hip-hop, creating a unique and soulful sound.
Joey's flow is smooth yet impactful as he raps about staying true to himself and maintaining his confidence, even in adversity.
His words are honest and relatable, reminding listeners to keep their heads high despite challenges.
14. 327 (feat. Tyler, The Creator & Billie Essco)
"327 " is a captivating and energetic collaboration between Joey Bada$$, Tyler, The Creator, and Billie Essco.
Released in 2020 as part of Joey's album "The Light Pack," this track brings together three talented artists with unique styles to create a dynamic and catchy song.
The beat produced by Statik Selektah is infectious, and each artist delivers their distinct flow and lyricism.
Joey starts the track off strong with his smooth verses, followed by Tyler's signature quirky and playful style.
Billie Essco comes in with his confident and assertive delivery, adding another layer to the track.
Together, they effortlessly blend their voices and rhymes to create a cohesive and unforgettable piece of music.
With its upbeat tempo and clever wordplay, "327" is a must-listen for hip-hop fans everywhere.
15. Waves
"Waves" by Joey Bada$$ is a powerful and captivating song that showcases the rapper's raw talent and unique style.
The beat is infectious, with a smooth mix of soulful samples and hard-hitting drums, making it impossible to resist nodding.
Joey's flow effortlessly rides the waves of the instrumental, delivering clever wordplay and thought-provoking lyrics about staying true to oneself despite societal pressures.
16. Enter The Void
"Enter The Void" by Joey Bada$$ is a thought-provoking track that takes its name from the cult film of the same title.
With his smooth flow and introspective lyrics, Bada$$ presents himself as a wanderer who finds solace in observing others and disconnecting from society.
His insightful verse is filled with wisdom beyond his years as he reflects on life's challenges and how it has impacted him.
This raw honesty makes Bada$$'s music appealing to fans of all ages.
17. Hazeus View
Joey Bada$$ has always been known for his ability to tap into more profound, more abstract ideas.
While most of his music centers around the gritty reality of life in New York City, there are times when he looks beyond the physical world and explores themes like spirituality and self-reflection.
"Hazeus View" from his debut album "B4.DA.$$" is a prime example.
In this song, Joey questions whether he will ever truly understand someone or something beyond his limited perspective.
18. My Yout
Joey Bada$$, a Brooklyn-born rapper with deeply Caribbean roots, pays tribute to his heritage in the song "My Yout."
The track features a reggae rhythm and the vocals of Collie Buddz, giving it a distinct island vibe.
In the music video, Joey can explore a vibrant paradise while drawing connections between his ancestral home and his urban neighborhood of Bedford-Stuyvesant.
It's a refreshing and catchy tune that showcases Joey's pride in his cultural background. We hope to see more of this side of him in his future work!
19. Ready
"Ready" by Joey Bada$$ is a track that captures his first taste of fame in a raw and honest way.
Set over a moody beat from Statik Selektah, Bada$$ shares his anxieties about navigating the music industry.
He raps about feeling overwhelmed while trying to make an impact with his music. The song also touches on young artists' problematic choices as they gain recognition, such as turning down a deal from ROC Nation.
Bada$$'s lyrics are reflective and introspective, giving listeners a glimpse into the mind of a rising star and the challenges he faces while staying true to himself.
20. Unorthodox
When I first heard "Unorthodox" by Joey Bada$$, I couldn't help but feel the excitement and passion behind it.
He was overjoyed to get a call from DJ Premier, a legendary figure in New York rap.
The track embodies the golden-age era of hip-hop and showcases Bada$$'s smooth flow and effortless verse.
The warm piano melody blends perfectly with the percussion, creating a nostalgic vibe.
As a hip-hop fan, it's refreshing to see a young talent like Bada$$ collaborate with an icon like DJ Premier.
21. Hardknock
Have you heard Joey Bada$$'s track "Hardknock?" If not, you are missing out on a powerful and thought-provoking piece of hip-hop.
With references to the classic tracks by Geto Boys, Wayne, and Clipse, Bada$$ brings his own unique perspective to the theme of paranoia and mortality in this genre.
Set over a hypnotic beat by Lewis Parker. The song delves into Bada$$'s journey through life as a teenager and his realization that he wants more from it.
With lines like "One day I'm trying to have a wife and kids," Bada$$ showcases his growth and maturity while acknowledging his struggles.
It's a haunting yet honest mantra that will leave you pondering life's big questions alongside him. Don't miss out on this captivating track.
About Joey Bada$$ Details
Joey Bada$$ is a talented American rapper, actor, and record producer known for his unique style and thought-provoking lyrics.
Born on January 20, 1995, in Brooklyn, New York, Joey Bada$$ (real name Jo-Vaughn Virginie Scott) rose to fame at a young age through his music group Pro Era.
His debut album "B4.DA.$$" received critical acclaim and solidified him as one of the top names in hip-hop.
He is also known for his collaborations with artists such as J.Cole, Tyler The Creator, and A$AP Rocky.
Aside from his music career, Joey has also ventured into acting and has appeared in popular TV shows like Mr. Robot and BoJack Horseman.
With a strong passion for social justice and activism, he uses his platform to shed light on important societal issues.
Overall, Joey Bada$$ is a multi-talented artist with an impressive discography and continues to make waves in the music industry through his powerful message and captivating performances.
FAQs
What is Joey Bada $$ real name?
Joey Bada $$, also known as Joey Badass, is an American rapper and actor from Brooklyn, New York.
His real name is Jo-Vaughn Virginie Scott.
How old was Joey Bada $$ when he wrote "1999"?
Joey Bada$$ was 17 years old when he wrote his debut mixtape, "1999."
Despite his young age, he showcased maturity and skill well beyond his years through his lyrics and flow.
Does Joey Badass have an Oscar?
As much as we love Joey Badass for his incredible talent and contribution to the music industry, unfortunately, he does not have an Oscar.
What is Joey Badass music style?
Joey Badass is an American rapper and hip-hop artist known for his unique music style that combines old-school elements with a modern twist.
His music has been described as '90s-inspired, drawing influence from boom-bap beats, soulful samples, and smooth rhymes.
What genre is 1999 Joey Badass?
"1999" by Joey Badass is a hip-hop album that explores various sub-genres within the broader rap genre.
The sound of this album can be described as old-school, with strong influences from 90s East Coast rap and golden age hip hop.
Yet, it also incorporates elements of jazz and soul, giving it a unique and diverse sound.
Lyrically, Joey Badass showcases raw and introspective storytelling skills while also touching upon social and political issues in his songs.
His flow is smooth yet energetic, effortlessly gliding over the beats produced by himself and other talented producers such as MF DOOM and J Dilla.
Overall, "1999" can be considered a mix of boom-bap rap with modern sensibilities, showcasing Joey Badass' versatility as an artist and cementing him as one of the leaders of the new school in hip hop.
Is Joey cool with strange music?
YES. As a hip-hop fan, Joey has always been open to exploring different styles and sounds within the genre.
When he first came across Strange Music, he was immediately drawn to their unique blend of rap, rock, and pop elements.
The artists on the label are known for their diverse talents and innovative approach to music, which was precisely what Joey was looking for.
He quickly became a fan and embraced all the strange and unconventional aspects that made him stand out in the industry.
What kind of artist is Joey Badass?
Joey Badass is a multi-talented artist who has made a name for himself in the music industry as a rapper, songwriter, and actor.
His unique style of blending old-school hip-hop with new-school sounds sets him apart from other artists in the genre.
He is known for his thought-provoking and introspective lyrics, often tackling social and political issues in his music.
Joey's delivery is smooth and effortless, showcasing his impeccable flow and wordplay.
He possesses exceptional rap skills and produces most of his own beats, proving himself to be a true artist in every sense of the word.
Apart from music, Joey has also showcased his acting chops in various films and TV shows, displaying his versatility as an artist.
Conclusion
Joey Bada$$ is undeniably one of the greatest rappers of our time, and his music continues to resonate with listeners worldwide.
His songs can transport us to another world, from thought-provoking lyrics to catchy beats.
We hope this list of his top songs helps you discover or rekindle your love for his music.
Let's continue to support and appreciate the talent of Joey Bada$$ as he continues to create timeless hits that will be remembered for years to come.
So turn up the volume and enjoy these YouTube lyrics from some of his best tracks!