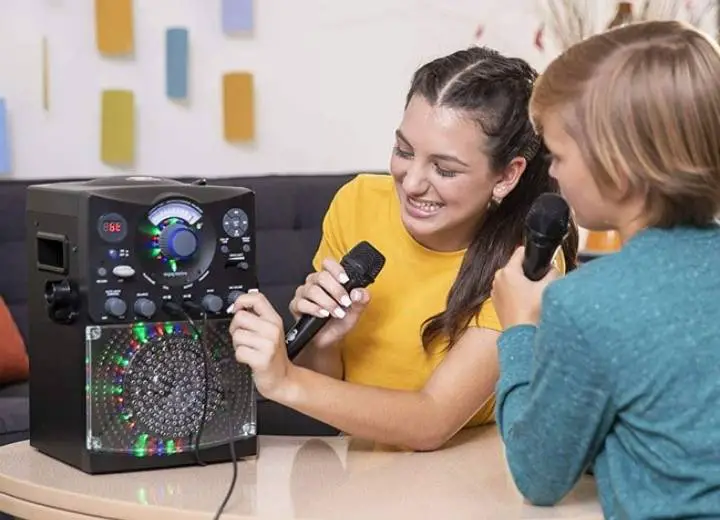 Choosing a karaoke machine or app to serve your own needs is a question that many people are asking. The difference between these two forms comes from their appearance, one is a separate device, the other is an application on the phone.
Let's get the difference between these two types of karaoke!
Difference Between Karaoke Machine vs App
Karaoke is a form of human entertainment. This type can both be used alone and used in groups of many people to make the fun more interesting. Both are karaoke, but between karaoke machines and apps, there are still many differences. Let's see the difference between them!
#1. Set up
To start the game, you need to have your tools ready. For karaoke machines, you need to make sure to connect the wires back to their correct positions. If you plug in the wrong connector or miss a connector, you will not use the machine. 
Today, there are portable karaoke machines, allowing you to take them to many locations. These models don't have to connect complicated wires, but you need to charge enough batteries for them to work.
The video below may be helpful for you to visualize the complexity of setting up a karaoke machine
The Karaoke app will be much more convenient because it can be used with just one phone. However, you need to pay attention to network problems when using this type of karaoke. Some apps will open for free. In contrast, some need to pay or connect to the internet to use.
#2. Connect ability
Traditional phonographs often have pre-installed songs with accompanying playlists. However, this list can make you feel bored and uninterested. Very few places are willing to refresh, so these songs are suitable for a long time ago.
Understanding that the new models now have built-in Bluetooth or can connect to the network for users to choose their favorite songs. With older models, this is not possible, or you have to use wires to connect to the computer to transfer complex data.
The mobile app is easily flexible and updated with the latest trends in the market. Developers will automatically refresh their software to be able to compete with other competitors.
Even if the app developer doesn't update the song you want, you can still search and install it yourself in your software. So if you compare the connectivity, the application on the phone is superior to the karaoke machine.
#3. Size
On the market today, there have appeared many different types of karaoke machines to suit the needs of each person. 
There are large phonograph systems, suitable for fixed or for large houses with elaborate designs. Some other devices are smaller in size with wheelchairs, pull handles or can be carried for you to move to many different locations.
For apps, it's simpler because the app appears on your phone or tablet. Carrying a phone or tablet is already a familiar daily routine for many people. And with such a utility, you can entertain at any place you want.
#4. Number of users
A karaoke machine is suitable for a family or a group of friends because of its large size. The volume and sound quality of the photographs will also be better.
Some jukeboxes limit the number of wired mics to 2-3 wires because of socket limitations. However, most of the phonographs now have wireless connections, and there is no limit to the number of people using the service.
People often choose karaoke apps to serve their personal entertainment needs. Some other causes can be used for couples or friends on a small scale.
#5. Other function
Karaoke machines are more expensive, so they also come with more interesting features that enhance the user experience. There will be scoring, voice adjustment, and even the song's tone with just a few simple steps with modern phonographs. 
Some other models even connect to the lights in the room so that the lights flash to the song's rhythm or control by voice.
Karaoke applications on the phone often depend on the configuration of the device that the user is using. Low-end models usually only meet the basic needs of singing karaoke. 
With more advanced models, you can add music editing, speed adjustment, or hide-show lyrics according to your needs.
Advantages and Disadvantages of Karaoke Machine
Karaoke machines are a product that many people love for entertainment and fun with family and friends. Many people are still hesitant to invest in a karaoke machine for many reasons.
Let's find out their advantages and limitations to see if this is a product worth the investment!
Advantages
There are many product lines for consumers to choose from

Vivid sound quality, great reverberation

Suitable for large groups of people such as families, groups of friends, classes…

Customizable with many special features

Some types have vivid light effects

Can be customized into a speaker when needed
Disadvantage
The price is usually higher

Need space for storage
Advantages and Disadvantages of Karaoke App
Are you a karaoke lover but still wondering which form to use? So let's analyze some of the pros and cons of this type of karaoke app to make your decision!
Advantages
Easy to operate and use

No need for storage space

Convenient smartphone integration

Many applications are free but still meet basic usage needs

You can download as many songs as you want

Can be used anytime
Disadvantages
Some apps need an internet connection to use

Some apps need to pay to unlock new features, improve user experience
Notes When Installing Karaoke Machine
After all of the above, if you decide to order a karaoke machine, there are a few things to keep in mind. These things you need to research carefully to be able to choose for yourself the perfect phonograph.
Size is an important consideration when you decide to buy a gramophone. You need to carefully measure where you intend to place the device and make sure nothing is on it as it could damage or affect the sound quality.
Location is equally important. Please choose a cool place, avoid mold. If possible, you can buy a few more shelves to put on your phonograph.
The arrangement is also one of the priorities when installing a karaoke machine at home. You need a space large enough that multiple people can use the gramophone at the same time. You should also prepare a place for things related to the machine such as remotes, mics, cables, manuals, … because these can take up a lot of space.
One thing that is not so important but necessary is to clean your phonograph. Please clean it regularly, even when not in use. Dirt in nature can stick on the machine causing it to break easily and become older.
Notes When Using Karaoke App
Karaoke app is an application on your phone, so you are probably no stranger to it. However, you still need to note a few things to be able to use the app safely.
Personal information should be kept confidential. You should be careful with some apps that don't have many downloads or are not trustworthy. This can be a trap to steal your personal information for bad things.
The size of the app is also something you should keep in mind. Some large apps take up a lot of your memory. Karaoke app is an app for entertainment, so taking up many memory spaces is unnecessary and sometimes harmful to the device.
Some apps have features that require you to pay to use them. You need to pay attention when paying and the renewal time to avoid losing money even when not in use.
Should I Buy A Karaoke Machine Or Use An App With A Small Home Area?
Small houses need to divide and use space appropriately. Therefore, it is recommended that you use the app on your phone to save maximum length. However, if you still desire to own a karaoke machine to serve your personal preferences, there are still options for you.
People are used to bulky machines when it comes to karaoke machines. However, to meet the needs of consumers, manufacturers have launched products with more compact sizes.
Because of its smaller size, the features will also be more limited compared to the original. However, the price is also lower and reasonable compared to what they bring.
Some types of karaoke machines suitable for small houses are mini jukeboxes, wheeled chassis, portable gramophone sets, etc. These machines also have a wide selection of features and different prices. You can refer to it and learn more if you need to use it.
Conclusion
Karaoke machines and karaoke apps have many different points, but they are effective entertainment tools for people. These means can help you relieve stress or bring more people together. Each form of karaoke has its own advantages and disadvantages. 
Hopefully, after this article, you can decide to choose the type of karaoke that suits your needs. If you find this article useful, please share it with more people to choose the right type of entertainment.
Thank you for following this post!