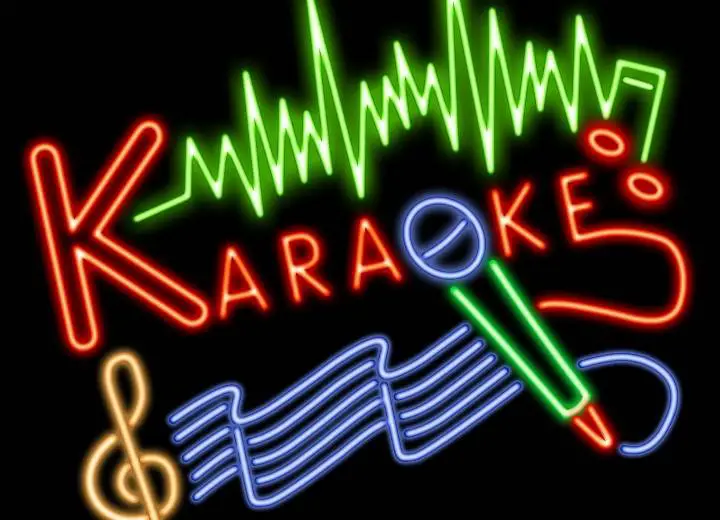 You want to buy a karaoke machine for this weekend's home party. How much does a karaoke machine cost? Let's check out the price of a karaoke machine via the article.
How Much Does A Karaoke Machine Cost?
On average, a karaoke machine will cost around $50 to $150. The price of a karaoke machine varies depending on which type you choose.
Some cheap options such as wireless all-in-one microphones cost under $50. If you want a professional karaoke machine, you'll have to invest about $200-$400. 
Different Types Of Karaoke Machines
There are 4 main types of karaoke machines for you to choose from. Each type has different elements, and their prices are also different. So, you can consider what you need to buy to make the right choice and save your money. 
 1. All-in-one karaoke microphones
An all-in-one microphone consists of a microphone, a small speaker, and a mixer. To use this karaoke machine, you will need a screen for lyrics displaying. This built-in microphone can connect to a smartphone, tablet, or smart TV. You can use Bluetooth or an auxiliary cable to connect.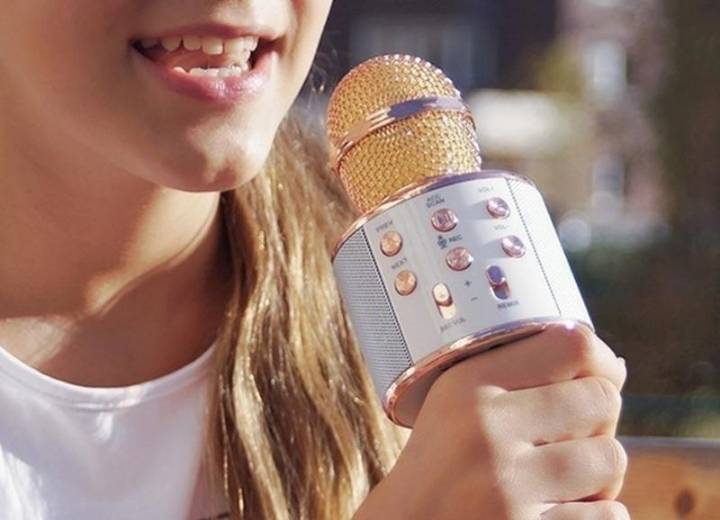 Then, you can access Youtube or any Karaoke apps on your smart devices to choose karaoke tracks. The lyrics will play on the device's screen. Your singing and the background track will come out through the microphone's speaker. 
The all-in-one microphone is wireless and quite small. So, it's very portable. You can bring it along for singing at any time and anywhere. Besides, this microphone is also the cheapest option for a karaoke machine.
But if you choose this machine, you won't be able to use CD+G disks. Its speaker is also rather small, so the sound will not be very loud. 
Besides, an all-in-one microphone allows only 1 person to sing at a time. Thus, if you want a duet or group performance, this one is not a good choice. 
2. MP3 digital karaoke system
An MP3 digital karaoke system is another choice of small-size karaoke machines. There is an MP3 player and a microphone in this system. Thus, to karaoke with it, you will need speakers and a screen for lyric display.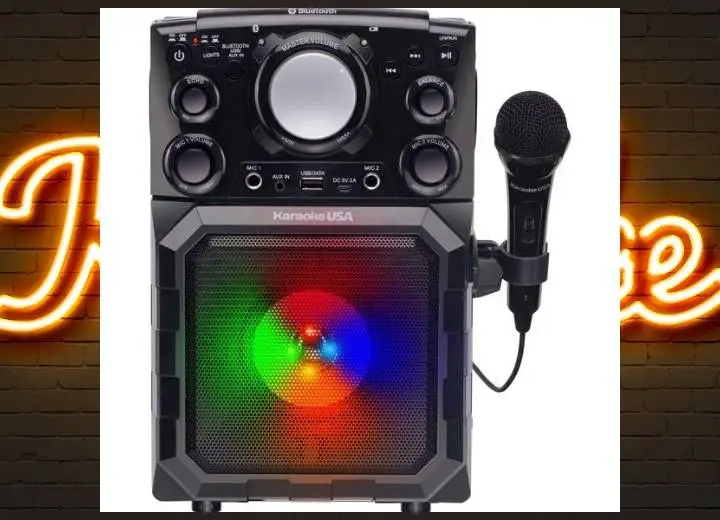 With this karaoke machine, you can download karaoke songs to the MP3 player.  Therefore, it can save your money buying karaoke CDs. Also, you can get updated with the newest karaoke videos. 
As we mentioned above, this system is small, so it has high portability. But it requires a screen and speakers. If you don't have these devices, you will have to buy new ones for use. 
Besides, you have to connect both the screen and speakers to this system. So, it's quite complicated to set up. 
3. TV monitor karaoke system
A TV monitor system comes with a karaoke mixer, a microphone, and at least one speaker. This system doesn't include the TV screen. 
So, you need to use an external one to display the lyrics. It's also possible to connect to a stereo system.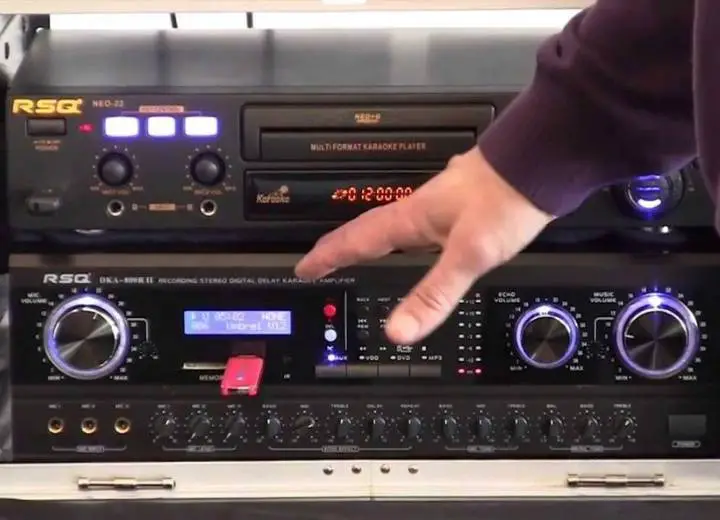 There are many different models of this system. Some systems have a mixer with a built-in CD player. So, you can sing with the backing track and lyrics from CD+G disks. 
Some other systems allow you to connect to smart devices through Bluetooth or an AUX lead. 
From there, you can select your favorite karaoke videos on Youtube or Karaoke apps. There are also models with DVD players or using MP3+G. 
It's quite easy to set up a TV monitor karaoke system. All you have to do is connect it to a screen. You can use the Bluetooth connection if this feature is available on your TV screen. RCA cables are alternatives for TV screens without Bluetooth. 
With a TV monitor system, you don't have to buy an external speaker. Besides, some models have a small size as a DVD player. So, it's quite convenient to take along. 
You can also use multiple microphones with this system. Thus, it's a budget option for those who want to sing as a duo or group. 
However, the song library is also only available on some systems. So, you may have to pay more for buying songs.
4. All-in-one karaoke machines
With an all-in-one karaoke machine, you won't need anything more for singing. This machine comes with all the basic elements for you to karaoke. 
Each all-in-one karaoke machine has a microphone, a mixer, speakers, and a monitor. The design of this machine is not very varied. 
Some designs have a CD player allowing you to use karaoke CDs. With some others, you can download karaoke files to play with the MP3 digital player. 
But the most common design works under your control through a smart device. Then, you can open Youtube or any Karaoke apps, choose a video, play, and sing. The built-in monitor of this machine is about 14-15 inches. If you want to display lyrics on a larger screen, you can use your TV screen. 
To change the screen, you use the RCA cable to connect the machine with your TV screen. 
Because of its full functionality, the size and weight of this karaoke machine are quite large. But it's still convenient to bring along. Because it doesn't require any other device for operating. 
Besides, all-in-one karaoke machines use batteries to run. These batteries are rechargeable. So, you can use this machine without plugging it into the main. In this way, you can avoid the risk of an electric shock. 
However, the price of an all-in-one karaoke machine is quite high. It's more expensive than other options. Thus, you should also consider this aspect when choosing a karaoke machine. 
Final Words
So, you may have got the answer to the question "How much is a karaoke machine?". The cost of a karaoke machine varies by its type. The more the machine costs, the more features it has. 
Some options can combine with your devices. Thus, you can consider your needs to choose the right karaoke machine. 
Thanks for reading!