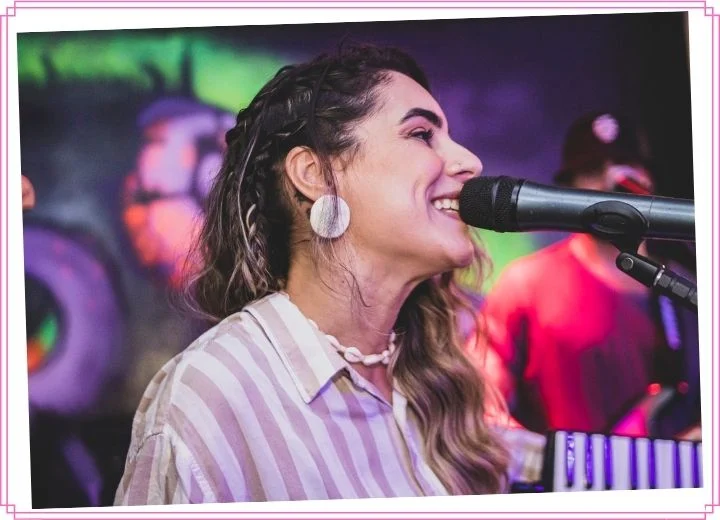 Imagine you are on an extended road journey with your friends, or you have to keep them entertained at a party when everyone gets drunk.
Singing along to some well-known songs and putting on your in-car performance is one of the most significant ways to pass the time. But, do you know those catchy, simple tunes that everyone knows?
Today, we will provide you with the list of best sing-along songs that you cannot help but sing along to whenever you hear them. So all you have to do now is relax and enjoy yourself.
12 Best Songs To Sing Along To Have Fun
What are the elements of an excellent sing-along melody? It is a difficult question to answer. Most importantly, it must be well-known, with straightforward lyrics and a catchy melody.
It is also great if it has a relatively restricted vocal range that most untrained vocalists can do. A throbbing beat also works the best to get folks in the mood to sing; however, this isn't always the case.
As a result, our list is primarily geared at adults, emphasizing older music over newer ones. There are, however, a few modern songs added to keep the youth of today entertained.
So, what is the list of best sing-along songs when drunk? Let's see this section!
#1. I Will Survive – Gloria Gaynor
It is one of two songs competing for the number-one spot. Its prominence is justified because it is the most preferred karaoke song by females. This timeless song, first published in 1978, is more widespread today than ever.
A booming, banging beat runs through the whole tune in this famous disco hit, making it a catchy riff that's equal parts sadness, optimism, and empowerment for the women. It captures the moods of love, grief, and, of course, life.
#2. Shake It Off – Taylor Swift
This song is fantastic with a high energy level and a forceful message, with Gloria Gaynor shaking her head in agreement. In short, it is about those who criticize or make fun of others.
This song is unclear who Taylor Swift is trying to reach, but its widespread appeal stems from many of us being subjected to unwelcome and unpleasant comments regardless of age or origin in life.
It is particularly poignant in an age when social media provides a platform for bullies and bigots. Not only is it a fantastic song, but Taylor's official video brings it to life.
It is a gentle reminder to "Shake It Off" the next time a harsh comment appears in your area. And, indeed, we will engage in the dance as well.
#3. My Way – Frank Sinatra
"I Will Survive" is unquestionably a ladies' song, and "My Way" is undoubtedly a man's song. It is the most ordered karaoke song for guys; therefore, it is no surprise that it's our third-best sing-along tune.
Although the rhythm seems to be a little dower, bordering on gloomy, the lyrics are where the fun begins. These words go from a celebration of life to witty jabs.
Furthermore, the rebellious message is given in a beautiful, contrastingly smooth manner. After a few cocktails, this classic song will receive the nod at the end of the night.
#4. Dancing Queen – ABBA
Let's travel back in time a few generations, keep the dance concept alive, and start moving with Abba. Although this one is an older song, we are confident that even the most grumpy adolescents would recognize it.
They will be delighted to sing along and may even grin while doing so. This song was released in 1976 and included a disco rhythm.
It is upbeat with a cheerful vibe. However, we are probably not fully comprehending the song's more gloomy meaning when we are belting out the verses at the top of our lungs.
It hides grief in some charming melodies coupled with fantastic voices, as do many of Abba's songs. It is not just a fantastic sing-along song, but it is also one of the finest disco songs of all time.
#5. Don't Stop Believing – Journey
Many younger readers may mistakenly believe that this famous Journey song was composed expressly for the successful TV show Glee. However, it only appears in the premiere episode and five more times throughout the series.
It is another beautiful song to dance to, similar to "Shake It Out." Again, the disco beat is expertly combined with piano chords and among the most recognizable and legendary guitar solos ever recorded.
The chorus does not appear until the song's conclusion, which is unusual. It is so infectious, though, that you'll never dismiss it or forget to sing it along.
"Don't stop believing" is another story of perseverance and self-confidence. It is also a narrative about triumphing against hardship. But, in between brushing it off, we are never going to quit believing!
#6. We Are The Champions – Queen
"We Are the Champions" is among the most well-known rock songs of all time, spanning disco and rock. It was composed by Freddy Mercury and included in Queen's 'News of the World' albums in 1977.
It is among the most popular tunes in sporting arenas all around the planet. When this song is on in a ceremony of the team's accomplishments, it will bring fans together to achieve their team's goals.
It is also the most often sung song on the list by almost everyone! However, none of us come close to singing to the same level as the legendary Freddie Mercury.
But "We Are the Champions" is also one of the most challenging rock songs to perform since it necessitates a staggering vocal range.
It contradicts our opinion that the most fantastic sing-along tunes should need a limited vocal range. But, like with anything, there are exceptions, and this song is among them.
It does not detract from people's appreciation for the song or performing it because it is almost always performed in a lower pitch. Instead, it is a tribute to Freddie Mercury's songwriting prowess.
#7. Hey Jude – The Beatles
The following song is one of the best composed. It used to be one of Billboard's top ten all-time hits.
Both the tune and the words make it a sorrowful song. But, there is a strong contrast between the upbeat lyrics and the positive message for the world. What about that iconic chorus, by the way?
That is not a chorus you will quickly forget. However, it is also a simple melody to sing due to the lack of pitch variation.
It is an excellent mix for any sing-along music. This record-breaking tune, capable of eliciting tears, is a crowd-pleaser on so many levels.
#8. Suspicious Minds – Elvis Presley
"Suspicious Minds" is a melody that expresses how we feel when we're in a situation or relationship we don't want to be in. It is also a song that should be sung out loudly. Singing this one might help you let therapeutically go of bad energy.
Mark James wrote the song in 1968, and Elvis Presley performed it a year later. It went on to become one of his most famous songs. Furthermore, it is, without a doubt, one of the most asked karaoke songs.
Although "Suspicious Minds" might have been replaced with some of the other famous songs for the best sing-along track.
But we could not leave this out because it was so important in revitalizing and boosting Elvis Presley's career to the next level.
#9. Sweet Caroline – Neil Diamond
"Sweet Caroline" is a difficult song to classify, which is primarily a beautiful melody with a strong beat and enthusiasm. This song, composed by Neil Diamond, was a gift to JF Kennedy's daughter for many years.
Moreover, it is a loving homage to Marsha, his wife. It is full of cheerful lyrics that numerous inebriated performers have altered over the years to match their situations better.
The "duh duh duh," which follows the opening words of the "Sweet Caroline," is never modified or adapted. However, you can perform it at maximum power because of its limited vocal range.
It has caught on, and it is now a common sight at baseball stadiums around the country. So sweet Caroline is on her way to you in full force shortly!
#10. Purple Rain – Prince
Prince wrote the song as the title track for the rock musical drama. It was the song that propelled him to the success that he so rightfully earned.
It is a slow tune with a lot of lyrical depth. The song's concept is essentially about sharing your experiences with someone you care about in all the sweet and sour.
This one is about believing in a higher power. Many elements of this song may be interpreted in various ways, making it unique to each listener.
Most ordinary humans can't even come close to performing in Prince's key. Purple Rain, thankfully, performs when sung in a pleasant, easy middle key.
It makes it feasible for persons with even the most restricted voice ranges to sing. You may always gladly join in with the three times repeat of "Purple Rain" if you cannot recall any of the lyrics.
#11. I Want It That Way – Backstreet Boys
This classic soul ballad is an unforgettable hit. Yet, surprisingly, the words do not often make sense because of the Swedish music and authorship (Max Martin did not have a firm enough grasp of the English language).
However, the melody does feature one of the most well-known pop music melodies of all time! When you listen to the words again, there are a lot of words that do not appear to make sense.
You cannot help singing along while the music is playing, and this catchy melody wonderfully exemplifies this.
#12. I Wanna Dance With Somebody – Whitney Houston
Everyone knows what it means to this catchy music, so you would be hard-pressed not to sing along with it. But, unfortunately, there isn't much to say about Whitney Houston, apart from her talented singing ability.
Even if you can't get those highest screech-like notes, don't let that stop you from trying. You'll surely put your vocal powers to the test by singing this at the top of your lungs!
Let this melody brighten up your party and make everyone dance and have fun with each other. Just give it a try and sing like you were a diva.
Final Thoughts
How do you feel about our list of best sing along songs? After the sun has set and the last drink has been consumed, maybe there is at least one tune here you can turn to. We hope you have an excellent and enjoyable singing experience!
Thank you for reading!