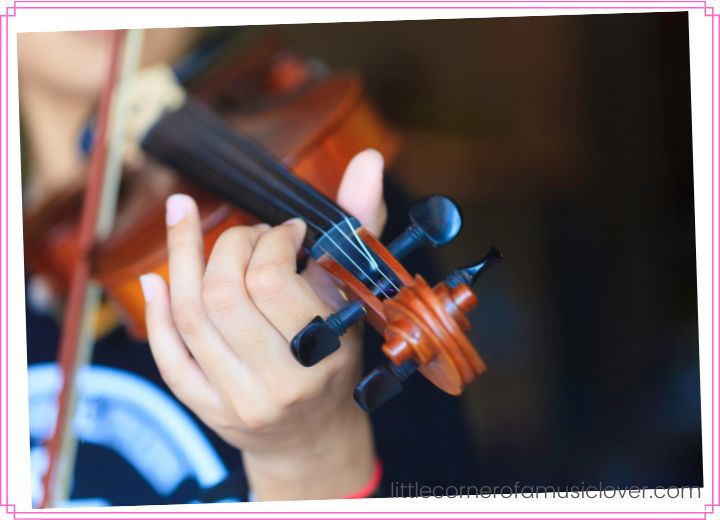 Looking for some soulful pop songs with violin? Look no further! Our list of top picks features some of the most iconic and memorable tracks of all time.
1. Alejandro – Lady Gaga
"Alejandro – Lady Gaga is a classic pop song with an upbeat vibe and undeniable catchiness.
With dance and electronic music elements, the song features a powerful, driving beat complimented by soaring violin riffs that take the sound to the next level.
It builds to a highly emotional chorus as Gaga's intense and passionate vocal performance complements each note on the violin.
This is one of Lady Gaga's signature songs: an exciting, captivating track that will stay long after you finish listening."
2. Our Song – Taylor Swift
"Our Song" by Taylor Swift is a famous pop song featuring a violin. The song was released in 2006 as part of Swift's debut album and quickly became a hit.
The use of the violin adds a unique and memorable element to the song, helping to make it a fan favorite.
3. To Love You More – Céline Dion
To Love You More by Céline Dion is an iconic pop classic that is uplifting and hauntingly beautiful.
The song features a sweeping soundtrack of strings, mainly composed of violins.
The violin melodies seem to complement the passionate lyrics perfectly as they intertwine with Céline's powerful voice, creating an unforgettable experience for listeners.
With a strong focus on emotion and vulnerability, To Love You More combines soaring violin riffs with heartfelt vocal delivery, making it one of the most memorable pop songs with violin in recent memory.
4. Come On Eileen – Dexys Midnight Runners
Come On Eileen by Dexys Midnight Runners is an upbeat pop classic with a memorable violin solo.
It's catchy and uplifting, featuring electric and acoustic instruments to create an infectious rhythm that'll have you tapping your feet in no time!
The violin adds an extra layer of expressive power to the song, making it a perfect choice for any dance floor.
There's just something about the strings that takes this song to another level and makes it truly unforgettable – so come on Eileen, let's get up and dance!
5. Rather Be – Clean Bandit
"Rather Be" by Clean Bandit is a viral pop song featuring a violin's unique and beautiful sound.
It creates a mellow atmosphere with its complex melody and soothing string tones while offering a catchy beat and fun vibe that will make you want to dance.
The violin adds sophistication to the track, elevating it from just another pop song into something special.
Not only that, but the music video is quite captivating as well. Whether you're into modern pop music or enjoy an excellent classical number, "Rather Be" has something for everyone.
6. Wasted Days – John Mellencamp Feat. Bruce Springsteen
"Wasted Days" by John Mellencamp is an upbeat pop song about reminiscing on the past.
The song features Mellencamp's trademark combination of acoustic guitar and a driving rhythm section, but it is made unique by incorporating the violin.
The instrumentation gives the song a folk-rock feel and adds to its hopefulness as Mellencamp sings about embracing life and living in the present moment.
The violin plays along with the melody throughout the track, creating beautiful textures that evoke a feeling of nostalgia and longing.
7. Closing Time – Leonard Cohen
"Closing Time" by Leonard Cohen is a popular song that seamlessly blends violin and piano to create an ethereal atmosphere.
The song is sad yet uplifting, taking the listener on a journey of reflection and contemplation.
It features catchy choruses with simple lyrics that capture Cohen's trademark poetic style.
The accompanying violin provides a haunting soundscape that pairs perfectly with the dreamy vocals of Cohen.
This piece is an emotional rollercoaster perfect for post-breakup vibes or night drives home after a long day out.
8. Young At Heart – The Bluebells
"Young at Heart – The Bluebells" is a classic pop song featuring a surprising and delightful violin accompaniment.
Using catchy lyrics and a strong melody, it has remained popular since its release in 1984.
The song is about celebrating life and living each moment with joy and sparkle, regardless of age. Many may recognize this timeless tune's uplifting chorus that encourages us to remain young.
Thanks to the unique addition of the violin, the song carries an old-fashioned charm that has stayed relevant over the years.
It's a fitting reminder that not all good things have to fade away with time!
9. Maggie May – Rod Stewart
Maggie May, the classic song by Rod Stewart, has given a new twist to pop songs by incorporating a beautiful violin accompaniment.
The song talks about reminiscing about an old lover, and the violin helps bring out the emotion and sadness in every line.
The whole tune is exquisite, with Stewart singing his signature raspy lyrics and the violin adding an extra layer of melancholy to the music.
With its simple yet powerful melody, Maggie May has become one of Rod Stewart's most beloved classics and continues to be one of the most famous pop songs ever with a violin.
10. Look At Me Now – Electric Light Orchestra
"Look At Me Now" by Electric Light Orchestra is a famous pop song featuring a violin's soothing sounds.
The light, airy melody and gentle stringed instrument make this tune a perfect backdrop for relaxation or enjoyment during leisurely moments.
Through its simple rhythmic beat and catchy chorus, the track ensures listeners have carried away in its captivating soundscape no matter their age or musical tastes.
Its upbeat energy provides a refreshing twist on electric pop music and reminds us why we love the genre so much!
11. Viva La Vida – Coldplay
"Viva La Vida" by Coldplay is an upbeat pop song with stirring violin accompaniment that has become a classic.
The instrumentation creates an atmosphere of celebration, making listeners want to get up and dance.
The lyrics are colorful and optimistic, conveying a message of hope in the face of adversity.
The violin solo builds to an exhilarating climax that perfectly captures the spirit of the song; it's no wonder why this tune has become so popular over the years.
With its incredible production and uplifting message, "Viva La Vida" will surely be remembered as one of Coldplay's best songs for generations.
12. Rock This Country – Shania Twain
Shania Twain's "Rock This Country!" is a classic pop song incorporating a soulful violin.
The track has an upbeat tempo and joyous lyrics that will have you dancing the night away. Twain's powerful vocals lift the tune as she declares her undying love for her homeland.
The string section adds a pleasant texture to the track and truly brings out Twain's message of love and affection for her country.
With its harmonious melodies, catchy choruses, and soul-soothing verses, "Rock This Country!" will surely make it into your regular rotation of songs.
13. Runaway – The Corrs
"Runaway" by the Corrs is the perfect example of a contemporary pop song incorporating a violin.
Released in 1999, it has an upbeat tempo, and timelessly catchy chorus layered over with soaring strings and warm backing vocals.
It's close to being a power ballad. Yet, it keeps its poppier elements intact for an incredibly emotional soundscape – perfectly illustrating how modern pop songs can make sophisticated use of violin.
The song continues to have enduring popularity almost two decades later, proving once again its timelessness and classic appeal.
14. A Thousand Years – Christina Perri
"A Thousand Years" by Christina Perri is a popular song featuring a beautiful violin accompaniment.
The haunting melody captured in the strings of the violin provides an evocative, emotional backdrop to enhance the dreamy pop quality of this piece.
Lyrics about love lost and found with strong metaphors, combined with Perri's delicate vocal style, create a powerful musical statement that stands out among other pop songs with violin.
The melancholy strings provide depth to this thought-provoking story and offer the listener an opportunity to connect in a meaningful way.
15. Eleanor Rigby – The Beatles
"Eleanor Rigby" by The Beatles is a classic pop song with a hauntingly beautiful violin part that expresses the loneliness of its protagonist's life.
Written by John Lennon and Paul McCartney, the song was first released in 1966 as part of The Beatles' album Revolver.
Its sad yet evocative lyrics tell the story of two lonely people: Eleanor Rigby, an older woman living alone, and Father McKenzie, who is burying her.
16. Tripping Billies – The Dave Matthews Band
"Tripping Billies" by The Dave Matthews Band is one of the most beloved pop songs.
An infectious, feel-good track, it merges rock and folk elements to create a unique sonic experience. Its combination of catchy riffs and lush string orchestration make it an uplifting classic that's sure to put a smile on your face.
Violinist Boyd Tinsley creates a powerful groove throughout the song, giving it an extra layer of energy and groove that stays with you long after it fades away.
With its memorable chorus and timeless hooks, "Tripping Billies" will remain a favorite in the DMB catalog for years.
17. Our House – Madness
"Our House – Madness" is a classic pop song with a distinctive violin melody that remains popular today.
With its catchy chorus and upbeat rhythm, the song celebrates the joys of family life with an ironic twist. Its appeal lies in its blend of lighthearted lyrics, tuneful melodies, and a cheerful mix of strings and synthesizers.
The violin is also integral to the sound, adding an emotional depth that resonates with listeners from all walks of life.
It's no wonder that "Our House – Madness" remains one of the most beloved pop songs ever recorded — it truly captures the warmth and joy of home.
18. Sunday Bloody Sunday – U2
The song "Sunday Bloody Sunday" by U2 is an iconic pop song from the 80s that features a unique combination of guitar-driven rock and roll with the soaring violin.
It takes its inspiration from the 1972 Northern Irish civil rights protest in which 13 unarmed civilians were shot down by British soldiers, increasing tension between Catholics and Protestants.
The lyrics provide a commentary on the violence and suffering that resulted from these protests. The song speaks to how deep-rooted religious divides and mistrust can often cause such violence.
19. Firework – Katy Perry
"Firework" by Katy Perry is an upbeat, uplifting pop anthem. This hit single has become one of the most recognizable songs of the 2010s, winning multiple awards and becoming a global phenomenon.
With its catchy hook and lyrics extolling personal strength and self-expression, this song stands out from the crowd.
But what makes this song unique is its innovative fusion of rock guitars, synths, and percussion with lush strings and an acoustic section featuring a melancholic violin solo that adds a touch of emotion to the final product.
20. The Veronicas – Untouched
The Veronicas' song, 'Untouched,' is an infectious pop-rock track with a unique twist – a beautiful violin accompaniment.
The soaring strings provide a dreamy backdrop to the dynamic and powerful vocals of sisters Lisa and Jess Origliasso.
With its heavy guitar riffs and catchily chorus, 'Untouched' captures the listener's attention immediately, leaving them hooked from beginning to end.
From the opening intro, you can almost feel the energy only twins can bring to their performances, making this an uplifting and memorable song from start to finish!
21. Clean Bandit – Dust Clears (Feat. Noonie Bao)
Clean Bandit's song "Dust Clears" is a fun, energetic pop tune with a unique blend of violin and electronic beats.
This track combines uplifting melodies and passionate violins to create an atmosphere that encourages listeners to move and groove along.
The mixture of the two genres gives rise to an unforgettable sound that will have you singing along in no time. Its catchy vocals invite everyone to join in with its upbeat vibes.
Clean Bandit shows off their impressive musical skill by creating this cheerful pop-violin anthem to make any listener smile!
22. Ed Sheeran – I See Fire
Ed Sheeran's "I See Fire" is a stunning pop anthem blends Ed's passionate vocal delivery, inspirational lyrics, and a lushly layered violin sound.
The track was featured in the film 'The Hobbit: The Desolation of Smaug' and has become an iconic soundtrack to an entire generation.
When the song opens with the simple strums of acoustic guitar, it hints at something special. But when the soaring string section arrives, it's impossible not to be swept away by its beauty and emotional depth.
23. Kashmir – Led Zeppelin
Kashmir, an iconic pop song by Led Zeppelin, is considered a masterpiece of rock music and has become one of the band's most beloved songs.
It aimed to blend various musical elements from many different genres, and it succeeded.
It opens with frontman Robert Plant singing against a backdrop of Eastern-style strings played on the violin, setting the tone for the rest of the track.
Jimmy Page's unique heavy guitar riffs drive along this seven-minute epic before John Paul Jones' basslines bring it all together, culminating in an intense finale featuring heartbreaking lyrics and powerful guitar solos.
24. Hurricane – Bob Dylan
"Hurricane" is an emotionally charged pop song by Bob Dylan featuring a powerful violin section.
The song details the tragic story of Rubin "Hurricane" Carter, an African-American boxer wrongfully convicted of murder in 1966 and spent 19 years in prison before being exonerated.
Dylan paints a vivid picture of the injustice faced by Carter, capturing his plight with poignant lyrics and striking instrumental arrangements that drive its impact home.
The haunting violin melody is a significant track component, adding color and character to this gripping narrative as it builds towards a tumultuous climax.
"Hurricane" is a stunning example of how instrumental details can enhance a popular song's emotional resonance while making it more memorable for listeners.
25. The Devil Went Down To Georgia – The Charlie Daniels Band
"The Devil Went Down to Georgia" by The Charlie Daniels Band is one of the most iconic pop songs ever, and it wouldn't be complete without its signature soaring violin solo.
The song tells a classic fiddle versus devil tale, with Charlie Daniels' expert playing, providing the tension and excitement that makes it so memorable.
With its memorable melody and catchy refrain – not to mention an incredibly intricate solo courtesy of Charlie Daniels himself – it's no wonder this track has endured for over 40 years as a popular favorite.
26. Dust In The Wind – Kansas
"Dust In The Wind" by Kansas is an iconic pop song with a beautiful, sweeping violin melody.
Written by Kerry Livgren and sung by Steve Walsh, the track has become one of its era's most beloved and timeless classics.
It speaks of mortality and mortality's ultimate insignificance in the grand scheme of things.
With unforgettable lyrics such as "All we are is dust in the wind", it reminds us that life is fleeting and all our troubles will pass with time.
Its sad yet uplifting tune makes it hard to forget, making it one of the most popular violin-accompanied pop songs ever.
27. Shape of You – Ed Sheeran
"Shape of You" by Ed Sheeran is one of the most famous pop songs of recent times, featuring a catchy melody and beautiful vocals.
The song has been covered numerous times, with several versions incorporating violin to create an even more unique sound.
Using violin adds depth and emotion to Sheeran's classic hit, giving it a fresh and soulful twist that speaks to listeners differently than the original version.
Whether you are a fan of Ed Sheeran or not, listening to Shape of You with violin accompaniment will transport you into another realm as you experience all the beauty this song has to offer.
28. Despacito – Luis Fonsi
"Despacito" by Luis Fonsi is a Latin pop song combining soaring vocals with violin splashes.
The single was released in 2017 and quickly became one of the biggest chart-toppers in music history, dominating radio airplay and streaming services worldwide.
The track's infectious beat and melodic strings make it a go-to for any occasion, whether a romantic night in or a festive dance party.
With its intense build-up to the climactic chorus, "Despacito" will keep listeners captivated every time it plays.
29. What Makes You Beautiful – One Direction
"What Makes You Beautiful" by One Direction is a perfect example of what can happen when pop music meets classic elements.
The song has an irresistibly catchy chorus and melodic verse while incorporating the sound of a violin to give it a more classical feel.
The violin adds depth to the track, elevating it beyond traditional radio-friendly fare and making it memorable.
30. Moves Like Jagger – Maroon 5
"Moves Like Jagger" by Maroon 5 is an infectious pop anthem with a lively, catchy chorus.
The playful beat and irresistible hook are complemented by catchy guitar riffs, keyboards, and, most notably, an electric violin solo that adds a unique texture to the song.
The combination of the violin and Maroon 5's signature pop sound makes "Moves Like Jagger" an enjoyable and memorable experience for listeners of all ages.
FAQs
Can you play pop songs on the violin?
Yes, you can definitely play pop songs on the violin! In fact, many popular songs have been arranged for the violin, and there are even violin covers of popular songs on YouTube.
With practice and the proper technique, you can play almost any song on the violin.
What is the most played song on the violin?
The most played violin song is probably Johann Sebastian Bach's "Air on the G String."
Composed during his time as an organist in Leipzig, countless orchestras and soloists have performed this classic piece.
Its serene and gentle melody makes it a popular choice for many aspiring violinists looking to practice their technique.
In addition to its calming sound, Air on the G String is also relatively easy to learn, making it a great starting point for anyone who wants to play the violin.
Some of the most popular and frequently played songs on the violin include classical pieces such as
Bach's "Sonatas and Partitas"
Vivaldi's "Four Seasons"
Tchaikovsky's "Violin Concerto."
Additionally, many contemporary songs have been adapted for the violin, such as "Hallelujah" by Leonard Cohen and "A Thousand Years" by Christina Perri.
Can Ed Sheeran play the violin?
Yes, he can. While Ed Sheeran is known for his guitar skills, he is also proficient in playing the violin.
In fact, he played the violin on his song "Galway Girl" and has been known to incorporate it into his live performances.
Why do violin strings pop?
There are several reasons violin strings may break, including age, over-tensioning, poor-quality strings, and changes in temperature or humidity.
Additionally, playing with too much force or using improper technique can cause strings to break.
Why is the smallest violin so popular?
The smallest violin has become popular because it is the perfect size and shape for young beginners.
Its small size makes it easier to hold and play than a full-size instrument, which can be too large and unwieldy for younger players.
Its design also helps develop good posture and technique while playing, making it an ideal choice for those just starting their musical journey.
Furthermore, its sound quality is still surprisingly good despite its tiny stature, allowing novice musicians to practice playing pieces of music that they love.
What is the lowest a violin can play?
The violin's lowest is an E2 note (82.41 Hz). This note is two octaves below middle C, often referred to as the lowest-sounding note of the violin.
To achieve this low frequency, a player must use extra bow speed and pressure with their left hand to produce a sound with minimal vibrato or character.
It's also essential for a player to move the fingerboard close to the bridge to accurately play this low tone without producing any wobbles or distortions.
A skilled violinist should be able to naturally access these lower notes without having difficulty doing so.
Is violin good for music?
Yes, the violin is a great instrument for music! Learning to play the violin can improve cognitive function, enhance fine motor skills, and provide a creative outlet.
It is also a versatile instrument that can be used in a variety of musical genres, from classical to folk to rock.