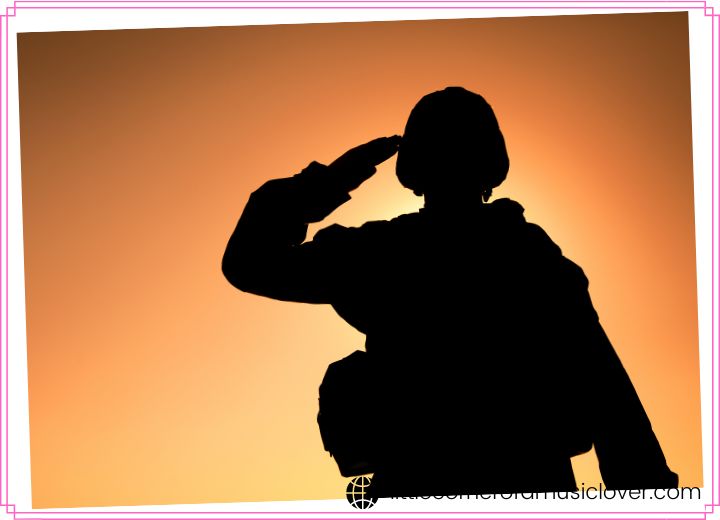 When it comes to honoring those who bravely served our country, we are often left with feelings of both admiration and sorrow. Music uniquely expresses such emotions, and many singers have written songs to pay tribute to fallen soldiers.
From heartbreaking ballads about the ultimate sacrifice to heartfelt anthems celebrating bravery, these songs about fallen soldiers and country songs about soldiers dying to remind us not only of the courage of those who serve but also of the pain behind their loss.
In this post, we will explore some of the most moving songs that have been dedicated to honoring our incredible servicemen.
Top 7 Honor Songs About Fallen Soldiers
Remember the men and women in uniform who have courageously served their countries with these moving and emotive songs about fallen soldiers.
Give a fitting tribute to the brave individuals who sacrificed their lives for us all.
1. "God Bless the U.S.A." – Lee Greenwood
"God Bless the U.S.A" is an iconic patriotic anthem written and performed by Lee Greenwood in 1984. It expresses great love for the United States and remembers those lives lost in times of conflict.
The song gained renewed popularity after the September 11th attacks in 2001 and is still celebrated as one of the top songs commemorating fallen soldiers.
2. "Remember the Heroes" – Sammy Hagar
"Remember the Heroes" by Sammy Hagar is a tribute song to those soldiers who have lost their lives in combat.
This heartfelt track offers respect and recognition for the bravery and courage of servicemen and women, reminding us that we must never forget those who have sacrificed so unselfishly in order to protect our freedom.
3. "Some Gave All" – Billy Ray
This song holds a special place in many people's hearts as an ode to the soldiers who gave their lives in service of their country.
For those same reasons, it was chosen as a must-listen on this list of meaningful military songs.
Through this soulful ballad, Billy Ray Cyrus expresses gratitude for the sacrifices made by our valiant armed forces with his stirring lyrics "Love your country and live with pride and don't forget those who died."
4. "Travelin' Soldier" – Dixie Chicks
"Travelin' Soldier" is a powerful song in memory of fallen soldiers. The song was written by Bruce Robison and later popularised by the Dixie Chicks.
Throughout the course of the song, it relates the story of a young soldier sent off to war which culminates with an emotional scene at a Friday night football game where everyone stands in tribute to his sacrifice – with only his love standing out as she wears a bow in her hair.
5. "Just A Dream" – Carrie Underwood
When it comes to poignant, heartfelt music, Carrie Underwood certainly knows how to write a song that will have us all moved. Her hit single "Just a Dream" is one such example.
The combination of lyrics and melodies evokes intense emotions of grief and sadness that anyone who has ever lost someone can relate to.
The narrative behind the hit country song details what appears to be the journey of a woman attending her wedding but actually headed for her husband's funeral, he was killed in action during the war.
6. "For You" – Keith Urban
"For You" is the title of a single by Canadian-Australian singer and songwriter Keith Urban. It was released in 2011 as part of his album "Get Closer".
The song is about finding faith in love and addressing questions that aren't easily answered with words. The song features passionate vocals, along with music from electric guitar to add tension and emotion.
7. "The Unknown Soldier" – The Doors
"The Unknown Soldier" by The Doors is an iconic protest song of the Vietnam era. Paying tribute to those who made the ultimate sacrifice, the song evokes images of fallen soldiers and questions the moral price of war.
Morrison's lyrics serve as a reminder that even in death, each soldier remains unknown to most, but still dearly appreciated for their service and bravery.
Top 15 Beautifull Country Songs About Soldiers Dying
Check out this curated list of country music songs about soldiers who died fighting for our country – a tribute to the brave men and women and their sacrifices.
1. "Tears Next Door" – Maggie Baugh
Maggie Baugh is a rising star on the country music scene who has been captivating audiences with her incredibly patriotic and inspiring song, "Tears Next Door".
This thought-provoking piece of music tells the story of a young girl whose father is taken away to fight in the war. Set against an emotional backdrop of sorrow, this deeply touching tribute takes us into the life of this young neighbor and her heartache in a very personal way.
Through tears and grit, Maggie Baugh's lyrics remind us all to remember those who have sacrificed so much for our country.
2. "Arlington" – Trace Adkins
Trace Adkins' "Arlington" has become an anthem for those who have lost their lives in service of their country.
The veteran country singer's deep, emotive voice powerfully conveys the somber sentiment of the song, where he encourages those who have passed on to rest in peace knowing that they have found their place at Arlington. A perfect song to honor and remember fallen soldiers on Memorial Day.
3. "If You're Reading This" – Tim McGraw
Tim McGraw's poignant song, "If You're Reading This," is a powerful tribute to soldiers who have passed.
The country singer debuted the track at the ACM Awards back in 2007, and McGraw himself wore all black in an emotional performance surrounded by loved ones of fallen soldiers.
With lyrics such as "If you're reading this I'm already home," it's no surprise that this tear-jerking song has achieved lasting popularity among those who are mourning the loss of a soldier.
Despite its solemn subject matter, however, "If You're Reading This" leaves listeners with a profound feeling of hope and optimism for those we have loved and lost.
4. "Soldier's Last Letter" – Merle Haggard
Written by Merle Haggard, "Soldier's Last Letter" is a heart-wrenching song that speaks of the ultimate sacrifice made by soldiers who die in battle.
With a sorrowful melody and lyrics that give voice to a dead soldier's last message home, it paints a powerful reminder of the human cost of warfare.
5. "America Soldier" – Toby Keith
Toby Keith's song "America Soldier" is a tribute to our fallen soldiers and the courage they showed in defending America.
It speaks of their bravery, sacrifice, and patriotism, honoring them for their service and mourning the loss we all feel when they leave us too soon.
6. "The Dashboard" – Chris
Country music is filled with songs telling stories of soldiers risking their lives, giving the ultimate sacrifice, and never being fully acknowledged for their courage.
"The Dashboard" by Chris plays tribute to those who made the ultimate sacrifice, highlighting how often forgotten all too quickly in the aftermath of a soldier's death.
It tells the heartbreaking story of a wife finding out about her husband's death on his dashboard after hearing it on the news.
7. "More Than A Name On A Wall" – The Statler Brothers
The Statler Brothers' song "More Than A Name On A Wall" is a touching tribute to those who have served and died for their country.
The lyrics pay homage to both the fallen and those still living, emphasizing that there is so much more behind each name on a war memorial wall than what can be read from a distance. This heartfelt song serves as a heartfelt reminder of the sacrifices made by these brave individuals.
8. "8th Of November" – Big & Rich
Released in 2005, "8th Of November" is a poignant song by the American country duo Big & Rich. The song commemorates the Vietnam veterans who fought in the Battle of Ia Drang on 8 November.
9. "Chicken  Fried" – Zac Brown Band
Released in 2008, "Chicken Fried" was the debut single by Zac Brown Band. The song is a classic country tune about taking pride in hard work and enjoying simple things.
The catchy guitar licks and infectious chorus have made "Chicken Fried" one of the most beloved country songs of all time
Zac Brown Band's "Chicken Fried" is a tribute to the lost souls of war, honoring their sacrifice and giving them the recognition they deserve.
The song celebrates those who put their lives on the line so that we can live in freedom and safety.
10. "Where Were You When The World Stopped Turning" – Alan Jackson
In response to the atrocities of 9/11, Alan Jackson composed his song "Where Were You When The World Stopped Turning". This evocative song recalls our collective memory of that fateful day, one that still gives us chills when we think back to it.
It effectively captured the darkness and fear felt by people all around the world as news of the event spread and its impact was felt forevermore.
11. "God Bless The USA" – Lee Greenwood
Lee Greenwood's "God Bless the USA" is an iconic country song that serves as a poignant reminder of the heroic sacrifice of American soldiers who gave their lives for our freedom.
With lyrics commemorating those brave men and women, this heartfelt ballad has been a staple in homes and stadiums around the nation for decades!
12. "God Bless America" – Martina McBride
Martina McBride's live performance of "God Bless America" is one of the most powerful renditions of the iconic American song.
She taps into the deep emotional connections that Americans feel when they listen to this beloved anthem, making her version stand out amongst all other performers.
13. "I Drive Your Truck" – Lee Brice
Country star Lee Brice was moved by a radio interview that took place on Memorial Day, describing a father who had lost his son in Afghanistan.
To remember his son, the father drove his son's old truck around all day. The story inspired Brice to write the song "I Drive Your Truck"–a tribute to those who have made the ultimate sacrifice for their country.
14. "Riding With Private Malone" – David Ball
David Ball's song 'Riding With Private Malone' tells the poignant story of a man who buys a car and finds a letter inside from Private Malone, who had gone off to fight in the war.
The letter is addressed to his family in case he didn't make it back home. It serves as a reminder of the ultimate sacrifice many soldiers make for our freedom.
15. "Jesus & Soldiers" – James Otto
James Otto's "Jesus & Soldiers" speaks of the ultimate sacrifice both soldiers and Jesus made for freedom.
He asks, what would we be without the courage and selflessness of those who gave their lives for us? His lyrics deeply echo gratitude towards these heroes, forever immortalized in our hearts.
Conclusion
We hope that this blog post has given you an appreciation for the courage and sacrifice of our fallen soldiers and their families.
Whether it's a classic tribute song or a more recent country ballad, there is no denying the power of music to honor heroes and bring attention to those who have died in service to their nation.
It is important for us to remember the ultimate sacrifice made by these brave men and women and make sure we give them the respect they deserve.
FAQ
Below are some questions and answers related to songs about songs for fallen soldiers and country songs about soldiers dying.
What is the country song about a soldier who died?
The song "If You're Reading This" by Tim McGraw is a heartbreaking country song about a soldier who has died in battle.
The lyrics tell the story of a soldier writing letters home to his loved ones, knowing he will never be able to deliver them himself. It is a truly moving song and one of the best examples of how country music can evoke strong emotions.
What is the most powerful song in songs of war?
A comprehensive analysis of war songs reveals that "The Marines' Hymn" is the most powerful song in the genre.
With its stirring lyrics and powerful call to arms, singing this classic hymn causes a rush of emotion and patriotism. Moreover, it is both sung in-person and remixed for modern times.
Additionally, the song provides a reminder of why we fight for our country and each other.
What is the song they play when a soldier dies?
The song commonly played at military funerals when a soldier dies is "Taps", which is the traditional bugle call for lights out.
This is considered an honored tradition to commemorate the life and service of a fallen soldier.
What song is played at funerals to honor military veterans?
The song typically played to honor military veterans at funerals is The Last Post. It is a powerful ceremony composed of the sounding of "The Last Post" a roll-call, and a two-minute period of silence that offers friends and family an opportunity to remember and reflect on their loved one's life.
What is the saddest song for a funeral?
Generally, the saddest and most emotional songs for a funeral are those that evoke feelings of grief, loss, and regret.
Popular funeral songs include "Hallelujah" by Leonard Cohen, "Over the Rainbow" by Israel Kamakawiwo'ole, and "Angel" by Sarah McLachlan.