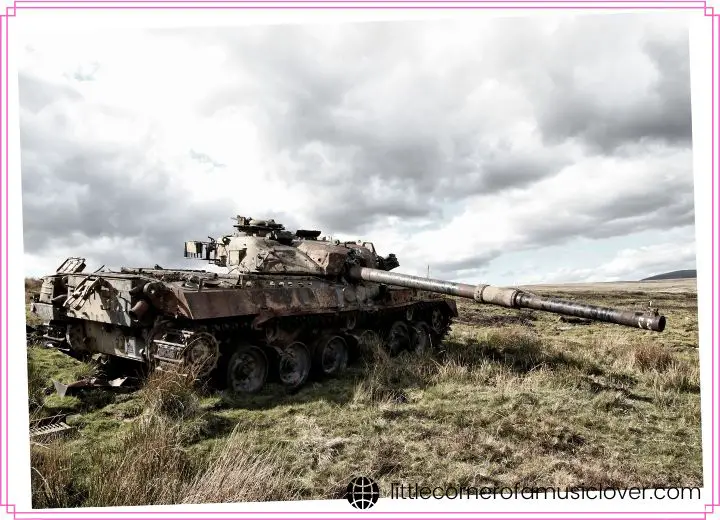 From anthems of protest to tales of courage and heroism, rock songs have long been used to chronicle the experience of war.
This blog post will explore some of the most iconic and memorable rock songs about war and their powerful messages, from classic tracks from masters like Bob Dylan and John Lennon to modern-day hits.
Turn up the volume, because it's time for a musical journey through time!
Exploring the Most Impactful Rock Songs About War
1. "Zombie" – The Cranberries
The Cranberry's song "Zombie" has become an anthem for millions of people around the world. Released in 1994, it was written by lead singer Dolores O'Riordan as a protest against the IRA and the conflict in Northern Ireland.
Through her haunting and powerful vocals, she captures the raw emotion of a tragedy that has no easy solution.
Musically, "Zombie" is built on a heavy bass line and textured guitar chords over a steady beat. The impactful lyrics provide a glimpse into the pain and anguish of war, leading to its continued popularity over 25 years later.
2. "One" – Metallica
"One" is a heavy metal song by Metallica, released in 1989 as part of their eponymous fifth studio album. With the lyrics based on Dalton Trumbo's anti-war novel, Johnny Got His Gun, it has since become an iconic and influencing track for the band.
The song features a combination of clean and distorted guitar riffs and solos, interspersed with tapping parts played over a thunderous drum beat.
It remains one of Metallica's most popular shows to date, having been performed on multiple tours and covers by various artists.
3. "This Is War" – 30 Seconds To Mars
The hit single "This Is War" by 30 Seconds To Mars is an epic anthem of perseverance. Released in 2009, the song transcends barriers of genre and immediately connects with its listeners.
With a thundering drumbeat and howling chorus, it's easy to see why this timeless track remains one of the band's most popular singles to date.
4. "War Pigs" – Black Sabbath
"War Pigs" is a song by the legendary English metal band Black Sabbath. Written in 1970, it has become an iconic classic in the metal genre and remains one of the most popular songs by Black Sabbath.
The lyrics explore themes of warfare, militarism, and its ideological implications, making it one of the most politically charged songs ever written.
Its hauntingly heavy sound remains relevant even today as wars continue to ravage different parts of the world.
5. "The Trooper" – Iron Maiden
"The Trooper" is a classic heavy metal song by the British band Iron Maiden. Released in 1983, it has become one of their most popular songs and lives concert staples over the years.
With powerful guitar riffs, drum beats, and anthemic vocals recounting a story of a soldier in the 1854 Charge of the Light Brigade.
6. "Peace Sells" – Megadeth
The 1986 hit song "Peace Sells" from the heavy metal band Megadeth shot to success after its release.
The song takes listeners through a lyrical journey about selling peace, an ironic commentary on many of the socioeconomic issues at the time.
Accompanied by heavy metal guitar riffs and thunderous drums, "Peace Sells" has become one of Megadeth's most beloved songs.
7. "Soldier Side" – System Of A Down
"Soldier Side", by the American rock band System Of A Down, is a single released in 2005 as a part of their album "Mezmerize".
It tells the story of those sacrificed in war and serves as an urgent plea to stop meaningless violence. The driving guitar riffs and energetic vocals shine through, making it one of the band's greatest hits.
8. "BYOB" – System of a Down
The iconic rock band System of a Down has an anthem entitled "BYOB", which stands for "Bring Your Own Bombs".
The song conveys an urgent message to the public to take responsibility for their own fatalistic and explosive destinies.
It has been characterized as a call for individual empowerment against those who would oppress with, or control without, justice.
9. "Mama" – My Chemical Romance
My Chemical Romance's "Mama" is an emotionally moving rock ballad about a young man putting to rest his mother following her death.
Through sing-talking vocals, frontman Gerard Way delivers heartfelt lyrics dealing with love, loss, and grief as the song progresses from hope to resignation and closure.
Featuring an intense instrumental arrangement of guitar riffs, drums, and uplifting strings, My Chemical Romance's "Mama" portrays the struggles of accepting tragedy in vivid detail.
10. "Bulls On Parade" – Rage Against the Machine
The hard rock band Rage Against the Machine is well-known for its iconic song "Bulls On Parade." Released in 1996, its aggressive sound and politically charged lyrics give voice to the frustrations of oppressed people everywhere.
The song has become a staple at protests, rallies, and concerts all around the world. Its message of rebellion still resonates with listeners today.
11. "Hero Of War" – Rise Against
"Hero Of War", the hit single from punk rock band Rise Against, tells the story of a soldier's experiences in war through his own perspective.
This intense and emotional song paints a vivid picture of the personal journey soldiers take during wartime, as well as of their struggles with finding hope amidst tragedy and devastation.
12. "All Along The Watchtower" – The Jimi Hendrix Experience
Released in 1968, "All Along The Watchtower" by The Jimi Hendrix Experience is a classic rock song that deals with the themes of war and military life.
This bluesy number features hard-hitting electric guitars and distorted riffs combined with Hendrix's mesmerizing vocals that make this song one of the greatest rock anthems ever recorded.
13. "To Hell And Back" – Sabaton
"To Hell And Back" is a hit single by the Swedish power metal band Sabaton.
The song tells the story of legendary World War II hero Audie Murphy, an American soldier who earned numerous commendations for his bravery on the battlefield and was eventually awarded the Medal of Honor for his actions.
It is an inspiring tribute to one of history's greatest heroes and serves as a reminder of how far people can go if they put their hearts into something.
14. "Orange Crush" – R.E.M.
Released in 1988, "Orange Crush" by R.E.M is widely considered to be an anthem of the Vietnam War era.
Its lyrics are heavily influenced by the effects and implications of the war, such as its emotional toll, the duty of soldiers to fight a war even if they morally oppose it, and the hopelessness that surrounded those affected by it.
The song's title itself speaks of death and destruction- 'Orange Crush' being a term used to refer to Agent Orange which was deployed in large amounts during the war.
15. "Sunday Bloody Sunday" – U2
U2's song "Sunday Bloody Sunday" was released in 1983 and is one of the group's most iconic tracks.
The song is a protest against the violence in Northern Ireland during the Troubles conflict, which saw civil unrest between Catholics and Protestants over control of the British-ruled region.
The lyrics and melody capture the sorrow and frustration of the time while inspiring hope for a better future.
16. "Fortunate Son" – Credence Clearwater Revival
Credence Clearwater Revival's iconic anthem "Fortunate Son" was released in 1969, and is one of the songs most closely associated with the Vietnam War.
The song's lyrics take a satirical look at the privileged lives of rich families whose sons had no obligation to fight in the war while people of lower income were drafted or enlisted by default.
It encapsulates powerful feelings of alienation, anger, and injustice during a tragic period of history.
17. "Masters Of War" – Bob Dylan
Bob Dylan's iconic anti-war protest song, "Masters of War", expresses his disdain for the military-industrial complex and its devastating effects on human life.
The lyrics draw attention to the immoral actions of warmongers, declaring that their effort to attain power and security will only lead to destruction and despair.
Dylan urges us to fight for peace, warning of the consequences for those who wage war.
18. "Gimme Shelter" -The Rolling Stones
"Gimme Shelter" was released in 1969 during the Vietnam War era, and is a powerful anthem of protest about modern social issues such as war and poverty.
The lyrics reference a chaotic state of the world with its references to the fear, danger, and desperation that come with living through tumultuous times.
Through this haunting piece of music, the band expressed intense emotion and despair over the experiences faced by civilians during the war.
19. "Let Them Eat War" – Bad Religion
Bad Religion's song, "Let Them Eat War," is a powerful ode to the injustices of war and an indictment of those in governmental power for its use.
From the scathing opening line "Lying politicians spin their fragile webs / And hollow promises give us false hope" the track is an anthemic commentary on bloodshed and destruction caused by war.
With a driving punk-rock beat and giant choruses, "Let Them Eat War" serves as a rallying cry that calls us to stand against capitalism and complacency.
20. "Eve of Destruction" – Barry McGuire
Written and performed by Barry McGuire, "Eve of Destruction" is a 1965 protest song that speaks of war, nuclear destruction, poverty, inequality, civil rights and more.
The lyrics highlight the dangers facing humanity at the time and express McGuire's despair for the future.
Appearing on the album White Lightning in late 1965, it topped both U.S. and UK music charts and made McGuire an international star overnight.
21. "Imagine" – John Lennon
John Lennon's famous song, "Imagine," has become an anthem for peace and hope all around the world.
When first released in late 1971, it quickly gained popularity for its uplifting and poignant lyrics about unity and understanding between people.
The song has since become one of the most iconic songs in history, featured in films, television shows, and even political campaigns.
Conclusion
In conclusion, war has been a common theme in rock music over the years.
It not only inspires musicians to create powerful and meaningful songs but can also be used as an expression of protest and hope amidst the struggles of life.
Whether it's about the war in a literal sense or something more metaphorical, the musical legacy of rock music provides many examples of songs exploring this complex subject.
FAQ
Here are some popular questions and the answers for rock songs about war
What is a song that talks about war?
One popular song that talks about war are "The Sound of Silence" by Simon & Garfunkel.
The lyrics discuss how war creates a divide in the world and speaks to the difficulties faced when trying to communicate in a world filled with violence. It was released in 1964.
What is the most badass rock song of all time?
Although opinions may vary, one of the most widely accepted "most badass rock songs of all time" is Led Zeppelin's "Immigrant Song".
Released in 1970 on their third album, this hard-rocking classic has been used in countless films and TV shows. With its heavy guitar riffs and unbridled energy, it perfectly encapsulates the spirit of rock 'n' roll.
The lyrics also suggest an underlying message about freedom from oppression: "We come from the land of the ice and snow/ From the midnight sun where the hot springs blow."
This anthem for individual liberty makes Immigrant Song an especially powerful song that has stood the test of time.
What is the most iconic rock song?
The answer to this question is subjective, as different people will have different opinions about which rock song is the most iconic.
However, some of the most widely acclaimed and recognizable rock songs include:
These songs are among some of the most popular and influential rock anthems ever recorded and have stood the test of time as timeless classics.
What are some good war cries?
1. "For victory!"
2. "Death or glory!"
3. "Kill! Kill! Kill!"
4. "Onward and upward!"
5. "We will prevail!"
6. "All for one and one for all!"
7. "It's now or never!"
8. "Fear not, fear no enemy!"
9. "Victory is ours!"
10. "Forward to battle!"